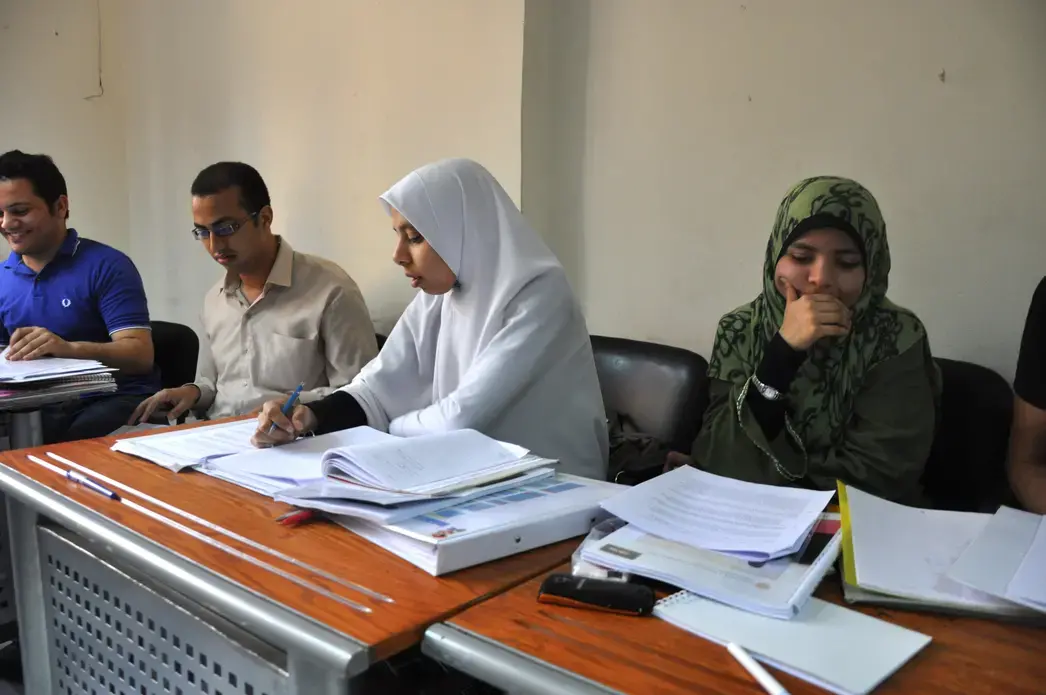 At Education for Employment, students like Marwa Metwally learn basic critical thinking and leadership skills. Image by Lauren E. Bohn. Egypt, 2012.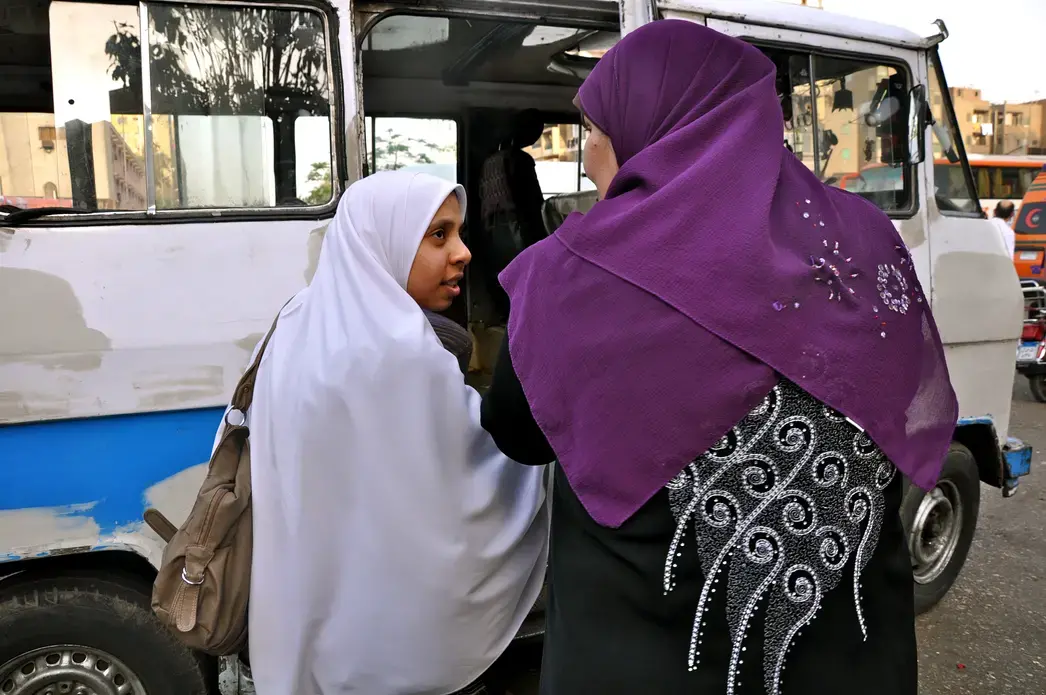 Marwa shuttles to Cairo everyday through a sequence of barely functioning public transportation routes to attend free classes at EFE-Egypt. She spends a total of five hours a day on the road, watching the dirt paths race by beneath her. (Credit: Lauren E. Bohn)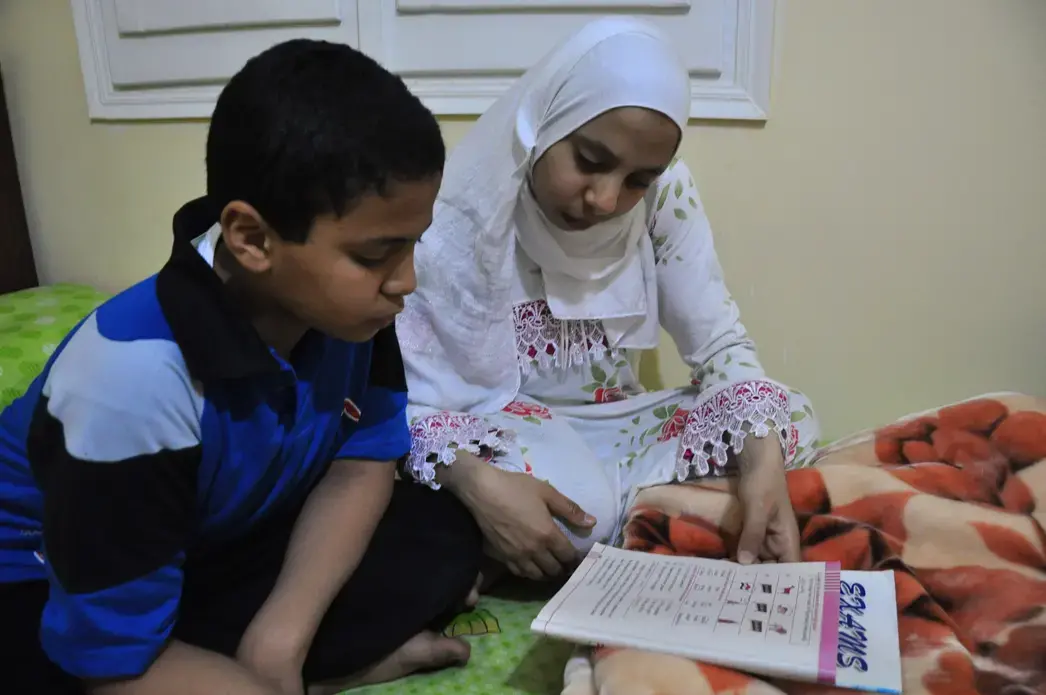 Marwa serves as her younger cousin Abdel's de factor tutor. For youth like Marwa and Abdel, Egypt's inadequate education system cements the stark social and economic inequalities that were at the very heart of the uprising that packed Tahrir Square. "When will it change" is the question Marwa says she asks herself everyday.



It was almost midnight when 11-year-old Abdel El-Fatah dropped his pencil and declared he had enough. The spunky sixth-grader sat on the edge of his bed in Menh al-Kamh, a dusty dry hamlet two hours north of Cairo, rubbing his wide black eyes and tugging at the seams of his soccer jersey. His cousin, Marwa, 24, patted his shoulder and insisted that the two go over a few more math problems. Nearby a faded red "January 25 Revolution" flag was tenuously pinned to the wall. "You need to master this if you want to be an astronaut," she said. "But the teacher probably won't ask or care if I know," he responded. Marwa had to concede that he was right.
It's the beginning of the school year in Egypt, but the challenges to the country's education system promise little resembling a fresh start in the post-Mubarak era. Twenty months after the country's uprising began, Egypt's fledgling democracy is still caught between past and future. Parliament has been dissolved and there is no constitution in place. And as lawmakers attempt to reckon with the nation's protracted political problems, the Egyptian education system is festering on the sidelines. School officially began on Saturday, but recent teacher protests threatened to delay the opening. Meanwhile, coverage or discussion about the teachers protests have been eclipsed by demonstrations and violence at the U.S. Embassy, which were sparked by outrage over an anti-Islam film.
"Reforming education might not be as thrilling as tear gas and protests, but we must have the discussion," says Malak Zalouk, director of the Middle East Institute for Higher Education at the American University in Cairo. "Education isn't even part of the debate. We're all in the dark, yet this is the single most definitive element that can improve the nation."
The status quo is bleak. In a recent World Economic Forum report on global competitiveness, Egypt ranked 135 in the world out of 142 countries in education meeting the needs of a competitive economy, with just $129 per year being spent on each student (The US spends almost 80 times as much). Egypt's literacy rate is 66.4 percent, ranked 157 out of 184 in a 2011 United Nations Development Program report. Meanwhile, according to Egypt's official statistical agency, unemployment has skyrocketed to almost 13 percent, with unemployment rates around 41 percent for those between 20 and 24 years old and 25 percent for those between 25 and 29 years old.
For people like Marwa and Abdel, Egypt's paltry education system cements the social and economic inequalities that were at the very heart of the uprising in Tahrir Square. These inequalities are compounded by other challenges in their village and others: a rise in bread and gas prices, dirty water, poor infrastructure, frequent power outages and a dearth of social services. Washed out campaign posters of President Mohammed Morsi still hang on run-down buildings around the Sharqeyya governorate. The president, who is from the same region, is a source of pride among villagers who speak of him as a "son of the country," and where women are proud to don the same khimar (a more extensive cover than the traditional head-scarf) as the new first lady. But this pride also breeds great expectation among people who are barely holding on by a thread.
A teacher at Abdel's school, who asked only to be identified as Mahmoud for fear of losing his job, has seen the severity of the problems in their village. The school—a slab of concrete, surrounded by a perimeter of depilated classrooms—resembles a prison. The walls are checkered by crumbling yellow paint and infested with rodents. At any given time, Mahmoud says he can have up to fifty students in the classroom with only 20 desks. In a society that places high value on careers in medicine and engineering, teachers like Mahmoud say they're often stigmatized. Wages alone in public schools rarely amount to more than 300 dollars a month.
This week hundreds of teachers demonstrated in front of the Cabinet building, called for a minimum salary to be set at 500 dollars. The Ministry of Education announced that it "supports teachers' right to protest," but denounced strikes on the basis that they infringe upon students' right to education. According to state newspaper Al Ahram, Education Minister Ibrahim Ghoneim said the ministry hopes to fully comply with a presidential decree to approve a 50 percent bonus for teachers in October, and another in January 2013. But that might not be enough for Egypt's estimated 1.7 million public school teachers and administrators, who comprise the largest single sector on government payrolls.
To compensate for the low pay, Mahmoud says he spends more time tutoring some of his students outside the classroom, than actually teaching them at school. The poor quality of free state-provided education has ironically led to the emergence of an informal education sector; costly private tutoring often fills the void left by the inadequate formal system. It's a conflict of interest that pulls at many teachers. "Sometimes," Mahmoud says, "I don't finish the lessons, so that I know their parents will pay me a little extra to teach it outside of the classroom."
The stakes are high for students and families. Egypt's final secondary school exams are a rite of passage of sorts for students. Their score alone charts their future. If they don't do well, they won't be awarded a place in college. The finality of standardized exams, effectively tracks out some students, whose best second option is vocational school. Yet students from wealthy families can of course escape forced tracking by paying for private education. "If you can't pay for private school in Egypt, and only maybe one percent of can, you'll be walking uphill for most of your life," says Kareem Fattah, 20, a vocational student from Sharqeyya.
Selma Hegab, a journalism student on scholarship at American University in Cairo agreed. "The education system in Egypt is really all about class divides." While public universities in Egypt are essentially free, AUC can cost close up to $25,000 a year. The campus is a different world than what she's used to, the state-of-the-art television studio a stark contrast to her secondary school where she recalls everyone fighting over one computer. "For some time, being aware of these inequalities was…trendy," she says, sitting outside an upscale coffee-chain near the university's famed "Gucci Corner," where stylish students don designer jeans and sunglasses. "Now that awareness has kind of faded. But I don't blame them. I blame our society and how they were raised."
Marwa, Abdel's older cousin and de facto tutor, says she hopes to encourage him. But she fears her own experience doesn't help. Over the past year she's been trying to find work as a teacher. Though she knows the profession is undervalued, she believes she can create change in the system. But schools in her area haven't been hiring. And those in other towns give preference to candidates who live nearby. Each day she travels more than two hours each way to Cairo to attend free classes offered by Education for Employment, a non-profit, which helps students develop critical thinking and leadership skills. "There's also still a stigma attached to hiring students from a lower class bracket," says Shahinaz Ahmed, the chief executive of Education for Employment in Egypt. "Even call centers want to hire students only from the American University in Cairo."
The problem goes beyond money and resources; it's also about the past. For decades, the Egyptian education system largely trained students to be loyal to the state. Textbooks were little more than carefully crafted propaganda. Last year, a committee formed by Egypt's Ministry of Education demanded chapters be removed and recommended adding a new chapter on the revolution, which included glossy photographs of Tahrir Square. Mahmoud, the teacher in Sharqeyya, says he's still waiting for replacements, and that some of his textbooks still call Mubarak "a savior of Egypt."
Mostafa Mossad, the newly appointed Minister of Higher Education concedes that the change will take time. "There's a whole system in place we need to wipe out," he says. "Not only does education need reforming, but the actual structure of the ministry does as well. We have to first fight the corruption and the centralization of the Mubarak years."
An engineering professor at Cairo University, Mossad served as an education advisor for Mohammad Morsi's presidential campaign. Since then, his appointment has been contested, as critics fear he and other Islamists might force their religious beliefs on the country's education system. According to Egyptian newspaper Al Masry Al Youm, in wake of the relatively small protests in Tahrir decrying the anti-Muslim film, Prime Minister Hisham Qandil noted that the first lesson of the school year would be about the Prophet Mohammed, and how to "defend and glorify for him for the sake of developing this nation."
"People might have doubts," Mossad says, "but trust me, I'm busy and hardly getting any sleep. I'm trying to make Egypt's universities world-class institutions."
Back in Menya El-Kamh, Marwa and Abdel's village, the morning call to prayer sweeps through patchy fields and Abdel gets ready for the first day of school. Marwa waits on the phone; she is interviewing for a customer service position at a new e-commerce site, which sells electronics that most Egyptians can't afford.
"You sometimes feel like you're fighting a losing battle in Egypt," says Marwa's father, Mohammed, an engineer who works piece-meal jobs in the village. "But you keep going. There's still no promise of working hard and achieving something better, yet we still have faith."
RELATED ISSUES