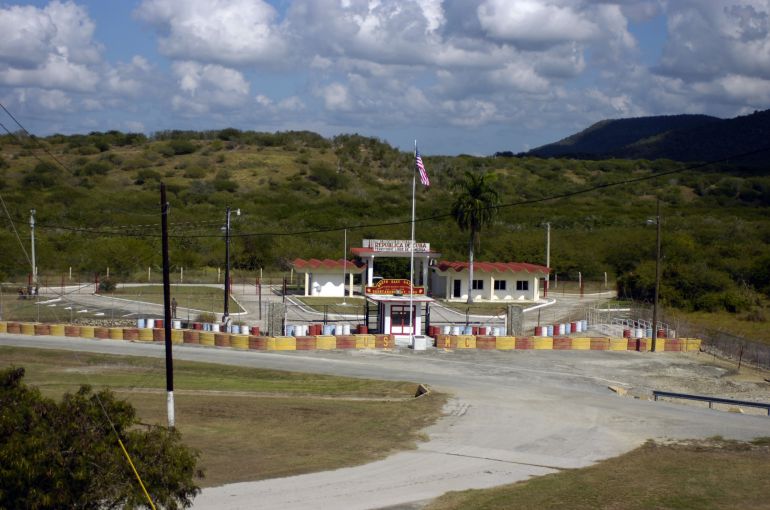 Military prosecutors struggling to restart war crimes tribunals at Guantánamo Bay, Cuba, in the midst of the pandemic are proposing to transform the crude court compound of tents and trailers into a quarantine zone.
The plan would airlift about 100 people from across the United States to Guantánamo on Sept. 5—everyone bound for the courtroom, except the defendants—and then isolate them for two weeks at the makeshift site called Camp Justice. Then the men accused of plotting the Sept. 11, 2001, attacks would be brought from the prison to the courtroom to begin six weeks of hearings in the case, from Sept. 21 to Nov. 3, the height of hurricane season.
Efforts to get the hearings going again face several obstacles. Guantánamo has no capacity for widespread coronavirus testing and must send any samples to labs in the United States to get results. The naval base that houses the courtroom and the prison has limited health care facilities. And the case currently lacks a full-time judge.
A prosecutor, Clayton G. Trivett, notified defense lawyers last week of the planning, which he said would consolidate court hearings and personnel to prevent "posing unnecessary risk to the resident base population of 6,000 people."
Earlier proposals called for key participants to be quarantined individually around the base in motel-style guest quarters and barracks, rather than in 50 two-person trailers that require renovation.
Left unclear is how, during their two weeks of quarantine, the legal teams would prepare for pretrial hearings in the death-penalty case against Khalid Shaikh Mohammed and four other men on charges they conspired in the attacks that killed nearly 3,000 people.
Even in the best of times it is not easy to hold war court hearings at Guantánamo Bay. The coronavirus crisis has magnified the challenge.
The 45-square-mile U.S. base at Guantánamo, behind a Cuban minefield, functions like a small American town, with a 12-bed hospital, a school system, bars, a seaport and scattered trailer parks because of a shortage of permanent housing. Participants in the court proceedings except the defendants fly in regularly from the mainland.
For the pandemic, the military stopped most flights, instituted a quarantine for new arrivals and imposed a blackout on information after disclosing two cases in the spring. It is more isolated than ever.
A boiler broke at the base's top-secret Camp 7 prison in June and it took the military nearly two months to get a spare part to the island, leaving high-value prisoners and their guards without hot water at a time of strict hygiene guidelines to cope with the coronavirus.
Now, the military is soliciting bids from private contractors to prefabricate, ship and install a second national security courtroom at the compound. Interested contractors must reach the base by early August to quarantine for two weeks before a site visit the week of Aug. 17.
The bid will be awarded Nov. 30, to complete work within six months, a timetable that would be hard to meet without quarantines and the virus. The new courtroom would accommodate a second military judge to hold hearings in Guantánamo's other death-penalty case — against a Saudi man accused of orchestrating the Qaeda bombing of the U.S. Navy destroyer Cole off Yemen in 2000.
But hearings in that case are also on hold. Lawyers for the defendant, Abd al-Rahim al-Nashiri, notified the military judge recently that the prisoner's 67-year-old capital lawyer is unable to travel from his home in South Florida, a coronavirus hot zone, and younger defense team members near the Pentagon are working from home because their work is not deemed essential enough to merit access to military child care.
Morris D. Davis, a retired colonel and a former chief prosecutor who quit the job in a dispute in 2007 — while Camp Justice, which was intended to last five years, was under construction — said hurricane season was always a concern in "trying to do a terrorism trial on a military base in Cuba."
"That was a novel and herculean task in and of itself without adding Covid-19 on top of it," he said.
Prosecutors disclosed the Camp Justice quarantine plan days after a key capital defense lawyer who is new to the Sept. 11 case filed notice at the court that, after work and travel eventually return to normal, he would need 30 months to prepare for trial.
Complications had already cast doubt on whether the Sept. 11 trial, predicted to last more than a year, would begin by the 20th anniversary of the attacks, in 2021. Most classified defense work has been on hold since virus-related restrictions paralyzed travel for many of the lawyers, who are spread across the country.
The lawyer, David I. Bruck, 70, one of the nation's leading capital defense lawyers, joined the case in April to replace a 75-year-old defense lawyer who left the team representing one of the defendants, Ramzi bin al-Shibh, for health reasons. But Mr. Bruck, who is based in Virginia, has not yet received a security clearance and has not been able to travel to Guantánamo to meet Mr. bin al-Shibh, who is accused of being a deputy to Mr. Mohammed in the Sept. 11 hijacking plot.
None of the defense lawyers have met personally with any of the 40 wartime detainees at Guantánamo since the start of the outbreak because they are considered particularly vulnerable if they are infected. All the detainees are in their second decade of custody and many have conditions that put them at high risk, including obesity, diabetes and high blood pressure.
A New York City criminal defense lawyer who this year shared a six-man tent at Camp Justice to observe a session of the case for the American Bar Association likened the prosecution plan to a modification of the way professional sports leagues are resuming games — but on a naval base in Cuba without the testing and medical care, and with greater risk and lawyers in their 60s and 70s.
"In basketball, a guy gets sick they take him out and test everybody twice in 48 hours," said Joshua L. Dratel, who defended a case at the Guantánamo war court in 2006 and 2007, when lawyers were put up in officers' quarters. "What if 20 people got sick at Camp Justice? Could the hospital even handle it?"
The proposal for a quarantine starting in September is part of a flurry of efforts by the prosecutors to resume hearings in all four active war crimes cases after a series of setbacks and obstacles — including an adverse court ruling against the prosecution in a rare case of a prisoner who has cooperated with the prosecution.
The last hearing at the court compound was held in late February in the case of Majid Khan, a confessed Qaeda courier who turned government witness in 2012 but who has yet to testify in a single case. The judge in that case, Col. Douglas K. Watkins, recently rebuked prosecutors for withholding evidence and awarded Mr. Khan a year off his ultimate sentence.
Colonel Watkins accused the government of "gamesmanship" in the ruling on July 13, a month after another upset to the prosecution that concluded that tribunal judges could award sentencing credit for torture or other abuse in U.S. military custody.
"Being accused of playing hide the ball is pretty toxic," said David C. Iglesias, a retired Navy captain who has worked as both the U.S. attorney in New Mexico and a supervising prosecutor at Guantánamo.
RELATED ISSUES

Issue
Conflict and Peace Building
Conflict and Peace Building

Criminal Justice