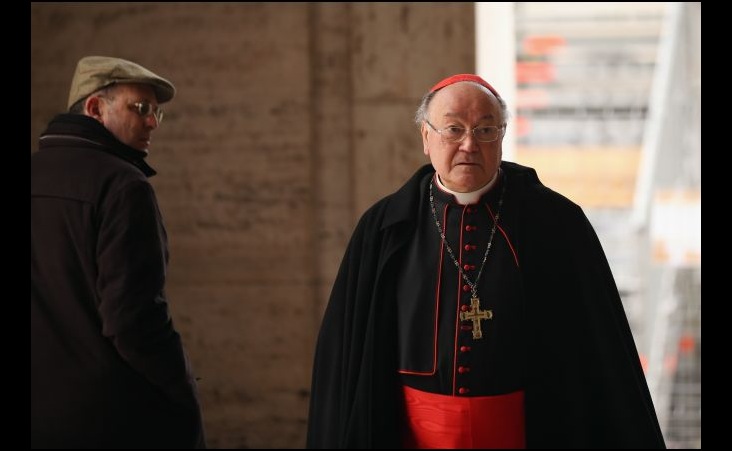 This article was first published online by GlobalPost.
Editor's Note: As Pope Benedict XVI prepares to make his historic resignation official on Thursday, the college of cardinals who will choose the next pontiff are arriving in Rome. These 'Princes of the Church' are landing amid a firestorm of press coverage about the still-unfolding clergy abuse crisis and about a balkanized Vatican bureaucracy traditionally loyal to the pope.
A key strand in this story of Vatican factionalism — and deep divisions in the church between conservatives and relatively progressive forces — is the Congregation for the Doctrine of the Faith's investigation of the Leadership Conference of Women Religious, which represents the superiors for 80 percent of America's 57,000 nuns.
This investigation has challenged the role many sisters have taken in a polarized church led by a rigid Vatican hierarchy that criticizes the nuns' theology while approving their work with poor and marginalized peoples of the world.
Last April, a "Doctrinal Assessment" accused the leadership of nuns of "radical feminism" and a form of latter-day heresy. It was seen by some theologians as tantamount to a modern 'Inquisition.' The Vatican boldly ordered a takeover by an archbishop of key functions of the nuns' Leadership Conference, sending a chill over many missionary orders headquartered in Rome. It followed a Vatican attempt to get records on real estate, property and assets that many nuns feared was an attempted confiscation by bishops scrambling to shore up church coffers to pay the staggering cost of the priest sex abuse crisis and ameliorate the economic consequences of the deepening priest shortage.
Where this controversial investigation goes under the next pope is a looming question; but the story behind the investigation reveals new fault lines within the Curia. This second part of Jason Berry's Special Report for GlobalPost which is based on three months of reporting from Rome, Germany and across America, takes a deep look at property issues faced by nuns in the larger context of church finances.
ROME — When the Vatican first launched an investigation of American nuns in 2009, it sent a questionnaire seeking extensive information on the religious congregations' property.
The questions made many mothers superior recoil from the invasive tactics, given Canon Law's protection for religious orders to govern their own assets. But it took meetings with church canonists to understand just how they should respond.
Rome's sweeping searchlight came at a time when many convents are immersed in asset-management plans to cover rising elder-care costs, while the larger Catholic church is reeling from the costly litigation connected to a sprawling priest sex abuse scandal from Boston to Los Angeles and Ireland to Germany. As the Vatican investigation of the nuns deepened, many sisters grew appalled at what they saw as disinformation tactics, powerful churchmen using doctrine to mask a campaign of retribution for the nuns' liberal politics, and, as they saw it, a psychological projection by scandal-stained cardinals and bishops.
"It feels almost evil to me, like there's another agenda — to get even, as if they think we're connected with all the problems in the priesthood," says Sister Cecilia Dwyer, prioress of St. Benedictine Monastery in Bristow, Va.
With Pope Benedict set to resign on Feb. 28, and the global media converging in Rome, the main leadership group of American nuns, locked in conflict with the Congregation for the Doctrine of the Faith, is hoping for a break. Under church law, leaders of Vatican congregations must step down when the papacy is vacant until a new pontiff is elected. Roman Curial staffers continue their work, but no major decisions will be made until the new pope has had sufficient time to decide on his appointments of prefects at the various congregations and to review initiatives by his predecessor. Many sisters are hoping the next pope will end the 'New Inquisition.'
Last April, the Congregation for the Doctrine of the Faith (CDF) — the office governed by Cardinal Joseph Ratzinger for a quarter century before his election as Pope Benedict — declared a "supervision" of the Leadership Conference of Women Religious (LCWR), which represents the superiors of the vast majority of American nuns. The decree by Cardinal William Levada, who has since retired to his native California, named a Vatican delegate to function rather like an overseer of the Leadership Conference.
"I never expected to confront this climate in the church — to be seen at as 'bad girls.' We have been nothing but faithful to Vatican documents," says Sister Dwyer, the Benedictine prioress in Virginia.
"This is about politics, not faith," says Sister Simone Campbell, who became famous leading a nationwide campaign called "Nuns on the Bus" to raise important social justice issues on the campaign trail in support of President Obama's reelection.
Campbell is Executive Director of Network, a national lobbying group for Catholic issues of social justice, was also named in Levada's decree, called a Doctrinal Assessment.
Levada scored LCWR for "radical feminism." He ordered Seattle Archbishop Peter Sartain to vet publications, speakers and impose conformity. But, says Sister Pat Farrell, the LCWR immediate past president: "Little has changed. We are in a holding pattern."
Farrell and LCWR board members had one meeting last June with Sartain, which she described as "cordial and respectful," while declining to offer details. But other sisters, speaking on background, portray Sartain taking his time in light of Benedict's resignation, waiting for a clear signal from the new papacy about how he should proceed.
The Assessment criticized LCWR for its ties to Resource Center for Religious Institutes (RCRI), a small consultant group that advises religious orders on legal issues, notably property. Father Daniel Ward, a Benedictine with degrees in civil and canon law, directs the center, which charges fees for advising on a range of issues that religious orders confront.
A number of women's orders are selling or consolidating properties as their numbers drop and elder-care costs increase. The Assessment made no allegation of any specific wrongdoing against RCRI, but left a threat of further investigation hanging for future action. To many nuns, this was payback for the Resource Center's advice to them on the probing questionnaire from the Vatican office of Cardinal Franc Rodé about the value of their real estate assets.
But beyond the land issues lie questions of theology.
Many religious communities feel betrayed by the Vatican for the way Levada's document impugned a lecture by Dominican Sister Laurie Brink, a Catholic Theological Union of Chicago scripture scholar — cherry-picking some of her lines, distorting the conclusion to suggest some kind of a feminist conspiracy that the Vatican has made tantamount to an allegation of heresy.
"I am still declining all interviews," Brink state in an e-mail exchange with GlobalPost. "The CDF document concerned the LCWR, of which I am not nor have ever been a member. I may like to defend myself and the taking of my talk out of context, but I do not feel that inserting myself into this concern is wise or helpful for those involved. This event has provided me an opportunity to practice the very reconciliation which I espouse. And let me tell you — it is easier to write about reconciliation than to live it!"
The climate of Vatican retribution many nuns decry arises from the muddled, archaic way the CDF operates. The Congregation, the nexus of the conservative leadership under Ratzinger, has actively retrenched from the reformist and more liberal policies of the church ushered in by the Second Vatican Council, or Vatican II, a half century ago. Led by Cardinal Bernard Law, a conservative group of American bishops pushed for an investigation of socially progressive sisters — women who stand on their orders' constitutions, which were approved in Rome after Vatican II by the Vatican's Congregation for Religious as they took on greater pastoral activism in the world.
Several years ago, that Vatican office underwent a name change from Congregation for Religious to The Congregation for Institutes of Consecrated Life and Societies of Apostolic Life. Cardinal Franc Rodé became prefect of the newly named Congregation in 2004. Rodé, a Slovenian-born prelate whose family fled the post-war Communist takeover, and settled in Argentina, has sternly criticized the evolution of religious life since Vatican II for "the hermeneutics of discontinuity" — opening the gates to radical changes that, in the view of traditionalists like himself, have gone far beyond the original intention of the changes brought by Vatican II.
Cardinal Law, who was made welcome at the Vatican after resigning as Boston archbishop in 2002 amid the catastrophic clergy abuse scandal, was a pivotal figure in persuading Rodé to start an "Apostolic Visitation" of all American nuns in 2009. That move, in turn, led to a more targeted investigation of LCWR under Cardinal Levada's office. Rodé in announcing the visitation said that "some religious families" had strayed into "a certain secular mentality…and perhaps also a certain 'feminist' spirit."
Rodé was further prompted by a 2008 religious conference at Stonehill College outside Boston. At the conference, Sister Elizabeth McDonough, a canon lawyer and critic of the left-leaning direction of many religious congregations, accused the LCWR of supporting "global-feminist-operated business corporations...controlling all structures and resources…"
Sister McDonough is a member of the Dominican Sisters of Our Lady of the Springs, in Bridgeport, Conn., a motherhouse with an emphasis on contemplative life and a more traditional interpretation of religious service than more socially engaged communities, such as Sister Farrell's Franciscan house in Dubuque. McDonough's criticism of LCWR reflects a view of liberal drift like that of Cardinal Law. She went on to say in her paper: "Moveable assets then began to be easily (some would say recklessly) depleted while congregations discovered they had only minimal control."
A footnote of McDonough's speech, citing a canon law essay she published, has no documentation of a sweeping global feminist business by nuns, or of misdirected assets. But her speech gave the investigation fuel. The questionnaire from Rodé's office went out to all American convents, in advance of an "Apostolic Visitation," and the flames were ignited in one of the more significant clashes between conservatives and progressives in the modern Catholic church. The questionnaire from Rodé included these interrogatories:
*What immovable goods (property and/or buildings) have been alienated [sold] in the last decade? Include specific information on… transfer of ownership or control of the unit's immovable goods in any manner whatsoever…
*What immovable goods (property and/or buildings) have been acquired by purchase or donation in the last decade? Include specific information on actual acquisition...
In a Nov. 29 interview at his apartment in the Holy Office, Rodé, 78 and retired as a prefect, defended the questions as "pragmatic and realistic for the Holy See."
But the questions hit many convents like a bombshell.
* * *
The image of the Catholic Church as an institution of great wealth belies the jarring financial changes to the church in recent years — changes that religious communities follow with an eye on their own internal economies.
The American church takes in some $7 billion annually in parish collections. These funds are heavily utilized by the parishes themselves and for parochial schools that the church operates. Each parish pays a percentage, which can range anywhere from 5 to 20 percent, to the diocese in what amounts to a tax. Bishops have great freedom in allocating funds, and forgiving the debts of the poorest parishes.
But the church is facing a financial crisis due to the priest sex abuse scandals and an aging population of priests who need care and pensions. Clergy pension funds in three archdioceses hit hard by abuse litigation — Los Angeles, Chicago, and Boston — have an average unfunded liability of $95 million, according to Jack Ruhl, a professor accountancy at Western Michigan University and authority on church balance sheets.
Canon law, the administrative code under which the church operates, has a stipulation that religious orders' assets and holdings are beyond the reach of bishops. But obfuscations of canon law have been rife in the abuse crisis, which has in turn been part of a larger financial crisis for the church.
That financial crisis has been caused by several factors. Clergy abuse litigation, which includes defense attorney fees, treatment costs for priests and large settlements to victims has cost in excess of $2 billion. The demographic changes, which include some 10 percent of Catholics who left the church in recent years, and the worsening priest shortage have put many bishops in a financial scramble, causing them to close parishes and sell churches to plug deficits.
This move has caused a growing number of parishes to file appeals at the Vatican, where canon law judges have begun overruling some bishops. The fluid nature of this situation has put pressure on bishops to find other ways to plug deficits or divest of assets in paying large legal bills.
Another problem within the changing financial dynamics is the impact of the priest shortage. In 1955 the ratio of priest to parishioners was 1 to 650. Today it is 1 to 1600. The priesthood is a graying institution, with an average age of 63, while the number of seminarians has dropped by more than 80 percent in the last generation. In countless dioceses, nuns work as parish life coordinators to fill the breach in the deepening priest shortage in which 20 percent of parishes no longer have pastors.
Nuns oversee food pantries, counseling services, help immigrants and do everything short of say Mass. In the Saginaw, Mich. diocese, as one example, pastoral administrators run 37 — or a third of — 105 parishes. Of the 37 parishes, twelve are run by nuns. A plan to close and consolidate Saginaw parishes is in motion.
Such changes are part of the greatest downsizing of Catholic religious property in US history. Bishops are selling down an infrastructure built up in the 100 years between the presidencies of Lincoln and Kennedy. The latter marking the high point for the prestige and power of the Catholic Church in America. But that era of Catholic confidence embodied by the Kennedys is long gone.
Since 1995, bishops have closed some 1500 churches, averaging one parish per week for seventeen years. Demographic changes have seen many ethnic neighborhoods lose Catholics, leaving large, nearly empty churches. Clergy sexual abuse cases have cost more than $2 billion according to BishopAccountability.org to US dioceses and religious orders, another force in the parish closings.
But the fire-sale of churches in many towns and cities is just as much collateral damage from the medieval law of celibacy, a key rationale for which was to bar priests' families from inheriting church property. Celibacy is a driving factor in the decline of men and women entering religious life. Priests are the fundraisers in every parish.
The US Conference of Catholic Bishops has a special National Religious Retirement Office with a long record of assistance to religious order women and men who lack elder care resources or having pressing needs. The 2011 Annual report says the office collected $27.4 million and spent $26 million on direct services to some 53,000 men and women.
The most efficient communities of women religious with sufficient assets have long-term investment planning, in hopes of allowing the USCCB support to go to needier people.
Against this financial backdrop, the superiors of many convents reacted with suspicion — if not alarm — at the document from Cardinal Rodé's office. Many of the nuns remembered the events of September 2007 when Los Angeles Cardinal Roger Mahony sent an eviction notice, giving four months' notice to three nuns at a Sisters of Bethany house in Santa Barbara; one sister had lived there 43 years.
But the archdiocese, not the nuns, owned the property, and soon sold it to help fund $770 million in settlements reached with attorneys for hundreds of sex abuse victims. Divulging information on property to the Vatican, which could go straight back to the local bishop, made many women superiors uneasy.
"The property questionnaire was a fishing expedition," says Congregation of St. Joseph Sister Christine Schenk of Cleveland.
Among the members in Schenk's order is "Dead Man Walking" author Helen Prejean, a leading activist against the death penalty. Schenk is a leader of FutureChurch, a group working for church reform.
Our congregation is going from 650 sisters to roughly 300 in the next 10 years, not counting newer members who join," explains Schenk. "We are not atypical. We are making careful decisions on property and investment so as not to burden the fewer younger sisters coming up. With so many communities aging and getting smaller, superiors recoiled from the questionnaire, prudently so. They have a responsibility under canon law to protect the patrimony, which means all the material and financial assets. That sweeping request for financial information from Rome made them defensive. Wouldn't you be? These are things that have been passed down through years and centuries, in some cases, to promote the works that we do. One of the main jobs of mother superiors, if you will, is to protect those assets."
That is an issue many nuns take seriously. In an interview last October, Sister Farrell gave this writer a tour of the Franciscan mother house in Dubuque, Iowa. The complex of several buildings set on rolling farm land has 278 members, of whom 85 are retired and 75 are in a wing for assisted living. One sister was pushing the wheel chair of another, whose legs had been amputated at the knees.
We lose about one sister a month," she said. A large board with updated projections on membership is part of long-range planning for ministries with fewer nuns.
"We're a community of 32 women," explains Sister Dwyer of Virginia. "In one ministry we support 400 immigrants in adult literacy. We've opened a transitional house for 12 [homeless] moms and their kids, besides running two schools, a coed day school and St Gertrude High School in Richmond, and Linton Hall in Bristow."
"I have eight women in formation. They range in age from 46 to 65, among the 32. We have a strange phenomenon. One third are in their 80s, one third are in formation, and the rest of us in between."
The Virginia Benedictines sold 1800 acres of forest and pasture in the 1980s, the proceeds of which were invested in a health and retirement fund. "Most of us are on Medicare," says Dwyer. "We have about 120 acres and are in the middle of a long-range strategic plan looking at property use. Fortunately we do not have sisters in a nursing home. We paid into Social Security when that offer (from 1972 Congressional legislation) came out, that we could pay five years' earnings to qualify."
The Leadership Conference of Women Religious lists 2009 total net assets of $4.6 million including ownership of a small Silver Springs, Md. office building.
They rent space to Resource Center for Religious Institutes (RCRI), which consults with religious orders on various issues. Benedictine Father Daniel Ward, a canon lawyer who also has a University of Iowa law degree, directs RCRI and is by many accounts, an adroit legal strategist.
Ward did not reply to repeated interview requests.
The mission of RCRI is to provide education and guidance to religious institutes on legal and financial matters," states the RCRI President, Sister Hertha Longo, of the St. Agnes congregation in Wisconsin. "To date, RCRI has not been contacted directly by the [doctrinal congregation in Rome.] At this time we do not have any specifics on why RCRI was mentioned in the [Assessment] document."
On receiving the questionnaire from Rodé's congregation, LCWR gathered religious superiors for briefings by Ward and other canonists. The canon lawyers' basic message, according to several women who were there, was that they need not answer specific question on property, rather they could send Rodé's office copies of their order's constitution.
Rodé chose an American, Mother Clare Millea, Superior General of the Apostles of the Sacred Heart of Jesus in Rome, to visit American convents and religious houses. During her trip in 2010, she visited 25 percent of the communities. Her report has been submitted, but not released by the congregation from which Rodé has since retired.
Even before Mother Millea's visitations, says Schenk of Cleveland, "Most groups took steps to legally protect their assets in civil jurisdictions after receiving the questionnaire. RCRI's inclusion in Levada's [2012] Doctrinal Assessment was probably a reactionary response to the assistance given to religious communities."
LCWR is supported by dues from the many community superiors it represents. The leadership group posts a financial breakdown; but many communities do not. If the Vatican got all the financial information on each motherhouse, convent or community — particularly that of a religious order in its twilight — the information could be used by a given bishop to stake a claim on any assets, legitimately or not.
As Schenk put it, "The Vatican doesn't know what to do with people who chart their own course."
Editor's note: The text has been corrected clarify a quotation from Sr. Christine Schenk.
RELATED ISSUES