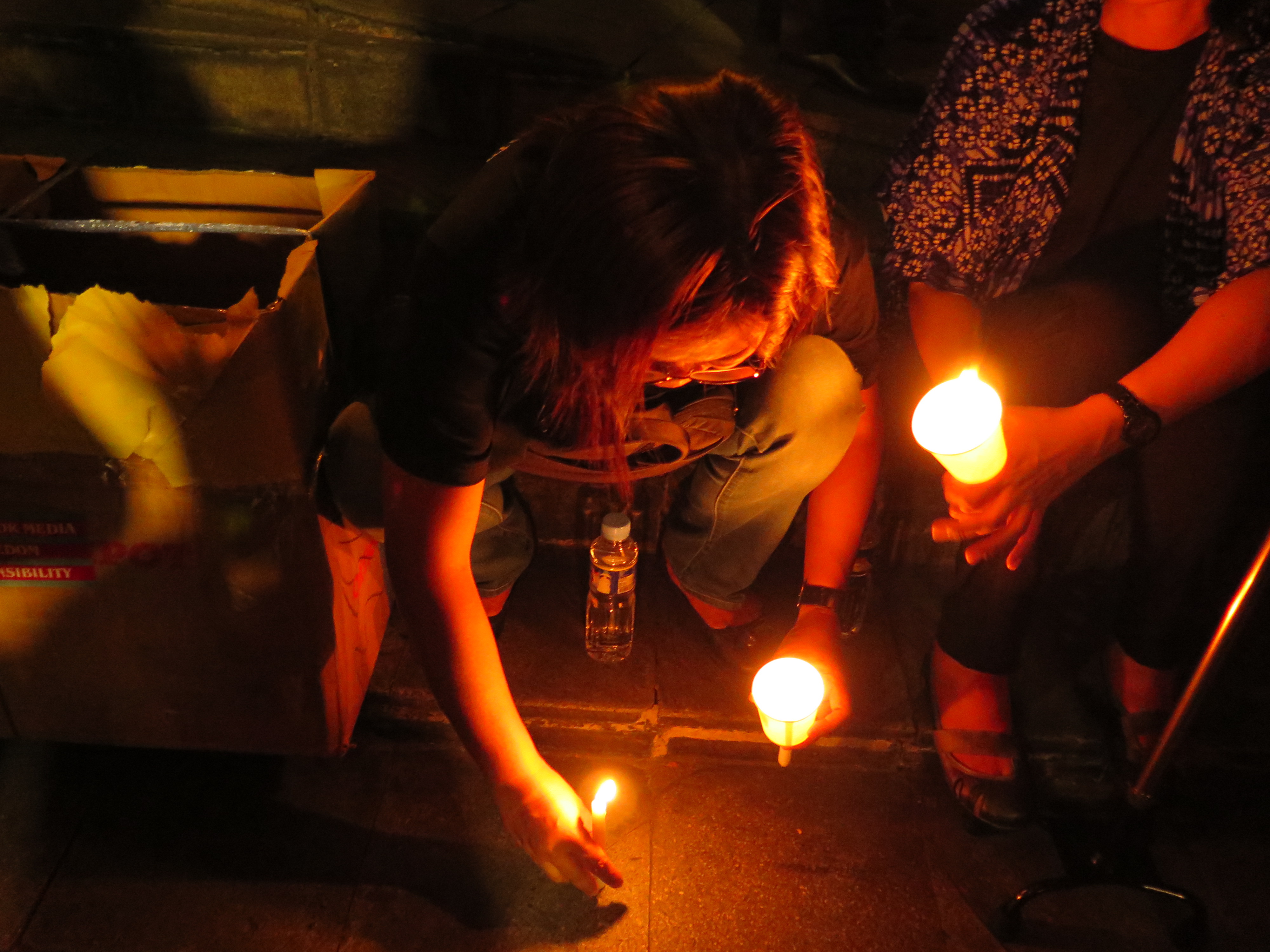 When Elgin Damasco's radio talk show was over, his bodyguards would hustle him out of his fortified studio and into his car. They would drive him through the leafy streets of Puerto Princesa, capital of the western Philippine province of Palawan, and bring him home. There he would hunker down until morning. Police had warned him that men had been casing his house. "I don't even have the freedom to go to the mall," Damasco told me. Inside the cinder-block walls of his studio, the cherubic 32-year-old felt safe. His sonorous voice was hooked into the most powerful transmitter on Palawan island. He was charging forth, as his station ID went, "to defend the weak and criticize the corrupt." From 4:00 to 5:30 weekday afternoons, no one could shut him up.

Today, as most days last winter, he was going after Edward Hagedorn, who had been mayor of Puerto Princesa for nearly 20 years. In 2002, he recalled his successor and won nine more years in office, after which he tried to have his wife replace him. But the vice mayor — also his wife's brother-in-law, in a telenovela twist common to Filipino politics — decided he wanted the job and, to everyone's surprise, won the 2013 election.

Now Hagedorn's supporters were trying to recall the new mayor. No political competition in the Philippines is complete without an all-out radio war. To Damasco, Hagedorn's recall attempt was obvious corruption. "Change we need," he liked to say, "change we must." Sitting at his desk, his face nearly hidden by an enormous microphone, he punctuated his extended monologue with statistics pulled from the stack of depositions and audits before him. He accused the Hagedorn family of embezzlement, land theft, and murder. He weighed in on a recent argument in which a priest had jumped in on the side of the mayor. "The dogs of Hagedorn want us to believe them rather than to believe the servant of the church, of God!"

Damasco had reason to be scared. The Philippines is one of the most dangerous countries in the world for journalists. Depending on how you count, only Syria, Iraq, and Somalia are more lethal. According to the Philippine Center for Media Freedom and Responsibility, at least 168 journalists have been killed since 1986, when the Marcos dictatorship fell and democracy was restored. About half of the dead have been freelance broadcasters, like Damasco. By the time Damasco took to the air against Hagedorn, the murders had developed a certain ritual. As the broadcaster leaves work, a motorcycle with two men drives up. The passenger fires. The journalist falls. The motorcycle speeds away. Whoever hired the hit man goes unpunished.

In 2011, a gunman killed the man Damasco replaced, "Doc" Gerry Ortega, who had used his microphone to bring down the island's ruling dynasty. As Damasco's voice went out over Puerto Princesa, Ortega haunted his studio, a reminder of the power and danger of the work he was doing. After his show was over, an hour and a half of almost nonstop commentary, Damasco slumped on his studio couch, soaked in sweat despite the air conditioning running full tilt. His bodyguards waited outside. "Perhaps the next time you hear from me I'll be dead," Damasco said with a morose pride. Then he laughed long and loud.

FOR MOST OF ITS HISTORY Palawan was considered by the people of the main islands as a malarial hell, a place to send convicts and lepers. That has changed over the past two decades, as the island's surreal beauty has made it a popular tourist destination. Both Condé Nast Traveler and Travel + Leisure recently proclaimed it the best island in the world.

Six mornings a week throughout 2010, had you turned on a radio anywhere on the island, you could have heard the voice of Ortega, round and supple, reminding everyone that all was not well on Palawan. His show always started the same way: a chorus of animal calls followed by a voice intoning in Tagalog, "Palawan, the last foundation of nature in the Philippines, is now the center of controversy and trouble. Palawan, the richest province in the country, now destroyed by the corrupt and the criminals. … This is … Ramatak!"

Ramatak, the name of his show, is an onomatopoeia similar in English to ra-ta-tat-tat. The tower above Ortega's studio, the same tower that would later carry Damasco's voice, blasted the sound effects of an American Western: a whip cracking, a horse's whinny, galloping hooves. Ortega was riding against the bandidos. The FM signal traveled over unspoiled forest and white-sand beaches, over mangrove swamps and limestone karsts. Up the coast the signal caught brand-new relay towers, which converted it into slower AM waves that would bounce to farmers in rice fields, fishermen in bays, and tourist vans working the resorts of El Nido. Here was Doc Gerry, the greatest broadcaster on Palawan, announcing himself over the swelling score of, of all things, Hawaii Five-O.

His real name was Gerardo Ortega, but no one called him that. On the air he was Doc Gerry, in deference to his training as a veterinarian. He was 47 years old and big, an ex-bodybuilder, a staunch environmentalist, and a born-again Christian. He had a reputation for being obstreperous — for loudly and righteously questioning the workaday corruption of Palawan life. When illegal logging upstream clouded the water that fed the crocodile farm he ran in the 1990s, Ortega ranged the hills with any soldier dumb enough to join him; they carried World War II surplus rifles against loggers with assault weapons. He could fathom no better way to die, Ortega once told a daughter, than for Palawan and the Philippines.

Beneath its democratic veneer, the Philippines, from the smallest barangay to the presidency, is a feudal kleptocracy. Almost every political act is the result of decades of complicated infighting among the islands' reigning dynasties. Ortega himself was from a minor political family. His father had been a mayor of a small municipality near Puerto Princesa until he was knifed to death trying to resolve a gambling dispute during a cockfight. Ortega dreamed of building in Palawan the sort of democracy he had seen when he had visited the United States, a place where, for all their flaws, most politicians exercised their responsibilities without stripping public moneys for their family's benefit.

Buaya, crocodile, is local slang for a corrupt cop or politician. The House of Representatives, for instance, is known as "the crocodile farm." In his first radio gig, when he was still overseeing his crocodile farm, Ortega would declaim, sorrowfully, that using the word this way slandered the poor buaya. Sure, sometimes the crocodile ate people, he'd say, but unlike those in office, it didn't need to feed every day. It just asked for food once a month.

The Philippines has about 600 radio stations, generally small affairs held together with hope and duct tape. To defray costs, many stations rent out "blocks" of transmitter time to freelancers. In the provincial Philippines, where radio is king, "blocktimers" are often the only source of news and political criticism people can hear. At its best, blocktiming is a mix of political theater, social commentary, and yellow journalism. Some blocktimers are loudmouthed demagogues (think Rush Limbaugh). Some are serious journalists producing shows akin to 60 Minutes. Some are zealots and crusaders, fighting corruption and environmental degradation. Some are hacks working for the families that run the Philippines. A good blocktimer — one who stirs up some controversy and gets a good audience and a sponsorship deal — can earn a middle-class living.

Are blocktimers trustworthy? It is hard to say. A political system built on double-­dealing and conspiracy breeds a paranoid style. That federal report a blocktimer is reading, which provides evidence of a politician's theft from a road-building fund: Is it accurate or ginned up by one of his rivals? And the blocktimer himself, fulminating against corruption: Who is paying him? All too often, it's another politician buying his voice the same way he might buy a hit man.

Politicians like Jose Alvarez, Palawan's wealthiest man. An irascible businessman in his 70s, Alvarez in 2008 set out on a campaign to win the governor's seat and take the island from the families that, he and Ortega agreed, were sucking it dry. A political newcomer, he created an alliance with Edward Hagedorn, the on-and-off-again mayor of Puerto Princesa. He also built a new transmitter and the AM relay stations, creating the most powerful radio network Palawan had ever seen. And in 2010, he offered Doc Gerry Ortega, a man known for his principles and his hatred of corruption, an under-the-table job.

TO UNDERSTAND WHY Ortega took this offer, you have to understand that he had spent almost a decade in a bitter feud with Palawan's famously charismatic governor, Joel T. Reyes, who came from the dynasty that ran the fishing and tourist town of Coron in northern Palawan. Rumors had swirled around Reyes for years. There was talk of a close friend shot in the head on a hunting expedition when they were in their 20s; Reyes claimed it was an accident. There was speculation that he regularly used cocaine. Late at night in the Puerto Princesa bar he frequented, his charm would slip sometimes, revealing a face, one broadcaster told me, "like a killer."

No one knows quite how the Ortega-Reyes feud started. In 2000, Reyes, who had been vice governor of the island, caught a lucky break when the governor died in a mysterious plane crash. That same year, Ortega took a foray into politics, winning a seat on the provincial legislature. What he saw disgusted him: not just the petty corruption of padded expense accounts but also a conspiracy, orchestrated by Reyes, to siphon government royalties from a vast offshore natural gas well. Ortega ran against Reyes for governor in 2004 and lost badly. He blamed his defeat on Reyes's ability to buy votes.

Soon after, a broadcaster friend was murdered. Ortega dropped out of public life and convinced his wife, Patria, to enroll in nursing classes with him. They would move to the United States "or another First World country" and leave Palawan behind. It was during his retreat from public life, his daughter Michaella said, that Ortega realized working as an outsider wasn't going to be enough. If he wanted to reform the island's government, he would have to make an alliance with one of the high families. He finished nursing school but never bothered to take his exams. When his wife pressed him, he told her that he could never be happy anywhere else. "So what could I do?" she asked. Instead, she watched as he worked to build initiatives that would spread the new tourist wealth around the island. But as the 2010 elections approached, Ortega threw himself into an even grander goal: ending Palawan's dynastic system.

In contrast to the hard-partying Reyes, there was much to recommend Jose Alvarez, a self-made man who had risen from poverty to oversee an empire of car dealerships that stretched across Southeast Asia. Even political rivals admired someone who, it was said, still packed his own bags, ironed his own shirts, and woke up before dawn to shine his own shoes. Like many a billionaire-turned-politician, Alvarez promised to run Palawan with a businessman's rigor. Because he was wealthy, he promised he would not be tempted to steal. Rather, he would build a model of effective democratic rule, devoting his last active years to the good of Palawan in penance for once logging its forests.

Alvarez had to move fast. Reyes was being termed out in 2010. Members of Filipino political coalitions often get around term limits by swapping seats. Reyes planned to run for one of the island's congressional seats, while the holder of that seat, Abraham Mitra, ran for governor. (Adding another telenovela note: Mitra was the son of Ortega's godfather.) Ortega saw Alvarez's campaign for governor as his best chance to break the hold of the Reyes faction.

"He told Alvarez, 'I can't be your campaign spokesman and also support you on the radio. I've got to be clean,'" said Joey Mirasol, a local broadcaster whom Ortega recruited onto the Alvarez campaign. The arrangement between politicians and broadcasters is often one of maximum deniability. According to Mirasol, his and Ortega's deal with Alvarez was no exception. "He would pay money to one of his foundations as a tax write-off," Mirasol said. "The foundation would hire us as a consultant, and we would pay our own airtime at Alvarez's station. It was out of one pocket into another." According to Mirasol, he and Ortega were each paid 40,000 pesos a month — about $850 — from the foundation.

Ortega's show was three hours of vaudeville and muckraking. He moved between humor and gotchas, getting into riffs and arguments with a range of Filipino stock characters impersonated by his guest co-host, Boy Bonoan. He went after dirty merchants, mining interests, and anyone who spoiled Palawan's natural wealth. But his main focus was Reyes and Mitra. Day after day he harped on the money that had disappeared while the island's roads and schools fell apart and two-thirds of its citizens lived without electricity. And he praised Alvarez as the only man who could save the island from total ruin.

After the bribes were paid and the ballots were counted, Mitra narrowly defeated Alvarez for the governorship, but Reyes lost his race for Congress. The Alvarez-Hagedorn alliance was ascendant. People on the island largely credited — or blamed — Ortega. In May, Reyes returned to his hometown of Coron. Had he turned on his radio, he could have heard Ortega, still relentless, still righteous, on Alvarez's powerful transmitter, demanding that Reyes be locked up. "It's not your mother's money," Ortega says in a typical broadcast from January 17, 2011. "It's not your money. It's our money. So don't use our money for betting on cockfights, for women you have affairs with." He turns to Boy Bonoan: "Does this man have women?" Yes, Bonoan replies, he has women. "Does this man have roosters?" Yes, Bonoan answers, he has roosters. "Does he own a yacht?" Oh, he does. "Well, why does he not go to jail?" Bonoan responds, "That's what people are wondering, Doc. He smiles as he's stealing."

Ortega's radio campaigning terrified his family; everyone asked him to stop. He was going after too many dangerous people — not just Reyes but loggers and miners. No one thought what Ortega was doing was safe. A month after the election, two journalists were murdered in the same week on different sides of the country. The previous year, a private militia on the island of Mindanao had kidnapped and killed a group that included 32 journalists. Patria Ortega started leaving articles about murdered journalists conspicuously around the house. "I said, 'Gerry, stop already,' but he wouldn't listen," she said. "He said, 'When it's my time, it's my time.'" She urged him to hire security, so he brought on his cousin — a ne'er-do-well, she said, more of a "buddy than a bodyguard."

On the morning of January 24, Ortega went into a discount store near his wife's veterinary clinic to buy a dress for one of his daughters. He did not see the young man waiting in the shade in a vacant lot across the street, a shirt tied over his face. He did not turn as the man picked his way through the line of brightly painted motorcycle rickshaws crowding the road, raised his pistol, and shot him in the back of the head. As Ortega dropped to the concrete floor, the hit man bolted, dodging cars as he sprinted down the Palawan North Highway.

WHEN ORTEGA was assas­sinated, Elgin Damasco was living on Mindanao island, working as a station manager for a local affiliate of the Radio Mindanao Network, owned by the Alvarez family. Damasco was a company man. He had started as an unpaid reporter while he was still in high school and worked his way up to being a news director, DJing a music show, and finally to anchoring his own shows.

Following Ortega's death, Alvarez offered Damasco a promotion: running the Puerto Princesa station where Ortega had worked. Damasco got to Palawan as the island was still reeling from the murder. The case should have ended, as so many did, with the hit man getting away, but he fled right into a pair of cops. Under interrogation, he gave up the leader of the kill team, who named the man who had hired them: Reyes.

Alvarez and Hagedorn made sure the case didn't disappear. Hagedorn went to Luzon island with the national police to personally escort the kill team's leader back to Palawan. Alvarez paid the Ortega family's living expenses. Both men helped pay for the private lawyers who eventually persuaded a regional trial court to issue an arrest warrant for Reyes.

Before the warrant could be filed, Reyes and his brother took a plane from Manila and vanished in 2012, which left their faction struggling to hold on to power. It was Damasco now who carried on where Ortega had left off. In case anyone missed the point, the theme of Hawaii Five-O also played under Damasco's opening credits. The two men had different styles, though. Where Ortega had sounded like a cross between an auctioneer and a tent preacher, Damasco sounded like a sportscaster, reading police reports as if they were replays from a football game. Where Ortega, whatever his compromises, had tried to get facts right, Damasco had a reputation for playing fast and loose with the truth. He didn't have Ortega's sense of comedy. His was a straight, often heavy-handed critique, largely aimed at the already converted.

Yet it was Damasco who helped bring Alvarez to victory in his second campaign. In the buildup to the 2013 gubernatorial election, as Alvarez barnstormed to sweep the last of the Reyes faction from power, Damasco extolled Alvarez and his ally Hagedorn. He sang of how much they had done to rid the island of corruption, how much they had done for the Ortega family, how important it was for Palawan to finish the work Doc Gerry had started.

In the vacuum left by Reyes's hasty departure, rumors spread. It was impossible to miss that Ortega's death had profited one man most of all: Jose Alvarez, who had lost a broadcaster but gained a martyr. In the conspiracy-obsessed political culture of the island, many found it irresistible not to take the next step: that Alvarez — or perhaps Hagedorn — had ordered Ortega's death, using the broadcaster as a "sacrificial lamb" to destroy the Reyes dynasty and take control. (That there was no evidence that Alvarez or Hagedorn were involved in Ortega's murder did not deter the speculation.) In the election, Alvarez defeated Mitra with 70 percent of the vote.

To those who had watched how Alvarez ran his companies, it came as little surprise that he proved to be a dictatorial governor. After campaigning as an environmentalist, he approved the construction of a coal plant in Ortega's hometown. When students at a nearby university protested, he yanked their scholarships. He filled many of the island's political offices with family members. His daughter is the mayor of San Vicente, his brother is running for mayor of El Nido, and his nephew is a congressman. And despite his public claims, he has stopped paying for the lawyers that kept the Ortega case alive.

Alvarez's hand was felt at Ortega's old radio station as well. He sent text messages telling broadcasters whom to go after and banned spokespeople from his rivals' campaigns from being interviewed. Following the election, Damasco finally tired of doing Alvarez's bidding at the station. He made his excuses and quietly resigned, moving to a station across town where he bought his own airtime. From now on, he would be his own man. He would be a blocktimer, like Ortega.

FOR A LONG TIME an image of Gerry Ortega, hand on his ­heart, looked down from a faded billboard facing the road out of Puerto Princesa. In Tagalog, big block ­letters called for JUSTICE FOR DOC GERRY. "I sometimes reflect on whether his work was worth it," Patria Ortega said. "Probably for him, as a person, it was worth it. He's in heaven, and people remember him as a hero. But the family were also the victims, not only him."

Then, in September 2015, Patria got news she had hardly dared hope for. Thai police arrested Joel Reyes and his brother on the island of Phuket. They have been extradited and await trial in the Puerto Princesa city jail.

Although it would be unprecedented — no politician has been convicted for ordering the murder of a journalist — it is not clear how much difference a guilty verdict would make. From jail, the Reyes brothers filed to run for mayor and vice mayor of Coron. Filipinos like to say that in politics there are no permanent friends, only permanent interests, and the alliance between Alvarez and Hagedorn didn't last. In late 2014, when Hagedorn launched the recall campaign to replace the Puerto Princesa mayor with himself, Alvarez jumped in on the side of the sitting mayor. Many believe this was Alvarez's attempt to keep Hagedorn out of power so he could consolidate his.

Damasco threw himself into the campaign as it heated up last winter, attacking Hagedorn and his family. He liked to tell people that this was the kind of thing Ortega would have done. But Damasco was hardly independent. Although he didn't work at Alvarez's station anymore, he used the station's transmitter, and Alvarez assigned his bodyguards from the provincial police. Damasco couldn't risk alienating Alvarez. So every day he went on the airwaves to crusade against the dogs of Hagedorn, fighting for the change Palawan deserves.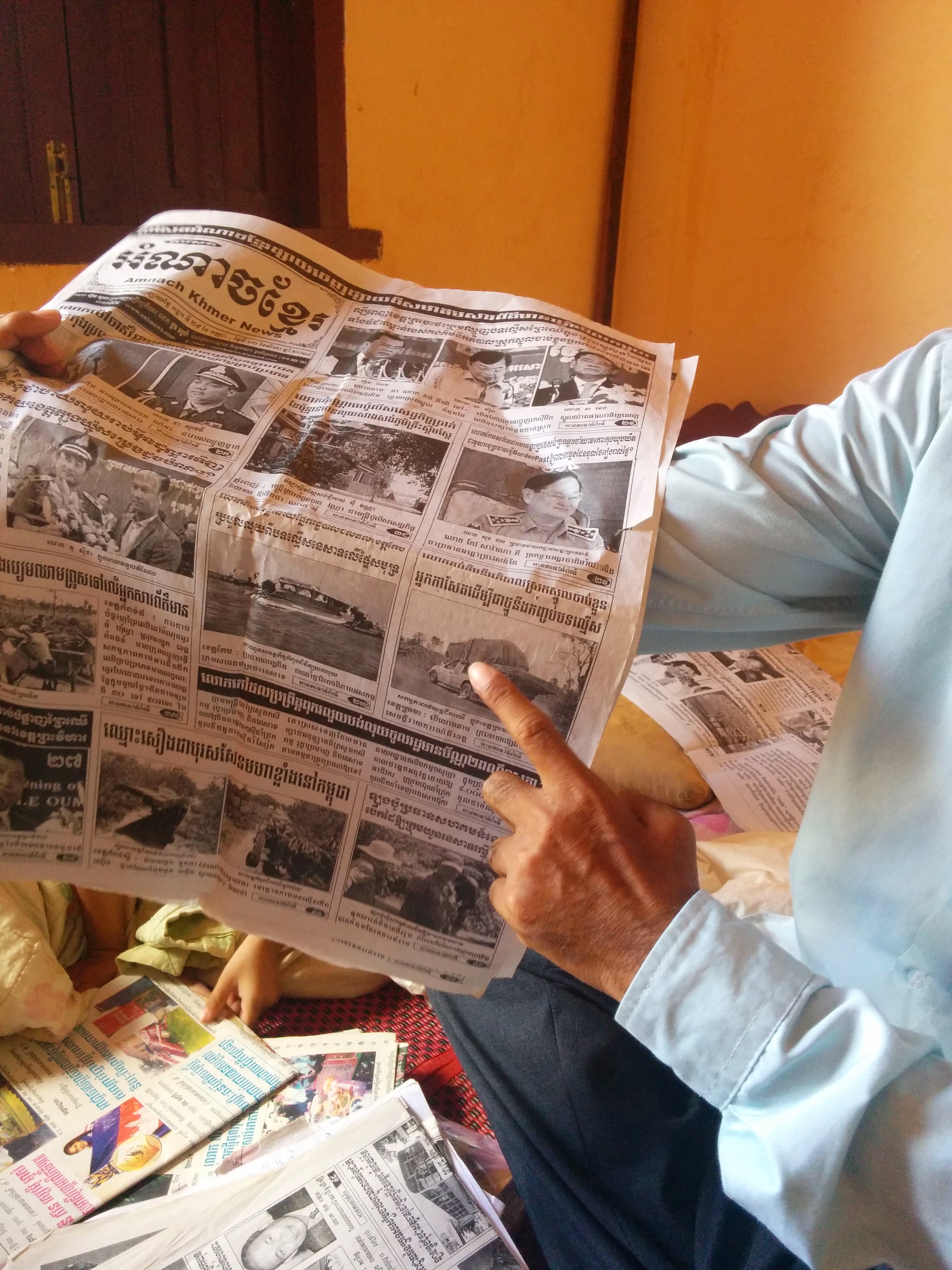 In the last decade 41 journalists have died covering the environment—more journalists than were...
RELATED ISSUES