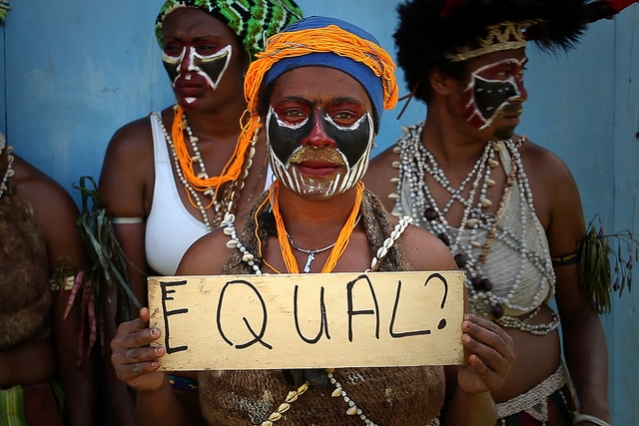 In this French language broadcast for Radio France Inter, Celine Rouzet reports on Exxon Mobil's $15 billion Liquefied Natural Gas (LNG) project in Papua New Guinea, which is scheduled to start shipping natural gas in 2014 to Asia--but not without controversy.
From France Inter.com
Il y a du gaz, chez les Papous !!!
Et du gaz, le monde en redemande, surtout les Chinois, si nombreux. Plus les réserves de pétrole diminuent, plus le gaz a la cote. Aux Etats-Unis d'Amérique, on a compris l'urgence qu'il y avait à pomper les ressources gazières du sous-sol papouan-néoguinéen pour vendre cette manne aux pays de la région : à la Chine, bien sûr, mais aussi au Japon et aux Etats de l'Asie du sud-est. A Washington, on voit dans cette affaire (faut-il dire : « ce business » ?) un enjeu « stratégique ».
Depuis deux ans, la compagnie américaine Exxon Mobil arrose de billets verts la Papouasie-Nouvelle Guinée. Là-bas, ça sent le gazodollar à plein nez. Le projet PNG-LNG pèse 15 gros milliards de dollars U.S., autant dire de quoi bouleverser la vie des Papous, désorganiser leur société, faire imploser leurs traditions, encourager l'alcoolisme, la prostitution, la corruption… de quoi aussi faire accourir de l'étranger ceux qu'hypnotisent l'odeur du gaz et l'attrait de l'argent.
RELATED ISSUES

Trade

Issue
Land and Property Rights
Land and Property Rights