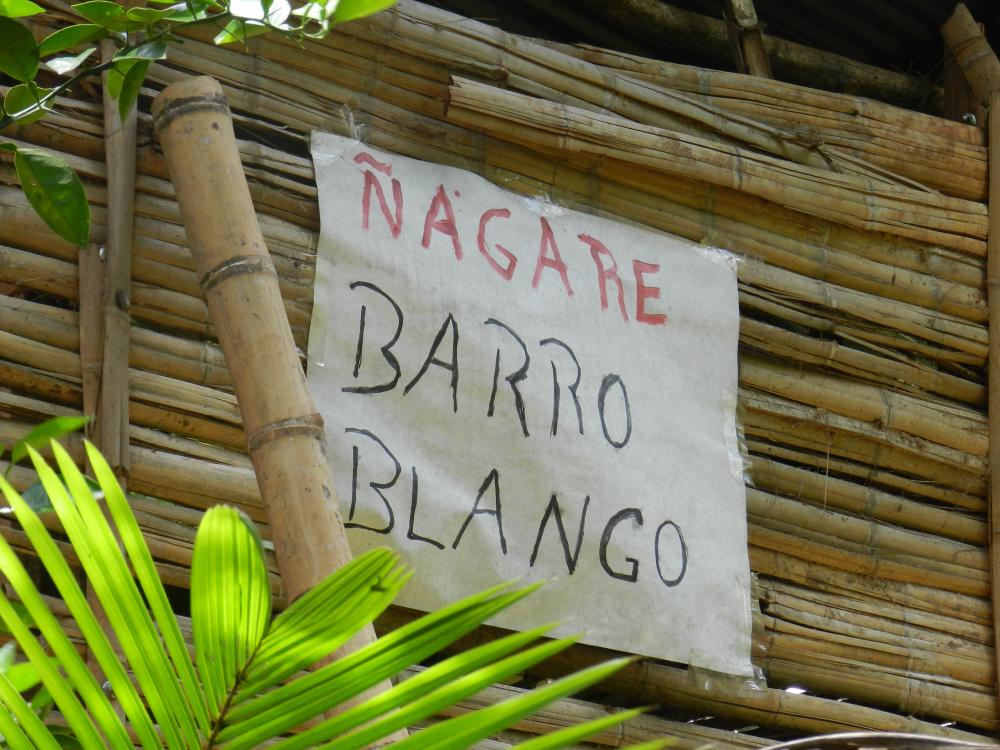 In February 2012, members of Panama's largest indigenous group, the Ngäbe-Buglé, blocked the country's main roadway to protest mining and hydroelectric projects they say won't benefit their semi-autonomous region known as the Comarca.

The protest halted traffic between Central and Western Panama for a week, until a military-style police crackdown cleared the protest. The event concluded with the signing of a law that prohibits mining in the Comarca. The law also prohibits the construction of hydroelectric projects within the Comarca without free, prior and informed consent. Not included in the law was the cancellation of the 28.84 MW Barro Blanco hydroelectric dam, currently under construction near, but not within, the Comarca.

Panamanian company Generadora del Istmo S.A. (Genisa) owns and operates the dam. According to the project's environmental impact study, 6.7 hectares of land belonging to the Comarca will be flooded, affecting four indigenous villages. This territory accounts for only 2.27 percent of the total land that will be used by the dam, but it is the project's most controversial aspect.

Leading the charge to cancel Barro Blanco and all other mining and hydroelectric projects that affect Ngäbe-Buglé populations since 1999 is the indigenous activist group El Movimiento 10 de Abril (M10). They say citizens of the Comarca were not properly consulted before construction of Barro Blanco began.

"They (Genisa) did not give a specific explanation, when they should have, of the ways the project will impact the Ngäbe-Buglé Comarca," said M10 coordinator Toribio Garcia.

An Indigenous Resistance

"What we want is for the project to be cancelled completely, because our way of life depends on the benefits of that river," said M10 Vice President Justo Jimenez. He says that flooding from the dam will hinder his village from doing tasks such as farming, fishing and washing.

Justo Jimenez lives in a cramped wooden shack an hour and a half away by trek from the nearest paved road. He has no formal education and his income as a subsistence farmer is close to none. His M10 associates also lead humble lifestyles. Access to a secondary education, Internet, paved roads, cell phone reception and electricity is not a guarantee in many Ngäbe-Buglé communities.

"Not a single M10 member owns a car," said Justo Jimenez.

Despite obvious challenges ranging from communication to financing to transportation, M10 orchestrated a protest that paralyzed an entire nation and forced its government to the bargaining table.

Justo Jimenez says members across the Comarca communicate through a combination of radios, note passing between villages and the few cell phones that are available. Members spend hours, even days, trekking to and from meetings. After attending an evening meeting on July 8, Justo Jimenez made a two-hour trek home through hills and forests with only a flashlight.

However, M10 is not alone in their fight to cancel Barro Blanco. A coalition of environmental groups, labor unions and activists have joined M10 to overcome obstacles such as outreach to urban audiences.

Coordinator of Panama City-based activism group El Kolectivo, Aris Rodriguez, says his group became involved in indigenous issues after they saw M10 and other Ngäbe-Buglé occupy a park in front of the National Assembly in Panama City for months. As a group dedicated to activism through the arts, El Kolectivo participated in a Panama City parade by marching through the streets with anti-mining and anti-hydroelectric banners.

The Physical Cost of Resistance

"Here is the story of my friend, who they killed," said M10 coordinator and father of Justo Jimenez, Luis Jimenez, as he pulled out a tattered cover page of a February 2012 newspaper from his hand-woven satchel. The paper shows the image of the beaten Ngäbe-Buglé Jerónimo Rodríguez Tugrí, one of the two protesters confirmed to have died from the police crackdown at the 2012 protest. "He gave his blood to those of us who were there."

Justo Jimenez is just one of the participants of last year's blockade who still suffer its consequences. He was the recipient of two rubber bullets fired from a helicopter. Wounds on his calf and hip are still visible. He says doctors told him to avoid infecting or damaging the wound by not doing physical labor for a year: not an easy task for a subsistence farmer living in the Comarca.

"I can't work very much, but when I do, all I feel is a swelling pain my foot," he said.

About two months ago he became sick, and after consulting a doctor they told him that unless he gets a $250 operation he could lose the use of his foot.

"They told me that I cannot work until I get the operation, but I haven't done it because there is no money," he said.

Taking the Fight to an International Audience

On July 19, M10 and Comarca General Chief Silvia Carrera welcomed United Nations Special Rapporteur on the Rights of Indigenous People James Anaya to the Comarca. He visited Comarca villages and noted their complaints. He presented his preliminary findings on alleged human rights violations on July 26 in Panama City and will present a formal report at a United Nations forum next year.

"The flooding of Ngäbe territories should not proceed, nor should their territory be affected by any other means without a previous agreement with the representative authorities of the floods," wrote Anaya in his official statement.

No Negotiating

According to Genisa renewable projects director Julio Lasso, the construction of Barro Blanco is 56 percent complete. He says it is expected to finish in the first quarter of 2014.

Understanding the community apprehension, Genisa attempted to ease tensions by offering to build a school and a church in two of the communities that will be affected.

"We get tired of saying that we are not going to negotiate or sell our land," said Luis Jimenez.

Despite all indications that construction will not stop, M10 will only accept one resolution from Genisa: the cancellation of Barro Blanco.
RELATED ISSUES