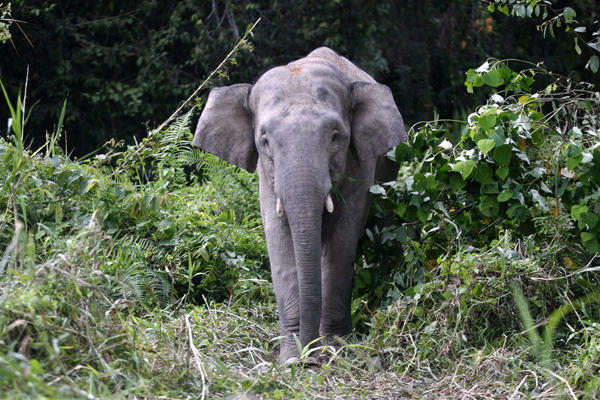 A rare breed of elephant appears to be the latest casualty of the palm oil boom that is sweeping Malaysian Borneo, reigniting an already heated debate over the pros and cons of the world's cheapest cooking oil.

Malaysian wildlife officials say 14 dead pygmy elephants were found last month in the wilds of Sabah Province, apparently poisoned by chemicals used by farmers to keep pests from eating the palm fruit grown on plantations that blanket vast swaths of the countryside.

In once instance, a 3-month old baby elephant was photographed nuzzling its mother, who lay on the ground next to three other corpses. For activists, the image is emblematic of nature's losing battle with man in and around the farms.

Favored in developing countries for its versatility and long shelf life, palm oil is now found in more than half of processed foods in Western supermarkets, from cosmetics to Girl Scout cookies. Surging global demand has generated billions in profits for Indonesia and Malaysia, the world's first- and second-largest producers, bringing prosperity to once poor corners.

The boom is changing the complexion of Borneo, the resource-rich island they share that is one home to one of the oldest rainforests on earth. But environmental groups say the palm oil boom is driving the expansion of plantations deeper into hyper-diverse tracts of forest, accelerating global warming and forcing rare species like the pygmy elephant and orangutan into deadly confrontations with humans.

In a statement following the elephant report, Dionysius S.K. Sharma, executive director of World Wildlife Fund-Malaysia, said the "central forest landscape in Sabah needs to be protected totally from conversions" and called for "frequent and large-scale patrolling" of forests to protect elephants. Yet he conceded this would be a "massive task" given the remoteness of the terrain and large areas involved.

The scale of the plantations is massive. Take a flight from Kota Kinabalu, the provincial capital, to Lahad Datu, also known as "Palm City," and permaculture reigns: Palm plantations sprawl for miles on end, occasionally pocked with the smokestacks of large processing facilities. The largest are owned by agribusiness giants like Sime Darby and Wilmar International, with clients that include top consumer goods companies Unilever and Nestle.

Business booming

Thanks in part to new US laws mandating the removal of oils rich in trans-fats, business has never been better.

In 2011, the export of palm oil and palm-based products netted the Malaysian economy $27 billion, a fivefold increase over the past decade. With such profits at hand, the Malaysian government wants to double the area under cultivation by 2020.

This is welcome news to longtime residents of Lahad Datu, the coastal town that has been transformed in years from a crime-ridden backwater to an investment-friendly hub. Real estate prices are soaring, investors are pouring in and the streets are safer than ever, replete with fast-food franchises and shiny hotels. "This place is opening up, finally," says Arnan Angkut, at a bustling seaside teashop. "We are doing much better than before because of palm oil."

But this kind of enthusiasm could spell long-term trouble for communities in the region and beyond.

A joint study published in October by Stanford and Yale universities revealed that land-clearing operations for plantations in Borneo have emitted more than 140 million metric tons of carbon dioxide emissions in 2010 alone, equal to annual emissions from about 28 million vehicles. Over the past two decades, about 6,200 sq. mi. of primary and logged forested land have been destroyed in Borneo.

Orangutan populations reduced by half

Activists say that palm oil deforestation and hunting have already combined to reduce Bornean orangutan populations to half the total of the 1980s. At this rate, some predict the iconic animal could be extinct within years.

For its part, the pygmy elephant, a rare sub-species of the African elephant, is in even greater peril: WWF-Malaysia estimates there are about 1,200 left in the wild. And Malaysian wildlife authorities have said they expect to find more dead elephants as they comb the jungle.
RELATED ISSUES