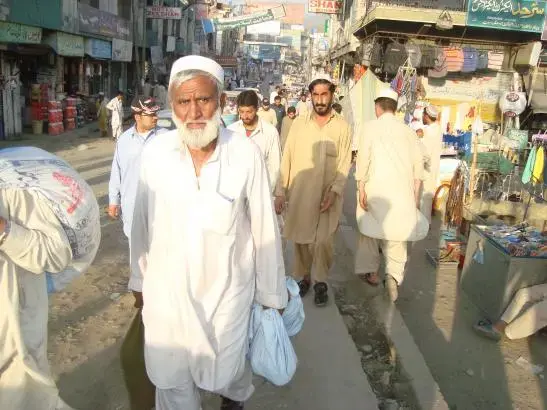 An idyllic valley rich in natural resources and heritage located in northwestern Pakistan, the Swat is bit by bit recovering from the trauma of conflict between pro Al-Qaeda Taliban militants and Pakistan security forces that in May 2009 displaced 2.5 million from the region and left hundreds killed and maimed.

Unlike the lawless tribal region along the Pak-Afghan border, Swat was a princely state until it was merged into Pakistan in 1969. Its benevolent rulers developed a network of educational institutions, clinics, libraries and recreation centers for the locals.

But in the 1990s Maulana Sufi Muhammad, and then in 2007, his son-in-law Maulana Fazlullah, leader of Tehrik-e-Taliban Pakistan's (TTP) Swat chapter, played havoc with people's lives and properties in the name of Shariah.

Taliban militants destroyed more than 400 schools in the valley to discourage "westernization" of the region and to guarantee the availability of fresh recruits for the promotion of their extremist agenda.

After initial reports that Fazlullah had been killed in a 2010 military operation, he re-emerged in a video, addressing 20 suicide bombers and warning religious scholars, local chieftains, journalists and common people of dire consequences for allying themselves with the US-sponsored war on terror.

The threats came after the US escalated pressure on Pakistan to take concrete action against the Haqqani network in North Waziristan, pressure that Pakistan resisted.

Pakistan's security officials now claim that Fazlullah is in Afghanistan. According to Pakistan's military spokesman Maj. Gen. Athar Abbas, Fazlullah has regrouped his militants in Kunar and Nuristan provinces and poses a threat to Pakistan once again.

The Pakistan military command has also criticized Afghan and US-led allied forces for not taking action against Fazlullah.

However Sirajuddin, spokesman of the TTP Swat chapter says only women, children and elders of the Taliban are on the Afghan side of the border.

"We are on the Pakistan side of the border and from here we manage all the activities of TTP," he told me in a telephone interview from an undisclosed location along the border, adding that the Taliban are capable of carrying out attacks anywhere in Pakistan.

This is disputed by the military command which claims that the region has been cleared of Taliban militants and their network destroyed. In April, Peshawar Corps Commander Lt.-Gen. Asif Yasin Malik announced the success of the military operation and the restoration of peace in the region.

There is no denying that after the military offensive Fazlullah is not able to continue with the jihadist training centers and that his militants cannot patrol streets, but it does not mean that his network has been dismantled.

The violence continues

In Oct. 2011, Fazlullah vowed to return to Pakistan and wage a new war. But most people who live in Swat believe this would be strongly resisted. They have formed tribal lashkars (militias) and peace committees in both lower and upper Swat and regularly monitor their villages.

But it seems there is no end to violence. The region is still in the grip of fear and uncertainty.

Over the past year more than 100 security personnel and civilians were killed in militants' attacks in the Dir and Chitral districts, close to the Pak-Afghan border. Members of the lashkars are the prime targets of Taliban militants.

On Nov. 11, terrorists attacked Karim ul Hadi, a member of the peace committee in the Kabal area of Swat, with a hand grenade that seriously injured him and two others. The incident happened in Kanju Township, a wealthy area that houses government and NGO offices. TTP Swat has accepted responsibility for the attack.

A few days earlier, Hanif Jadon, a local leader of the Pashtun nationalist Awami National Party (ANP), was killed in a suicide bomb attack in Sawabi after he was returning home from Eid prayers. His six-year-old child also died in the attack. TTP Swat claimed responsibility. Sawabi is a relatively peaceful district about 70 km from Islamabad.

All of this demonstrates that Fazlullah has extended his network to other parts of the province where his militants coordinate with other militant organizations and criminal groups to pursue their violent agenda.

In particular, attacks on members of the secular ANP are on the rise. According to ANP officials more than 400 party workers have been killed by the militants in different areas of the province and adjoining tribal region.

In September, a suicide bomber killed 31 people at a funeral in Jandol area of Dir, a neighboring district of Swat. In Buner, three people were killed when militants opened fire on a music gathering, and in another incident, Sardar Husain Babak, provincial minister for education, was injured in an attack on his vehicle.

Immediately after the end of the military action, senior military and civilian officials encouraged people to form lashkars and peace committees at all levels to halt the re-emergence of the Taliban. The security establishment failed to realize that these lashkars would need weapons and logistic support on regular basis, which they are not getting. Instead, locals were asked to surrender their weapons to the security agencies to ensure peace in the region.

Zia ud Din Yousafzai, spokesman of the Swat Peace Council, says militants are equipped with the latest weapons and explosives and that they are still in the surrounding areas.

"People have rendered numerous sacrifices and their socio-cultural and economic fabric is completely destroyed. This is the responsibility of the military, police and intelligence agencies to ensure peace and stability in the war-torn valley. Forcing civilians to perform security duties will further endanger their lives and will bring them into direct confrontation with the militants who are active in the border region right from Swat to North Waziristan Agency," he said.

The Pakistan army rejects the claim that people are forced to perform security duties in their villages, noting that army units are deployed in Chitral and Dir to block Taliban re-entry into the valley.

Yousafzai suggests that the military hand over administrative responsibilities to the civilian authorities and concentrate only on eliminating the terrorist groups.

People in Swat also complain of the state's failure to punish Taliban commanders arrested by the security forces during the military operation. Commanders such as Muslim Khan and Mehmod Khan are still in the custody of the security forces, but until now no charges have been leveled against them in any court of law

In my interviews with people in the Mingora, Matta and Kabal areas of Swat Valley, many questioned the authenticity of the military action, asking how it was possible for Fazlullah to flee the area and establish bases in the border areas despite the huge military presence in the region.

After Fazlullah's recent threats of returning to the area, and clashes between the army and the militants in upper Swat, the military has established more than 30 security check posts in different parts of the valley. This further heightens the sense of insecurity among the local population.

It was also announced that construction of a military cantonment would be started soon. A spokesman for the military's Inter-Services Public Relations in Swat, Col. Arif Mehmood, said "the army will remain in the area till complete elimination of the terrorists and restoration of the confidence of people."

Civil society organizations have already expressed their concern over the announcement. They fear the cantonment will deprive them of their agricultural land and orchards. Development experts believe it could have both positive and negative implications.

"Technically if the cantonment is constructed on wasteland in different parts of the valley it will not affect the locals much and will help in expediting economic activities in the region, but if it is built in one place it will adversely affect agricultural activities and may also displace people from their homes," says Shaukat Sharar, a civil engineer and development expert based in Mingora.

Participation of local people in the reconstruction effort is another area that is frequently ignored by state authorities. The Taliban's emergence was the result of the years' old frustration at the delay in justice and the indifferent attitude of the Pakistani government. Now, as society is passing through a transitional period, it is vital that more attention be paid to the social and cultural sensitivities of local communities.

There also is a need for enhanced cooperation and intelligence sharing between Pakistan and the U.S. to monitor and disrupt militants' activities on both sides of the 2,000 km Pak-Afghan border.

Muhammad Afzal Khan is the octogenarian Pashtun nationalist leader who stood against the Taliban when they dominated Swat in 2008 and refused to leave the area. When I met him in his home in Dureshkhela he told me that the military operation forced the Taliban to flee the area, but failed to restore people's confidence in state institutions.

"People need compensation for their losses; they want that their sacrifices are recognized and that their destroyed houses and schools are re-built without any further delay," Khan said.

Khan explained that militants were still active in the region because they owned land and houses here and that they would continue to visit the area unless their properties were confiscated by the state authorities.

He added that real peace cannot be restored to the region unless Pakistan's tribal areas and neighboring Afghanistan are stabilized.

Fazlullah: From lift operator to Taliban commander

Fazlullah, a cleric and former lift-operator, used his pirated FM radio station to launch a series of sermons in 2006, condemning the presence of US forces in Afghanistan and inciting youth for jihad against "infidels."

The impact was huge. He skillfully interwove popular Pashto proverbs and idioms into his sermons. Women and youth were his target audience, and to build popular support he lambasted landlords, politicians and government officials for their failure to resolve people's problems.

Fazlullah was not a religious scholar and had no in-depth knowledge of the religious scriptures. Compared to others in his extended family, he was financially weak and had no social standing.

In a society where social status depends on possession of land, Fazlullah owned less land than other members of his clan. To earn his livelihood he started operating a lift that carried tourists across the River Swat for Rs.10 per person.

During an interview in 2008, he told me he received his religious education from Maulana Sufi Muhammad, his father-in-law and leader of the Movement for the Enforcement of Shariah in Malakand (TNSM), while they were in prison. Both were arrested by Pakistan authorities in 2001 after they led 10,000 volunteers to Afghanistan to support the Taliban regime and then deserted them in the battlefield. Most of the volunteers were killed by US war planes or arrested and tortured by the forces of Northern Alliance.

Before hardening his tone against the US and its allies and urging jihad, Fazulluh denounced the use of dish antennas, computers, digital cameras and mobiles phones as un-Islamic—tools of the Western powers to misguide Muslims from the right path. He asked women to donate jewelry for the construction of his religious seminary (a huge complex with halls, hostels and class rooms) and incited unemployed youth to take up arms.

When his supporters dominated Swat valley and the adjoining Buner district, girls were banned from schools, and wearing the burqa was compulsory for any woman who wanted to step outside of the four walls of her house. Singing and dancing were forbidden and people were asked to avoid administering polio vaccinations to their children. According to the Global Polio Eradication Initiative there are total 136 polio cases in Pakistan.

During the Taliban's two-year reign of terror, attacks were carried out against security personnel, local elders, NGO workers, political activists, singers and female dancers. Dead bodies of the Taliban opponents were hanged from electricity poles in Mingora, the administrative headquarters of Swat Valley.

Correction: A previous version of this story incorrectly identified Col. Arif Mehmood as the spokesman for the ISI, Pakistan's intelligence service. He is spokesman for the military's Inter-Services Public Relations (ISPR).





Shaheen Buneri works for RFE/RL Mashaal Radio in Prague, Czech Republic. He is a 2011 Persephone Miel fellow for the Pulitzer Center On Crisis Reporting.

RELATED ISSUES