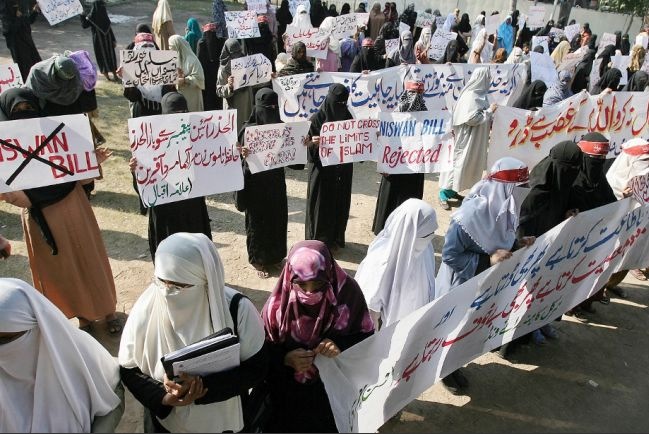 ISLAMABAD, Pakistan — Days after the Delhi gang-rape victim died, a 9-year-old girl in Pakistan was allegedly abducted from her home and raped by three men.

The captors are said to have beat her before dropping her bleeding body in front of her house. One of the kidnappers is then reported to have threatened her mother, saying they would kill her if she contacted the police.

She did anyway.

The mother then took her daughter, a second-grader, to a nearby hospital where she was treated for a loss of blood and internal injuries. Police have arrested six suspects and a court case is pending.

Few Pakistani media outlets carried this story and no demonstrations have been held in support of the young victim.

Such a muted response is in stark contrast to the protests that are raging in India, demanding justice for the 23-year-old medical student who is alleged to have been raped and brutalized by six men on a moving bus in Delhi.

Even if rape in Pakistan received the same kind of attention, however, finding justice for crimes of sexual violence can be an exceedingly arduous task in Pakistan.

"I had even more people with me, I felt like the whole world was with me," said Mukthar Mai, whose gang-rape unleashed an outcry in Pakistan in 2002. "But still I did not receive justice."

Thirteen of the fourteen men charged with raping Mai were acquitted in a case that was appealed all the way to the Supreme Court in 2011. Many in Pakistan now point to her trial as a missed opportunity for reform in the country.

Mai was gang-raped by members of a rival clan on the orders of a jirga, or village council, for an offense that her teenaged brother had allegedly committed.

The severe social stigma associated with rape in Pakistan has pressured many women to commit suicide after suffering such crimes, and Mai admits that she tried repeatedly to end her own life.

It was only when the national media began to report the story — framing her as a victim — that she felt renewed strength to take her case to court.

"When I saw that the media and educated people were standing beside me, I got peace of mind from them," Mai told GlobalPost from her home in Meerwala, a small village in Punjab. "I started to think that it's better for a person to fight than to die. If not for yourself, then for others."

As her case drew international attention, Mai's family, who had encouraged her to be quiet for fear of reprisals, eventually began to offer their support. She drew the attention of major political actors — although they did not always support her quest for justice.

Mai applied for a visa to leave Pakistan and go to the United States. But in 2005, she was denied. Pakistani President Pervez Musharraf implied at the time that Mai was just using her rape to get rich.

"You must understand the environment in Pakistan," he said on tape, but nonetheless later tried to deny. "This has become a money-making concern. A lot of people say if you want to go abroad and get a visa for Canada or citizenship and be a millionaire, get yourself raped. It's the easiest way of doing it."

India's ruling elite has made similar statements in response to the now infamous Delhi rape case. Indian lawmaker Abhijit Mukherjee, the son of the Indian president, told regional news networks recently that it was becoming "fashionable to land up on the streets with candle in hand" for "dented and painted women chasing two minutes of fame."

Mukherjee too later retracted his statement.

Mai laughs when reminded of what Musharraf said. She said she was offered citizenship in a number of countries, including Canada, but was committed to staying and working to improve conditions for women in her hometown.

"I wanted to live in Meerwala, to work for the good of people in Meerwala," Mai said. And she is doing just that.

Illiterate when she was raped, Mai recalls how hard it was to file a police report and work on her case with lawyers without being able to read. She has since completed primary school and founded the Mukhtar Mai Women's Organization, which provides education to young girls and refuge to battered women.

She started the organization with about $8,000 given to her by President Musharraf, who made the gesture once her story began to make headlines.

While Mai's case went all the way to the Supreme Court, 13 of the 14 men originally charged in connection to her rape have been acquitted. One received life in prison.

"That was a case you can say was a litmus test," says Naeem Ahmed Mirza, who heads the Aurat Foundation, a Pakistani women's rights organization. "It gave an overview of how lower and superior [courts] function, and how much they need to be sensitized to women's issues, especially instances of violence."

Mirza says that Mai's case was a missed opportunity for real change, but says it's not just the legal system that needs redress.

"There needs to be more awareness and mobilization among masses, victims of violence, other women, and the implementers of these laws, from the police, to jirgas, lower courts and superior courts," Mirza said.

The media and the nonprofit sector also have a role to play in highlighting cases of rape and domestic violence, since many women feel too ashamed to speak out about it, Mirza said. An annual report compiled by the Aurat Foundation found that violence against women has generally been on the rise since it began to record figures in 2008.

Instances of rape have increased from 778 in 2008 to 827 in 2011, with 928 in both 2009 and 2010. But as the report states, "Rape in particular is under-reported as the victims and their families … keep the matter hidden because of the shame and disgrace attached to the crime."

On a national level, activists say there is a lack of political will to deal with sexual violence in a more robust way.

A bill intended to offer greater protections for female victims of domestic violence was passed by Pakistan's National Assembly in 2009, but was thwarted by a religious conservative group. It's seen repeated delays since, and must now earn approval from each of the country's four provinces to have a chance at being implemented.

While Mirza fears an increasingly conservative turn in the country will keep the bill from being enacted, if it does pass in the provinces, a new battle will arise — making sure it's actually enforced.
RELATED ISSUES

Women

Governance