Story January 3, 2018
Only the Bridge Matters Now

Carey Averbook is a guest contributor and a former Pulitzer Center multi-media intern. She earned her M.A. in New Media Photojournalism from GWU's Corcoran School of Arts and Design in 2017.
Northern Virginia is home to the largest Bolivian community in the United States. While many are from cities like La Paz, Cochabamba, and Santa Cruz, thousands in Virginia come from the Valle Alto region just southeast of Cochabamba. The Valle Alto community in Virginia has created a uniquely strong cultural, social, and economic relationship between Virginia and their hometowns in Bolivia since the 1980s.
Estimates of the numbers of Bolivians in the U.S. vary and often don't accurately account for the large number of Bolivians with undocumented legal status. According to Leonardo de la Torre Ávila, a Bolivian researcher on Valle Alto migration, the community in Virginia was estimated to be 150,000 in 2006, enough to be Bolivia's 9th largest city in 2017.
History of Valle Alto Emigration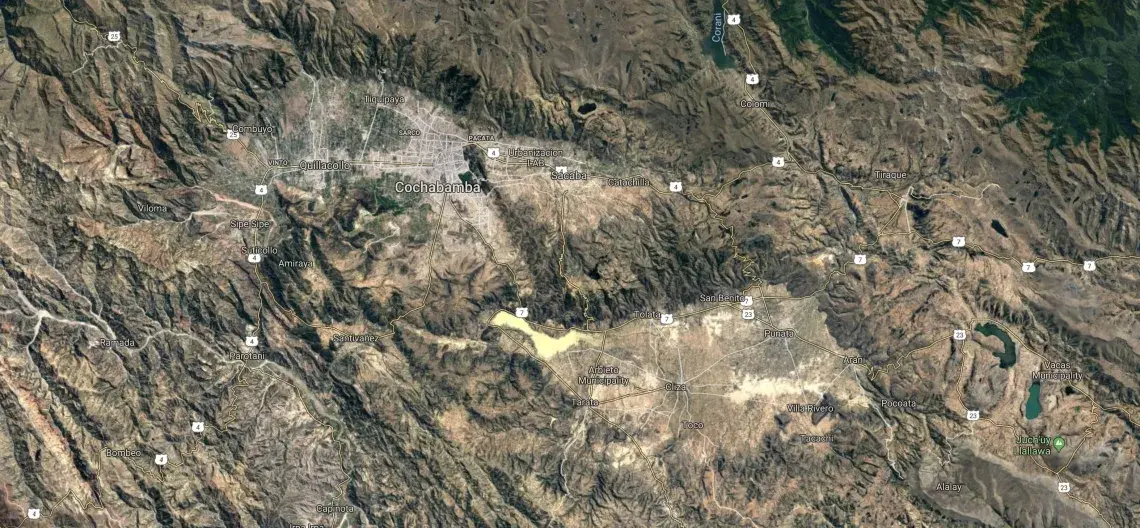 The Valle Alto is a high valley almost 9,000 feet in elevation with a valley floor about 30 miles wide and an average temperature of 70 degrees Fahrenheit. The Valley is southeast of the city of Cochabamba, which is also in a valley. Image courtesy Google Earth.


The Valle Alto region has a long, unique history of people leaving to go to cities, other regions of the country, or other countries like Chile, Argentina, Spain, and the United States. They leave to make a living that they cannot make in their hometowns and to send money to their families and communities. The first wave went to Chile from the late 1800s until WWI, then to Argentina after the 1952 revolution and land redistribution, and, after Argentina's economy collapsed in the 1980s, to Virginia.
1952 marked an important moment in the history of emigration in the Valle Alto. There was a national revolution that resulted in land redistribution in the region. Landholders lost much if not all of their land and needed to find other professions and livelihoods. Tarata was the colonial center of the region where many elites lived. Other people in the rural areas around Tarata received land, but farming on such a small scale made them more vulnerable to fluctuations in the market and their environment. As a result of the land redistribution, the livelihoods of both small-scale farmers and elites were made more fragile, leading to emigration for many.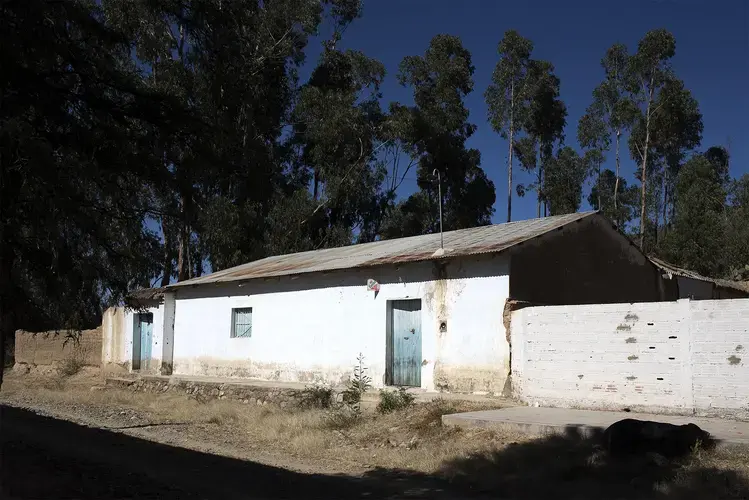 Reasons for Coming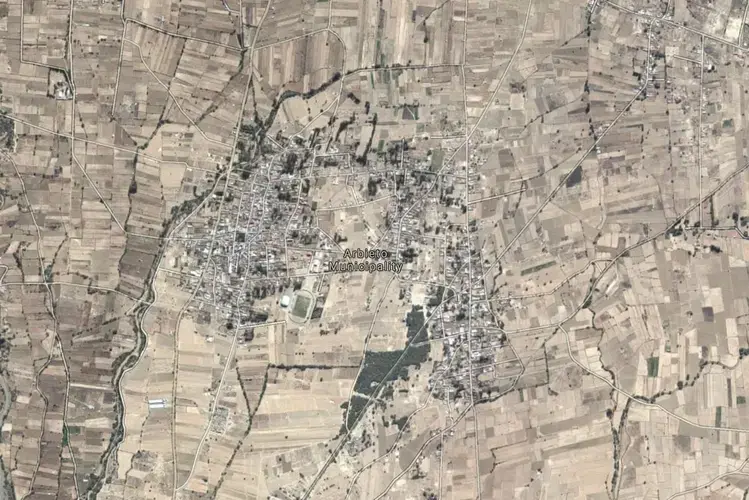 Before going to the United States, many Valle Alteños went to Argentina. Álvaro Yave left his hometown Santa Rosa for the first time when he went to Argentina as a teenager in 1988. After living there for four years, he returned to Santa Rosa for an annual anniversary party in 2002. During that year's party, he met his future wife, Erika Alba Yave. A year later, in 2003, he decided to come to the United States for two or three years to make more money. Erika joined him in Virginia a few years later and they have two children, Evelyn (9) and Jen (2).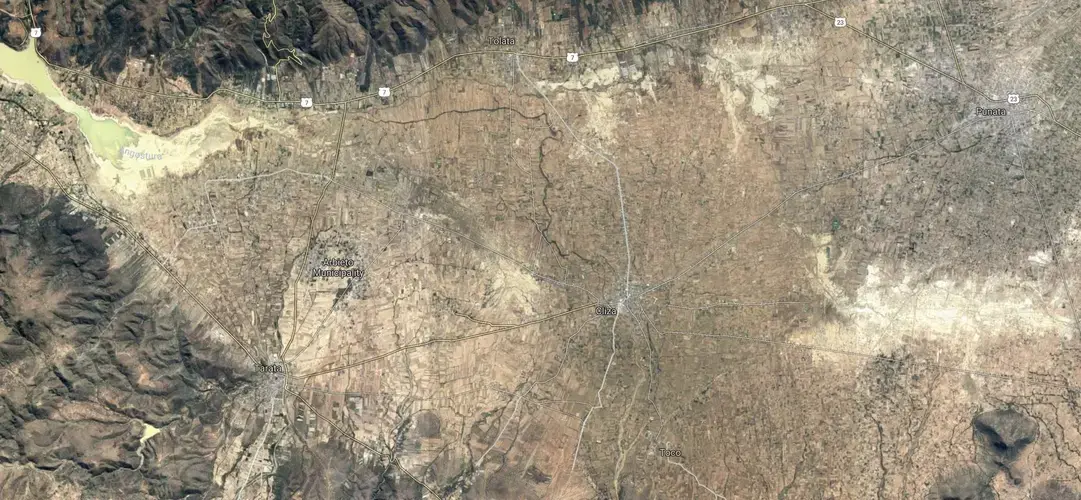 Sandra Patiño has lived in Virginia for nearly 16 years. She's originally from Tarata, Bolivia, and comes from a migrant family. Her father was from Potosí, Bolivia and immigrated to Tarata when there was a drought in his hometown. When Sandra was five, her family repeated the pattern and moved to the city of Cochabamba during a drought in the Valle Alto. Sandra says "I believe that I come from a migrant family since always because I think the best of Bolivians is carried in our blood, the fact that we need to move from one place to another depending on the need that we have… a better life is in relation to the economic—a stable economic position in which you can buy your things, your food, your clothes, and not have the scarcity that you came with… it's a shortage and all of that pushes us to come here."
The Valle Alto community likes to travel. "They migrate a lot, not only to the United States, but to wherever there is work, but always with the idea of returning, returning, returning," says Julia García, who has lived in Virginia since 1988. She is from Zona de Coña Coña in the Valle Central of Cochabamba. She promotes Bolivian culture in the region and teaches Spanish in a local middle school and Quechua language on the weekends.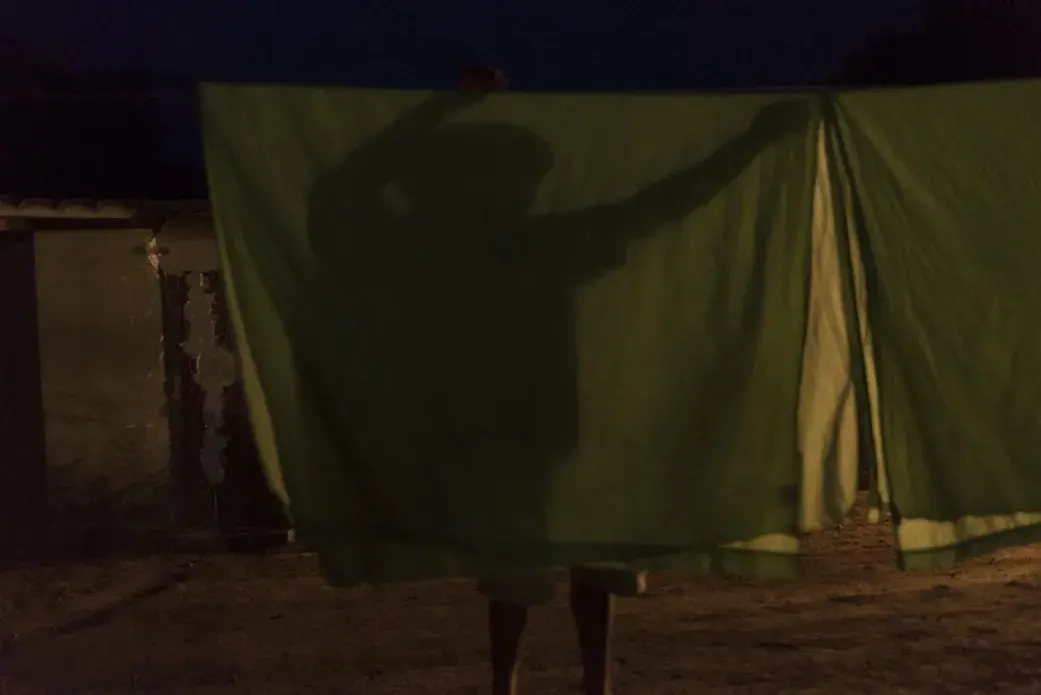 Juan Carlos Salazar hangs wet sheets to dry at the hotel and cultural center that his family maintains in Tarata, Bolivia. Juan Carlos lived in the United States for 12 years as a construction worker before he returned to his hometown of Tarata. "I could live on the moon or Mars as long as there is work," he said. He will go wherever he can work to provide for his wife and four children. Image by Carey Averbook. Bolivia, 2016.

Coming to Virginia from Bolivia and Argentina
Luke Sejas is a dedicated husband, father, and member of his community. His family means everything to him and he and his wife, Cintia, are a strong team. They have two children, actively support one another, and make all of their decisions together. They're also heavily involved in the Santa Rosa community in Virginia. Luke is the 2017-2018 vice-president of Santa Rosa LISAR, Santa Rosa's leadership organization in Virginia.
Luke was born in Bolivia in 1979, but went with his parents and siblings to Argentina when he was only six months old. He spent his childhood in Argentina and first visited Bolivia in 1990, when Argentina's economy had collapsed and his family moved back to their hometown Santa Rosa. When they returned to Bolivia in 1990, they'd hoped to stay together, but it wasn't possible. Luke's family lived apart—separated—for almost 20 years. This forced separation really took a toll on Luke throughout his life.
One by one, Luke's family members came to Virginia. His oldest sister was the first to come in 1992. She then helped their dad, sister, cousin, and brother. Luke stayed in Santa Rosa to finish high school and be with their mom.
How Northern Virginia's Bolivian Community Came to Be
People from each town lived in the same apartment building and socialized only with each other. They stuck together and remained mostly isolated from immigrants from other Bolivian towns. But with the 1980s economic collapse of Argentina, Valle Alto migration en mass began from Argentina to Virginia. At that time, the United States and Argentina had an agreement that allowed Argentinian citizens to immigrate without a passport. Many Bolivians of the Valle Alto had become Argentine citizens and were able to relocate to Northern Virginia fairly easily.
Julia says, "It was an avalanche. Families and families and families and families arrived… I'm talking about 1987, 1988, 1989. That was the largest immigration of Bolivians from the Valle Alto, but not from Bolivia but rather Argentina. They made the trek from Argentina to here. . . and that's how the Valle Alto community grew." At that point, the community in Northern Virginia began to expand. They started to spread out and buy or build their own houses in Woodbridge, Annandale, and Springfield.
Much of Orlando Pérez's extended family lives in Virginia. As a father, he says that he works hard to understand his children who are growing up in a very different context than that of his childhood. Even if they're not as interested in being part of his community here in Virginia, he tries hard to support them. He served as the 2015-2016 vice-president of Santa Rosa LISAR, the community organization of his town, Santa Rosa. Orlando arrived in Virginia in 1989 as one of the first Santa Roseños to come to Virginia. At that time there were only 11 or 12 men from Santa Rosa, barely enough men from to form a soccer team for the Valle Alto soccer league.
A few years later in 1992, the men began to bring their wives and families to Virginia. Today, the community of Santa Rosa in Virginia counts 498 families, most with two parents and three or four children. In total, Santa Rosa counts over 1,000 members in Virginia. By contrast, the 2012 Bolivian census counted less than 300 families in Santa Rosa, most of whom were themselves internal migrants within Bolivia, living in and taking care of the empty homes of Santa Roseños living in the United States. "So all of us have left our town," Orlando says, "but our spirit is there, our thoughts are still there, in my town Santa Rosa."
Taking Risks at a Young Age
While Luke's siblings and father were in Virginia, he was finishing high school in Santa Rosa. He had to help support his family financially with the only resource they had—dairy cows—which left little time to dedicate to his studies. When he was 15, he went alone to Argentina for one year to find a better way to provide them financial support. Afterwards, he returned to Santa Rosa where he lived for another two years with his mom. Just after he turned 18, he came to the United States with the help of his family. "I said, 'Well, I'll risk it for something better, for something better for everyone, also to help my family.' And so I decided to come, I came directly through Mexico."
Today for You, Tomorrow for Me: Reciprocity
The many people who have left the Valle Alto collectively define their reason for leaving as wanting to take care of their families, and help their towns progress. At the heart of this mutual responsibility to care for one another lies an Andean philosophy and way of living known as Ayni. Ayni is a value system based on reciprocity, which drives the towns' residents in Virginia to fundraise for community projects in their hometowns, and for those individuals in Bolivia who need financial assistance. This fundraising commonly takes place through kermesses, events held on the weekends where people sell food and drinks, and collect donations.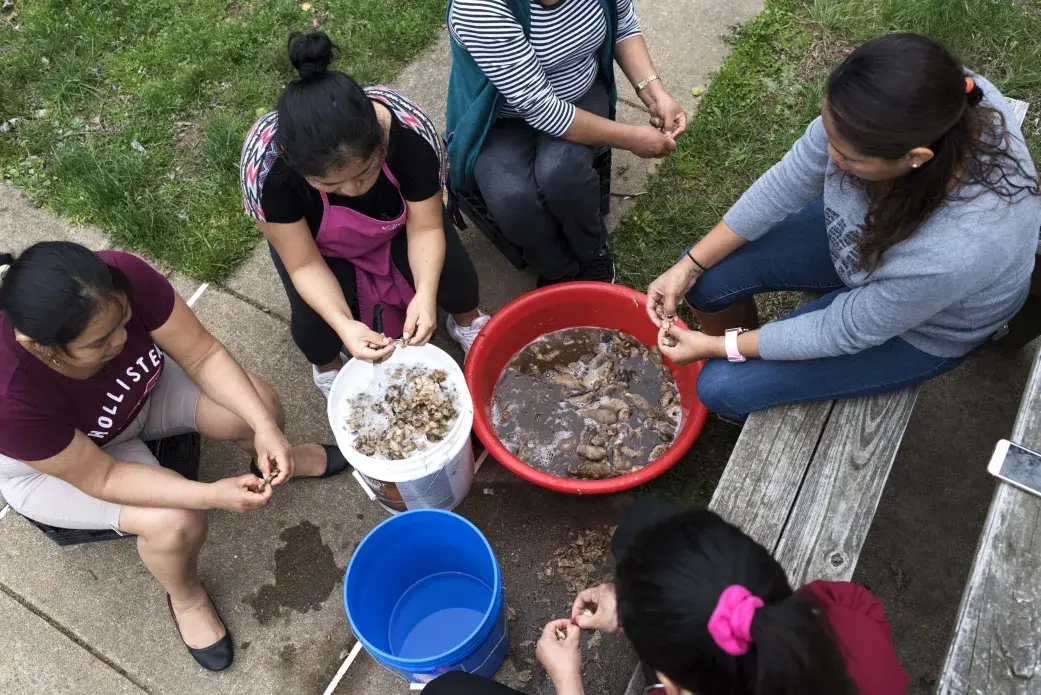 A group of women prepare chuño, a freeze-dried potato imported from Bolivia, to cook as part of a kermesse to raise money for a family in Bolivia whose kitchen gas tank exploded. The explosion badly injured the father and children. Carol Cordova (with pink hairtie) and her cousin Marisol Rojas (not pictured) were moved by the family's plight and organized their friends and volunteers to hold the kermesse.  Image by Carey Averbook. Bolivia, 2016.


In the spirit of reciprocity and responsibility within the family, the Valle Alto community in the U.S., Spain, Argentina, and other countries send remittances to their families in Bolivia. While the department of Cochabamba makes up only 18% of Bolivia's total population, the department receives 40% of all remittances sent to the country. These remittances are sent primarily to parents, then to children, and lastly, to spouses.
In 2007, the Inter-American Development Bank (IDB) estimated that remittances to Bolivia surpassed USD $1 billion, comprising almost 10% of the country's total GDP, around USD 13.12 billion. Mexico receives more monetary remittances than another other country, but in 2007 remittances made up only 3% of its GDP. In 2015, remittances made up 3.6% of Bolivia's GDP, according to World Bank estimates. Compared to all countries in South America, remittances make up the largest percentage of Bolivia's GDP. This remained true even in 2012 when Bolivia's remittances as a percentage of GDP dropped to just 4.1%.
Separation of Families
Thousands of families are separated as a result of the migration from the Valle Alto to Northern Virginia. This distance between parents, grandparents, cousins, uncles and aunts, siblings, and children weighs heavily on peoples' daily lives. Those with legal residence in the United States have the privilege of visiting Bolivia, but those without legal status go for many years without seeing their loved ones. People with undocumented legal status either crossed the Mexican-American border, journeying first from Bolivia to Mexico and then to the United States, or overstayed tourist and special visas. They live under the risk of deportation and cannot freely exit and reenter the country.
If an undocumented Valle Ateño living in Virginia has a family member or friend dying in Bolivia, they face a difficult decision: to leave or to stay. They can go back to Bolivia to see a loved one for what could be the last time, leave children, parents, spouses, or other family in the U.S., not knowing if they'll ever be able to return—safely, or at all—because of their undocumented legal status. Or, they can stay put and risk never seeing their loved one again.
There is no data on the number of undocumented Bolivians in Northern Virginia, but a large portion of the community does not have legal status in the United Status. This means they haven't traveled to Bolivia for 15 to 20 years, or even longer.












Remembering Is Surviving
It is said that Bolivians from the Valle Alto residing in Virginia do not migrate; they bring everything with them to Virginia so as to continue their lives almost exactly as if they were still in Bolivia. Valle Alteños view the enitre planet as the Pachamama (Mother Earth), and thus all land as one. In Bolivia or Virginia, the land is the same Pachamama. Soccer, dance, dress, song, and food, along with nostalgia and longing construct shared memories of place and space. In this way, people actively create Bolivia in Virginia. As Bolivian author Edmundo Paz-Soldan writes, "They never completely arrive in the United States, for in that way, they will never completely leave Bolivia." They create emotional, psychological, social, cultural, and financial bridges between Bolivia and the United States—between the Valle Alto and Virginia.
Valle Alteños in Virginia remember and recreate Bolivia in two important ways: They continue and transform traditions, and raise money for community projects in their Bolivian hometowns.
Remembering Traditions
"Making culture in any way, whether it be singing, dancing, writing, or speaking the language, rituals, customs, or dressing as a cholita—whatever it is, is a bridge that connects you to something that you have as a foundation. It's your history. And your history, you can't erase it. It is a connection that takes you to your reality even though you're living in a country with different customs… it's a return to what you are. It's like a tree, no? It has roots. Its flowers can fly away, the fruit can leave, but they never forget where they come from. It is like a tree that has roots, and to bloom, the flower is not alone, it has roots. And it has to depend on the tree so it's a historical dependence in your life… Because cultures, nations, towns have subsisted this way. Some have disappeared, no? ... But we're 600 years now—the Quechua culture. We're still here" -Julia García
Three annual celebrations give structure to each year of Valle Alteños' lives in Virginia: the Carnavales in February, Santa Vera Cruz in May, and Todos Santos in November.






Culture and traditions in Bolivia are changing rapidly. Some traditions fuse with modern adaptations, and others are slowly being lost altogether. Roly Vallejos Zurita grew up in the United States and returned to Bolivia when he was in his early 20s. He believes that traditions shouldn't be lost in Bolivia, nor in his hometown, Santa Rosa. "High schools, elementary schools, universities [in Bolivia]…don't teach about why we have those traditions or why they exist," he says. "Migration has a lot to do with that because… when migration carries someone away, it's knowledge too that's being carried out of the country." As people left and continue to leave the Valle Alto, historical, cultural knowledge leaves with them.
Remembering Hometowns: Santa Rosa
Valle Alteños living in Virginia actively reconstruct traditions to remember their hometowns. Towns such as Arbieto, Santa Rosa, Tarata, and Achamoco have organizations in Virginia that gather people from their town for soccer, kermesses, celebrations, carnivals, meetings, and other festivities, also using these gatherings to raise money for community projects in Bolivia. Examples of projects that they support include restoring churches, building schools, paving roads, providing awards for a soccer tournament, and paying for jerseys for local soccer teams.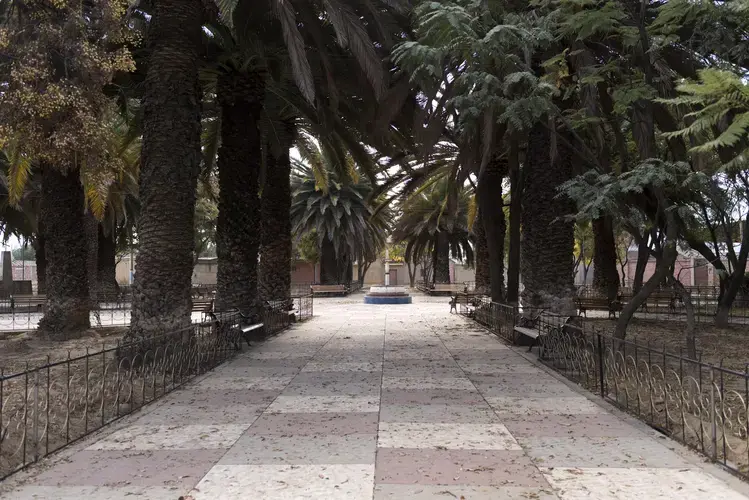 Santa Rosa LISAR is Santa Rosa's leadership organization in Northern Virginia. It was started in the early 1990s by Santa Roseños who wanted to organize their community to keep their town united. The organization annually elects a president, vice-president, and treasurer. It facilitates six soccer teams, and each team represents a street in Santa Rosa. Your house and its street in Santa Rosa determine your team in Virginia. Each team has two representatives. In addition to its three elected leaders, LISAR is made up of 12 representatives and holds regular community meetings open to anyone in the community.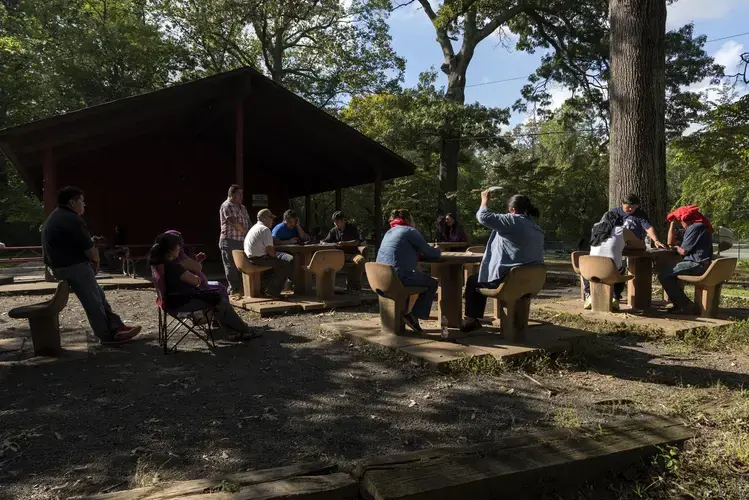 INCOPEA, the Valle Alto soccer league in the U.S., has been around since the 1980s. Each year, a different team hosts the championship. The hosting team receives the funds raised that year from registration fees and concessions sales during the games. The funds could help a team fund a project for its town in Bolivia, but because the hosting team rotates each year, it only receives those funds once about every five years. As the Valle Alto community has grown, each town now has enough people to host their own soccer league and raise money all year long.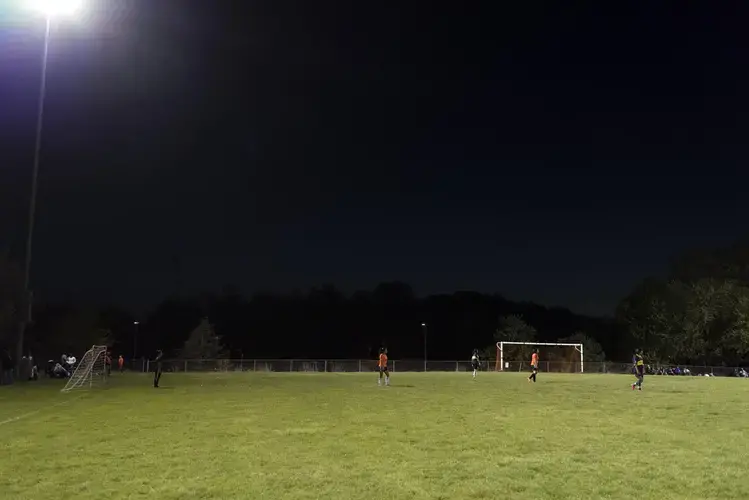 In 2016, Santa Rosa LISAR raised money through the soccer league and kermesses to buy benches for the plaza in Santa Rosa. They provided benches and cement to the local government, and locals provided labor and time to install them.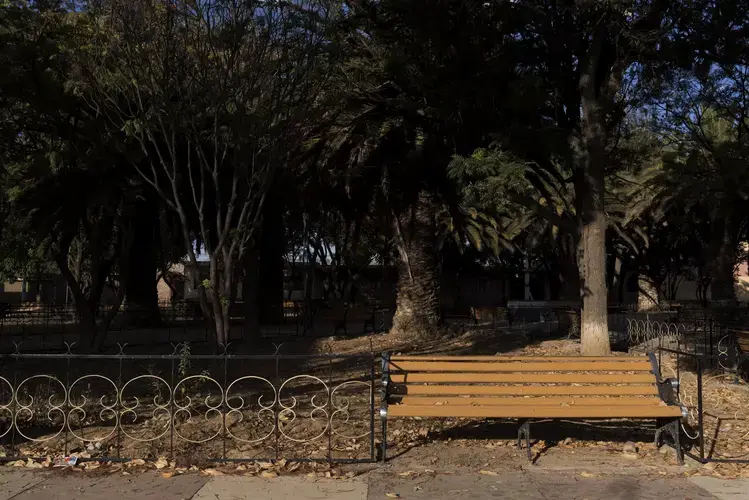 In the same 2012 census that counted 498 Santa Roseño families living in Virginia, around 250 families were counted living in Santa Rosa, Bolivia. Many of those families aren't originally from Santa Rosa but come from other parts of Bolivia to take care of the houses, property, animals, and aging parents of Santa Roseños now living in the United States.
Change and Return
What is unique about the Valle Alto's historical pattern of emigration to countries like Chile, Argentina, and Spain, is that people almost always eventually returned to their towns in the Valle Alto. They did not permanently settle abroad. Whether the same will be true for Valle Alteños in the United States is unknown. Many people wish to return to live out their lives in Bolivia, but it is unclear whether those who are undocumented would choose to live so far from their children knowing that once they leave the U.S., they risk not being able to come back. Even if people do return to their hometowns, they aren't the same. Places and people change over time.
In 2016, Luke Sejas was able to go back to Santa Rosa in Bolivia for the first time in 18. He says, "I had to wait, just wait, for an answer from migration since 2013 until last year [2016] that the judge pardoned me. He told me yes, we're going to give you residency. I waited a long time for that, I waited a lot, a long, long time. I went through bad times, which I practically laugh about because they didn't stop me… after so much time, to see my homeland again, where I was born… thank God I arrived there. And there was a lot of change in my town. I didn't leave it like this. A lot of different people, new faces, family members who are old now. Others who are alone now. A lot of time… to arrive there after 18 years, my own house wasn't how I imagined it."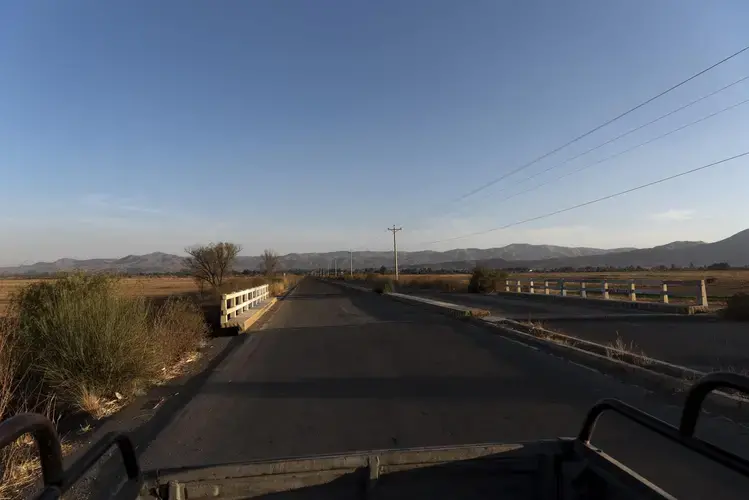 Justo Barriga stayed in Tarata and Cochabamba, Bolivia when almost all of his friends moved to the United States. He says about Tarata, "It's changed a lot, no? It's really changed a lot since all my friends left, all of them… and the elderly have been passing away. And there are others that left too. They're gone. Tarata has been emptied… it's been emptied."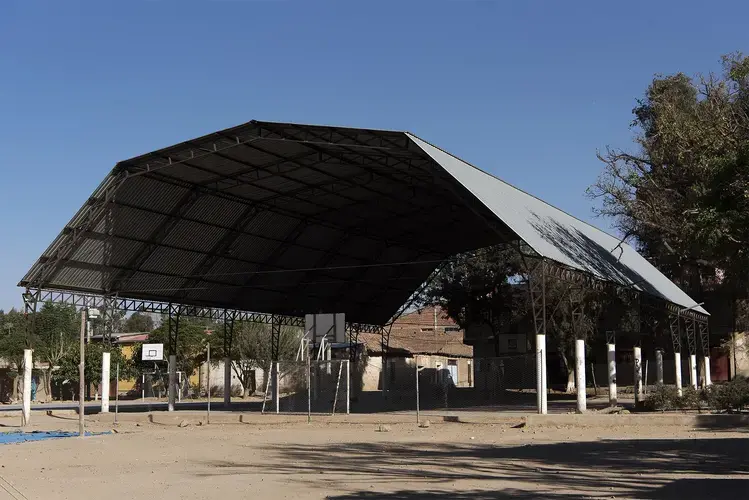 Sandra Patiño visited Bolivia for a month, staying in Tarata. This was her longest visit since she came to the United States 16 years ago. She says "the first week I missed my air conditioning, my heating system, the hot shower, a car. It was for me, a re-integration. I felt like an immigrant in my own land when I stayed that long."
But with some time, Sandra readjusted and came to enjoy being in Tarata and its pace of life. After that trip, she wanted to return to live in Bolivia. She says, "This good life here in this country [the U.S.] is temporal for me. I've said that while I can be here, I am going to be here, but the day I decide to go, I'm going to go. It's like when you have a mission in life. My personal opinion was to come, get to know what this good life here is and decide if this is what I want or if I want the other. I've arrived at the conclusion that this is not a good life. This is comfort. But you can achieve all of that with your work and go to your country and have that good life there."
Julia García has lived in the United States for most of her adult life. She doesn't think that the majority of Bolivians in the U.S. will go back to Bolivia. She says "almost half of your life is invested here. And you get used to the way of life that's so easy and comfortable, but at the same time also harsh. Because to acquire this easy life, you have to fight hard, to work. And you enter the system from below… you can go back to Bolivia for vacation."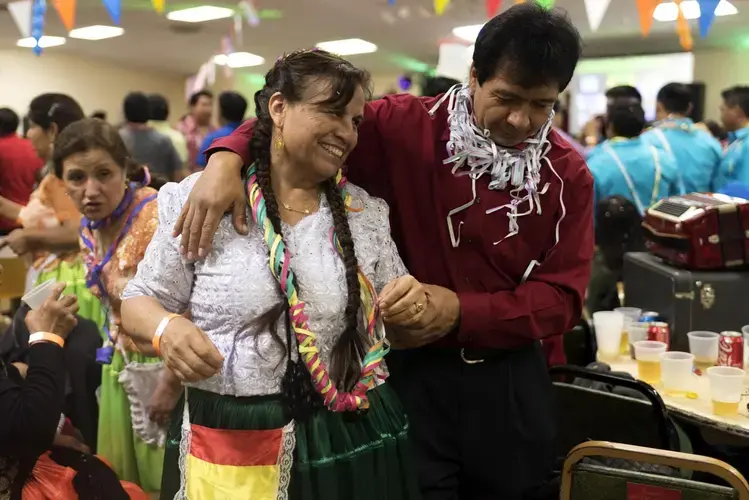 Julía doubts that she'll even go back to Bolivia to live. She says, "Even me, I don't feel like going back definitively and not return to the United States. Maybe to go and live two or three months and come back. Go… and come back. I think that my generation is going to do that. The second generation, my children, they'll go to visit. And my grandchildren, they are also going to go visit, but I don't think that they'll go to live. In other words, we're talking about having left Bolivia empty. There are empty towns, I don't know if you've realized? Houses and houses, and there aren't people. There aren't people. My house for example is empty. I lock it and I leave. And the Valle Alto is worse, no?"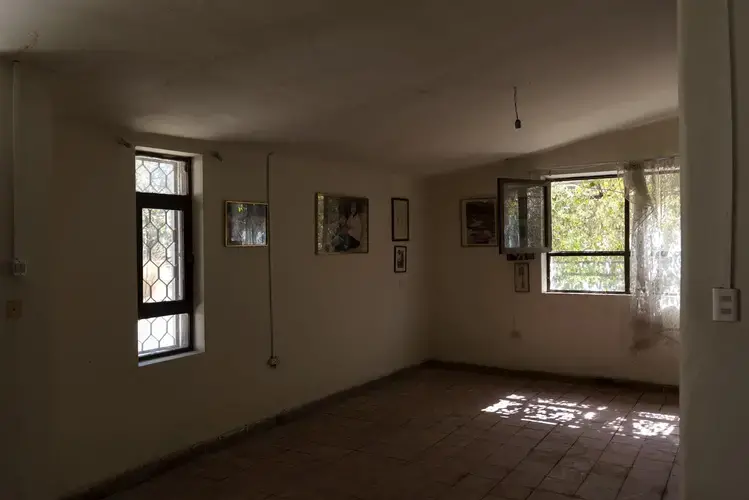 Alvaro Jordan is sure that he will go back to Santa Rosa with his wife, but not until he is elderly and unable to work anymore. He says "I want to go back to Santa Rosa for the reason that… sometimes I look at elderly people here. And sometimes they don't want them for work anymore or they don't regard them as they should for work. Do you understand? Sometimes they are unemployed. Why? I think it's because they're old. And I don't want to deal with that, going from one place to another looking for work. That's what I don't want. And for that reason I think that the most adequate thing is to go to Bolivia, when we are a certain age, no?"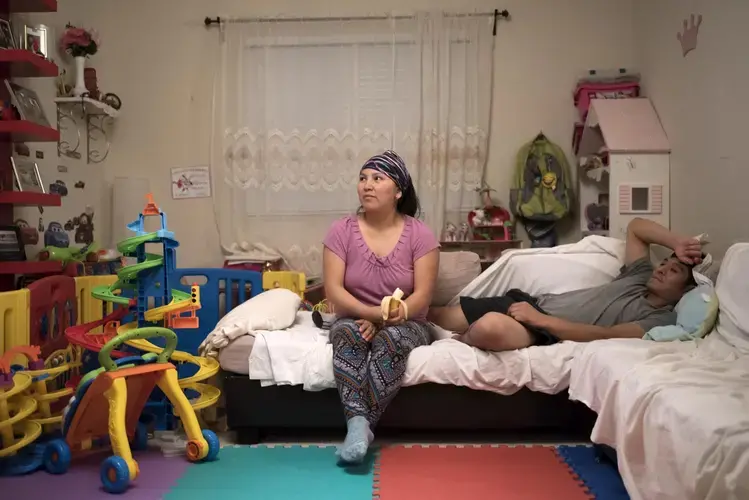 Each person defines for themselves what a good life is. Many factors influence this definition, including culture, religion, family, and economic resources. Valle Alteños have diverse experiences in the United States, but every individual has gains and losses, endures the costs, and reaps the benefits of having come to United States and to Virginia. Some people feel like they have better lives in Virginia, while others feel like they were better off in Bolivia.
Julia García says about having a good life, "A good life depends on your previous life before coming to this country. If you didn't have all of the economic comforts that you have here, that's the good life. But if you had that and you wanted to have a little more money and live worry free, that's the good life. I had a good life in Bolivia. I didn't need to come. No… not at all. I had my house, my business, my work, I was happy. But there's a moment when the craziness enters you and you come and it costed me to adapt to this country and arrive where I'm at. And I still don't have a good life. I don't have a good life. I think that I am even living poorer than in Bolivia."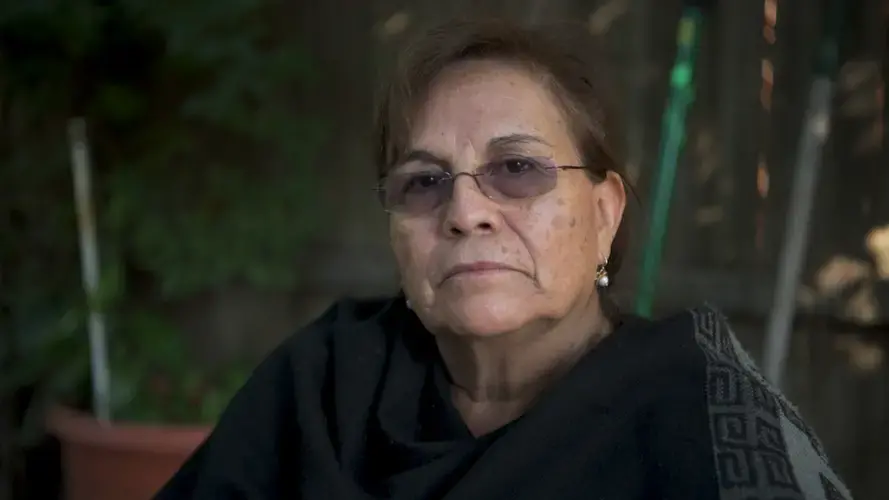 I made this project with the perspective that the Americas is a region with more linkages than borders. I wanted to challenge viewers to consider immigration not through the expected paradigms of nation-state borders, but through the cultural, economic, and spiritual bridges that are sustained between places and communities.
It is said that Bolivians from the Valle Alto residing in Virginia do not emigrate; but rather they bring everything with them to Virginia so they are able to continue their lives almost exactly as if they were in Bolivia. Valle Alteños perceive the whole planet as the Pachamama (Mother Earth) and thus all land as one. In Bolivia or Virginia, the land is the same Pachamama.
The q'oa rituals occur during every Andean celebration and important event, including the first Friday of every month. The first Frida q'oa is an opportunity to share your gratitude and intentions with the Pachamama. It is a ceremony of reciprocity where you burn a mix of special herbs, representational objects, and incense over charcoal. In October 2017, I participated in a q'oa not in the Andes, but in the Shenandoah valley with all of the apus (spirits of the mountains) that I grew up with as a native North Carolinian. It was the moment when my two homes literally became one and I felt most deeply this concept of interconnectedness.
Bolivians make up a relatively new immigrant community in the United States and in Virginia. Historical context provides a depth of understanding about how the community came to be and how it has grown. That historical context reaches back not only to the 20th century, but to colonization, because the present realities that necessitate emigration have roots in colonial legacies. The choice that people make to emigrate from the Valle Alto has now become the norm and way of life of the region. Young people are expected to leave their town for the United States or Argentina once they turn 18. Once abroad, Valle Alteños raise thousands of dollars in Virginia for projects in their hometowns. Virginian and Bolivian residents and leadership plan the projects together.
Emigration is thus a way to access grassroots and autonomous foreign aid.  Considering the historical context of colonization and exploitation by Spain and the United States, this could be understood as an act of reclaiming wealth that was robbed and exported from Bolivia and a repatriation thereof, to grow and develop however the towns' citizens decide. While working in the United States to support their families and hometowns, Valle Alteños deeply miss Bolivia. They recreate cultural spaces as often as possible and spend time and energy on remembering their roots. They combat forgetting and, in the process, create a metaphorical multidimensional bridge between Virginia and the Valle Alto. Their children who grow up in the United States have a markedly different cultural and identity experience in life. They will define this bridge in the future.
RELATED ISSUES