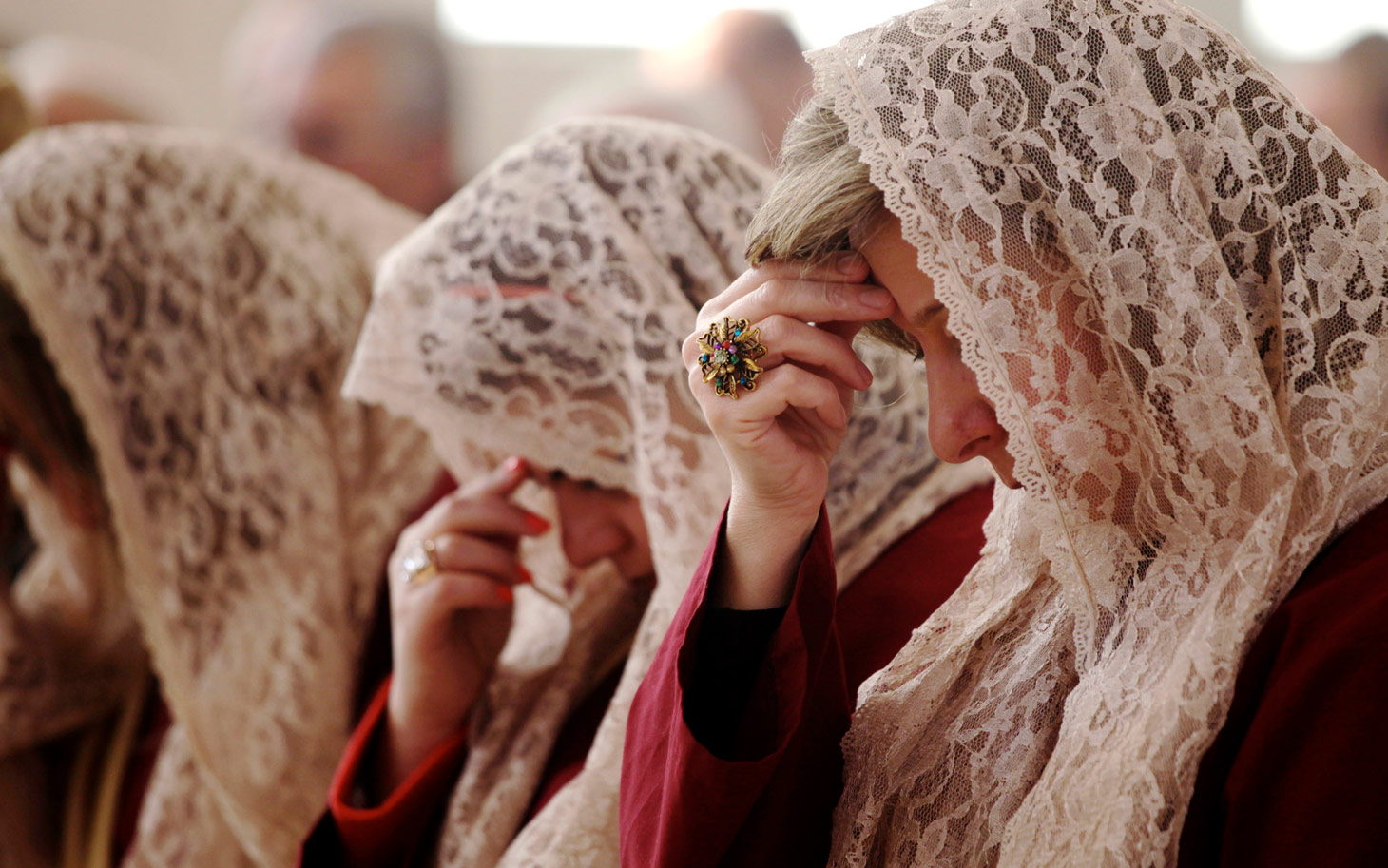 Christmas in this Arab, Muslim country is for the minorities and the privileged. Middle-class Jordanians deck the halls of the malls and boulevards of the capital, Amman. Christians, about 3 percent of the population, get the day off.
Orthodox, Catholic and evangelical churches will hold midnight masses along with holiday outreach events. They plan food distributions and parties for the refugees flooding their country from conflicts across the region, trying to create some semblance of normal celebration.
But nothing about this Christmas seems normal to Milad, 26.
"I don't feel anything," said the young Iraqi mother, who does not want to be fully identified out of fears for her safety. "It's a holiday, but I feel homeless."
Milad and her 1-year-old daughter escaped from Mosul to Erbil in June and then went to Amman in October. They fled their home as ISIL fighters took over Mosul, Iraq's second largest city, and imposed a harsh theocracy, including persecuting and attacking religious minorities. Now they are living in a church center along with some 80 of the more than 5,000 Iraqi Christian refugees recently arrived in Jordan. "We want a new life, a new future. We want to stop moving around," she said. "There is no stability here. There are no guarantees."
Celebration at this time of year is not easy for refugees, said Hanna Massad, 54, a Baptist originally from the Gaza Strip who leads an evangelical service for Iraqis. "You try to encourage them with a Christmas party, but they're thinking how to survive, pay rent and get food for their children," she said. "They are hurting deeply."
December means holiday season in Western and Christian countries: Christmas lights, family reunions, lavish feasts, generous gifts and joyous parties. For the newest refugees in Jordan — Syrians, Iraqis and others — it means colder weather, hard times and another reminder that they cannot go home, regardless of faith.
Saeed Abu Essa, a 31-year-old Muslim Syrian, has been in Jordan for two years, and he shakes his head at his roommate and fellow refugee Abu Walid. The two are standing on a rooftop in Amman, holding their breath as the dusk call to prayer sounds. "Listen, brother. We'll go to Algeria first, then smuggle to Libya," Abu Walid says, pacing. "We get a boat there for Italy. Then we go for Germany or Sweden." The only reason Abu Essa won't leave is his wife.
Abu Essa narrows his eyes, watching a flock of pigeons flit around a mosque minaret as if chasing echoes of "Allahu akbar." He rubs one fist against his abdomen as the other hangs limp at his side, paralyzed after a sniper shot him back in Syria. Ever since the regime arrested and tortured him in 2012, Abu Essa's chronic kidney disease has worsened into needing regular dialysis, an eventual operation and $1,500 of medicine every month.
His wife crossed the border to donate her kidney in March but returned home to Syria after the operation. She prefers their home in Syria, even surrounded by snipers and bombings, to Jordan. Abu Essa hasn't seen her for four months.
His five Syrian roommates labor at a Jordanian aluminum factory from 8 a.m. to 7 p.m. every day, earning 125 Jordanian dinars per month ($176), well below the legal minimum wage. Their monthly rent is 280 dinars ($394) without utilities, and they support their disabled friend as well. Until now, that is.
On Dec. 1, the World Food Program announced that it lacked the $68 million necessary for Syrians refugees' food coupons this month. A few weeks earlier, Jordan announced Syrian refugees would no longer receive free medical assistance either. Sick and paralyzed, Abu Essa can't pay for food or medicine. Plus work is illegal, with the risk of being caught and deported to Syria. That would be sure death for Abu Essa, who is wanted for having protested. Otherwise he would have joined his wife long ago, he says. "Syria is dangerous, but you can live. It's cheaper than Jordan," he says. "And no one calls you an alien."
A few days after Abu Essa and Abu Walid's conversation, the World Food Program received more than $100 million in donations, enough to resume the December coupons. The story unfolded like a Christmas drama, with wealthy donors opening their pockets to save the downtrodden Syrians. But humanitarian appeals and holiday fundraising are not enough.
Jordan's refugee needs are vast, growing and increasingly unmet. Global funding for the U.N.'s Syria appeal in 2014 remains at less than half the requested $3.7 billion. The longer refugees are stuck in Jordan, the worse their situation seems to get. Personal savings run out as charities become leaner. Meanwhile, the Syrian refugees seek work: Children collect garbage instead of going to school, girls marry for survival, and men compete for day labor and risk arrest in the process. They hear rumors that the border is closed, and Syrians — including wounded men and unaccompanied children — are being increasingly deported.
One recent case involved 16 Syrian medical workers who were giving urgent treatment to war-wounded refugees. According to Human Rights Watch, Jordanian authorities arrested and deported the doctors and nurses, saying they were operating without a license. This happened a week after Jordan halted health assistance to Syrian refugees, saying the demands on the system were too high.
"As fighting in southern Syria intensifies, Jordan should not be targeting medical staff and wounded refugees who have nowhere else to flee," said Nadim Houry, deputy Middle East and North Africa director of Human Rights Watch. "Instead of deporting medical workers, Jordanian authorities should focus on expanding medical services to wounded Syrians."
Jordanian government officials did not respond to requests for comment.
"If we could work, Syrians would help Syrians. We could solve 50 percent of the problems ourselves," said Abu Shergo, 42, who arrived from Damascus eight years ago as a businessman, not as a refugee. When the crisis began, he started a medical center for injured Syrian children, especially recovering amputees, mostly orphans. "We are receiving so many calls now from crying families. We feel no hope,'" he said. If refugees could only earn money legally, he added, they wouldn't have to beg.
Deadly for minorities
Jordan's Iraqi Christians, largely new arrivals with lesser numbers than Syrians, have the church as a safety net. The Rev. Ala Nadim al-Alamat hosts dozens of Iraqi refugees at his church, providing shelter while the Catholic charity Caritas covers basic needs like food and hygiene. While Syrians still think of returning to Syria, he said, Iraqis don't want to go back. "There is no 'after this' for them," he said. "They have no love, no hope, no intention to return. They are just waiting for visas."
Christianity is not going extinct in the Middle East, he said, but it is under severe duress. "It's not about Islam. We can live in Muslim countries," he said. "We are Arabs on the culture side and Christians on the faith side." But the regional veer toward extremism is deadly for minorities. He hopes local Christians will stay put, despite the suffering of their co-religionists. "But I can't just moralize at people," he said. "If I had daughters, and ISIL came for them, I would go."
Iraqi Christians have had enough of persecution, said 59-year-old Anwar Daoud. "We are Christians, and we will always be Christians. We are proud," said Daoud, who lived in Mosul his whole life until fleeing to Jordan several months ago. "But in these 10 years it's been death, terror, killings. We were patient, but khalas, enough. There is no future in our hearts for Mosul. We just want to get out."
Jordan has no legal obligation to let refugees work. While the U.N. promotes a refugee right to livelihoods, it keeps the term vaguely defined. In practice, the UNHCR and partner agencies quietly develop informal employment programs — Syrian women's handicraft workshops, incentives paid to Syrian volunteers in the camps and so on — without explicitly pressuring Jordan to let refugees work.
"These governments are justifiably concerned about the security situation and the economic, demographic and social impact on their countries. In the best of all possible worlds, we prefer to see refugees living outside of camps and becoming self-sustainable," said UNHCR spokesman Ron Redmond. "But when you've got a million or more refugees converging on a small country, that's not possible."
NGOs likewise stay quiet about employment and deportation in order to protect operational capacity. "It is a politically sensitive issue," said Daryl Grisgraber, Refugees International's senior advocate for the Middle East and North Africa. "Jordanians want jobs themselves, which makes it difficult to advocate for refugee rights to work. You risk being told you can't operate in the country."
Donor countries have the most potential to sway Jordanian policy, especially key allies like the United States. Simon Henshaw, principal deputy assistant secretary for the U.S. State Department's bureau of population, refugees and migration, said they support ideals like open borders — but not so much that they'd demand Jordan comply more earnestly or else lose funding.
"We use our position to advocate for humanitarian principles, but we certainly don't get into the position of threatening our allies with cutting off funds for different reasons," he said. So even if Jordan is deporting Syrians in violation of international humanitarian principles, there aren't many repercussions.
Henshaw's bureau also encourages refugees' general right to work. "Situations improve when refugees are given work rights," he said, citing Turkey and India as positive examples. Criminalizing employment drives refugees to work underground and thus undercut labor costs, he added. "In the U.S., refugees are allowed to work immediately upon arrival. This gets them settled much more quickly and puts them on a much better economic path."
But the U.S. has admitted only 306 Syrians since the beginning of the crisis, vetting each with security and health checks before granting them permanent settlement. Jordan has seen more than 620,000 Syrians flooding across its borders, taking jobs, weighing on national infrastructure and posing a security threat. America gets to be picky in the resettlement process, but Jordan does not want its refugees to settle.
The alternatives, though, are grim. Abu Walid has postponed his boat plan, but predicted another coupon cut would drive many refugees to join radical groups in Syria. "People want to feed their families," he said. "If there is no food here but ISIL is offering high salaries back home, where do you think Syrians will go?"
On the roof in Amman, Abu Essa is thinking of his wife. He can't go back to Syria legally. Nor can he stay in Jordan unless he finds some way to pay his monthly medical fees, food and rent. But he won't get on the boat. He'd rather wait or sneak back into Syria, where he might see his wife one more time.
"Syrians have no problem with death anymore. The people are exhausted," Abu Essa says. "We were dying in Syria. We are dying here. Why not go back and die together?"
RELATED ISSUES