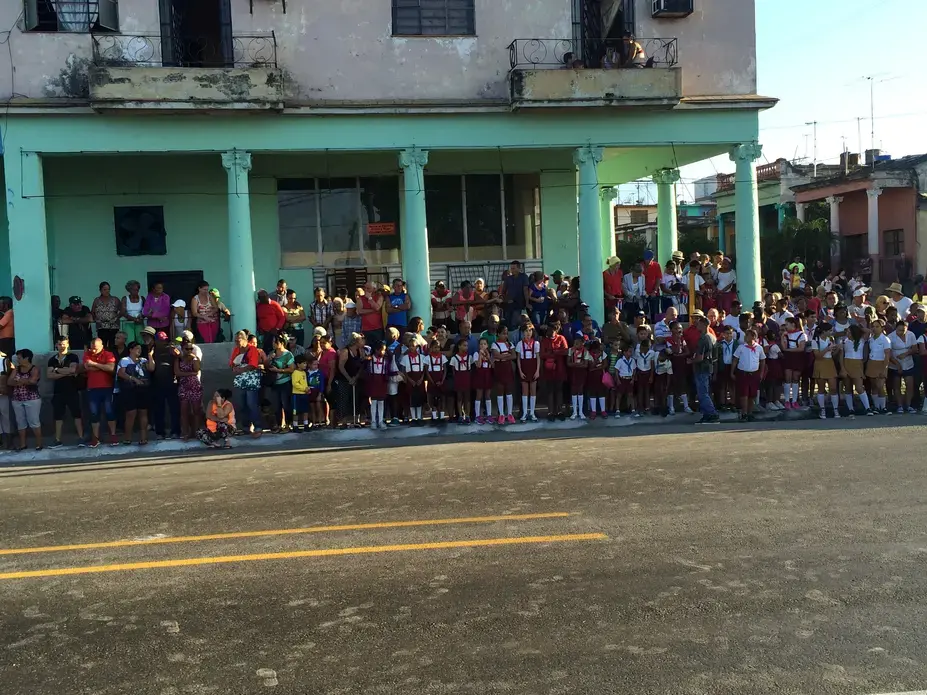 Cubans wait at dawn for Fidel's ashes to pass by as they head East last week. Image by Sally H. Jacobs. Cuba, 2016.
Luis Reyes and his son, Fidel, at a rally for Fidel in Havana last week. Image by Sally H. Jacobs. Cuba, 2016.



HAVANA — Luis Reyes and his son stood as a human memorial to their fallen leader Fidel Castro in the churning Plaza de la Revolución last week. Reyes clasped a large poster of Castro bearing the words, "Hasta La Victoria Siempre Comandante!" (Until the victory, always Commander!) while his son, named Fidel, held a large Cuban flag streaming overhead. The only thing missing was Reyes' grandson, 3-year-old Fidel Jr., napping at home. But Castro, who was buried in Santiago de Cuba on December 5, was not the only world leader on Reyes's mind.
"Fidel is in every one of us and we will fight for the revolution to the end. He gave us dignity and we are absolutely and utterly free," declared Reyes, 77. "That is something that Donald Trump can never take from us, ever."
For Cubans, the past week has been a period of intense emotion and uncertainty as they struggle to absorb not only the loss of a leader who dominated national life for close to five decades, but also the victory of U.S. President-elect Donald Trump. Trump has denounced Castro as a "brutal dictator" and has indicated that he might reverse some of the concessions made by the current administration. Cubans may be divided by varying attitudes about their revolutionary leader, but as flags remained at half-staff across the island last week they were united by one thing: anxiety about America's unpredictable new commander in chief.
"Trump seems like a man with no heart, with no sense of what it means to be human," said Sara Toledano, standing in the plaza last Tuesday night with dozens of fellow workers from the Cabaret Tropicana to bid goodbye to Castro. "I don't think he can even understand a country like Cuba."
Since Castro died on November 25, many of the country's 11 million citizens have struggled to grasp what the death of the 90-year-old comandante means. Given Fidel's age and persistent health issues which plagued him in recent years, his passing was hardly a surprise. Few expect radical change, but the twin events of the past few weeks have many wondering if the Cuban government will take a hard-line stance in the face of a new American president in order to demonstrate national unity and solidarity to the world.
Just after dawn last Wednesday, a convoy bearing Fidel's ashes inside a glass-covered coffin and surrounded by white flowers began a four-day journey across the country in a reverse of the triumphant march he made into Havana with rebels in 1959. Thousands of citizens flanked the roadways for much of the journey, chanting "Fidel! Fidel!" while others watched a 24-hour-a-day televised broadcast. He was interred in the Santa Ifigenia cemetery next to Cuban independence hero José Martí. Thousands of people lined Sunday's route to the cemetery shouting, "Long Live Fidel" before the Cuban military fired a 21-gun salute. The ashes were interred privately and foreign media were barred from the event.
"He was a patriot, and he made other countries pay attention to Cuba," said Edgar Alvarez, an 18-year-old auto mechanic, applauding as the caravan drove through the San Miguel del Padron municipality just outside the city. "At least that's what my parents told me."
Like many young Cubans, Alvarez barely knew the fatigue-clad revolutionary who defined much of life for an older generation. Fidel began to fade from public view a decade ago after he transferred power to his brother, President Raúl Castro. Some millennials feel little attachment to the governing regime or the ubiquitous murals of Che Guevara and Castro throughout the country. They yearn for a different life, one of economic opportunity and access to technology, although they are careful to mute their criticism.
"Now that he's dead maybe I can get out of here," snapped a young woman eating ice cream, who declined to give her name.
Castro's legacy is mixed: He was widely criticized for silencing dissent and pursuing economic policies that led to chronic deprivation. But older Cubans vow that the values and the achievements of the revolution will live on, deeply embedded in the soul of the nation. Their list of those achievements varies little from person to person: education, health care, and national independence.
"Of course the revolution will continue without Fidel," declared Daysa del Pino Gonzalez, 41, a doctor taking a selfie with her mother and son in the Plaza de la Revolución. "Yes, he is gone, but his ideas and all he tried to do will continue. That is who we Cubans are."
The reality, however, is that it may be difficult for things to continue as they are. In recent years, the country has been moving slowly towards a more open economy that permits limited private enterprise. Under the rapprochement between the United States and Cuba initiated by President Barack Obama, the number of tourists and remittances flowing into the country have generated billions of dollars in revenue.
But larger economic change has been slow and many American businesses have been unable to negotiate deals, caught in a chokehold of Cuban and U.S. regulations. Despite early enthusiasm for the detente, John Kavulich, president of the U.S.-Cuba Trade and Economic Council points out that since Obama visited the country two years ago, Cuba has purchased only a single piece of agricultural equipment from the United States, a harvesting tool which has yet to be delivered.
Now, with Venezuela's severe internal difficulties forcing a reduction in financial support to the island, Cuba's economic woes have worsened. Many expect that the Cuban government, moved in part by Fidel's death, will be less likely to negotiate concessions with the United States, as Trump has indicated he wants to see. A key element in any deliberations will be the fact that Raúl Castro is expected to retire in February 2018, ending the reign of the Castro brothers.
"The preferred weapon of Cuba is to show that the country is united and that certain things are not negotiable," said Ricardo Torres, an economist at the University of Havana. "That's what the country's reaction to U.S. aggression has been historically."
But Torres hopes just the opposite will happen. If Trump reverses some of Obama's initiatives, he thinks it could propel the Cuban government to seek more foreign investment from other countries out of necessity. And that, he predicts, might be hard for Trump to resist.
"I expect Trump to be pragmatic, not ideological," said Torres. "That means looking for opportunities for American businesses. He's a businessman after all."
Whatever the Cuban government does, Kavulich, the trade council president, predicts that American companies will likely step back from their desire to do business in Cuba, at least for the moment.
"If the Obama administration's policy was a refrigerator on defrost, Trump's policy will be same refrigerator turned up to freezing," said Kavulich. "The Cuban government is going to recoil, and the interest of U.S. companies towards Cuba may begin to evaporate because companies are going to focus upon trying to be on the good side of the Trump administration."
In the meantime, many Cubans who were counting on the widening bridge to the United States to remain open are now stuck in limbo. Daisy Rojas, 63, for example, retired from her job as a tourist group coordinator this past spring and opened her home as a kind of lodge for American students studying in Havana. With the future of relations unclear, she is uncertain whether to move ahead with plans to remodel her third floor and expand, worried that American students will no longer be able to come to Cuba.
"If I can't keep doing this, I'll have to find something else," sighed Rojas. "Maybe I'll do people's nails, or laundry. It's hard to find a new job at my age." Ahmed Llerandi, a 32-year-old petroleum engineer, likewise quit his government job not long ago. His plan is to join his mother and brother in Miami and look for work with a private company, but now he's worried that Trump's immigration policies may make that impossible.
There's also the matter of his name. Llerandi is not a Muslim; "Ahmed" is a traditionally Arabic name given to him after a television character beloved by his mother. But he's worried about how it might play in the United States.
"Maybe I'll just send Trump my photo ID," sighed Llerandi, sitting at a Havana bar watching Trump on CNN. "When he sees my blonde hair he'll realize that I'm a guy who really should be living in Miami."
RELATED ISSUES