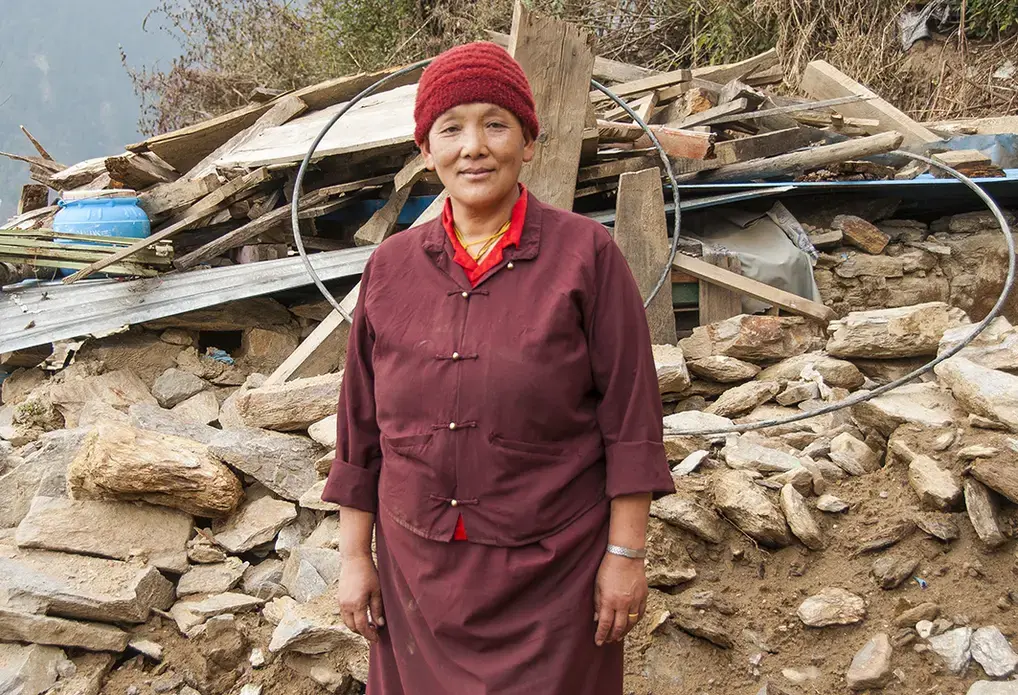 Nawang Tsultrim, a Tibetan refugee nun in the Bakhang Buddhist Nunnery in northeastern Nepal, in front of the rubble that was once her home. Image byJane Qiu. Nepal, 2016.


CHAKHAM, Nepal - It is the first time Nawang Tsultrim has harbored any sense of hope in a year.

"They will begin to build my house tomorrow," she says cheerfully, picking through a pile of rubble that was once her home: a modest one-room building in the Bakhang Buddhist Nunnery in northeastern Nepal, near the border with Tibet.

A devastating Nepal earthquake a year ago levelled much of the place. Only a prayer hall, where Buddhist rituals and communal meditation take place, still stands, criss-crossed with cracks.

The nunnery, perching on a mountainside at 3,000 metres above sea level, is home to 212 Tibetan nuns who crossed the Himalayan border to live away from Chinese rule.

Many Tibetan refugees also use it as a temporary resting place before heading to India.

For weeks after the quake, all the surviving nuns were crammed into one shelter.

"It was an extremely difficult situation," said Tsechu Dolma, founder and director of the nonprofit Mountain Resiliency Project in Kathmandu. She came to Bakhang just a few days after the earthquake.

"Everybody was crying. They were mourning a nun who was killed by the quake. And they had no idea how to get their life back again," she said.

As the nuns do not have residency rights or identity cards in Nepal - like many other Tibetan migrants in the country - they are effectively illegal immigrants.

"They are stateless and invisible," said Dolma. Tibetan migrants have few employment prospects beyond low-pay jobs like waitressing and manual labour, she said.

"They are the poorest of the poor," she said.

Fending for themselves

The earthquake has made the nuns' position even more precarious, with little aid reaching them, they said.

"We are left to fend for ourselves," said Nawang Dechen, head of the nunnery. "And few people know about our plight."

But with financial help from the American Jewish World Service - a New York-based nonprofit development and human rights group - and private donations from Tibetan communities, Dolma and her colleagues have been able to help the nuns rebuild, and with better and stronger houses that can protect them from future disasters.

"The top priority now is to build the dormitories for the nuns," each leading a solitary life in a small house, Dechen said. She hopes this can be completed before the monsoon starts in July.

"The temporary shelters have many leaks. It's a miserable place when it rains," she said.

She is also seeking donations to rebuild the clinic, library, and food storage room, which helps the residents get through the monsoon period, when the only road connecting the nunnery to the outside world can be impassable.

Rebuilding in remote mountain regions is not easy, said Tapas Upadhyay, an architect at the Hunnarshala Foundation, a nonprofit organisation in Bhuj, India. He is part of a team that has helped design new homes for the nuns.

Most quake-proof buildings rely on concrete and steel. But "they are too expensive for most rural communities in Nepal," Upadhyaya said. "And it's difficult to bring them all the way up here."

Reinforcing mesh strengthens walls

The houses the team is building in Bakhang use local materials such as stone and clay. To reinforce the structures, the walls are laced with galvanised iron wire mesh, tied together to form so-called ring beams.

"They're all woven together, just like your clothes," said Upadhyay. "That's where its strength lies."

During an earthquake, the mesh would hold the building together, but it is elastic enough to sustain the shaking, according to Upadhyay.

In a test, a two-storey house was put on a shaking table and subjected to quakes of various magnitudes.

"The building rocked back and forward as a solid unit," said Tanvi Choudhair, also a Hunnarshala architect. "It survived up to magnitude 11 earthquakes."

In addition to resisting shaking, the new houses will incorporate aspects of Tibetan culture and tradition - and a personal touch.

"We believe in owner-driven reconstruction," said Upadhyay. "We are not interested in having a sort of model house and replicating it everywhere."

Each house will be slightly different, depending on the location and the individual, and comes with a small garden where nuns can grow vegetables.

The nuns have been involved from the start. "We had many meetings and made sure that they understand the importance of their voices and leadership," Dolma said.

Rebuilding helps healing process

The nuns are also essentially part of the construction team, digging up clay and salvaging wood and stones from collapsed buildings, often while singing traditional construction songs that date back centuries.

They also put small religious ornaments in the foundation and walls of the new homes, a Tibetan practice to bless the house.

When tragedies like last year's earthquake happen, "people lose their trust in the buildings and the materials," said Choudhair. "They worry that the same will happen again."

But when they construct their own homes - and understand what makes them stronger - they regain their trust, she said.

Rebuilding is not just about the physical structure, but also "part of the healing process", she said.

Other communities benefit too, said Phurita Sherpa, a contractor on the project who lives in Kathmandu but has family in nearby Chakam vilage.

The project hires only local masons and carpenters, giving them an income that helps them rebuild their own homes.

They can also apply what they've learned from rebuilding the nunnery to other construction projects. "This will help to boost earthquake resilience in mountain communities," Sherpa said.
RELATED ISSUES