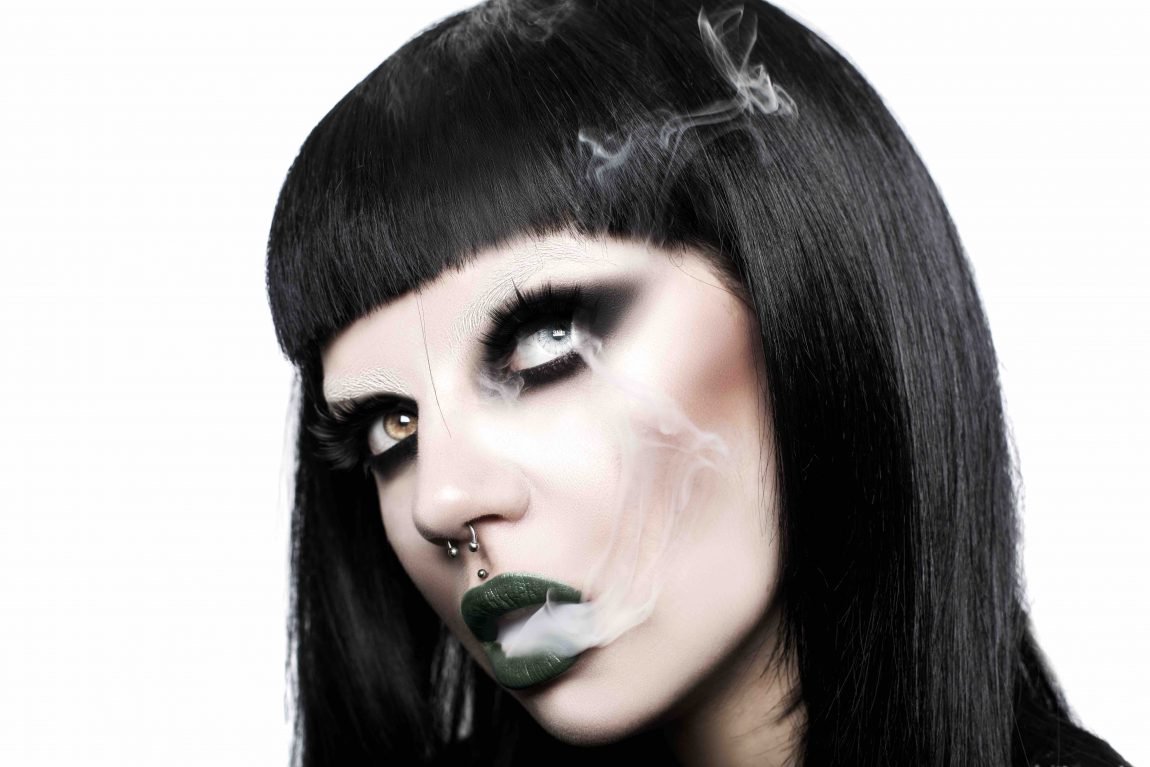 Before you even step inside Necromancy Cosmetica, you get a feel for the company's preference for the occult. With its black storefront, the brick and mortar stands out among the empty storefronts on Calle de Diego in Rio Piedras, Puerto Rico. Inside, this small boricua lipstick company – which tends to favor dark tones – is making a splash in the cosmetics world by tapping into the world of goth.
Started by couple Desiree Rodríguez (Des) and Salvador Pérez (Zal) four years ago, Necromancy is a small company that has built a large international following on Instagram. But some don't know that this influential brand is based out of Puerto Rico.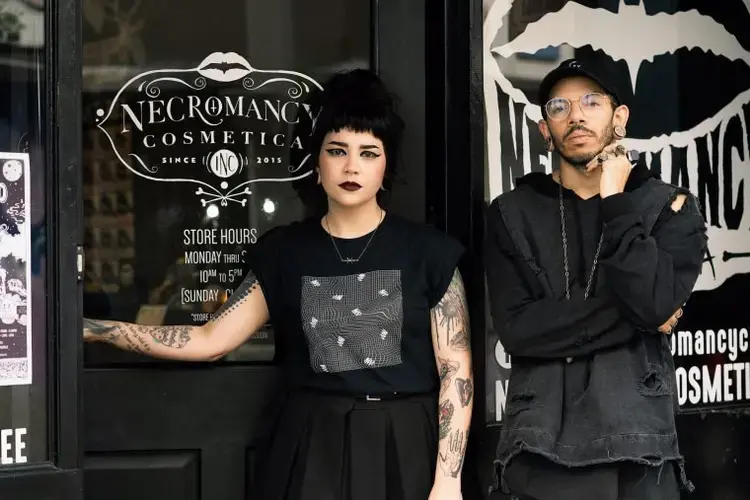 "Many people from here, from Puerto Rico don't know we are a Boricua brand they get to the store and are like, 'Wow I didn't know you guys were from here. How cool to have a goth brand from Puerto Rico,'" Des tells me. "And it's perhaps not what most would expect from a Puerto Rican brand. It's more expected, to see something tropical, lively bright colors but that is not us and it's not what we are portraying."
Being true to themselves means having a gray lipstick called Deadly Nightshade or, as described on the site, a "froggy green" called Segunda Plaga. It also means building a brand that is vegan, cruelty-free and made in Puerto Rico. Each week, Des and Zal make lipsticks, run social media, place orders, personally send thank you emails, and respond to any customer service questions. Des does all of this while also raising an 11-year-old.
Des is the driving force behind the brand. Des, who came up with the idea for the business, went to both cosmetology and art schools. She spent a lot of time working with hair, art, and make-up, but she never felt a brand spoke to her aesthetic.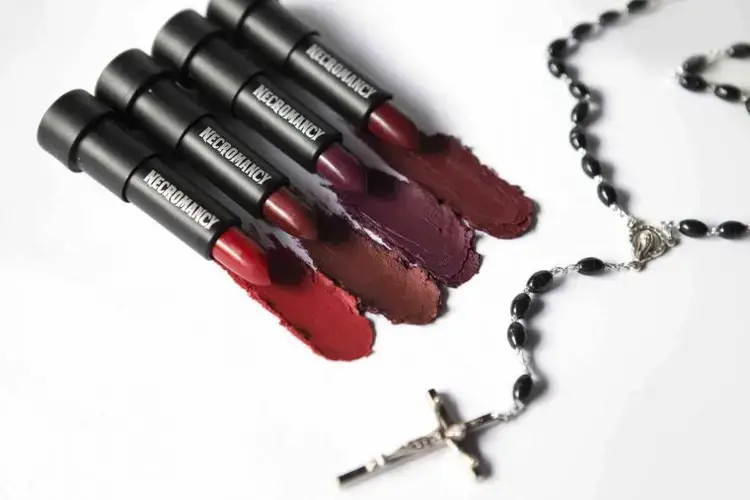 "When we started to develop what the brand was going to be we put a lot more emphasis on how I as a consumer could not easily find a brand that I felt I identified with," Des says.
A big part of their branding is also their love of animals. So not only is the brand cruelty-free, the owners have gone a step further by also becoming a cat rescue.
"Our love for animals has been reflected in other ways, not just that we are vegan and cruelty free, but we are now cat rescuers," Des says. "We foster cats and have cats for adoption."
This has even led to the Instagram page #CatsofNecromancy, which features foster cats around the island. But the duo doesn't just use Instagram for cat pics, it's also helped them grow their brand. Currently, Necromancy has more than 100,000 followers.
"Instagram has been our biggest platform," Des adds. "I feel like Instagram gave me that vision that there are indie brands that are successful without being produced by a large manufacturing company."
When she first started out, she had a lot of doubters. "A lot of people told me, 'You're crazy. That's not going to work. Nobody knows you. You're not going to accomplish anything with that,'" she says. "I was told a lot of things."
But she persevered and this not only helped her start the company, but also in the aftermath of Hurricane María. The storm took a toll of many different aspects of life in Puerto Rico, including Zal and Des' recently opened storefront.
"We almost lost the store front because of María," Zal explains. "We were closed for four months, and we had just opened the store four months prior."
"The store was full of mold. It was total chaos," Des adds.
They were able to keep the online store running, through the help of friends. One lent them generators so they could fulfill orders. Another, based in Switzerland, ran social media for them. And they also needed to find a place to make their products, which meant hiking up 13 flights of stairs to use a friend's apartment, where the electricity was only on at night.
"We had like two free days," Des tells me, "We got to work before we even knew how our families were doing. My family is from the west side of the island and I didn't hear from them for almost three weeks."
A lot of businesses closed and Calle de Diego isn't as vibrant as it once was. Now, the duo is working to help bring back businesses to the street. Since pop-ups helped them grow their business, they're now doing the same for others by hosting Jueves de Rio Piedras.
"We are trying to show that you can do it," Zal says. "We need neighbors and we'd like for them to be local business people. I think that's what it's about – helping each other grow."
RELATED ISSUES

Issue
Land and Property Rights
Land and Property Rights

Trade

Racial Justice