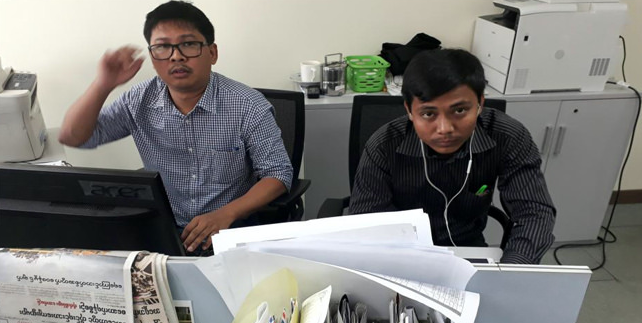 Last month, Chit Su Win sat on a bench outside a courtroom in Yangon, after visiting her husband, Kyaw Soe Oo, a reporter who was spending his hundredth day in jail. As we spoke about how the two met and married, Chit Su Win mentioned "A Taxi Driver," a Korean film they had watched together six months earlier. The film is based on the true story of a German television reporter who, with the help of a South Korean taxi driver, documented the killing of nearly two hundred pro-democracy protesters by South Korea's military dictatorship, in 1980. After the movie ended, Kyaw Soe Oo was enthralled by the film about a reporting duo who evaded military checkpoints and gunfire to share footage of the atrocities with the world.
Before watching the film, Chit Su Win told me, she was largely unaware of the dangers that came with reporting, and rarely spoke to her husband about the work he did as a reporter in Rakhine State, on Myanmar's western coast. As the film credits rolled, she was distraught at the idea that anyone—let alone her husband—would put themselves in so much danger for his or her profession. She asked Kyaw Soe Oo to switch careers, but was unable to convince him. "He said that he has to keep doing his job because this is his passion," she told me, through a translator, as her two-year-old daughter watched Scooby-Doo cartoons on a smartphone. "So I had to accept that, and I told him that I would be happy too if he was happy."
Kyaw Soe Oo, a reporter for Reuters, was arrested, in December, along with his colleague Wa Lone, and accused of violating the country's 1923 Official Secrets Act, a seldom-used and draconian colonial-era law. The journalists, who face up to fourteen years in prison, were reporting on the murders of ten Rohingya Muslims by Myanmar military forces and Buddhist residents in the remote village of Inn Din, in Rakhine. The story they broke, published by Reuters, in February, is a damning account of brutality and vigilantism fuelled by ethnic divisions and a vicious military campaign against the Rohingya. The journalists have won PEN/Barbey Freedom to Write and National Press Club awards for their story. Last week, Reuters was awarded the Pulitzer Prize for feature photography, for its photographs of violence against the Rohingya.
Since the reporters' arrest, Reuters has waged an aggressive global campaign calling for their release and formed a legal-defense team that includes human-rights lawyer Amal Clooney. But the reporters remain trapped between two narratives—that of their fellow-citizens, many of whom continue to insist that the Rohingya have fabricated accounts of suffering systematic abuse in Myanmar, and much of the Western world, which sees the Rohingya as victims of ethnic cleansing at the hands of the country's military. Human-rights groups have criticized Aung San Suu Kyi, the Nobel laureate and former dissident who now heads the country's civilian government, for failing to condemn the attacks on the Rohingya or aid the two imprisoned journalists.
I worked in Myanmar with Wa Lone at the Myanmar Times, a dual-language English and Burmese newspaper, in 2014, and again, at Reuters, in 2016. Wa Lone was a talented and persistent reporter whose intensity was often concealed behind a disarming grin. He joined the paper two years after the country had ended direct censorship of the press—a thrilling time for Burmese reporters, many of whom came to see advocating for press freedom as an extension of their job. Among the stories that Wa Lone covered was the 2014 trial of four Burmese journalists and a news executive accused of disclosing state secrets in a story about an alleged chemical-weapons factory run by the country's military. When the five were sentenced to ten years of hard labor, Wa Lone and other journalists staged a protest in which they taped their mouths shut and laid down their cameras. He wore a T-shirt with the words "Stop Killing Press" printed in red letters.
When I left Myanmar and moved back to the United States, in 2016, I kept up with his reporting, admiringly, from afar. Since being imprisoned, Wa Lone has claimed that he and his colleague were framed by the police. "We only did our work as reporters," Wa Lone said on the steps of the courthouse last month, as officers pushed him inside a police truck. "I want the people to understand that, and want to tell them that I never betrayed the country."
Last week, a police captain, who was arrested on the same night as the reporters, testified that officers were ordered by their superiors to entrap the two journalists. The captain said that police officers invited the journalists to a meeting at a restaurant, handed them secret police documents, and then watched as other officers arrested them. Less than twenty-four hours after his testimony, the captain's family said that they had been evicted from the police housing that they are provided as part of his employment. A judge is set to rule next week on whether the captain is a credible witness.
U.N. officials have declared the campaign against the Rohingya "a textbook case of ethnic cleansing." Since August, approximately seven hundred thousand members of the predominantly Muslim group have fled into neighboring Bangladesh. Few in Myanmar agree with the U.N's assessment. Many in the majority-Buddhist country of roughly fifty-one million people see the Rohingya as illegal immigrants. They point out that the military campaign was launched in response to attacks by a Rohingya extremist group, and argue that the international community has willfully ignored that fact. Some see the Rohingya as an existential threat to the state's Buddhist character and assert that the group is fabricating the atrocities to shame Myanmar's government and military. They contend that Wa Lone and Kyaw Soe Oo must have been duped, misled, or manipulated into producing their work.
Burmese journalists and activists say that the arrests are the latest in a series of escalating attacks on the country's fledgling free press, a close-knit and cash-strapped community where organizations routinely pool resources. Last fall, a local freelance journalist and two foreign reporters working for the Turkish Radio and Television Corporation were jailed for two months, for filming with a drone in the country's capital. (The local freelance journalist worked with me as a translator on this piece.) In October of 2015, two pastors were sentenced to two to four years in prison, for assisting journalists who were reporting on the bombing of a church. (The two were released in mid-April as part of a larger Presidential amnesty.) Last June, a journalist who chronicled attacks on the Rohingya and other ethnic minorities for the Irrawaddy, a Yangon-based Web site, was jailed for two months and released.
The charges against Kyaw Soe Oo, who is twenty-eight, and Wa Lone, who is thirty-two, are the most serious levelled yet against Burmese journalists. After their arrest, they were held at an undisclosed location for two weeks and barred from speaking with their families or lawyers. The military eventually admitted that members of the security forces took part in the killings, and, in April, seven soldiers were sentenced to ten years in prison.
A former high-ranking military officer and member of the previous government told me that he thought the armed forces bungled an attempt to get in front of the story, arresting the two reporters because "they wanted to stop the story from coming out." Yet the two remain in jail without bail and their farcical trial drags on. At one of the hearings I attended, lawyers tried for the second time to submit the story that Wa Lone and Kyaw Soe Oo wrote as evidence to prove they were simply doing their jobs as journalists, but were denied by the judge. The document was considered electronic, and would need to be submitted by an "I.T. expert."
One evening, I called Aung Hla Tun, a former colleague at Reuters who was Wa Lone's English tutor and is now a deputy minister of information in Myanmar's government. Instead of defending the two journalists, he lamented that Myanmar had "lost in the media warfare" regarding the Rohingya to international human-rights groups and journalists with more "money and experts." He claimed that many Rohingya had been told they could find a better life abroad if they fled to Bangladesh. He floated the idea of performing DNA tests on women who allege to have been raped by soldiers. When I asked him about the charges against Wa Lone and Kyaw Soe Oo, he said that he felt bad for them, but there was nothing the government could do but let the judicial process play out. "We all have to abide by a law as long as it is in place," he said.
During my trip, I met Wa Lone's wife at a Thai restaurant near the offices of the Myanmar Times, where she works in sales. Visibly pregnant and wearing a dark floral dress, Pan Ei Mon said that the two weeks her husband was held incommunicado nearly drove her mad. She begged the police for information, prayed, and sought the advice of soothsaying monks. At times, she feared that her husband would meet the same fate as Par Gyi, a journalist who was arrested in 2014 and fatally shot in police custody. "I worried if he was alive," she told me.
Chit Su Win, the wife of Kyaw Soe Oo, told me that, after her husband's arrest, she had visited the market near her home in Sittwe, the capital of Rakhine. She realized that everyone was staring at her and her toddler—her photo had been distributed on social media. She said that she was fiercely proud of her husband. "I don't care because my husband was revealing the truth," she told me. "I am sorry that this has happened to him because he revealed the truth."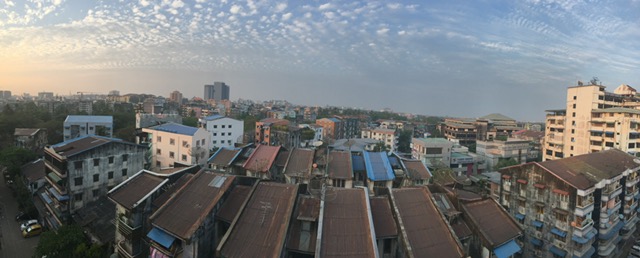 Timothy McLaughlin spent three weeks reporting from Yangon. His stories for The Washington Post and...
RELATED ISSUES

Issue
Migration and Refugees
Migration and Refugees

Governance