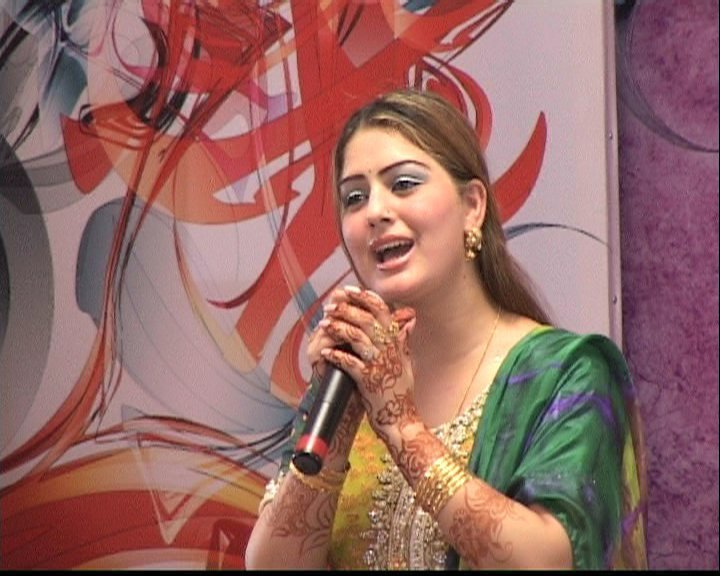 Ghazala Javed, the 24-year-old popular Pashto singer, was killed along with her father on June 18, 2012. Both were shot as they left a beauty parlor in Peshawar, the capital of conflict-ridden North-West Pakistan.

Javed was admired for her pop singing and stunning beauty in both Afghanistan and Pakistan. The Pashtun diaspora in the Middle East used to invite her for music concerts and showered love, money and gifts on her.

Authorities in Peshawar say the singer was shot dead by unidentified armed men while she was driving in her car with her father. "Two men on a motorbike sprayed bullets and fled leaving them in a pool of blood," senior police officer Dilawar Bangash told AFP. Javed had recently resumed singing after she was divorced from her husband Jehangir Khan, a local businessman. She was scheduled to record her new songs in a music studio.

Farhat Javed, Ghazala Javed's sister, told the media that Ghazala's former husband Jehangir Khan was the prime suspect in the killing of her sister and father.

Ghazala's murder has sent shock waves through the community of Pashto music lovers and strengthened a sense of insecurity among artists—many of whom are victims of both religious militancy and the indifferent attitude of a radicalized society.

I met Ghazala in 2007 at her house in Banr Bazaar (the traditional home of Swat female dancers and singers) in the center of Mingora, a city in the picturesque Swat valley. That was the beginning of her career. Her father told me that because he had suffered business losses he encouraged his daughter to dance and sing so that she could earn income. I told him it was too early for a small girl with such angelic beauty to work as a dancer and singer in a society shattered by the spread of extremist religious thought. I suggested she continue her education but Javed was adamant. Sadly, socially excluded families of traditional singers/musicians are supported by the young girls who perform in wedding ceremonies and music shows.

When I returned to my office in Kanju township in Mingora my colleagues informed me that a barbershop and music center had been destroyed by the militants of Taliban commander Mulla Fazlullah. Through his pirated FM radio he discouraged girls' education, anti-polio drops and all forms of artistic expression. In 2008 the Taliban destroyed everything beautiful in the valley including the rare Buddhist carving in Jehandabad village. Music was considered the handiwork of the devil and a source of vulgarity -- hence singers and musicians were asked either to switch over to other professions or face Taliban wrath. The whole society was held hostage to Fazlullah and his militants while the security agencies kept a meaningful silence over the atrocities committed in the name of religion.

This was the antithesis of the tolerance and open-mindedness that prevailed when Swat was a princely state administered under local customs called "Riwaj." Before the merger of Swat state into Pakistan in 1969, the benevolent rulers of Swat State protected, mentored and rewarded these singers and dancers for their performances. In the 1960s Abdul Haq Jehanzeb, the last ruler of Swat Miangul, fell in love with an elegant female dancer and later married her. To avoid the jealous eyes of his subjects he even constructed a separate road leading to her house!

On December 15, 2008, militants stormed the vehicle of local singer Sardar Yousafzai. Yousafzai survived the attack but harmonium player Anwar Gul was wounded in the firing and later died in the hospital. In January 2009 Taliban militants converged on the house of Shabana, a famous dancer, dragged her onto the street of the city square, and shot her dead in the middle of the night. Her blood-stained body was left on the ground until noon the next day so that others could learn a lesson. Ironically, in March 2009, instead of providing protection to the artists and their families, the local administration and militants agreed to remove the "sources of evil" from the society and asked singers and dancers to move away from their homes in Banr. On March 14, 2010, Afsana, a young female dancer from Swat, was killed by armed men in the Damaan Hindko area on the outskirts of Peshawar. Afsana and her entire family had already fled the Taliban to the city. Along with her sister Sana, she had begun performing at weddings to earn a living for their displaced family. Meanwhile hundreds of music shops were destroyed in Taliban bomb blasts in the region along the Pak-Afghan border.

Afghan jihad in 1980s, the war on terror, and the five-year rule of religious parties in Khyber Pakhtunkhwa province have shaken the social, spiritual and cultural foundations of the Pashtun society. This society passed through a transitional period where centuries-old cultural institutions struggled for their survival.

The Ghazala Javed murder highlights the contradictions of a society that is torn apart by religious fundamentalism and a "perverted sense of honor." Before the killing of Ghazala Javed two other female Pashto singers Aiman Udas and Yasmeen Gul were allegedly killed by their relatives for violating family honor.

When Ghazala emerged as a super hit singer, her life became more insecure. Threats from the militants and taunts from society forced her father to find a man who could protect her. In 2010 Jehangir, a local businessman, married Ghazala on the promise that she would put an end to her career as a singer.

From the accounts of her family and friends, Ghazala felt disappointed with her treatment at the hands of Jehangir's extended family. Later she found that he also had another wife. She stayed with her husband but after eight months could not bear it anymore. Contrary to the norms of the patriarchal society she opted for her freedom and filed a case in a local court for the dissolution of her marriage.

The courts decided in her favor in December 2011. After her divorce Ghazala wanted to return to show business. She performed in televised music shows in Pakistan and Afghanistan.

According to Farhat Javed's talks with the media, even after the divorce her former husband was not happy with her television appearances and considered this a violation of his honor. Farhat has registered a legal complaint (in Pakistani terms, a First Investigation Report, or FIR) against Ghazala's former husband and three friends.

Due to her immense popularity, the news of her death spread like proverbial jungle fire and within no time photos and videos of the incident were posted by her fans on social network sites. The majority lamented her death and termed it a huge loss for Pashto arts. But there were also those who remained bewildered by the tremendous show of respect and the celebration of her artistic achievements.

Local politicians who normally never miss a chance to issue a statement on every matter—important or trivial—said nothing about her murder. Nor did they address the continuing challenges faced by musicians, singers and dancers. One who did speak out, Provincial Minister for Information Mian Iftikhar Hussain, condemned the brutal killing. He said that an FIR had been registered against the murderers and that it was the responsibility of the court to bring the criminals to justice.

Shaheen Buneri is a journalist with RFE/RL Mashaal Radio in Prague and was a Persephone Miel Fellow for the Pulitzer Center on Crisis Reporting 2011.