I've always thought Russians do not have very friendly faces. In fact, as a person of Russian origin who was supposed to dig deep into Russians' lives, I knew I was facing a challenge.
The first person who agreed to share his experience as an LGBTQ community was Sergey Derevyanchenko. For more privacy he brought me to one of the alleys in the middle of Moscow where we spoke for an hour as we sat on a bench and drank cold lattes. Some questions were easy for him to answer but sometimes he would pinch his arm a little. When he talked about his childhood, he tried to remember everything. After our conversation I asked if it was okay to take some photos of him and without any hesitation he agreed. We were in his neighborhood, and he showed us the way to a little park with few monuments to Russian poets. His last words to me about his life were that he believes that he lives a happy life—he loves and is loved.
Another experience with the LGBTQ community was with a lesbian couple, Viktoria Kosova and Svetlana Karakulina. They spoke together during the interview. Unfortunately, they both got COVID-19 and we had to do it over a Telegram video call. They do not hide their relationship, but due to Kosova's job title she does not share with her colleagues about her personal life. What fascinated me the most after I returned to New York was that Karakulina reached out to me and said, "Homophobia just happened to us as a couple." They were invited to a wedding half a year ago by Karakulina's old university friend. But the bride called back recently, apologized, and said that unfortunately the couple could not come. She said her fiancé "was against couples like that."
"Thankfully we didn't get the present yet," Karakulina said with a laugh.
It is truly touching that after I spoke with them and returned from the field they still want to share what is happening in their life.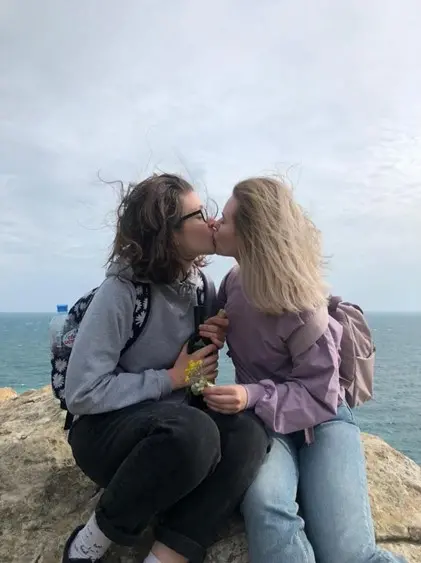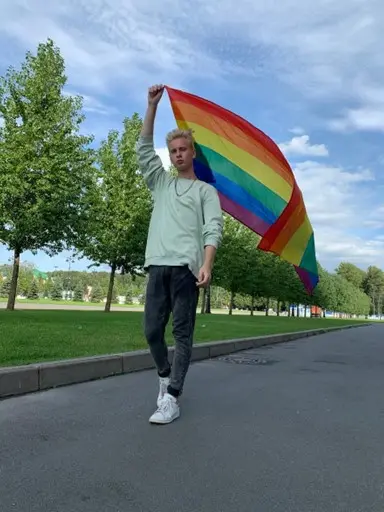 They are not the only ones who keep sharing how life has been going. LGBTQ activist Oleg Ustritskii hesitated to give me an interview until he could receive proof who I was writing for. Once satisfied, he agreed to an interview. By the end he was speaking as if we knew each other for years and he offered to show me around Saint Petersburg. Ironically, a little earlier he had sent out an official picket notice to the Administration of Saint Petersburg to organize a peaceful march against human rights violations in Russia towards the LGBTQ community on August 22, 2022. Sadly, but to be expected, on September 3, he received a rejection of his request.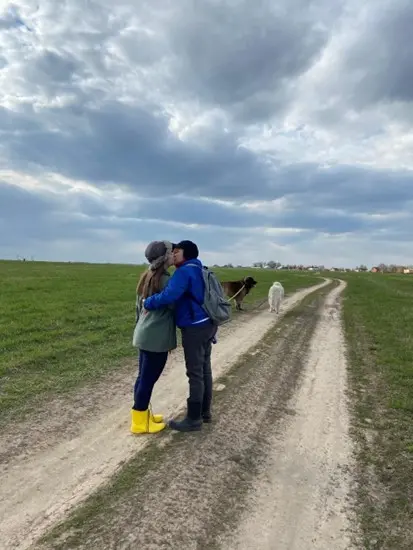 Like Ustritskii, Kseniya Maximova has been sharing news regarding LGBTQs in Russia. During and after our interview she became disappointed with new laws as well as with what was happening with LGBTQ communities and youth in Russia. She shared a photograph from a vacation with her girlfriend who asked to remain anonymous
These young people had a few things in common: At the beginning of our conversations, they did not trust me. But by the end, they were talking to me as if we were friends. All of them kept sharing their stories and news after my return to the U.S. Until they were asked, none of them would point out what bad experiences they had. It could have been a cultural thing; Russians are taught not to "complain." Looking on the bright side makes people unfocused on bad moments in their lives.
What made me fascinated by them is that they are all concerned about others. They know how bad it can be for the LGBTQ community and youth in Russia. Even if each of them is discriminated against by the government or the public, they still carry that "Russian Soul."
RELATED ISSUES

Governance

LGBTQIA Rights