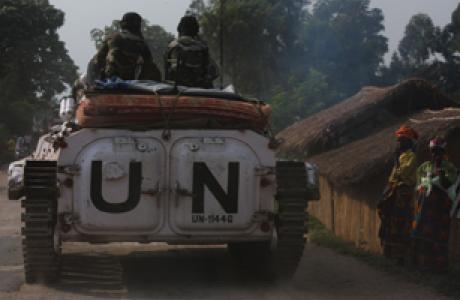 Contributor Michael J. Kavanagh reported for Worldfocus last year on the crisis in eastern Congo. He's currently based in the DR Congo's capital, Kinshasa.

He discusses the controversy surrounding the United Nations' peacekeeping mission, the problems with integration of rebels into Congolese Army ranks and the economic future of this resource-rich, war-torn country.

Q: Why has the UN's peacekeeping mission come under such intense criticism in eastern Congo?

Michael J. Kavanagh: For the past year, the Congolese army has been fighting a group of Rwandan rebels known as the FDLR (Democratic Forces for the Liberation of Rwanda) who've lived in eastern Congo for around 15 years.


They're mostly Hutu and some of their leaders are implicated in the Rwandan Genocide of 1994. This military mission began in concert with the Rwandan army in January and February 2009. Since March, it's been supported by the UN peacekeepers.

This has been hugely controversial because the military operations have caused the deaths of well over a thousand civilians, the rape of several thousand and the displacement of around a million people. Rwandan rebels and the Congolese army are both accused of war crimes and crimes against humanity.

Peacekeepers were put in a difficult position as the operations progressed because their mandate essentially became contradictory: They're supposed to protect civilians while at the same time support a Congolese army that's often killing civilians.

Q: Earlier this year, as part of a deal between Rwanda and Congo, the Rwandan-backed CNDP rebel group was integrated into the ranks of the Congolese army. How has this impacted the conflict in eastern Congo?

Michael J. Kavanagh: A year ago the UN released a report saying that Rwanda was supporting a rebel group in eastern Congo known as the National Congress for the Defense of the People, or CNDP. The international community pressured Rwanda to stop this and now after nearly 15 years of fighting each other,Rwanda and Congo are nominally allies.

The CNDP has been integrating into the Congolese army over the past year as part of a peace deal, but they are still committing massive atrocities in eastern Congo, they're just now wearing Congolese Army uniforms. Their leader, Bosco Ntaganda, is wanted by the International Criminal Court for war crimes.

Various human rights groups and even the UN itself have documented these atrocities by ex-CNDP forces, but the Congolese government has been hesitant to complain because they don't want to upset their new (peaceful) relationship with Rwanda.


Meanwhile, tiny-but-powerful Rwanda benefits from the illegal trade in natural resources in eastern Congo, as do other neighboring countries like Uganda and Burundi and Tanzania. So this is still a regional problem that requires a regional, political solution as much as a military one.

Q: The peacekeeping mission in Congo is the UN's largest. How relevant is the UN's mission there? What will happen when the mandate expires in five months?

Michael J. Kavanagh: The UN mission in Congo is huge - its budget is more than $1.4 billion a year and over 20,000 soldiers and civilians work for it. But you need to remember how big Congo is - it's the size of western Europe with 60+ million people.

We're asking a lot of these peacekeepers — probably more than they can provide given their resources and the difficulty of operating in Congo. Besides basic logistical issues, the Congolese government and army have not always been partners in good faith, nor have other regional partners like Rwanda and Uganda.

Over the last 10 years, the results of the peacekeeping mission have been mixed. So on December 23, the UN renewed its mandate for only five months instead of the usual 12, to send a sign that they were rethinking how the mission would do business.

They're attaching conditionality to the support of the Congolese army — no civilian protection, no support. The UN is also asking for mechanisms to regulate the flow of illegal natural resources that are being used to enrich elements in various armed groups as well as some international companies.


Congo will celebrate 50 years of independence in June, and the government wants the UN to start drawing down its troops, but with major security issues in the east and other problems in the northeast (with the Lord's Resistance Army) and center (a new insurgency) of the country, it's hard to see how the Congo can afford to let UN peacekeepers leave.

For all its problems, the UN mission still provides essential services in Congo - perhaps too many, some argue - and the new mandate says another year will be added to the mandate in June.

Q: How do Congo's rich natural resources play into the conflict?

Michael J. Kavanagh: In December, the annual UN group of experts report on Congo outlined how armed groups were exploiting minerals like gold and tin ore to support their fighting. Burundi, Uganda, Tanzania and Rwanda were all implicated in the trafficking, as were a number of international companies.

Non-governmental armed groups control some mines and they tax transport routes in eastern Congo. The Congolese army - in particular ex-CNDP elements - also control mines and transport routes. The illegal trafficking is worth tens of millions of dollars, if not more.

The UN, EU, and U.S., among others, are all working on mechanisms to regulate the exploitation of minerals - something Congo needs for development - and hold individuals and companies accountable for illegal trafficking.

Q: Recently the IMF gave Congo a new loan of more than $500 million for showing signs of economic progress. What do you make of this?

Michael J. Kavanagh: It's a big deal. The IMF will be giving Congo well over half a billion dollars in loans over the next three years through a program intended to increase growth and reduce poverty.

The loan program is an explicit signal to international donors that in spite of ongoing conflict in the east, Congo is making macroeconomic progress, and if that progress continues, Congo could be eligible for debt relief under a World Bank and IMF program called the Highly Indebted Poor Countries Initiative, or HIPC.


You have to remember that after 15 years of war, years of dictatorship and rapacious colonialism before that, Congo is one of the poorest countries in the world.

Even with vast natural resources, the government is struggling to fix its infrastructure and pay its army, police and civil servants. IMF and World Bank loans and debt forgiveness are critical for the country to rebuild itself.

Forgiveness of most of Congo's old debt (much of which was accumulated during years of dictatorship and war) would allow Congo to take on new debt to pay for new development and services.

Q: Are foreign investors optimistic about investing in Congo?

Michael J. Kavanagh: A few months ago, Congo completed a two and a half year review of international mining contracts, which was necessary but has been highly controversial.

At the moment, Congo is still renegotiating its mining contract with Phoenix-based Freeport McMoRan over one of the biggest copper and cobalt deposits in the world and it canceled a huge copper and cobalt contract with Canadian mining giant First Quantum last Fall.

This has created uncertainty regarding foreign investment in Congo.

On the one hand, many of these contracts were negotiated during the war and even if they're legal, they're not necessarily fair and needed to be renegotiated.


On the other hand, the mining review was far from transparent. It's created an uneasy environment for potential and existing investors.

Growing and regulating its mining sector is probably the most important thing Congo can do to extricate itself from poverty; it's also the sector most vulnerable to corruption.

One final prediction for the coming year: Angola and Congo have been allies for years, but there's now a dispute over huge oil deposits off the coast of the two countries. It looks like Angola has been exploiting oil belonging to Congo, and the case has been sent to an international arbiter.

Angola is quietly furious, and this could seriously damage the relationship between the two countries and be a source of conflict over the next year. Something to think about, because Angola has always been the Congo's ally of last resort when it's faced serious security challenges.

- Lisa Biagiotti and Christine Kiernan
RELATED ISSUES

Women

Governance

Issue
Conflict and Peace Building
Conflict and Peace Building