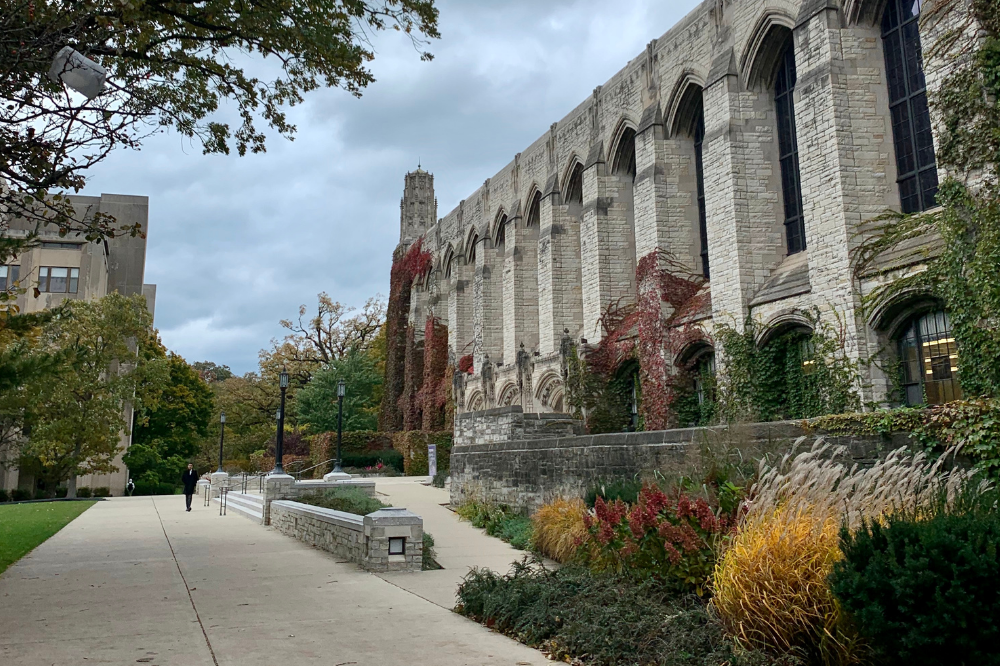 "When the email from Northwestern University President Morty Schapiro was released to the student body announcing a campus-wide shutdown, it felt like a boulder was dropped in a still lake, moving ripples to every part of my life. No part of my life feels untouched by the impacts of the coronavirus spread, from being unable to participate in collegiate experiences to the uncertainty of when I will see friends and family again."
I wrote the above back in March, when the uncertainty of the world felt it was peaking, when the severity of the situation was muddled by public confusion and what felt like a worldwide stand-still.
It is now September. Looking back on the naivety I claimed to lack, I find humor in how little I knew, and how much was yet to come.
I face a lot of adversity when it comes to adapting to change—and that part of my personhood was exacerbated when I arrived on Northwestern University's Evanston campus as a freshman in Fall of 2018. I was unbelievably frightened, to the point where my parents thought they were going to pull me out of school. However, I overcame it, and realized that my school is truly where I am meant to be.
I do not think of myself as perfectly acclimated to it; there are many aspects of Northwestern that hinder whether or not I can fully let myself go and feel at home here. But at the start of 2020, I was happier at school than a scared freshman year me would have ever imagined I could have been. I was feeling confident with my school work, my physical and mental health were significantly better than any other quarter here, and I was formulating relationships with new people that were creating the sort of comfort I always wished I would attain here at Northwestern.
However, the coronavirus washed a wave of uncertainty over me. I was fearful of the mass uncertainty that lay ahead of me as I was quickly ushered off campus in March 2020. Having that bit of self awareness, it was quite anxiety provoking to consider leaving when I was finally opening up to the idea of Northwestern being a true home.
Days after I dragged my feet while returning home from university, my brother fell ill with the COVID-19 virus. And despite taking all the precautions possible, my mother then fell ill while taking care of my brother. They became two of almost seven million Americans diagnosed (as of September 2020).
My home state of California went into a shelter in place order.
Under this order, my own household celebrated everything from birthdays to wedding anniversaries. I attended the virtual graduations of my sister from high school and my brother from college, and witnessed the pain it brought onto my family to lose those milestones of life. I watched the state of the world put stress upon my own family.
For those of us who are not suffering directly from COVID-19, these are all forms of conflict that no longer allow us to live our lives as we used to. It is like my parents have said, "If someone breaks both of their arms and you break one of yours, it does not mean your broken arm hurts any less. You have a right to cry or be upset."
That is how I feel about the world right now. People faced with the pandemic head on—those who are dying of illness, the health and essential workers that sacrifice their own well beings to ensure that of others—they have two broken arms; they are hurting more than us and need our empathy and help to get through this. Those of us who are affected by the wave of life-altering announcements and shutdowns have one broken arm. It may not be as bad as two, but it still hurts, and we have a right to cry.
As my own household bubble begins to poke our head out from behind the door and tip-toe into this new world of masks and "six feet" being everyone's new mantra, I feel incredibly lucky to regain even that smallest semblance of normalcy. And I know I'm lucky. Both my brother and my mom recuperated from the coronavirus, and by some stroke of luck, my dad, sister, and I avoided the virus altogether. Together, we found creative ways to celebrate birthdays and achievements that reinforced how fortunate my family truly is.
But I still cried.
I, like other university students, lost months of college, which come in limited 4-year quantities to begin with. The timer that continues to tick away at adolescence includes those four years of college, the time when it is okay to not know anything, and to start figuring out something. There is no need to downplay the grief that simply is: COVID-19 is making us grow up, and the idea around grief comparison in regards to the pandemic as a whole nullifies the nuances of human life that make it so.
I do not shame myself for the selfishness that comes with writing the above paragraphs. The biggest take-away I feel the global pandemic has given me is this greater perspective on grief. This country still suffers from an uncontrolled virus and a multitude of uncertainties around the best ways to cease its circulation. Healthcare workers still work ungodly hours. Black and brown communities are affected by this virus at disproportionate rates, rates which I will never be burdened by in my own home. Hundreds of thousands have lost their lives to coronavirus—those people being sons, daughters, parents, friends, grandparents—the list goes on. People have been wiped by mass unemployment and their families have suffered as a byproduct of this.
I have no experience with any of these disparities. However, prioritizing and recognizing your own grief and your own well-being does not make you socially inept to the numerous pains of this country, nor to the anguish of the world as a whole. It reinforces your humanity and your need to self-empathize in the face of adversity.
So where do we go from here? We meet in the middle. We recognize our own woes will always be lesser when stacked up against the next person's, but we do not let that define what is painful and what is worth of tears, grief and sorrow. No one has given me any credibility to speak on behalf of college students, but I am going to do so anyway: Our grief is valid. The virus has taken from us a sliver of time meant for character growth, for forming new relationships, for learning, and for growing up. We know the many two-broken-arm folk out there are still hurting—and we know that the sadness of losing experiences does not compare to the loss of life we have seen due to this pandemic.
But—one broken arm still hurts. And six months later, it is still okay to cry.