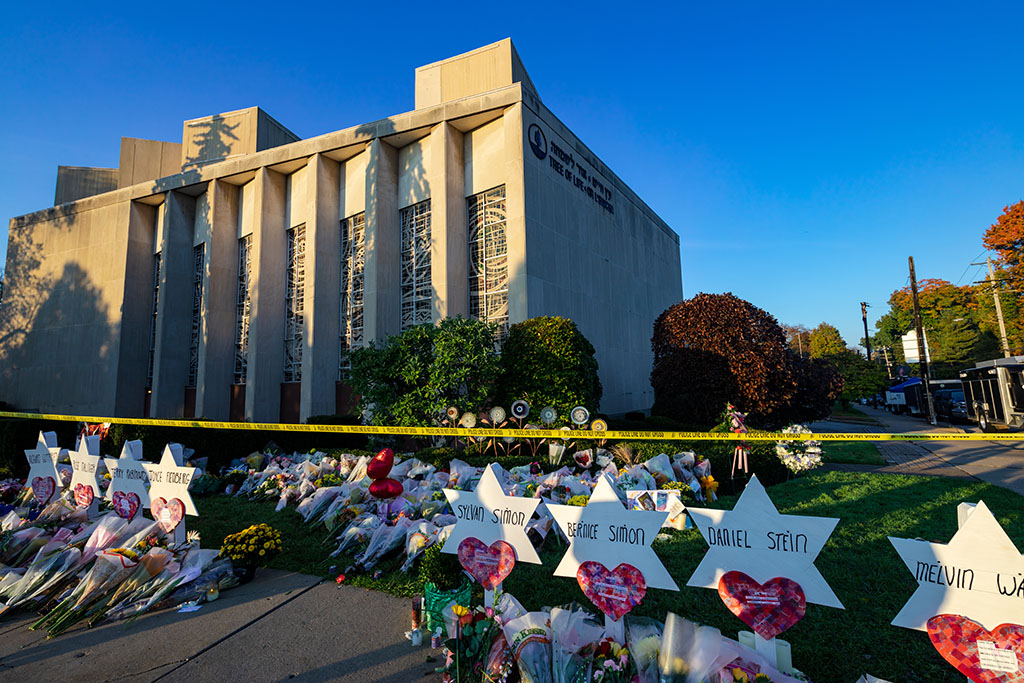 On today's program: Fallingwater joins the ranks of Machu Picchu and Notre Dame; fewer than 5% of this year's Pittsburgh police recruits are black; a reporter studying the Thwaites Glacier tracks how it's melting; and a new book looks to answer questions about the future of Judaism in Pittsburgh after the Tree of Life massacre. 
At age 84, Fallingwater still attracts us in droves
(00:00 — 11:57)
Fallingwater was one of eight Frank Lloyd Wright structures named as a new UNESCO World Heritage site this week.
Built in 1935, the home first served as a weekend getaway for Pittsburgh department store owner Edgar J. Kaufmann and his family. UNESCO celebrated Fallingwater's "organic architecture," which pioneered open floor plans and utilized materials like steel and concrete to create balance between art and nature.
Site director Justin Gunther, who also serves as vice president of the Western Pennsylvania Conservancy, says his team expects a boost in visitorship, thanks to the honor. More than 6 million people have been through the home since it opened to the public in 1964. 
Pittsburgh is struggling to recruit black officers
(12:58 — 17:49)
A recent annual report from Pittsburgh police shows that only four out of 84 police recruits last year were black. City Councilor Daniel Lavelle, who chairs City Council's public safety committee, says the numbers are disappointing and may reflect racial tensions.
90.5 WESA's Chris Potter found the research is pretty ambiguous about whether having a more diverse department changes outcomes, such as the use of deadly force by police. 
Plus, what to expect Saturday when Pennsylvania Republicans select a new leader in Hershey. Potter reports early indications suggest the fight to replace Val DiGiorgio could be bruising. 
A skyscraper glacier could have a big impact on global sea level
(17:50 — 28:25)
The marine edge of Antartica's Thwaites Glacier stretches nearly seven stories above water and the glacier itself is almost two miles thick. The ice beneath the surface is melting and scientists fear warm ocean currents could speed up the glacier's collapse causing a rise in sea levels. Carolyn Beeler, a reporter for Public Radio International's, "The World," has been studying the glacier while living on a ship with a team of researchers. 
Beeler tells The Confluence's Megan Harris that while the world warms, what happens to the glacier could have worldwide implications —if it all melted completely it would raise global sea levels by two feet. If Thwaites Glacier goes, so might the entire West Antarctic Ice Sheet, which according to Beeler could result in 11 feet of sea level rise.
Hope, healing and change for Pittsburgh's Jewish community
(28:26 — 38:37)
It's been nearly nine months since a lone gunman entered the Tree of Life Synagogue in Squirrel Hill. Robert Bowers is still awaiting trial for allegedly killing 11 worshippers and wounding several others. How is the community continuing its efforts to heal and move forward?
Mark Oppenheimer is a former religion reporter for the NY Times; he now hosts the podcast "Unorthodox," and he's working on a book about the Tree of Life shooting and its aftermath. His reporting is funded in part by the Pulitzer Center, which promotes in-depth, multimedia journalism.
RELATED ISSUES