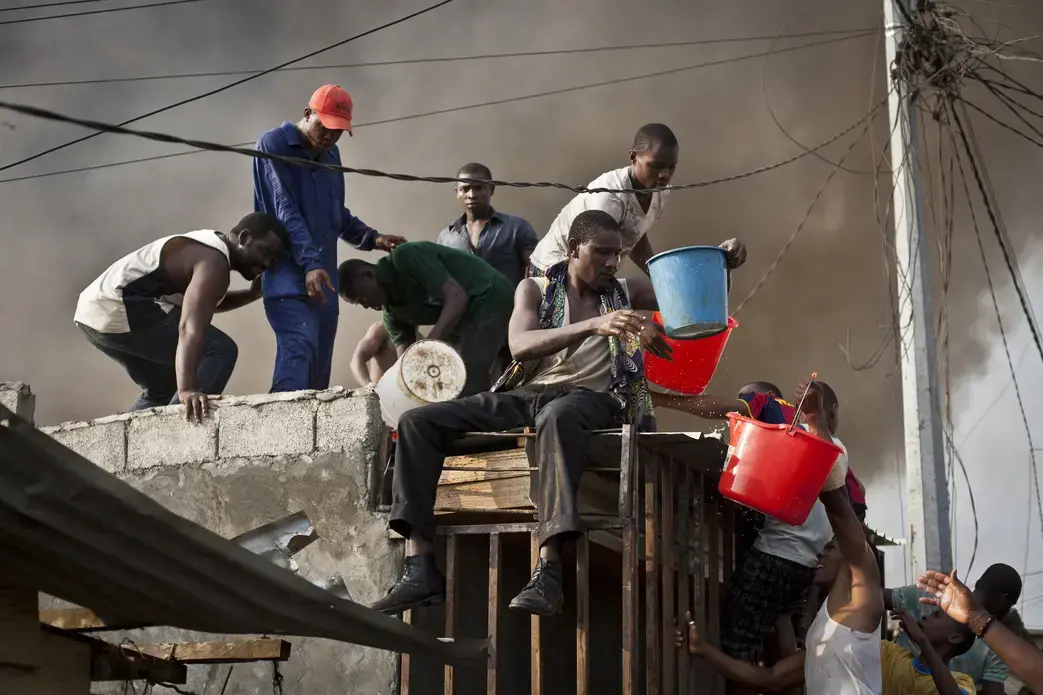 Equatorial Guinea prides itself as a model of African development. The country, with a population of about 700,000, is the third largest oil producer in sub-Saharan Africa. As a result, Equatorial Guinea enjoys the highest per capita GDP on the continent—approximately $30,000 according to UN estimates. The government claims its enormous oil revenue is being used to reduce poverty and improve living conditions for all Equato-Guineans, and that growth and development in the country's capitol, Malabo, are representative of this improvement.
A first impression of the city might convince you that some of these claims are true. Multi-story apartment complexes and office buildings under construction spike the skyline. Everywhere you look there is dizzying growth. The sound of hammers against nails is omnipresent as Chinese, Senegalese and Malian day laborers can be seen hauling cement, lumber, and other construction materials. All roads in the capital's center are well-paved, and a six-lane highway stretches almost to Luba, a city some 
60 kilometers to the south.
Just outside Malabo sits Sipopo, a luxurious city of mansions and convention centers that was built in two years for the purpose of hosting the 2011 African Union Heads of State Summit (at a cost of $800 million, according to government numbers). A modern stadium that seats over 15,000 people has been completed for the African Cup of Nations, CAN 2012, the continent's bi-annual soccer championship, another showcase event.
However, upon a closer inspection, a very different Malabo emerges. It is the invisible Malabo. Many of the city's recently completed high rises, supposedly built to house the city's most destitute, remain vacant. When a building is occupied, it is because it has been hijacked by government ministers and their patron-clients, or sold to private citizens for an exorbitant profit.
Buena Esperanza, or Good Hope, a recently completed housing project supposedly destined to be public housing, is one example of misuse and abuse. Over a hundred modern single-family stuccoed residences are now occupied by some of Equatorial Guinea's most privileged citizens. They enjoy a constant connection to the national power grid backed up by generators, and access to potable water—a luxury for most Equato-Guineans. 
In a recent interview with BBC radio, Agustin Nze Nfumu, the country's 
ambassador to Britain was asked why some 77 percent of the country's population
lives in poverty while its president is one of the wealthiest men
in the world. His reply was "...it's a lie, completely."
This is indicative of the almost bipolar reality in which the country's elite live. They have convinced themselves that the Malabo they enjoy is the same Malabo the rest of the population calls home. Yet, surrounding Buena Esperanza and other government building sites are shantytowns where the majority of the population lives in wooden shacks. A stone's throw from the modern apartments or single family homes they were promised, the poor live without potable water, sewage, and electricity. House fires are a constant threat to everyone in these communities. In the blink of an eye, the homes of hundreds of Equato-Guineans can go up in a puff of smoke.


Just two days after the first Cup of Nations soccer match was played in Malabo's new stadium, one such fire wreaked havoc just a kilometer away, in the shantytown of Camp Yaunde, also known as New Billing. From Avenue Hassan II flames and smoke could be seen jumping from building to building, the wind making the fire almost impossible to stop. Firefighters stood and watched helplessly because their trucks' water tanks were empty. The neighborhood's residents were left to fend for themselves. They scrambled to stop the spread of the fire tearing down homes in its path and throwing buckets of water on the flames.


This is the real city where most Malaboans live. This is the invisible city that the government, and the country's elite choose not to see. City police officers and army officials don't want foreign journalists exploring, documenting, photographing and investigating this Malabo. Yet, this invisible city will continue to exist, no matter how many millions of dollars are spent on high-rises, highways and office complexes.
RELATED ISSUES