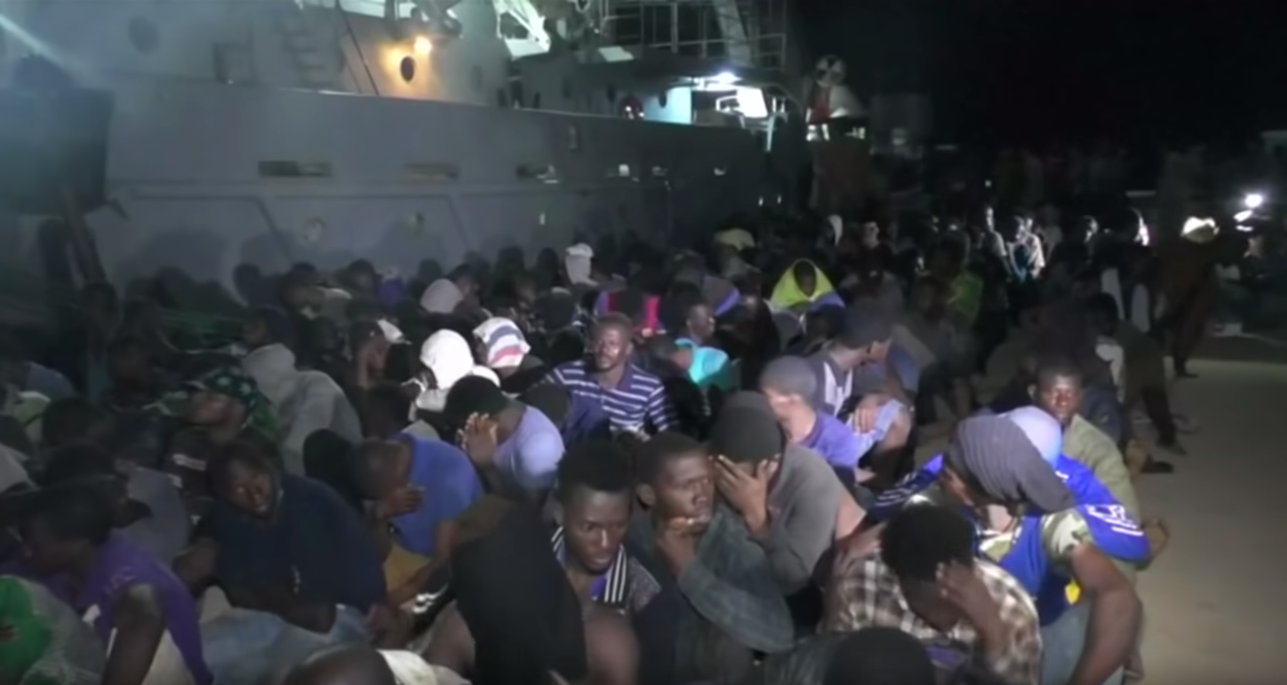 Less than two years after Libya with American forces regained control of its coast from Islamic State fighters, the most potent affiliate outside of Iraq and Syria, law enforcement and U.S. policymakers worry about a resurgence. For the second of a two-part series on ISIS in Libya, NewsHour Weekend Special Correspondent Christopher Livesay traveled to the port city of Sabratha.
TRANSCRIPT
CHRISTOPHER LIVESAY:
Once a jewel of the Roman Empire, Libya's port city of Sabratha is home to an ancient amphitheater that more recently was the backdrop of a city overrun by terror. ISIS took control in 2015, and asserted its authority by beheading 12 members of the security forces, and setting up its own checkpoints. Today, the tables are turned. Libyan police loyal to the government in Tripoli now check for ISIS militants. One of them tells me the city is safe, but checkpoints are common targets for terrorist attacks, and any one of these vehicles could be packed with explosives. Police are also looking for stolen fuel – ISIS is known to smuggle it from Libya's vast reserves and use the profits to fund their attacks. Libya's spot on the map makes it particularly attractive to terrorists. Parts of the sprawling country three times the size of France are ungoverned. And the country has largely uncontrolled borders, offering several gateways for action says Carnegie Endowment Senior Associate Frederic Wehrey.
FREDERIC WEHREY:
Libya is still a fertile ground for ISIS to regroup, to conduct attacks, including external attacks outside of Libya, whether in Tunisia or even Europe, and I think this is a huge concern for American policymakers. The US has always recognized that the Libyan branch of the Islamic State was the most potent affiliate outside of Iraq and Syria, so it could very well re-emerge as a very significant threat to North Africa and to Europe. Now they're not able to control territory like they did in 2016, but they're still able to conduct attacks. As we've seen, they've adopted a clandestine network strategy.
CHRISTOPHER LIVESAY:
I visit this former ISIS base in Sabratha where in 2016 American intelligence indicated several dozen militants had been training for an operation, possibly in nearby Europe. The US bombed the site. Among those killed was the alleged mastermind of two major attacks on Western tourists in neighboring Tunisia. A local approaches me and my interpreter. He says he witnessed the American airstrike. He asks us not to show his face or use his name. Everyone around here is part of the same tribe, and he could get in trouble with relatives, he says.
CHRISTOPHER LIVESAY:
So you came out here when you heard the explosion.
LOCAL:
I was the first person here.
CHRISTOPHER LIVESAY:
And what did you see?
LOCAL:
I saw smoke, rubble, and bodies everywhere. But there were survivors. Some drove away in a car. One was the leader of the ISIS cell. He's still on the loose. His wife just had a baby.
CHRISTOPHER LIVESAY:
How does he know this?
LOCAL:
He's my uncle. Like I said, we're all part of the same tribe in this area.
CHRISTOPHER LIVESAY:
We head to the beach, where just a few hundred miles of open sea separate Libya from Europe.
CHRISTOPHER LIVESAY:
Until recently, this entire coastline was controlled by ISIS. It's safer now, but locals say we still need to be extremely careful because of possible sleeper cells.
CHRISTOPHER LIVESAY:
We're met by a Coast Guard commander named Jalal Dabashi. He says his top priority is cracking down on illegal migrants, and the well-armed gangs who traffic them.
JALAL DABASHI:
Sabratha used to be known as the migrant capital of Libya. Traffickers smuggle the migrants from sub-Saharan Africa, across the desert to the shore of the Mediterranean Sea.
CHRISTOPHER LIVESAY:
Traffickers would then pack migrants in this warehouse like merchandise, he says, before shipping them off to Europe in overcrowded, rickety boats. Sometimes, he adds, traffickers here worked hand-in-hand with ISIS, and in nearby locations still do.
JALAL DABASHI:
They share a common interest: money. When ISIS was around, trafficking was at its peak. Traffickers paid ISIS a tax, so they could send migrants across the sea to Europe. We're talking three or four boatloads every day, millions of dollars per month. Sometimes they would even put terrorists on the migrant ships to Europe. I heard this directly from the biggest trafficker in Sabratha. He happens to be my cousin.
CHRISTOPHER LIVESAY:
Sorry, your cousin is a migrant trafficker. Did I understand that correctly?
JALAL DABASHI:
Yes, he is my cousin. Me, I'm an officer of the law.
CHRISTOPHER LIVESAY:
Tribal bonds run deep in Sabratha, but that doesn't mean everyone gets along with those in their tribe.
JALAL DABASHI:
He sends me threatening messages. He wants to kill me.
CHRISTOPHER LIVESAY:
Dabashi plays the most recent death threat. His cousin calls him "the biggest cockroach he's ever seen. Even if you're in an armored car," he continues, "I will burn you alive inside. You will see my revenge." The two cousins eventually met in battle. Late last year, Libyan security forces attacked traffickers positioned at the ancient ruins of Sabratha, severely damaging the UNESCO heritage site.
CHRISTOPHER LIVESAY:
So that's from an RPG, a rocket propelled grenade? A local security official shows me the aftermath. So on this side you had the Libyan army, on the other side you had the traffickers, and this monument was trapped in the middle.
POLICE:
Yes, yes! Trapped in the middle.
CHRISTOPHER LIVESAY:
He tells me Libyan security forces eventually won, but the traffickers continue their lucrative migrant trade in neighboring towns. Fighting traffickers is just one more front in this battle for control of a brittle country. Libya has been in turmoil ever since the 2011 NATO-backed overthrow of strongman Muammar Gaddafi. This summer, some of the most violent clashes in years erupted between rival factions, killing over 100 people in the capital Tripoli. The chaos works in ISIS's favor, says the Carnegie Endowment's Frederic Wehrey.
FREDERIC WEHREY:
I've always argued that the best recruiter for ISIS is Libya's political turmoil, its political fragmentation. This creates economic despair. It creates political losers who gravitate towards radicalization. And just now, in the midst of all this fighting, you've seen an uptick in attacks by the Islamic State.
CHRISTOPHER LIVESAY:
Ghassan Salame is the UN Special Envoy to Libya.
GHASSAN SALAME:
The only way to fight terrorist groups on the longer term and in a systematic way, is that you have a national authority doing that, controlling its borders, controlling its territory, and moving around to repress any terrorist activity. Do we have that now in Libya? The answer is clearly no.
CHRISTOPHER LIVESAY:
It's a problem that vexes Colonel Ibrahim Bin Rabaa, the commander of counter terrorism forces in the city of Sirte. In part one of our report, he told us how he witnessed ISIS's trademark cruelty when they ruled his city, and killed his son in battle. His men eventually defeated ISIS here. But now, less than two years later, he says militants are regrouping, and waiting to strike again.
COLONEL IBRAHIM BIN RABAA:
Just yesterday my men spotted several ISIS militants trying to re-enter the city. We almost didn't let you journalists come today because it was too dangerous. ISIS has not disappeared.
CHRISTOPHER LIVESAY:
But Libya has other problems. Rival factions in Tripoli are violently challenging the authority of the UN-backed government. In response, the UN-backed government has transferred some 300 counter-terrorism troops from around Western Libya to quell the violence in the capital. That means fewer soldiers looking out for ISIS. Rabaa says underestimating Islamic State can have serious repercussions far beyond Libya. If the terror group is not stopped here, he says, it's just a matter of time before ISIS grows and strikes again elsewhere.
COLONEL IBRAHIM BIN RABAA:
The Islamic State is not only our problem. It's like a cancer spreading all around the world. Today ISIS is here. Tomorrow it can spread again somewhere else. It's as simple as that.
RELATED ISSUES