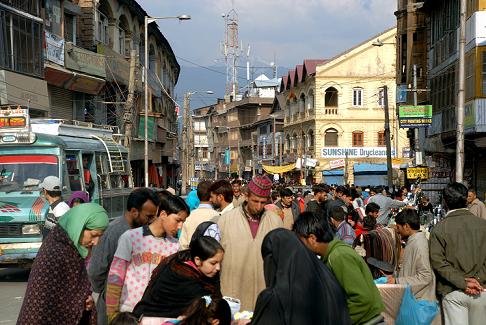 SRINAGAR, India — Bullet pocks are still visible along Lal Chowk, the commercial heart of Kashmir's main city, reminders of the gunbattles, bombings and suicide attacks that used to be an almost daily occurrence.

Pakistan and India both claim Kashmir, which is divided and has been the cause of two of three wars between the countries since partition in 1947.

Today, though, there is only the din of traffic, disturbed by a crowd of bus drivers protesting the back wages they claim the state owes them.

"We Kashmiris are so fed up with fighting," said Amir Amin, a shopkeeper, "It's time we enjoyed business as usual."

Hostilities in Jammu and Kashmir state have plummeted to their lowest level in nearly 20 years.

Last year, conflict-related deaths across the state were 777, down from 1,116 in 2006 and a peak of 4,507 in 2001, according to the South Asia Terrorism Portal database.

This translates to a decrease of more than 30 percent, while civilian casualties dropped by nearly twice that amount.

Five Indian security personnel and a militant were recently killed in a clash on the outskirts of Srinagar that showed the region is not yet immune from sporadic violence, but it was the first such incident in more than eight months.

While better diplomacy by India and Pakistan, and a deepening sense of violence fatigue have played their part, many analysts say Pakistan's preoccupation with jihadist forces within its own borders explains the relative calm.

Mounting Taliban and al Qaeda activity in the tribal areas along the Afghan border and an insurgency in southern Baluchistan province have compelled the Pakistani government to gradually shift troops and focus away from Kashmir, which has seen a complete halt in cross-border shelling and a sharp decline in militant infiltrations.

"The principal stabilizing factor [in Kashmir] has been the increasing difficulties within Pakistan," said Ajai Sahni, director of the Institute for Conflict Management in New Delhi.

"Pakistan doesn't want trouble with India at this juncture because it would have to bring back those forces," he said.

India has long accused Pakistan of arming and sheltering Kashmiri militant groups who began a revolt in 1989, a charge Islamabad publicly denies.

Both governments have worked to improve bilateral relations as part of a peace process that began in 2004. A halt in artillery exchanges has allowed for the construction of a border fence that has made it next to impossible for militants to pass undetected.

Some observers, however, say Pakistan should be given more credit for reining in militant activity.

"Pakistan has apparently made it clear to the militants that violence will not be tolerated during the peace process," said Tahir Mohiudin, editor of the Kashmiri weekly newspaper Chattan.

"There has been a clear shift in Pakistan's policy," he said.

Earlier this month, Pakistan Peoples Party leader Asif Ali Zardari declared in an interview that India-Pakistan relations should not be held "hostage" to the Kashmir impasse, calling for a boost in trade and economic ties.

His position was cautiously welcomed in India — and drew flak from separatist politicians in Kashmir.

A leading separatist leader, Syed Ali Shah Geelani, chairman of the separatist Hurriyat Conference alliance, affirmed the support of the Pakistani people and called Mr. Zardari's statement "highly irrelevant."

Many agree, though, that waning support from Pakistan has thrown Kashmiri separatist parties into a state of confusion ahead of state legislative elections set for fall.

Kashmiris no longer see Pakistan as "a savior," according to Parviz Imroz, head of the Jammu and Kashmir Coalition of Civil Society.

Of the 43,000 lives the conflict has claimed in 18 years, a third have been civilians. The overall sentiment on the streets is that armed struggle has largely failed to move the cause of Kashmiri independence forward.

"Generally speaking, violence is no longer considered to be an instrument of change," said Gul Wani, a political analyst at the University of Kashmir.

The specialist said the current climate in the region presents a rare opportunity for the Indian government to reach out to separatist leadership and militant groups from a position of strength, to send a message that it favors a political settlement over a return to fighting.

Despite the decline in violence, Jammu and Kashmir remains heavily militarized with over 700,000 troops throughout the state to combat militants' ranks that police officials estimate to be no more than 450.

Police in flak vests still stand guard about every 200 feet along main roads, armored convoys patrol the capital day and night, and concrete bunkers have an air of permanence.

S.M. Sahai, inspector general of police, admits the security presence may be more than most Kashmiris would like, but pledged forces would be scaled back "depending on how the situation emerges."

He maintains that militant groups pose a constant threat, given the instability in Pakistan, especially in the summer when attacks tend to surge.

Meanwhile, a new generation of politically savvy Kashmiris wants India to do its part to erase the war-zone stigma that has stifled investment and tourism, limiting job prospects.

They insist, though, that their aversion to militancy should not be interpreted as a loss of nationalist fervor.

"What Britain did to India, India is doing to us," said Falak Mahseen, a medical student.

"We want peace here, but we also want our own state. Peace or no peace, this desire will never change."
RELATED ISSUES