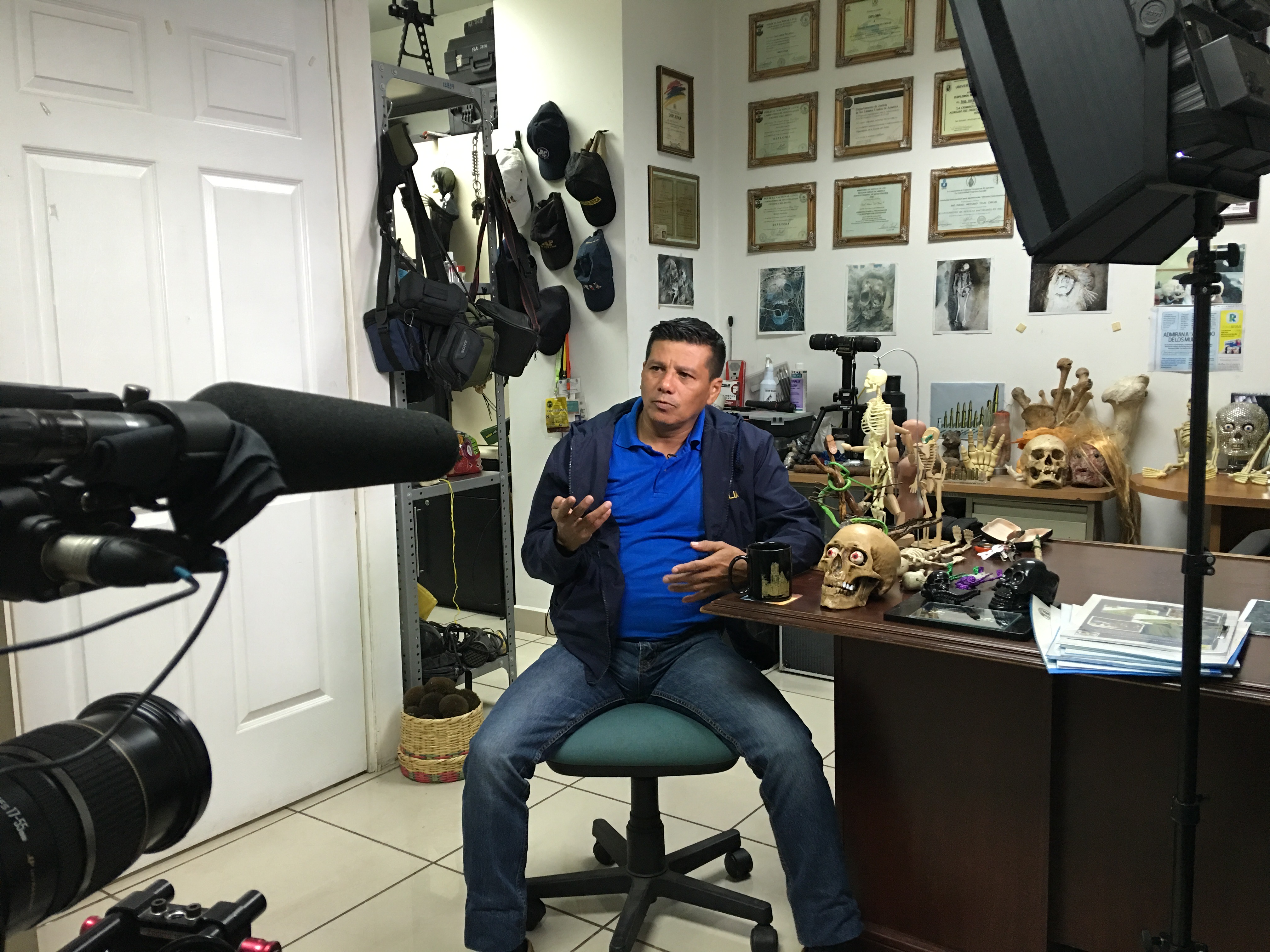 Israel Ticas digs up dead bodies for a living.
His approach is rigorous. At one murder scene that Dateline followed him to, he sniffs the dirt, feels around the suspected grave site, notices the concrete layer below the dirt, which he believes is an attempt to cover a murdered body, and begins to carefully dig around the site.
"The smell can guide us," says Ticas. "We have to go slowly – first we'll sweep and clean this area and then we'll start digging up this section."
"These are non-invasive techniques. I won't go in there because I'll alter the scene, but I can work from the side without invading the scene."
Ticas was called to this abandoned property after receiving a tip-off that there may be a clandestine grave inside the house.
This is a standard morning in his life – in El Salvador, where gangs exert as much control over the country as law enforcement, the body count rises each day.
Ticas, who is based in the capital San Salvador, is one of the few forensic criminologists in the country. It's estimated that one person is killed in El Salvador every hour, one of the highest per capita homicide rates in the world. In many instances, Ticas' expertise is essential for lawyers trying to prosecute the perpetrators of gang violence. Among the families and friends of victims, he's become known as 'the lawyer for the dead'.
"Everyone here lives in fear," he says. "It's gang territory."
Ticas' office is cluttered with ornaments of the deceased and souvenirs related to his work; skulls, plastic skeletons, printed photographs of brutal crime scenes.
In his car, which he drives in from murder scene to murder scene, he bops along to music and plays with an animal bone sitting on the dashboard – the brutality of his work has not worn him down, at least ostensibly.
For Ticas, a prime motivator is not just putting criminals behind bars, but bringing closure to the families of victims.
"They're not just relatives of the disappeared, they are truly secondary victims," he says. "They are like the walking dead."
"When their child disappears, their lives and happiness disappear with them."
The people that pass through Ticas' office have similar stories of mystery and disappearance.
Belma, a woman who now works with Ticas, has a personal story which shows how twisted the gang war in El Salvador can be. She turned to Ticas after her nephew disappeared, but before he was able to investigate the case, her nephew's body was found.
"They later told us that another young man who wanted to join the gang offered him as a sacrifice," she says.
When her nephew's body was found, his school clothes were missing and he was wearing a t-shirt and shorts that didn't belong to him – according to Ticas, this is a ploy by the gangs to prevent people in the community from knowing that they're killing school children.
Another woman, Rosa, has been waiting for answers on her missing niece and sister for three years, but there are still no leads. They never arrived home after a day out shopping, and due to his volume of work Ticas has not been able to investigate their disappearance.
This lack of closure is common for many in El Salvador – investigators are dealing with an oversupply of homicide cases, more than they could ever hope to solve.
In San Salvador, there are two main gangs locked in a street war; Mara Salvatrucha (MS-13) and 18th Street.
In one neighbourhood Dateline visited, the 18th Street gang has written a terse directive in spray paint on a building; "see, hear, shut up". Locals in the area are unwilling to speak on camera and police officers refuse to show their face.
Among El Salvadorians, these gangs are not only known for killing, but for the methods they use to kill. Ticas' office is littered with gruesome and grizzly examples of the country's gang violence victims – he believes the murders are becoming more obscene each year.
"It's a competition between the gangs," he says. "They're competing to see who is the craziest. It's a psychopath competition to terrorise, the objective is to cause fear."
One former gang member, who is now a police informant, spoke to Dateline on the condition of anonymity, describing the pressure put on young gang members to carry out brutal crimes, if they want to be accepted.
He says young gang members are told to kill, to "prove to people – to the police and to fellow gang members – that you're the best, the craziest. You think, if you don't kill, they will kill you."
For Ticas, running out of work has never been an issue – new homicide cases come to his desk every day. He's not overwhelmed by them, he only wishes he could do more.
"I feel powerless, I feel miserable," he says. "I feel like a bad civil servant, because I can't give people the answers they want from me."
"I feel the pain of these people. I hold them and tell them that I'm going to find their son, and I cry with them."
As to his own fate – he's aware of the risks he brings upon himself.
"I don't think I will die from natural causes," he says.
"I will be murdered. Because I tell the truth."
RELATED ISSUES

Drug Crises

Criminal Justice