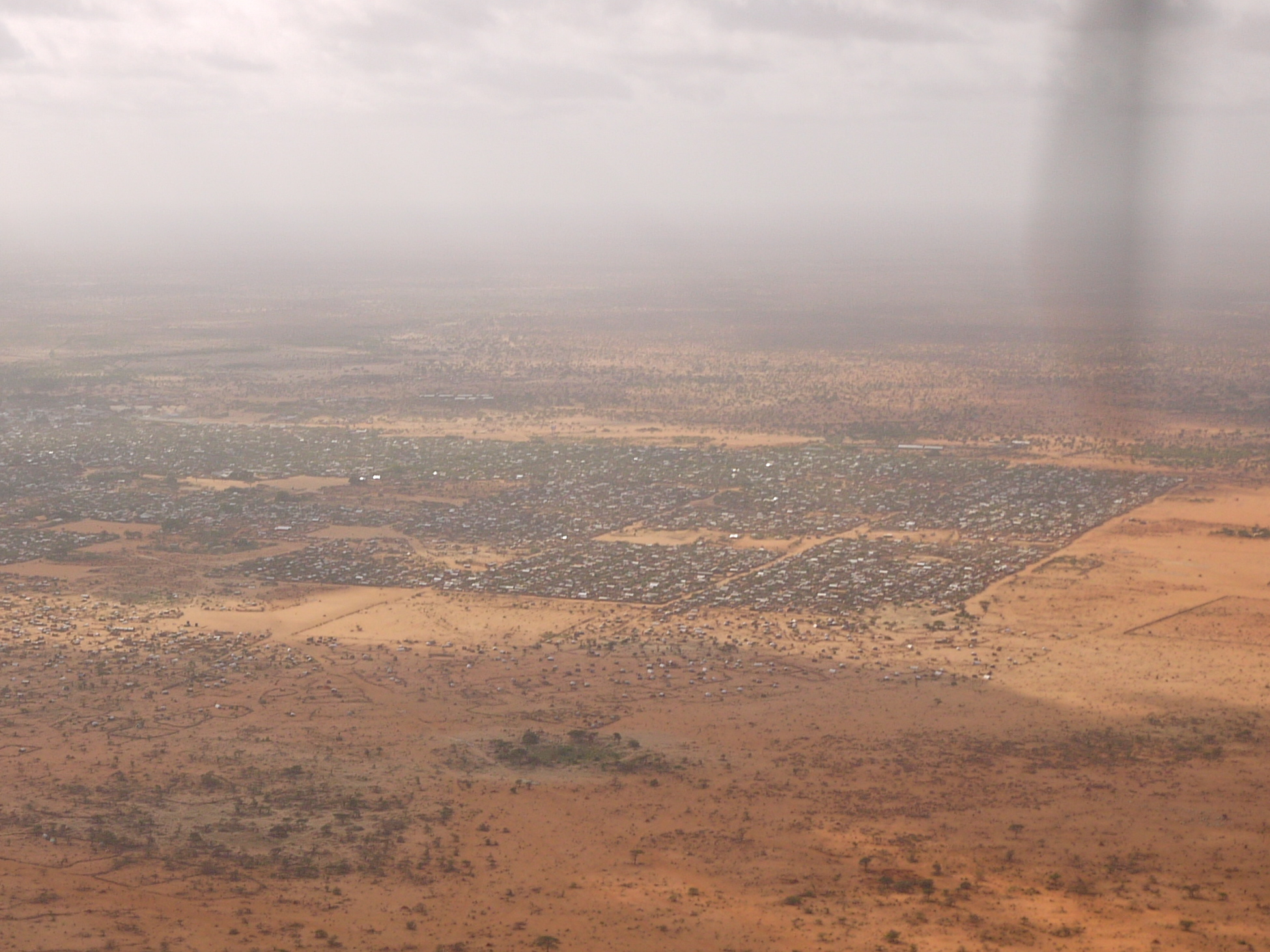 At a biweekly food distribution site in the Dagahaley refugee camp, hundreds of people are waiting for their sacks of food corn-soy meal and tins of cooking oil. If the scene lacks the frenzied desperation of food distributions usually seen in television news reports, it is because this is part of regular life in the two-decade-old refugee camp complex, just 100 kilometers over the Kenyan border from Somalia. For long-time residents, it is the equivalent of grocery shopping day. A mini-economy has even grown up here, with a sub-market of people selling off some of their food for other essential items they need, while vendors sell food and tea, and young men stationed around the edges with wooden pull carts to help families carry the sacks.

One of the haulers, Hussein Mohammed, 27, says he earns 32 cents per load. He has been doing it for eight months, and it is his only source of income. The flood of new arrivals fleeing famine-ridden Somalia, more than 1,400 a day, are putting pressure on their already fragile situation, he says. "The new arrivals from Somalia are making the population very congested," he says. "They are making the situation worse for us."

With the stream of news reports and images showing the Somali refugee crisis in Kenya and Ethiopia getting worse by the day, as thousands of people flee the famine in their war-torn country, it is easy to forget that the refugee situation is not new. In fact, it has been going on for two decades, since the conflict first broke out in Somalia in 1991. "For the last 20 years, most of the world had totally forgotten what is happening here," said Alexandre Izart, the field coordinator for Médecins Sans Frontières/Doctors Without Borders.

The Dadaab camps (there are actually three) make up the largest refugee complex in the world. It has existed since 1991, and now, with a population of over 380,000, is the size of a city. With more than 40,000 new arrivals in the month of July, the UN refugee agency (UNHCR) has begun moving hundreds of people a day into makeshift new camps, and plans to have moved 180,000 by November. The quarters for the new arrivals are as rudimentary as can be: rows of identical white tents, portable latrines, mobile health clinics, and three 10,000 liter water tanks. There is almost nothing else. UNHCR is predicting that the number of refugees will only increase, and is planning to expand the camps even further, if it can get the approval of the Kenyan government. Meanwhile, the most recent U.N. assessment in one of the camps found that acute malnutrition rates are at a catastrophic 29%, and mortality rates for small children are increasing.

Life as a refugee should be temporary, but the long-time residents of Dadaab know differently. Many have spent their whole lives there. Still, their lives are significantly different from that of the newcomers. In some ways, life here has settled into a kind of normalcy. The camps were started 20 years ago, after all. Many residents came as small children, or were born here — this is their whole life. People have houses, aspirations, some even have jobs — albeit within the aid organizations that are supposed to serve them, because the Kenyan government forbids their taking normal employment.

Women have found new opportunities they would not have had in Somalia. In a wooden hut workshop in the middle of the Hagadera camp, one of the three camps that make up Dadaab, Sadia Ahmed Mohamed works a loom of colored yarn, creating a rhythmic clank clank as she and several dozen other women turn out hand fans, cloth wraps, and satchels they will sell to the community and to local NGOs. Mohamed, a mother of six, arrived here two decades ago. She helped found the women's collective, called "Together Women Group," several years ago, in order to give women the opportunity to work for themselves. With a donation of looms and training from the Lutheran World Federation, they now have a thriving workshop. "I am happy to be working, to be self sufficient," says Mohamed

As always and everywhere, children are the most resilient of all. They go to school, and dream of a better life. A promising student, Fatuma Ahmed Abdi, 16, came to the camps in 2008 — she and her family were one of the last to be admitted to Dadaab before Kenya shut the doors of the complex to new refugees. Her manner is reserved, but she has big ambitions: "I want to be the best student in school," she says. Her favorite subject is science. She says life in the camps is okay — there is food here, and relative safety. And she can go to school. In Somalia, she was not able to, because of the war. Now, in just three years, she is on her way to graduating.

But the schools, always overcrowded, have suddenly gotten a lot worse. The Central Primary School in Hagadera has seen a surge in students, growing from 1,600 to 2,300 in the last year. Some classes have more than 70 students, sharing just three or four textbooks. The teachers are all refugees themselves, and haven't received any special training.

The influx of new refugees has strained the camps' aging infrastructure; basics like water distribution points are congested, says Omar Abdi Mohammed, a teacher at the school. Nonetheless, there is no hostility towards the new arrivals. They are our "brothers and sisters," he says. He arrived in the camps when he was five years old, and is now 23.

Long-time refugees are helping the new arrivals to cope, sharing food and supplies, as the backlog for the official UNHCR registration grows daily, says Mohammed. "We aren't waiting for the U.N. and the aid agencies to assist them." Somalis don't like being dependent on the aid agencies, says the teacher. "People want to be independent, but they don't have a way out."

So where does it end? UNHCR chief António Guterres tells TIME that while his agency would like to help the fleeing Somalis to eventually go home, as long as the violence continues in their homeland, all the aid agencies can do is try to keep up with the expanding population. They can't bring peace. "There is no humanitarian solution to a humanitarian crisis. It is a political solution," says Guterres. "People are not coming because they want to live in a refugee camp, they are coming because they have no other choice."