Story
November 25, 2020
For Kashmir's Pregnant Gujjars, Reaching Hospital Is the Hard Part
Amina Bano sits around a traditional hearth in her kitchen in northern Kashmir's Ganderbal district, cooking for her young family. After giving birth to three children in seven years, Amina says her pregnancies were made harder by the complete lack of available medical facilities in her village.
A member of the region's Gujjar and Bakerwal tribe, an ethnic agricultural and pastoral community spread across India, Pakistan, and Afghanistan, Amina lives in Hill Pati village, one of the most remote mountain areas in the Union Territory of Jammu and Kashmir, which takes in part of the Himalaya mountain.
The closest hospital is several kilometers away from Hill Pati, and access is severely limited because of the few available transport options. During winter, when food and water are scarce, reaching the hospital in an emergency is close to impossible. As for giving birth, most villagers pray that labor begins during the day as most women have to be carried to the maternity ward on their husbands' shoulders.
"When I was pregnant, I would rarely go to the hospital for a checkup, because that would take me a whole day," said Amina. "The hospital is far from here and the local dispensary has no facilities. My first pregnancy was a nightmare as I had to travel many kilometers to Kangan, a nearby village, to see the doctor. I would be in severe pain and dependent on painkillers, which I took without any prescriptions."
Of the many challenges facing Kashmir's tribal women, Amina says that access to reproductive health care is one of the most critical. "First we have to walk the hill for almost 10 minutes and then we reach the rough road. Traveling along the rough road to the main road is hectic and for pregnant ladies, it's even worse."
According to research conducted by Kashmir's Tribal Research and Cultural Foundation, access to rudimentary health care is made worse for Gujjar and Bakerwal women by poor education, lack of awareness about existing health programs and their nomadic way of life.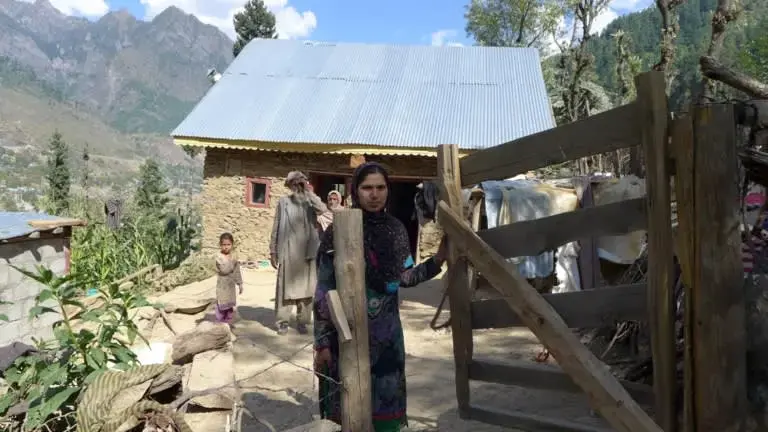 Another member of the Hill Pati community, Rubela Bano, 27, says she was too young when she got married.
"I was seventeen when I was married to Liyaqat, from the same village. I had no knowledge of reproductive health and still I feel I don't have any," said Rubela. "I gave birth to my first child at the government hospital in Kangan. Our village doesn't have any health care facilities and knowledge about reproductive rights is nowhere."
For Rubela, traveling to the hospital was the toughest part of her three pregnancies. "It was tough and difficult as sometimes I would have severe pain and all I could do was stay at home and bear that. If there was any major complication, I wonder what would have I done?"
According to the National Health Mission, an initiative undertaken by the government of India to address the health needs of underserved rural areas, only around 50% of tribal people are able to visit public health institutions. But few people in Rubela's situation even have any knowledge of the various government schemes aimed at boosting awareness of reproductive rights.
"We have an ASHA (Accredited Social Health Activists) worker who lives in another village," said Rubela. "It is difficult to reach her always. Our village desperately needs health care facilities, a dispensary that works all through the day and at the time of emergency as well."
While India's health care system guarantees women the right to free medical services related to childbirth, national statistics indicate that around 56,000 women die each year due to pregnancy-related complications. Women face problems not just related to childbirth, as lack of access to birth control measures adds to the burden many must carry.
"Tribal women do not use contraceptives," said Dr. Javaid Rahi, founder of the Tribal Research and Cultural Foundation. "Instead they use a type of wild grass which they believe is an anti-pregnancy pill but is not effective at all."
According to Rahi, there is further pressure on women to have as many children as possible so that there will eventually be more hands to help their husbands farm. "If any woman refuses to have more children, the men in the community simply opt for another marriage since marriage is a very low key affair in this community," he said.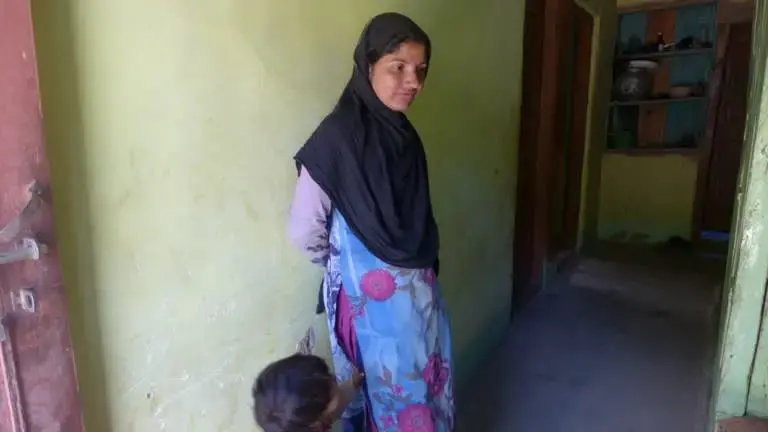 Until governments and local authorities insist on involving tribal elders and other community leaders in government programs related to women's health, Rahi added, then nothing will change. Part of the problem, he says, is that most tribal people only trust their own community members and believe ASHA workers are either carrying an outside agenda, or are trying to get money from them, or have no place intervening in their personal lives.
"We rarely get to know such programs," says Amina Bano. "I have not been to school, so understanding these things is difficult even if we do get to know them."
Still, health authorities are making progress in other parts of Jammu and Kashmir, with the territory's National Health Mission Director Bhupinder Kumar telling Nikkei Asia that while India's national fertility indicator rate currently stands at around 2.2%, in Jammu and Kashmir the fertility rate has fallen to 1.6%.
"People in Jammu and Kashmir do use family planning and contraceptive methods as well," said Kumar. "But we are facing issues with some communities, and the Gujjar and Bakerwal community is one among them."
Proper spacing between children, and essential family planning programs, he agrees, will only be properly implemented after the establishment of formal communication channels that enable tribal communities to interact freely with government health care programs.
"We also need to have more focused campaigns, since this community keeps on migrating and we are working on that," said Kumar. "We hope we will achieve better results in the coming time."