A young man sells fruit on Dal Lake in Srinagar, Kashmir, despite rising tensions and a complete shutdown in the region on Sunday, July 10, 2016. The killing of militant leader Burhan Wani has led to violent clashes between supporters of Burhan and the Indian Army. Image by Sara Hylton. India, 2016.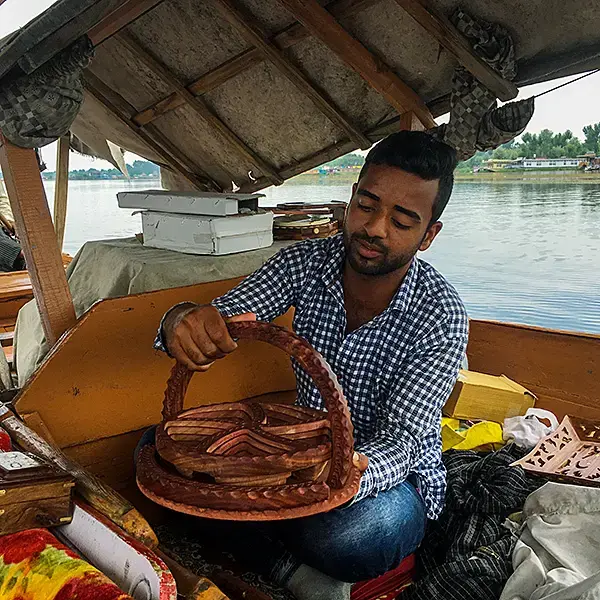 Omar Ahmad Bhat sells wooden carvings made by his family on Dal Lake in Srinagar, Kashmir, despite rising tensions and a complete shutdown in the region on Sunday, July 10, 2016. The killing of Burhan Wani two days back has led to violent clashes between supporters of Burhan and the Indian Army. Image by Sara Hylton. India, 2016.


SRINIGAR, INDIAN-CONTROLLED KASHMIR—On July 9, the capital of Indian-administered Kashmir went unexpectedly quiet. Police barriers and barbed wire blocked the streets of Srinigar as military helicopters passed over blue skies crowded by mountains. Thousands of protesters were rioting in the streets 24 miles south.

The sudden shutdown came after Indian Army forces killed 22-year-old Burhan Wani, a popular Hizb ul Mujahideen Kashmiri militant with a 1 million rupee ($15,000) Indian-issued bounty, late Friday evening in southern Kashmir. Outrage over Wani's death turned the militant into a martyr overnight, and by Wednesday, the death toll reached 35, with hundreds more injured in clashes between separatist protesters and Indian troops.

As is routine when fighting breaks out in the Valley, which has been disputed between India and Pakistan since 1947, anti-Indian separatist leaders called for a four-day shutdown of the city. Shops, restaurants, pharmacies, and fruit sellers were closed in solidarity. The mood was grim, and few dared venture out of their homes.

But on the edge of the city, it was as if nothing was out of the ordinary. Dal Lake is Srinagar's prized "jewel," an economic powerhouse for a struggling region that draws tourists with its staggering mountains and serene waters. Nearly 70,000 locals reside near its shores, and depend entirely on tourism and fishing for their livelihood. And Dal's façade of normalcy in recent days speaks to the tensions here as Kashmiris both chafe against Indian control and at the same time try to keep their shaky economy going.

"Every Kashmiri wants to protect Dal Lake," explains Asif Qureshi, bureau chief of a local news station in Srinagar. "It is the jewel of Kashmir. It's a safe zone, blocked in from Dal Gate to the Boulevard near the Army Cantonment."

On Sunday, as the rest of Srinagar remained on tense lockdown, water-skiers glided blissfully across Dal Lake. Fruit and souvenir sellers rowed in brightly-painted shikara boats around the silky blue water looking for tourists. Shikara boat owners offered rides to Indian families on vacation.

"It's our first time on Dal Lake," said Sagar Choudri, a tourist visiting from Maharashtra who'd just finished water-skiing. "We feel good here. People are very nice to us. We heard a little about the strike, but we feel safe."

Nearly 10 miles wide, Dal hosts some 880 wood-carved houseboats, leftover from the British before partition when the Dogra Maharaja of Kashmir prohibited them from building houses on land. Now, the Dal economy supports thousands of families across Srinagar–from taxi drivers to houseboat owners to cooks to fruit-sellers. It is one of the only areas that remains immune to fighting that can break out on short notice in Kashmir, which remains one of the most heavily militarized zones in the world. Green and white signs across Srinagar read: "Dal is our identity. Let us join our hands to preserve it."

"There is no tension, there is no military here. Dal Lake is peaceful, Dal Lake is safe, Dal Lake depends 90 percent on tourists," says Latif Ahamed, a young shikara boat owner who stayed open during the strike, hoping to catch a few stray tourists. He sounded weary of talking about the recent fighting.

But it is not an easy topic to avoid. Dressed in the uniform blue kurta worn by shikara union workers, Mr. Ahamed explained that in addition to the economic difficulties of working as a shikara guide, his work carried the added burden of political pressure: Could he afford to follow suit and shut down his business? He had decided to stay open over the weekend, despite pressure to remain shut.

"People are angry with us, the city people," he said, referring to shopkeepers in other neighborhoods in Srinagar. "They come to us they say, 'Why are you open?' And I say, 'Our family, we're poor people. We earn only 500 rupees.' You strike four to five days. What will I eat?"

Nearly every shop in Srinagar obeyed a statewide motion by Syed Geelani, the "father" of Kashmir's separatist movement, to go on a five-day strike in protest of the killings. It has become a customary symbol of expressing discontent against the government–and is hard to defy. But it is often Kashmir's urban poor who bears the brunt of these strikes.

Ashiq Ahmad Kulo, a brass and silver jewelry seller, felt similar tensions as he rowed around Dal over the weekend looking for tourists.

"Burhan Wani was a good person," Kulo says from his shikara. "He was our Muslim brother, so we're feeling sad about this. We are feeling totally bad. We want freedom. I am also hating the politics. But we have no shops, no regular salary. We people are depending only of the tourism."

The costs of unrest are well known here, and lurk in recent memory. Fighting was so extreme in 2008, and later in 2010, that tourists stopped coming in entirely–Dal Lake was forced to shut down, more than 200 people were killed, and many youths were unemployed. The periodic unrest has meant that Jammu and Kashmir has one of the highest unemployment rates in India, with roughly 600,000 unable to find work.

But in the past five years, tourism has revived, with more Indians once again venturing north. During peak season, food and jewelry sellers can earn as much as 10,000 rupees ($148) in a single day. But during days of lockdown, which frighten off many tourists, the daily income ranges from zero to roughly 1,000 rupees, depending on the business. After fighting broke out this weekend, many tourists left early; Air India offered its customers outside Kashmir free cancellations for trips booked to Srinagar.

"I stay open because everywhere nothing is open," says Rafi Kulo, a local drink seller who sold water, juice, and soda. "But tourists suffer from thirst. I prefer to give people food, drinks. When protests happen, business always goes down. Before this situation we could earn 10,000 per day. Now, 100 rupees. 1,000 maximum."

Most floating businesses on Dal Lake remained open over the weekend for tourists: Kashmiri silk and scarf shops, coat sellers, fruit and vegetable sellers, and even floating restaurants advertising popular Indian fast food like vegetable biryani, methi pakoora, zeera rice, dum aloo, and "Italian pasta."

"We people depend 100 percent on the tourists," said Firdous Ahamed, owner of the floating restaurant Mango Bango. "In 2008, there was a killing on the road, local people got killed by police, in front of Dal Lake. And we people came out, we said, 'We never fight for anything. Why is this happening here?' "

For Mr. Ahamed, the region's dependency on India is clear. Many here wonder if an independent Kashmir would be able to survive, even if some current constraints on its economy were lifted.

"We don't think we have anything here to be independent. We don't have nothing here, economically," Ahamed adds. "We're a small matchbox. Like India, if it stops, we can't burn anything. We can't have any factories here. We are depending on India. We say just give us democracy. That's it. If we get democracy, like a right to talk, that's the main thing."
RELATED ISSUES