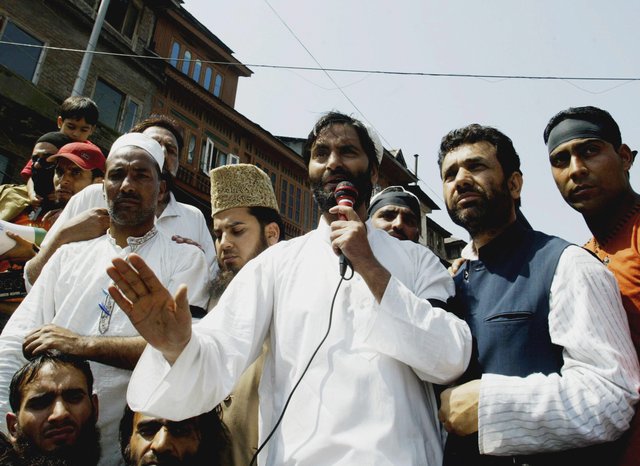 When pro-independence demonstrations erupted in Kashmir over the summer, Danish Shervani said he hesitated to take part until he saw women and children shouting in the streets.


His initiation was painful. A band of riot police trapped him away from the crowds and beat him with bamboo shafts, breaking several bones and shattering a kneecap.

So Mr. Shervani, 25, a mass communications student, fought back the best way he knew: He uploaded footage of the incident, shot by a friend with a hand-held video camera, on the Internet site YouTube. Dozens of similar videos are posted online.

"We don't use sticks or guns," he said. "We are educated and know other, peaceful ways of advancing our struggle."

His response is emblematic of a new generation of Kashmiri student activists whose desire for an independent state burns as hot as ever but who don't see militancy as the solution.

These separatist leaders are the engine of protests that have shaken India-administered Kashmir in recent months - the biggest since a 1989 revolt degenerated into years of bitter conflict.

"Now 20 years have passed and this movement has transferred to another generation," said Yasin Malik, chairman of the Jammu and Kashmir Liberation Front and a former militant leader. "They are more angry, but they are committed to nonviolence."

The dispute dates to the partition of Britain-ruled India in 1947. The local prince, a Hindu, chose to accede to India even though Kashmir was mostly Muslim. Fighting led to a U.N. cease-fire, but a plebiscite demanded by the United Nations in 1948 has never taken place. India controls more than half the territory.

Since then, Kashmir has been the trigger for a India-Pakistan war in 1965 and a short conflict in 1999. It has also inspired jihadist movements in Pakistan that have links to al Qaeda.

The latest protests were ignited by an Indian government decision to grant public land to build shelters for Hindu pilgrims who travel to the Muslim-majority state to visit a holy shrine. Separatists said it was a calculated attempt to change the state's religious balance and used the controversy to rekindle tensions. But Kashmiri youth stole the show.

They turned out by the tens of thousands, waving green flags and chanting "Azadi" (freedom) and "Kashmir's market is in Rawalpindi [in Pakistan]" after Hindu counterprotesters shut down the only road connecting the Kashmir Valley to the rest of India. Separatist leaders closed ranks behind them.

"The youth are leading the way," said Syed Ali Shah Geelani, who heads one of the two factions of the umbrella All Party Hurriyat Conference party. "They are showing very much enthusiasm to achieve their basic right to self-determination."

Demonstrations intensified until Indian forces moved to stop them, killing at least 45 people and injuring more than 1,000 others.

Mahmooda Bhat said her son, Javed, 23, a taxi driver, was standing outside their downtown Srinagar home watching the protests with his 6-year-old nephew in his arms when a bullet killed him. Eyewitnesses in the area corroborated her account with further details.

Indian security officials maintain that the protesters became hostile, necessitating a heavy-handed response to restore law and order.

"These confrontations are engineered and managed," said S.A. Mujtaba, Srinagar's police superintendent. "People are brought and briefed to indulge in violence. Because of that, the police crack down and people get injured."

Streets were calm most of last month as locals observed the Muslim holy month of Ramadan. Separatist leaders had called for another mass rally to begin Monday on Lal Chowk, the summer capital's commercial hub, prompting police to impose a curfew that has since been lifted.

On Friday, thousands of Muslims took to the streets to protest the visit of Indian Prime Minister Manmohan Singh, and police killed two demonstrators.

Mr. Singh was in Kashmir to meet with pro-Indian political leaders ahead of state elections tentatively scheduled for November and to inaugurate a rail link and a power project.

Speaking to reporters later, Mr. Singh reiterated his government's commitment to finding a solution to the Kashmir issue through dialogue.

"We are willing to talk to anyone," the Associated Press quoted him as saying.

Direct rule has been in effect across the valley since early July, when protests forced pro-India parties to suspend their activities. Most party representatives insist that the climate is too charged to hold a ballot, while hard-liners in New Delhi argue that a postponement would embolden the separatist cause.

There's no dispute that militant violence has declined sharply in Kashmir, the object of two wars between India and Pakistan that have cost 43,000 lives. Analysts attribute the trend to Pakistan's preoccupation with domestic insecurity and peace talks with India that began in 2004.

Last year, there were 777 conflict-related deaths, down from 1,116 in 2006 and 4,507 in 2001, according to the Institute for Conflict Management, a New Delhi-based think tank.

In a recent interview with the Wall Street Journal, Pakistan President Asif Ali Zardari caused a stir when he branded militants in Kashmir as "terrorists" unworthy of "moral and diplomatic support." The comments resonated in the Indian government and among media outlets, a growing number of which have voiced newfound support for Kashmiri independence in light of the protests.

Still, there are some 700,000 Indian security personnel deployed in the state, prompting fears of a renewed cycle of armed violence if India does not ease its grip.

Mr. Malik, one of the leaders of the violent militant movement that fought Indian security forces from 1989, warned that if young people in Kashmir lose hope in dialogue, "then, definitely, they will go back to where I started."

"This is the first Muslim [in the world] that has been transformed from a violent to a nonviolent movement," said Mr. Malik, who renounced violence in 1995. "The international community needs to pursue this issue more right now."

Mr. Shervani, who is still recovering from his injuries, plans to keep documenting events as they unfold. He now identifies himself on his MySpace page as a "freelance documentary filmmaker," beneath a picture of his head mummy-wrapped in cloth bandages.

"These protests have changed the scenario, turned tables over," he said. "We've been reawakened."

RELATED ISSUES