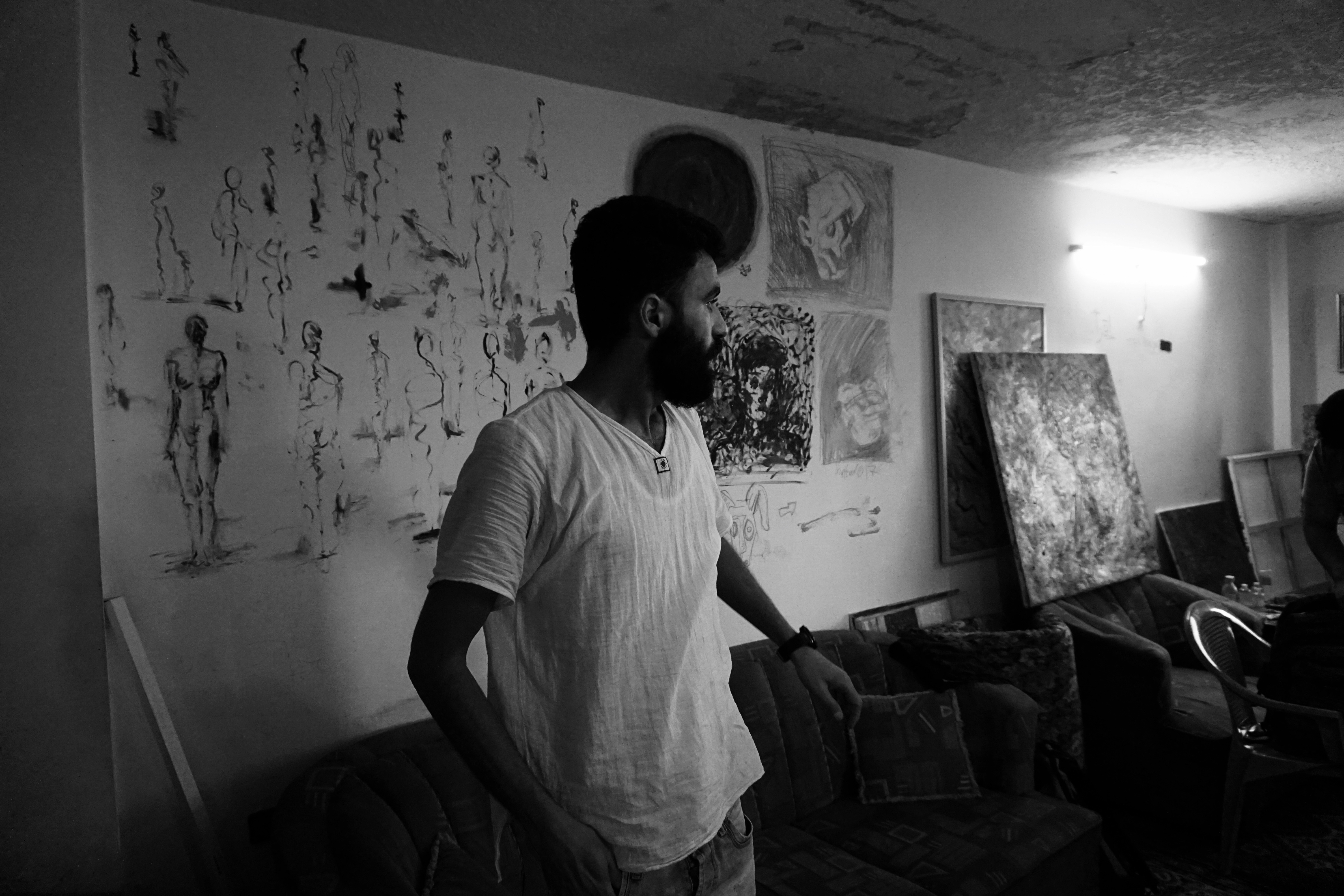 Emsallam Hdaib spends most of his time indoors, lazily vacillating from his canvas, to his computer, and occasionally to his couch. Always, however, one can either find a cigarette dangling between his fingers or resting between his nicotine-stained lips.
He resides on the top floor of his family's home which they have owned since 1967—the year Israel completed its occupation of the West Bank and the year in which Hdaib's family was forced to flee their village in Palestine where they lived as "felahyeen", or farmers.
For the last six years, Hdaib has been a vocal activist, challenging Jordan's conservative majority and its long-held assumptions on gender, sexuality, and freedom of expression through artwork and rap music.
He has also challenged Arab society to its core with music that so often focuses on Orientalism, Palestinian refugee-hood, and racism—all issues that affect not just his home city of Amman but cities that span from Syria's Damascus all the way to Yemen's Sanaa.
As a 25-year old, Hdaib views himself as someone who isn't constricted by borders, claiming that he empathizes with the suffering of those facing devastating foreign interventions in Iraq, Syria, Yemen, and Libya. Although he won't say it, he has a particular aversion to U.S. foreign policy.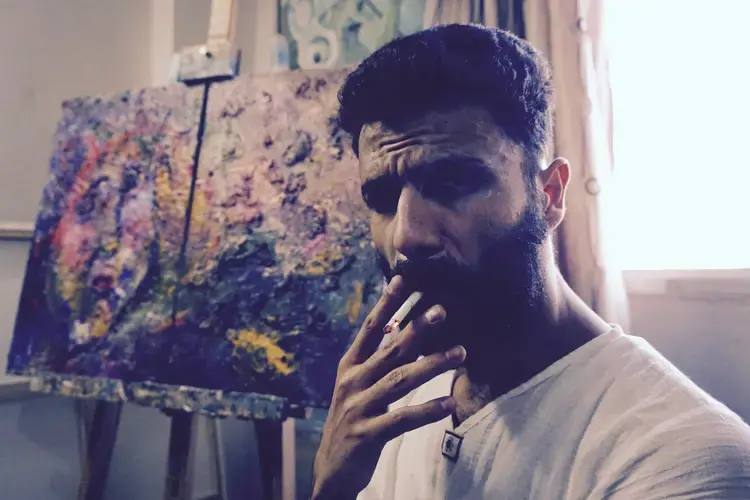 Hdaib denies that his ability to resonate with those hanging on in war zones has anything to do with his identity as a "second generation Palestinian refugee,"—a term he employs to describe his own identity despite being born in Jordan and despite never having visited Palestine.
"I don't feel this way because of my circumstances," he insists. "I feel like that because I'm human," Hdaib says as he pours watered down Nescafe into two cups during the holy month of Ramadan during which Muslims are supposed to abstain from consuming food from sunrise to sunset.
Jordanian law also mandates that the public consumption of food during Ramadan is illegal. It is obvious that Hdaib has an affinity for defying age-old traditions, but drinking coffee on a scorching June day isn't so much about defying Islam. On a more fundamental level, sipping on the lukewarm watered coffee and repeatedly inhaling the fumes from a Kent cigarette is more about breaking free.
"Sometimes it feels like Jordan is an open air prison, especially when you think of visiting the nearest countries to it. So you just avoid doing very basic rights like drinking water in public when it's Ramadan [in order to] not to be jailed."
Recently, Jordan's Interior Ministry cancelled Lebanese band Mashrou' Leila's upcoming performance, marking it as the second occasion such a decision was made by the government.
Parliamentarians aligned with the Islamic Action Front, the Jordanian offshoot of the Muslim Brotherhood, argued that the band's lead singer's sexual orientation – the lead singer, Hamed Sinno, is openly gay – was contrary to the cultural and traditional norms of the country and was the primary reason for the cancellation.
Member of Parliament Dima Tahboub, a former spokeswoman for the Islamist coalition, told CNN that the singer's sexuality was "exactly" the reason the event was cancelled.
Many have also alleged that the band's commitment to the Arab Spring, human rights, and to freedom of expression for Arabs stands as dangerous advocacy which threatens the long enshrined legitimacy of authoritarian regimes across the region.
In a statement released to the public, Mashrou' Leila deemed the Jordanian people "progressive supporters of human rights" who remain committed to "intellectual and cultural pluralism." The band's statement may not simply be rhetorical fluff, but may actually reflect a growing on-the-ground reality in Jordan, as Hdaib's work clearly shows.
In 2016, Hdaib challenged gender norms by depicting what in his view was the plight of Arab women if they had engaged in sexual activity before marriage.
The image portrays an unnamed skeleton woman who appears to be trampled and whose limbs are extended into every corner of the canvas.
Around her is a sea of red, which presumably reflects the blood of the countless women who have lost their life to violence inflicted by those they are supposed to trust.
The practice of 'honor killings' – or at least, the recorded ones – in Jordan increased in recent years.
According to Human Rights Watch, not only did honor killings reach a zenith in 2016, but Jordan lacks the institutional infrastructure needed to properly take care of its women who are survivors of attempted murder or domestic assault.
According to a 1954 Crime Prevention law, at-risk women can be "indefinitely detained" and their release often requires years of bureaucratic procedures and assurances from the family that the woman will not be placed in danger.
Hdaib's music has also attracted a large following and has gained a reputation for having no hesitation to address topics long considered taboo in his country. Filled with explicit references to sexuality, freedom, and expression, Hdaib denies that his work is political, but contends that he can't separate his music from politics.
"I'm Middle Eastern, man. I was fed politics," he claims.
In a song titled "Edward Sa'ed," Hdaib deals with the issue of Palestinian identity head on. In "Lawla al 3aib," and in "Ghareeb," the focus is on poverty. The list of songs that are at their core political goes on.
In March 2016, Hdaib released a song titled "Santandano."
In this song, one line is repeated with a disproportionate frequency:
"You are free, and everybody is free as well."
The song proceeds to describe the world as a market from which, in Hdaib's words, "you can take what you want"—religion or atheism, straightness or gayness.
He notes that hardly anyone in Jordanian society discusses gay rights, and that well until 2014, comments about equality for LGBTQ+ were highly censored.
In 2014, Hdaib gave an interview to Roya, a popular Jordanian network television show, and later found his comments taken out of context, twisted, and in his view, censored.
"They uploaded it with no cutting on Youtube but stream[ed] it on air edited," he claims.
Today, Hdaib openly advocates for the Arab LGBTQ+ community and contends that intolerance toward homosexuality is not Islamic.
He mentions Abu Nawas, the eighth century poet who is today remembered for his homoeroticism.
For Hdaib, if Abu Nawas, at one point commissioned by the Caliphs, can openly write about homosexuality in the eighth and ninth centuries, why can't any Jordanian?
The issue, according to Hdaib, isn't Mashrou' Leila or the fact that the concert was cancelled.
Legally sanctioned attacks on free expression and the obstruction of progressive voices in the Hashemite Kingdom have been a reoccurring pattern.
As recently as January 2017, Jordan's General Intelligence Directorate arrested several former government officials and members of the teacher's union for social media posts critical of the deep-rooted corruption issues in the country.
For him then, the concert's cancellation is simply the tip of the iceberg—the deeper issue remains structural changes in the way the next generation of Jordanians think.
For Hdaib, progress is a give and take—Jordan refused to host Mashrou' Leila for the second time in a row, but the path towards progress, according to Hdaib, is paved with slow, deliberate, and internal changes—changes, he argues, that are taking place on a daily basis in the heart of Jordanian society.
Ultimately, Hdaib, like millions of other Arabs, dreams of an Arab World free of foreign intervention. From Baghdad to Jerusalem to Damascus, Hdaib dreams of not only bringing his work, but in his own words, "experiencing the land."
Perhaps then, through music, art, and literature—and not bombs, cluster munitions, and artificial impositions of democracy, the region, at least Hdaib hopes, will progress toward real and substantive openness. In the meantime, Hdaib will keep rapping and by extension, resisting.