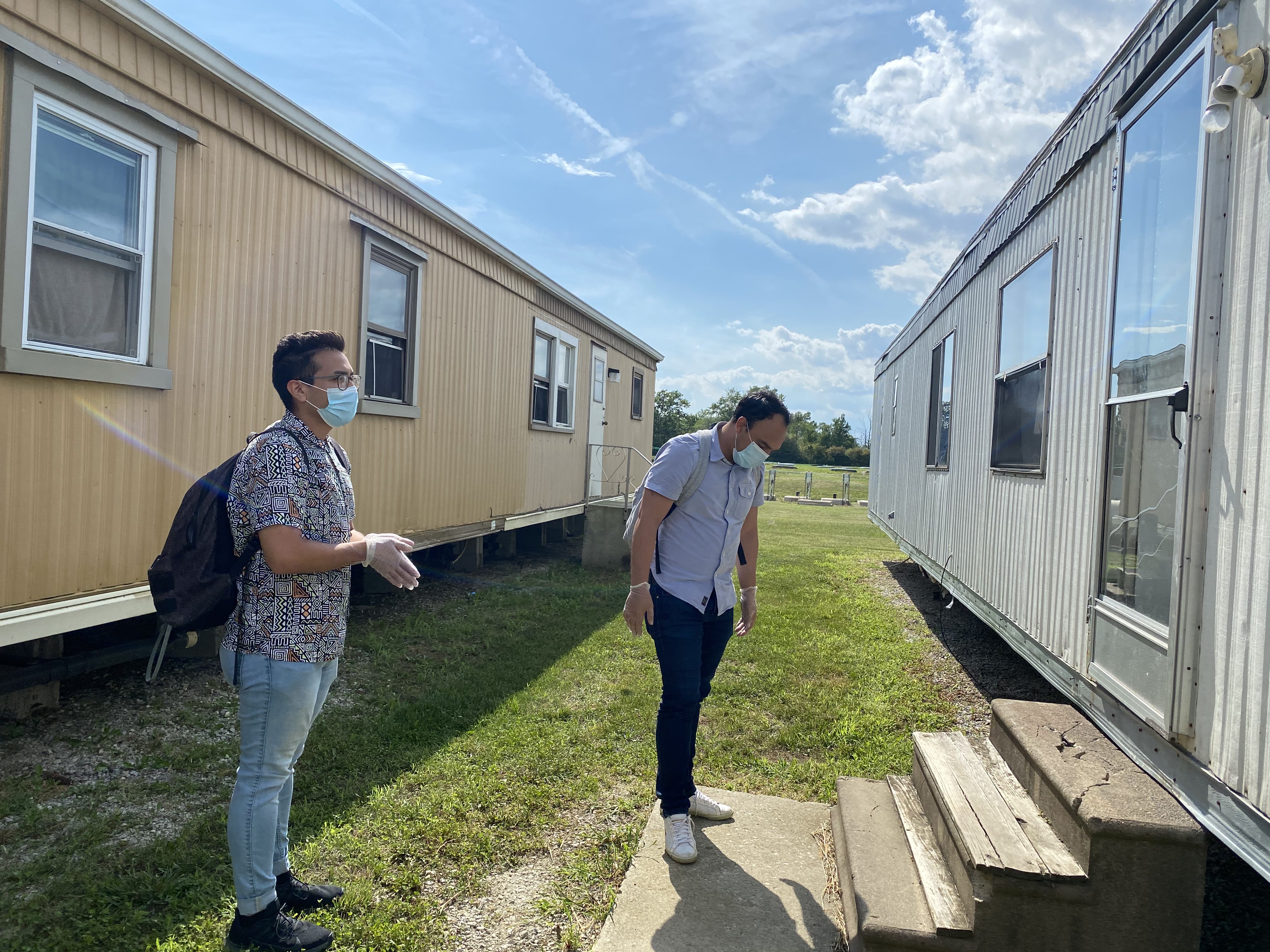 On my second visit to the Ohio migrant camps with the Farm Labor Organizing Committee (FLOC), I'm reminded of the conversation I had earlier with Baldemar Velasquez, the founder and president of the organization.
We drove 30 minutes south from their local office in Toledo, Ohio, to grower-owned housing in Woodville—where the roads grew muddier and the village more isolated from the rest of the city.
As the buildings blended in with the trees, and the cars quickly disappeared, some of his points still lingered in my mind. I reflected on my work as a journalist reporting on migrant farmworkers—a group of individuals who have been historically marginalized.
Their legal status and economic hardship serve as the central framing of their identity. In news coverage, their inclusion becomes attached to them experiencing poverty in ways that make headlines and the front page of national publications.
Even as such coverage often results in a flood of donations or momentary action, fueled by anger, it hasn't accomplished much in terms of instilling long-lasting change, Velasquez explained.
"So, what are you going to do differently?"
The two organizers, Lorenzo Zamora and Braulio Franco, whom I tagged along with, described the disparities in the farm labor system as "unfair." H2-A workers, who are temporary agriculture employees on a visa, earn $14.50 an hour on average, and undocumented workers make even less in Ohio.
They work 12 to 15 hour long shifts for six days a week, even during the coronavirus pandemic—plowing, picking, and harvesting America's crops—serving as "essential workers," but still remaining one of the most vulnerable sectors of the population.
"I'm trying to help workers and organize workers, trying to let them know what their rights are because they came here as H2-A workers on a contract," Franco said.
Together, the two organizers have visited between 20 to 30 camps in northwest Ohio since the spread of the coronavirus, distributing FLOC materials and convincing employers to arrange clinics to test farmworkers, who are otherwise unable to afford healthcare.
So far, they have set up one clinic in Wood County and another in Urbana, testing a total of about 80 workers.
They are often turned away from farm owners since they refuse to let them be in contact with their workers. In other cases, some migrant workers grow fearful of testing positive and losing their only source of income.
The options vary from dying of starvation or dying from the virus, said Velasquez.
As COVID-19 ravages communities across the country, causing policies to shift and businesses to shut down, housing for migrant farmworkers in Ohio remains the same. On average, four to six workers live together in cramped quarters with shared laundry facilities among everyone.
This response reflects the neglect the agricultural industry has for these workers, treating them as "throwaway objects," Velasquez added.
"Use them, abuse them, and toss them out."
Velasquez, who was raised in the fields as a son of migrant farmworkers, described federal public policy response at best as "anemic." The extent of these workers' marginalization seeps beyond economic supply chains, into the legal system, where their status remains vulnerable, keeping farmworkers who are undocumented and on H2-A visas from speaking out against exploitative labor practices.
When we entered the Liskai Farms camp in 89 degrees Fahrenheit weather, I counted four houses that had air conditioning installed in their windows. One had a fan and the rest relied on open doors and windows for ventilation.
Franco knocked on the first door and the crew leader, who oversees the farmworkers, answered. In Spanish, he explained the purpose of his visit—to examine workers and see if they are being paid equally.
The man in the red t-shirt disapproved and explained we were on private property. He phoned the rancher, but Franco explained they had the right to speak with workers and the two organizers carried on, knocking on doors, passing out FLOC brochures, and providing cards with their contact information.
In each conversation, Franco—while maintaining his six-feet distance—inquired about the workers' legal status and asked undocumented laborers if they were earning the same wages as others . Because of their legal status, some of these workers are unable to complain about workplace abuse and remain fearful of retaliation.
In some cases, when workers refused to step outside, Franco stood at the door, shifting his tone and nodding accordingly. His relaxed demeanor and legal background as a former attorney in Mexico carried each conversation, walking the line between offering help and providing comfort.
For Zamora, the issues are more personal. His grandmother canned tomatoes for a farm in Leipsic, a village in Putnam County. Her husband was a board member of FLOC, roughly around the time the group went on a Campbell Soup strike.
When his mother recalls her childhood, she remembers growing up with FLOC meetings taking place in her house. She also worked in the fields.
We were four houses down when the crew leader returned with the rancher on the phone and explained we were trespassing. He threatened to call the sheriff, explaining he felt harassed.
"We are allowed to be here, so you can call the cops," Zamora responded.
From afar, one farmworker sat on a chair, outside his house drinking a beer, watching all the action unfold. When Franco approached him to explain the purpose of their visit, the man laughed and continued sipping on his drink. Even as a permanent resident he was making $10 an hour, he explained.
Zamora later clarified that farm owners refusing to pay all workers the same are breaking the law, but FLOC is unable to interfere unless one of the workers reaches out to them and organizes.
We were already on our way to the second camp with seasonal farmworkers from Texas and Florida, as well as H2-A workers from Central America. Some of the workers were already finishing up their contracts and returning home to Mexico within the next week.
On the drive there, Franco explained to me that some employers are forcing their workers to extend their contracts. Even as this practice persists, depending on how much more work employers want completed, under COVID-19, it's growing increasingly prominent.
A woman answered the next door, which Zamora explained was hardly common, since farm owners typically hired men to work for them. In addition to his usual questions, Franco asked the woman if she had ever been sexually harassed and explained the resources available to her if she requested help.
Later, he shared a story with me about a woman who was raped while living at one of the quarters. When Franco tried to offer help, she declined and moved to work at a farm in Florida within weeks. She too feared retaliation and possible expulsion from returning as an H2-A worker again.
When we wrapped up our visit and headed back to Toledo, Franco and Zamora planned their next visit, but the conversation was cut short when Franco's phone rang. On the other side of the call, another crew leader disapproved of the two workers arranging a mobile clinic.
I flipped through my notebook and read the list of 10 carefully crafted questions I had prepared during my first visit to FLOC's office. I can't help but reflect on Velasquez's question and wonder how so much of my training as a journalist often revolves around asking questions, but not thinking deeply enough about the impact of my reporting.