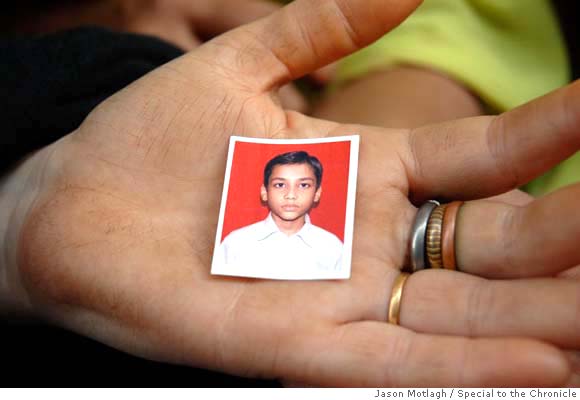 New Delhi -- In a dusty alley on the outskirts of this capital city, a group of 30 women stare at the ground in plaintive silence and form a circle around Omwati Kishore, who waits for her husband to return with the cremated remains of their youngest son.

Ten-year-old Tushar Kishore and his cousin were killed while returning from school on the back of a motorcycle. A rogue bus collided with the bike, sending the boy into its path. He was crushed beyond recognition. Police in the Badarpur neighborhood where Tushar died said they are considering fining the owner of the bus, but have yet to do so.

"My son was taken from me, and the police have done nothing to punish the criminals who killed him," said Kishore, shaking with rage. "They should hang for this."

New Delhi, which has 14 million inhabitants, is home to some of the deadliest traffic accidents in the world, and its fleet of 4,000 privately owned Blueline buses - nicknamed "Bloodlines" - are virtual serial killers, according to residents, politicians, and local media. Since 2003, more than 300 people have died in Blueline accidents, according to a running tally by the Hindustan Times.

Just this year, 100 people have died in Blueline accidents and the often grisly collisions are common fodder for newspaper front pages. Just last month, a schoolboy died after a bus plowed into a group of children waiting at a bus stop.

Such traffic accidents are hardly a local phenomenon. India has the second largest number of road fatalities in the world. Nearly 100,000 people die annually in more than 300,000 accidents, according to the Institute of Road Traffic Education, a nongovernmental organization in Delhi. Only China tops India with more than 600 people killed daily, according to a 2004 report by the World Health Organization. In contrast, U.S. traffic fatalities totaled 42,642 in 2006, according to the National Highway Traffic Safety Administration.

For an outsider, it's not difficult to understand the problem.

City streets here are a smoky gantlet of belching vehicles and potholes. Most drivers ignore stoplights, and a Darwinian survival of the fittest prevails: Pedestrians yield to motorcycles, motorcycles to motorized rickshaws, rickshaws to cars, cars to trucks, trucks to buses, and buses only to cows that are venerated in the Hindu religion and allowed to amble down city streets. Blueline drivers typically make rolling stops, change lanes without looking and ignore red lights.

Nevertheless, the buses remain popular because they are cheap and plentiful for the city's estimated 10 million daily commuters, according to the Institute of Road Traffic Education. Subway lines are limited, and taxis and rickshaws can't compete with the Blueline's 25-cent fare.

Most Blueline owners say they provide a necessary service and are being criticized for the failings of a few reckless drivers.

"The bottom line is we have a great responsibility to everyone," said Mukesh Aneja, owner of 25 Blueline buses, who insists his employees give vehicle safety, driver experience and customer satisfaction top priority.

But Nardeep Singh, an editor at the Hindustan Times, says the problem of unsafe vehicles and unqualified drivers is systemic. "There is such a huge demand for transportation, and the usual bending of the rules ... it's very sad but in a sense, kind of inevitable," he said.

Singh and other critics say as many as 25 percent of Blueline buses are owned by police officers who register them under a different name. Others are linked to family members of prominent politicians. In fact, some politically connected owners emboss their first names on the back of buses as a warning to police, according to media reports.

Most important, traffic cops are reportedly paid by bus owners to turn a blind eye to driver infractions, according to critics. As a result, owners are rarely cited.

Rajesh Verma, founder of the Blueline Victims' Association, says he was run down by a bus two years ago while sitting on a scooter and dragged nearly 80 feet. Bedridden for 10 months, he required numerous surgeries and now walks with a cane. His small goods business folded after the accident, and sued the company after the state refused to give him "even one penny" in compensation.

In court, the defense attorney told the judge that a tractor had hit Verma, not a Blueline bus. "Almost every day, people are dying from these buses, and the government has taken no action or offered no explanation whatsoever," said Verma, who lost the case. "Where is justice?"

Following an October accident in which seven people were killed by a Blueline bus while crossing a highway - the same stretch of road where Tushar Kishore was killed - Delhi's transport minister vowed to pay $2,500 to each of the victims' families. To date, they are the only families to have received compensation this year from a Blueline accident, according to Harsh Vardhan, president of the opposition Bharatiya Janata Party in Delhi.

In recent months, Delhi Chief Minister Sheila Dikshit has come under heavy fire for the latest wave of Blueline victims, which she calls an "ongoing crisis." She has helped draft legislation to phase out the buses while expanding the state-run, 3,500-bus fleet, which boasts a much better safety record. But until a better alternative is available for the city's commuters, Dikshit insisted that police are responsible for improving the situation.

"All over the world, the traffic management is the responsibility of the police," Dikshit said in a recent statement. "Let them manage the situation."

In response, Delhi Joint Commissioner of Police Qamar Ahmed said the police are doing the best job they can with manpower and budgets for transit control that have not increased in 10 years. But he vows to "leave no stone unturned" in impounding unsafe buses and arresting errant drivers.

Since October, there have been dozens of arrests and more than 300 buses impounded, according to Transport Minister Haroon Yusuf. The Transport Ministry also said it has sent out at least 3,000 notices to bus owners ordering them to provide proper documentation and proof that they have qualified drivers. And army soldiers are now assisting police in monitoring traffic and issuing traffic citations.

But few major steps have been taken to rein in the Bluelines, according to victims' rights groups.

When Delhi's Supreme Court intervened this summer and ordered all city buses be equipped with devices that restrict speeds to 25 miles per hour, many drivers found a way to override them. And many impounded buses are back on the streets, according to the court.

"It is becoming shocking day by day," the court said in a statement last month. "Even in a banana republic, the transport system wouldn't be like this."

Meanwhile, peaceful protests have increased throughout the city after Blueline accidents.

But public anger is typically directed at the most accessible target - the driver, who usually flees the scene. After the October accident that killed seven people, a mob torched the vehicle, threw stones and beat up the driver, forcing police to lob tear gas in order to free him.

Compared with other years, editor Singh notes, the public outcry has been stronger. "The whole system is rotten," he said. "I don't see any solution in sight."

Waiting at a Blueline bus stop on the Delhi-Agra road, 16-year-old high school student Ashish Besla says he prefers to make his daily trip downtown by other means. But he's not old enough to drive, a subway extension won't be completed for two more years, and the 25-cent fare is hard to beat.

"It's a fact: These are killer buses," said Besla. "I only ride them because I have to."
RELATED ISSUES