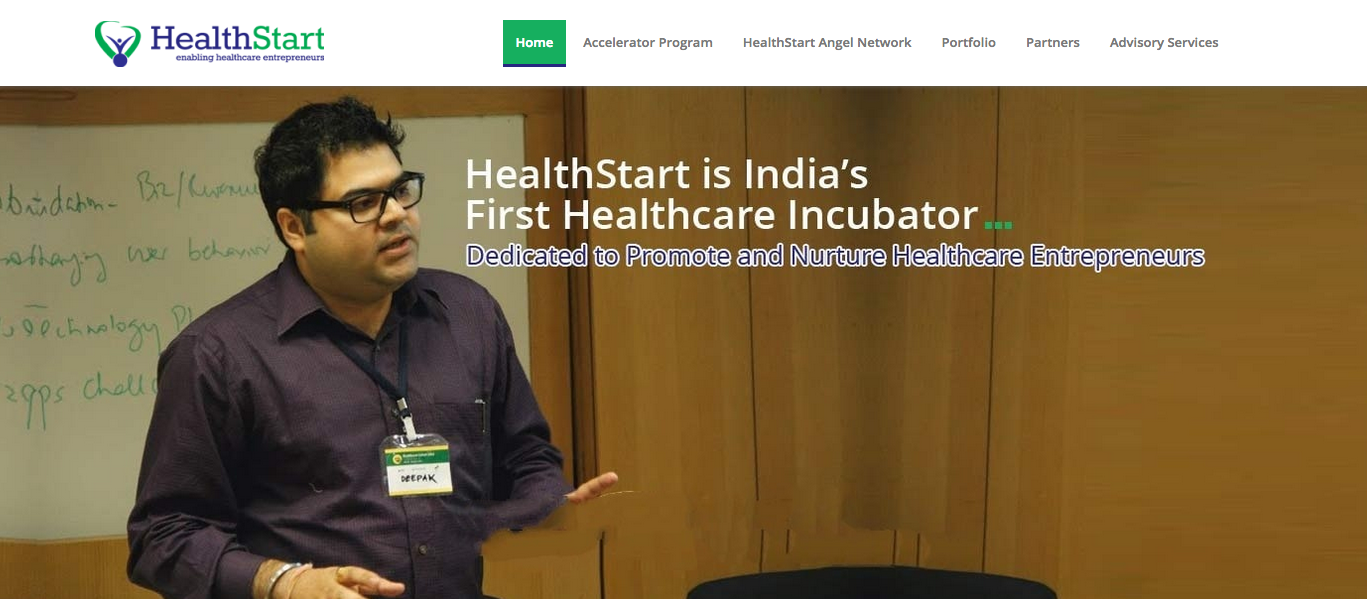 Incubators have been fashionable breeding grounds for startups, particularly in tech. But what about an incubator just for health startups?

In India, it's a much needed investment. With health infrastructures overloaded and struggling — take note of the latest dengue outbreak that put all hospital beds in Delhi to use — healthcare in India is prime for investment and innovation.

Pradeep Jaisingh, a healthcare entrepreneur who's been setting up oncology centers in India's metros, is hoping that he can help other health startups as well.

Two years ago, he started HealthStart, which touts itself as being the first healthcare incubator in the country. Established in 2013, it's now funded two batches of health startups, a total of seven companies.

Jaisingh, who has lived abroad in Europe and the US, realized that pulling off a health startup in India is an uphill task.

"Good ideas get stuck here because there's so many obstacles," he says, sitting in Delhi. "There's a lot of potential in India. But the obstacles are tremendous as well."

India has seen a flurry of accelerators and incubators in recent years. But the majority have focused on tech and mobile, says Jaisingh.

"It's important we create a devoted space to health. It may include tech, but its mission is different — to help people live a better of quality of life."

The team of mentors at HealthStart come from different walks of life: Raj Airy stems from Baxter India, Vivek Jetley is CEO of a Singapore-based health company, Anil Gupta of Honeywell International, Suhail Chander of IndusInd Bank, and a Jayant Goel, an accountant. HealthStart appointed a CEO in 2014, Vishal Bhansal, a doctor turned entrepreneur.

Finance, health, and tech are all areas that Jaisingh says are critical for health entrepreneurs. It's not just about delivering care, but also running a profitable enterprise.

So far, the accelerator has opted for businesses that solve health problems for India's urban middle class. The startups include Gympik, which helps urbanites find gyms, personal trainers, and local yoga sessions. Another investment is in Tattva Spa, a holistic spa with natural remedies that's opening up outlets in hotels throughout the country.

But Jaisingh recognizes that the accelerator needs to find other businesses that are centered around treatment, not lifestyle.

Healthians.com is a suitable example. The Gurgaon-based startup recently received another round of funding from YouWeCan Ventures, a VC fund set up by India's popular cricketer Yuvraj Singh who battled cancer at a young age. Focused on preventive care, Healthians (short for Healthy Indians) aspires to give Indians easy access to diagnostic tests. Everything from viral outbreaks like dengue, or malaria, to thyroid tests are available and at prices under 2,000 Rs. (or $30).

Healthians sends accredited professionals to collect samples and perform tests to the patient's home. Deepak Sahni, founder of the startup, says that he saw other similar models in the market, but rarely were the tests done by professionals. It could have been anyone showing up at your door, he says. To build a standardized model, Sahni put together his own team of test collectors who show up in uniforms and are accredited.

Diagnostic testing is a massive market, Sahni realized. On an average day in the country, there are over a million such medical tests completed in the country. Delhi and its neighboring suburbs have the largest concentrations of tests. But most Indians have not been proactive about their health. That's where Healthian aspires to step in and make it easy, and affordable, without having to stand in long queues at a hospital or clinic.

Building the technology for this business to flourish, though, Sahni says was a challenge. It took a year to work out the kinks and produce a working model. Now, he's looking to invest in a brick-and-mortar infrastructure with a chain of branded Healthians labs around the country.

For HealthStart founder Jaisingh, Healthians is an ideal example of how the healthcare industry can benefit from new delivery models. Even if the accelerator hasn't found a winning example in "last mile" health care — the kind that caters to rural India, it's keen on supporting entrepreneurs who are changing the way healthcare is done in the cities.

"We will hopefully get to support entrepreneurs working outside of the metros as well," Jaisingh says.

Till then, they're focusing on how to get the country's massive population, be it in the cities, better quality care. And new delivery models, Jaisingh says, is the answer.

"It's not always going to be possible for everyone to go to a physical clinic or hospital. Plus those are really costly to build. So, what's the alternative?"

Jaisingh himself found a hybrid solution. When he returned to India from the US to set up oncology centers, he realized that land in India's bustling cities was very expensive. Land in Delhi, for example, is also very hard to find with development encroaching on the city's sidewalks. So he turned to a different model: developing oncology centers in existing hospitals and clinics. "Why repeat what already exists?"

Plus, it would make it easier for patient's to have access to cancer tests while they're already at a hospital, avoiding time spent commuting between different clinics. With Delhi's densely packed traffic these days, these details matter, Jaisingh realized.

While this sounded like a simple solution, Jaisingh faced some resistance. When he approached hospitals, they weren't sold — even if the was bringing highly trained oncologists and expertise. So he honed in on Tier 1 cities, or the major metros of India (i.e. Delhi, Bombay, Bangalore). After several rejections, he found a parter at Fortis, a chain of hospitals in India's largest cities. In 2009, he opened the first one and since then, he said, it's gotten easier.

The answer, Jaisingh, says in India's healthcare woes is not always reinventing the wheel, but finding new ways to deliver care. The way you reach patients and customers has to be far more creative — because the hurdles are significant.

"That's where HealthStart hopes to be innovative."
RELATED ISSUES