On a hilly slope in São Paulo City, a group of sixth graders is busy at work. They're armed with seeds, soil and a range of gardening tools. Upside-down soda bottles, filled with water, outline a series of rectangular garden plots. A boy named Felipy Pigato tells me they are preparing the soil for planting.

"Yesterday we mixed regular soil with coconut fiber," he says. "The coconut fiber holds the seeds in the soil."

Today, he says they will add in the compost. As the students dig, they pull back chunks of dirt, creating shallow pits, where earthworms wriggle in the freshly dug soil.

Mateus Feitosa de Almeida, 12, slowly pulls back the soil around a worm. "We have to pull like that so we don't hurt the worms," he explains. "If we take them out, it's bad for the soil."

This digging is going on in a quiet middle-class neighborhood, in a garden that belongs to Leão Machado School, a large public school.

The students are working under the guidance of two teachers, Daniel Giglio Colombo and Marta Martins.

This is the second year of the project, says Colombo, who helped start the garden. "We're going to grow the same things we did last year—arugula, lettuce, radishes."

The vegetables they grow are used in school meals. But the real aim of the school garden is not to supply ingredients, he says, but to teach students where food comes from, so they can develop a connection to their food.

"When we ask students where lettuce comes from, they say the market," Colombo says. "They have lost contact with nature, the soil, sowing, and growing of crops."

And that is reflected in their diets, he says, which are increasingly unhealthy.

Just like in the U.S., highly processed foods like fast food, soda, and high-fructose corn syrup have become all too popular here in Brazil. And obesity rates are rising, even among children. It is a nation-wide problem that has alarmed the government and public health experts in the country. Brazil's government has banned sodas, cakes and cookies in school meals. It has restricted the amount of salt and sugar in them as well. It also requires at least one daily serving of fruits and vegetables.

Initially, students used to reject fresh food, says Martins. She and her colleagues hoped that the school garden would change that.

"We wanted to create better habits with this project," Martins says. "We wanted them to improve their eating and become healthier."

That idea is behind flourishing school gardens across Brazil. The program started 12 years ago as a pilot program in five schools, as part of a project by the United Nations Food and Agricultural Program. Today, there are a few thousand school gardens in 700 cities and towns. Many are run independently by schools. Others are supported by city governments.

It's hard to know yet whether school gardens have improved children's health, says Albaneide Peixinho, who ran Brazil's school meal program for 13 years. But she says schools are reporting that the gardens have made students more aware of their food.

"With school gardens, they see that food comes from the Earth," Peixinho says, and they are eating healthier. Some studies even show that the students are influencing how their families eat. "Parents say that the kids are eating a lot of fruits and vegetables, and they insist on eating those foods at home."

Sarah Campos, 14, took the school garden class last year at Leão Machado in São Paulo. "I had never eaten radishes before," she says. But she tried some when she and her classmates cooked radishes they had grown in the school garden.

"I loved it so much that I even had a second plate," Campos says. Now, she says she eats radishes often. "I ask my mom to make them for lunch sometimes. She puts them in the salad with carrots, and with potatoes. It's very good."

She and her classmates say they are more open to eating vegetables now. They try to avoid fast food and they're more conscious of their diets.

Out in the garden, I ask Mateus, the student who told me about protecting earthworms, what he has learned in his gardening class.

"Many things," he says. "Like digging, what organic fertilizer is, what animals do to make the soil better."

"What did you learn about vegetables?" I ask.

"That they are good for our health and well-being."

"Do you eat vegetables?"

"I'm not so keen on them, but I guess I do now with this project," he says, laughing sheepishly.

The hope is that by the end of the school year, he will really enjoy them.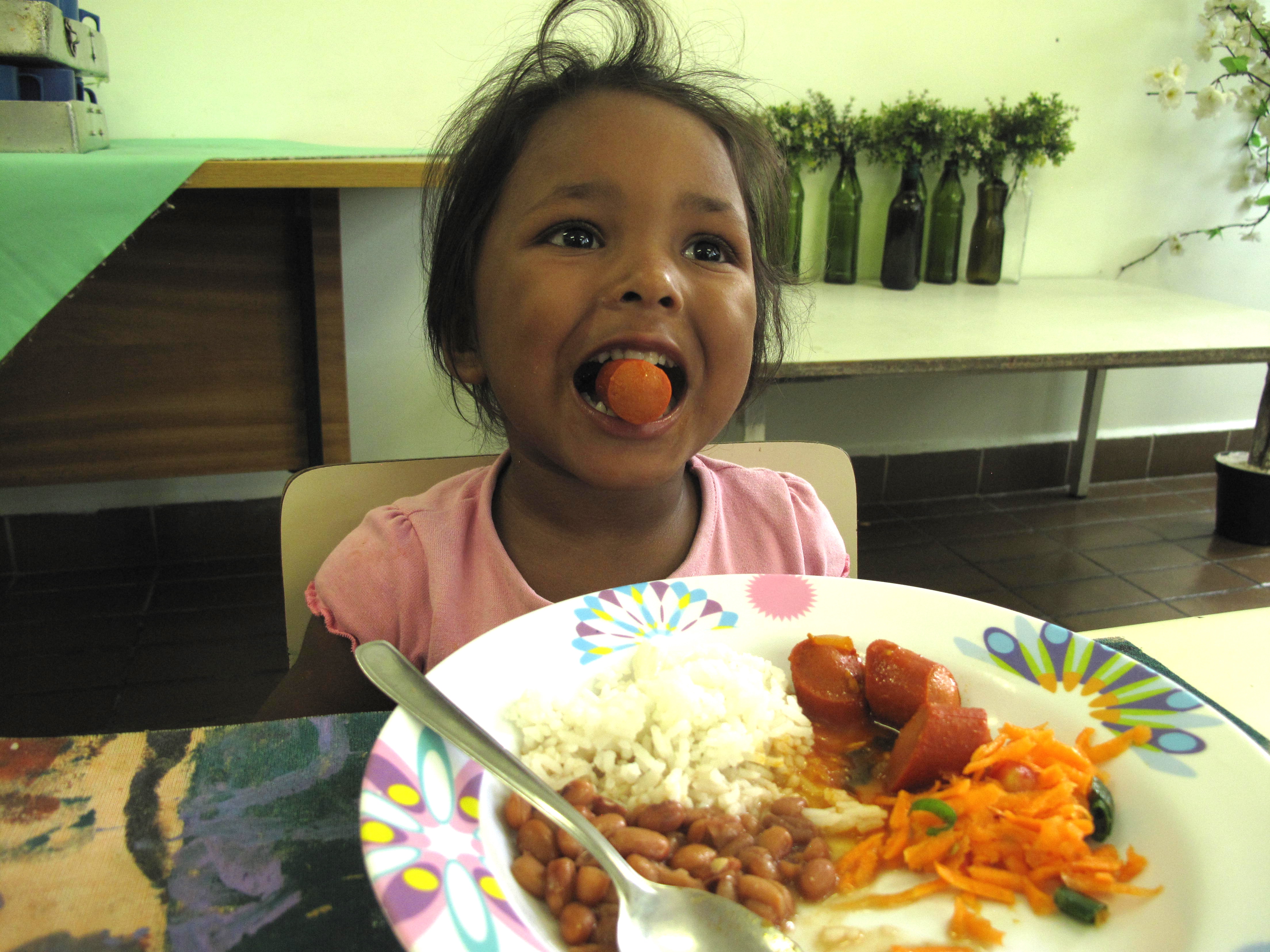 Journalist Rhitu Chatterjee traveled to Brazil in 2015 to report on the country's school meal...
RELATED ISSUES

Children and Youth

Women