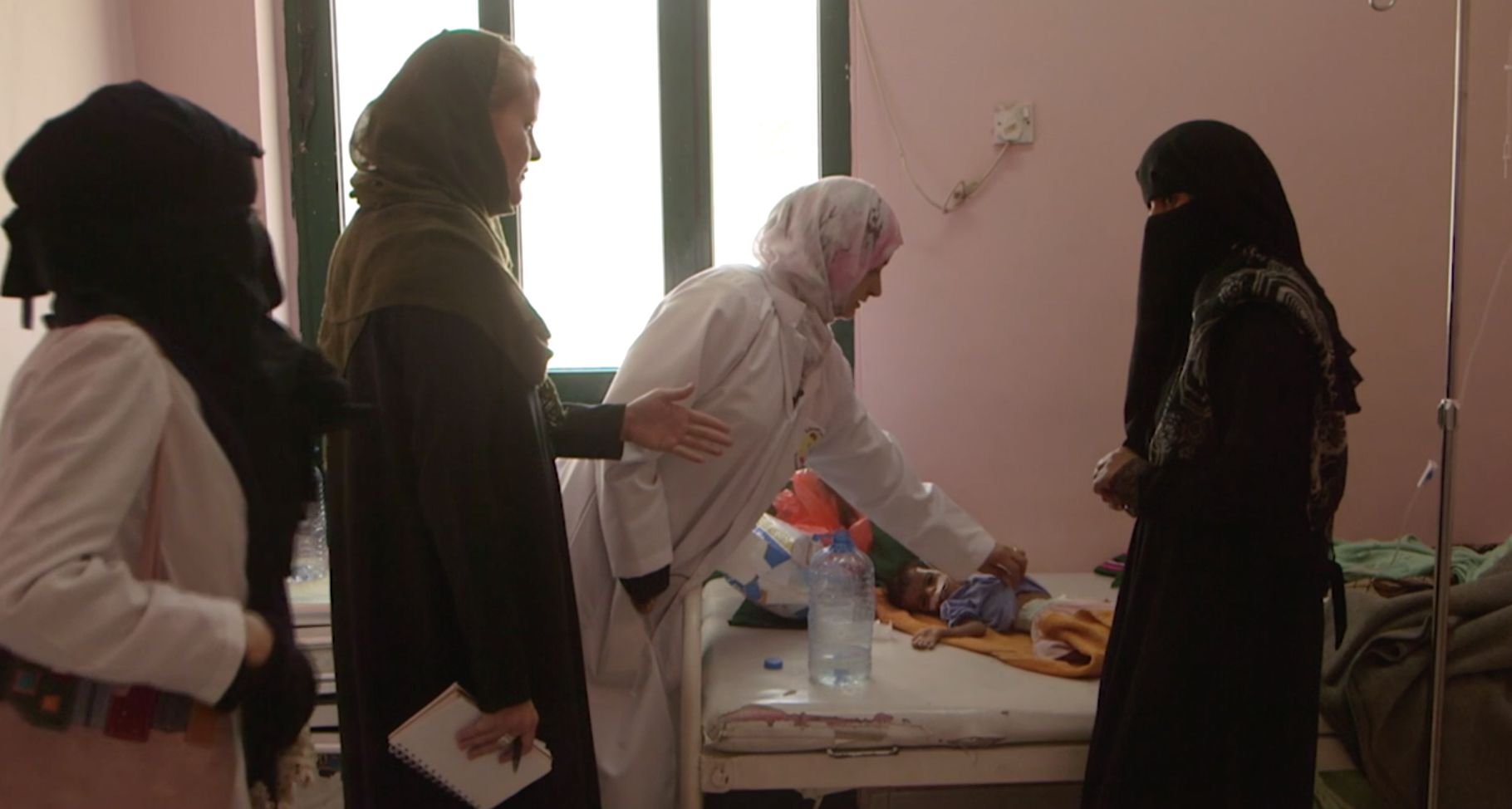 Read the Full Transcript
MARCIA BIGGS:
In this pediatric ward in Aden, every room tells a version of the same story. 11-Month old Malika Al Khader clinging to life. Weighing only seven pounds, she's just one of the 17 million Yemenis who aren't getting enough food to survive. We only eat one meal a day, her mom tells me. We fled from Mokha three months ago and we're living in a camp.
MARCIA BIGGS:
"Is there food in the camp?"
MARCIA BIGGS:
There is only rice, tomato sauce, and a little bit of wheat she says, and I'm breastfeeding.
MARCIA BIGGS:
"When did your baby become sick?"
MARCIA BIGGS:
Malika can't get the nutrients she needs because her mother doesn't have enough food. Malika is half the weight she should be at eleven months old. Her immune system vulnerable, she contracted measles and went into sepsis.
DR. AIDA AL SADEEQ:
She can die from hypothermia.
MARCIA BIGGS:
Her doctor, Aida Al Sadeeq says these are complications that arise from malnutrition. Others can include chest infections and meningitis. All can prove fatal.
MARCIA BIGGS:
How often do you see these cases?
DR. AIDA AL SADEEQ:
From 30-40 monthly. 30-40 malnourished children per month, severely acute malnourished, complicated malnourished, not merely malnourished.
MARCIA BIGGS:
Who do you blame or what do you blame?
DR. AIDA AL SADEEQ:
The war. The war. First of all stop the war.
MARCIA BIGGS:
The beauty of Yemen's landscape belies a society that has always suffered. It was the poorest country in the region before the war. And now it's the scene of what's being called the worst humanitarian crisis in the world. It began in 2014 when Houthi rebels opposing Yemeni Government corruption took over huge parts of the country. The Houthis are a predominantly Shiite sect, backed by Iran.
MARCIA BIGGS:
In 2015, they invaded the strategically crucial southern port city of Aden. And there was a fierce battle. The government asked Sunni Saudi Arabia for help in defending the city, which it did with aid from a coalition including the United Arab Emirates and the United States. The coalition then drove the Houthis north where the battle continues. Today, both sides in the conflict use food as a weapon of war.
The Houthis by hiking food prices to finance their war effort and the Saudi coalition by attempting to starve the Houthi side into submission. For two months last year, the Saudi Government blockaded the Houthi held port of Hodeidah in an attempt to choke its supply lines.
For a country that historically has relied on imports for 90% of its food, it was catastrophic. Amid international outcry, the Saudis eased the blockade in January. But in order to control who gets both food and fuel entering Yemen, the coalition requires some ships to be be diverted to the already crowded port of Aden, which the coalition oversees.
MARCIA BIGGS:
You can see the remnants behind me of Yemen's Coast Guard, which was hit so hard in 2015 in the battle with the Houthis. They're now trying to rebuild themselves, and they're in charge of securing the waters off Aden's coast.
They're gonna take us to a ship, an American ship, which is carrying aid for the World Food Program. Apparently it was quite difficult, quite a coup to get permission to dock here in Aden. But they're stuck several miles out to sea because of red tape and corruption just waiting for a parking space.
MARCIA BIGGS:
All these ships are waiting?
MARWAN AL BAKSHI:
All the ships, yeah.
MARCIA BIGGS:
Our guide for the day is Marwan Al Bakshi. His unit is assigned to watch over the ships that are waiting for permission from the coalition to dock. What's the longest one of these boats has waited out here?
MARWAN AL BAKSHI:
Some of the ships, they are waiting for 20 days.
MARCIA BIGGS:
For 20 days?
MARWAN AL BAKSHI:
Yes.
MARCIA BIGGS:
Three weeks some of the ships have waited.
MARWAN AL BAKSHI:
Yes.
MARCIA BIGGS:
Is it hard for you as a Yemeni?
MARWAN AL BAKSHI:
Of course, yeah.
MARCIA BIGGS:
To see that this food is 15 nautical miles outside?
MARWAN AL BAKSHI:
I'm really feeling sad about that. Yeah. But I have no authority to do, what can I do?
MARCIA BIGGS:
Mm-hmm.
MARWAN AL BAKSHI:
My job is to protect her.
MARCIA BIGGS:
This is food for the Yemeni people.
MARCIA BIGGS:
Mm-hmm.
MARWAN AL BAKSHI:
They need it. It's too important.
MARCIA BIGGS:
The ship sat offshore for five days. Then finally it arrived here at the port of Aden's Mill, where the grain onboard was offloaded and will be turned into flour. The UN's World Food Program, the WFP, is on the front line in the fight to feed almost 60 percent of the country.
Shashi Dharan is the program officer in Aden and these are the bins designated for the WFP. It's the leading source of food aid in the country, but it's still feeding less than half of the 17 million in need.
MARCIA BIGGS:
We saw today the grain streaming in. So why are Yemen's people starving?
SHASHI DHARAN:
We are providing food but we are not providing food to everybody. We do not have enough funding available with us.
MARCIA BIGGS:
Even if they had the funding, getting the food to the people living on front lines is almost impossible due to constant fighting. And there are hurdles too in getting food to the rest of those in need. Without proper clearances, aid organizations run the risk of their trucks being bombed.
SHASHI DHARAN:
There's a long procedure of getting the clearances and informing the local authorities and the Security Belt Forces that our trucks are moving, and it needs to move in those specific times, because if it doesn't move in those specific times it could be at the wrong time at the wrong place or accidentally being attacked.
MARCIA BIGGS:
How tough is that red tape to get through?
SHASHI DHARAN:
Sometimes just to get couple of trucks it could take 5 -6 days of delay, delayed which means.
MARCIA BIGGS:
Delayed 5-6 days?
SHASHI DHARAN:
Yeah. So let's say the food was supposed to reach on the 10th, it is leaving from you on the 15th by the time it reaches to people, the end of the month the whole month they have gone hungry.
MARCIA BIGGS:
If you are delayed because the ship's out at sea, then you already start delayed.
SHASHI DHARAN:
Exactly.
MARCIA BIGGS:
So it's delay upon delay.
SHASHI DHARAN:
It's like a firefighting exercise on a daily basis.
MARCIA BIGGS:
A looming fuel crisis caused in part by the blockade also means trucks don't run consistently. The problem is that sometimes we don't have fuel, Mohamed Ali Saleh tells me. Sometimes I have to stop driving the truck for three or four days. Even during the fighting it wasn't this bad.
MARCIA BIGGS:
The final destination is a distribution site like this one just outside of Aden, where people wait in line all day to receive monthly rations. Ashwaq Saif says she walked two hours with painful kidney stones to get here to bring food home for her five children.
ASHWAQ SAIF:
My husband is a day laborer in construction and we can barely afford to have food for both lunch and dinner. If we waited for him to get off work to pick up the food, we wouldn't eat today. The food we are receiving is not enough. Once we run out, we have to buy little portions with small bills to get through the month. I had to borrow 500 riyal to hire a motorcycle to carry the food home for me.
MARCIA BIGGS:
She tied these two coins to her scarf so as not to lose them. She says it's all she has.
ASHWAQ SAIF:
We are very poor. If one of the kids gets sick, we can't afford to take him to the hospital.
MARCIA BIGGS:
Toumna Obaid is with Field Medical Foundation, a local organization funded by WFP.
MARCIA BIGGS:
Sugar lentils wheat and oil.
TOUMNA OBAID:
The most essential commodities to survive.
MARCIA BIGGS:
No fruit or vegetables.
TOUMNA OBAID:
No, unfortunately, this is what we can provide them for now, we are trying to save lives. More internally displaced people are coming because of the conflict on the borderline. And they are coming and asking for food assistance. Unfortunately, our resources is limited. So we only can provide a limited number. We cannot keep up.
MARCIA BIGGS:
And not everyone can make it to one of these sites. We joined doctors supported by Save the Children in Lahj Province, north of Aden, where they went to check on baby Abdullah, who's been malnourished for most of his short life. His mother Khatima and father Abdo Ahmed say they're poor, they can't afford food and medications. Abdullah's chubby cheeks mask stunted growth in his arms and legs and he's battling a chest infection.
MARCIA BIGGS:
So he has gained a pound in the last four weeks, but he's still tiny. This child is seven months old.
MARCIA BIGGS:
While any improvement is welcome, doctors are still concerned about his overall health. He's got a bad cough and he still looks malnourished. They measure his arms to check his status.
MARCIA BIGGS:
Severe acute malnutrition. A concept so commonplace in Yemen that it's known by its acronym. SAM. And back in Aden, we thought we might be witnessing little Malika's final hours.
MARCIA BIGGS:
"Are you worried this baby isn't going to make it?"
MARCIA BIGGS:
Her chance to survive is very low. It's a painful situation, we have been passing through this painful situation for years. We are losing lives. 12 Days after we left the hospital, we learned that Malika defied the odds and was stabilized enough to go back to the camp. But doctors tell me she's almost certain not to get enough food there to survive.
RELATED ISSUES