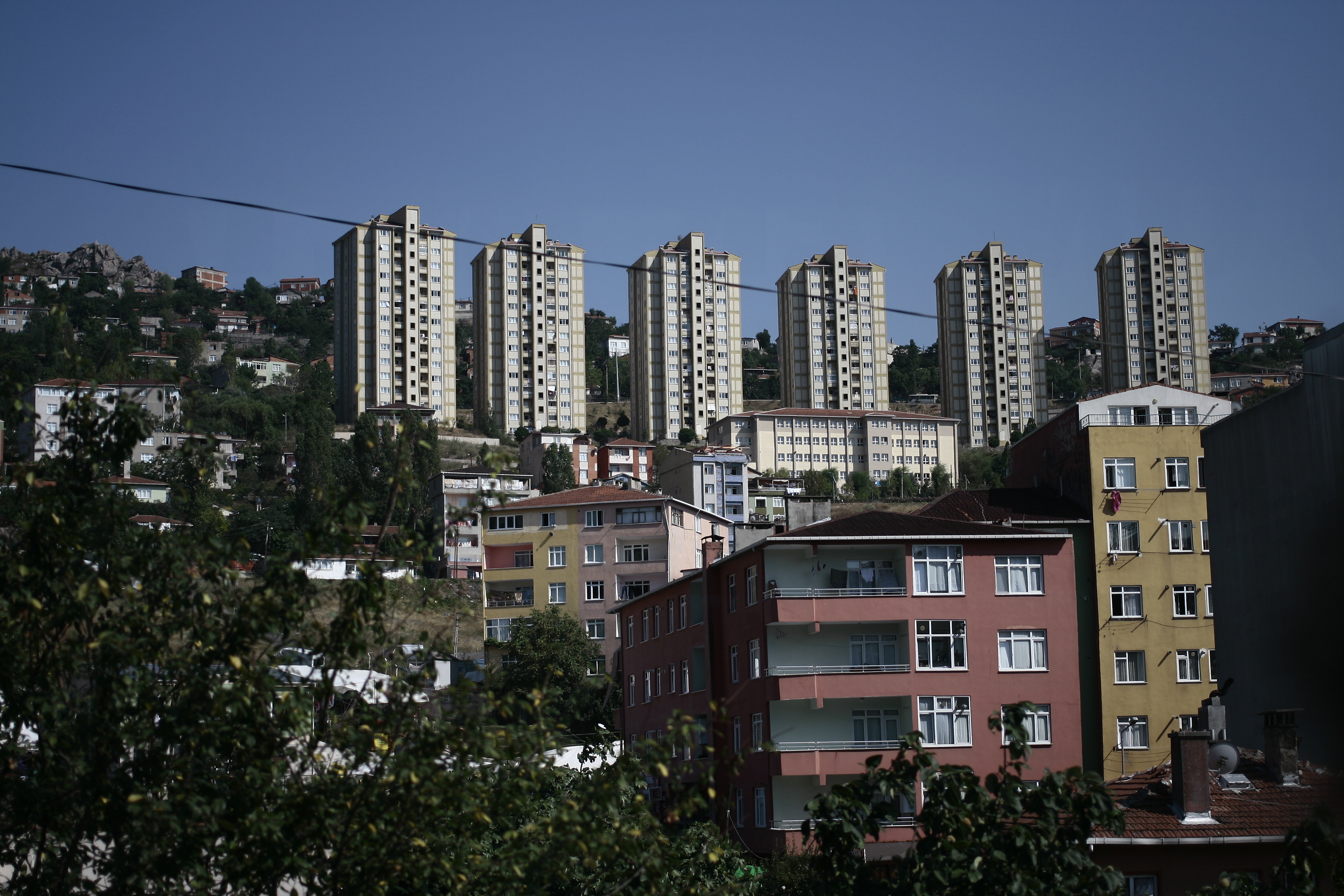 Başıbüyük offers a one-stop look at the polar differences that are seen in the city of Istanbul. From a single vantage point atop a hillside one can gaze upon shining new highrises and the rapidly disappearing settlements of a previous generation. Six towers stand tall in a clearing on the side of a hill surrounded by "gecekondu," illegal housing built by squatters on land they do not own.

With an informal sprawl surrounding government projects, two different user profiles emerge. In the towers a mix of past gecekondu owners and new renters live together while squatters live in the surrounding area. In the towers, a young banker is happy to show off the new apartment he is in the process of moving into. Meanwhile just outside an elderly gentleman sits to enjoy the prime view from his gecekondu and a refreshing afternoon breeze from the canyon.

When asked about their new homes in the TOKI (Housing Development Administration of Turkey) towers, Veysal, a young banker excited about moving into his new flat, said "I like my new apartment generally. It has two restrooms, two rooms and one living room. It has heat and sound insulation, two elevators, parking lot, uses natural gas to heat water and the house. Overall it is a good apartment, rent is affordable, clean water, natural gas, laminate flooring…"

Veysal's real estate agent, Ferdi, stated that in this particular set of TOKI developments the buildings are completely filled because people like them. He even said that if he could live there, he would.

Speaking with Yahal, a retired hospital worker and previous gecekondu owner, it was clear that the new housing was appreciated. Yahal is the proud owner of three flats in the towers. As he explains, the government offered him three in payment for his gecekondu, to be used for the development of luxury apartments in a nearby area. He said his new place is "safer, cleaner, better and the heating is cheaper."

These six TOKI towers are nestled on what was the only piece of open land in the old gecekondu developed area. From the towers' parking lot to the street, one can see six imposingly tall identical towers, cleared of vegetation, as well as low buildings, each with its own character and garden.

Here in the gecekondu the people grow their own vegetables and surround their houses with fruit trees. An elderly man and gecekondu builder remarked that he didn't like the TOKI towers that are right next door. He said that his family does not fit. This gecekondu builder explained that his garden is needed for his family as he has a large family. The garden was more than just a garden: it held family gatherings, weddings, and celebrations. TOKI construction would not allow for this.

Başıbüyük towers are just the first stage of this project. The next two stages include the creation of university housing below the towers and upper-class villas above them—in areas like the one where the gecekondu builder resides.

The gecekondu builder knows that his house will be demolished, but he says, so far "no offer has been made." He will continue to live in his house as long as he can.
RELATED ISSUES