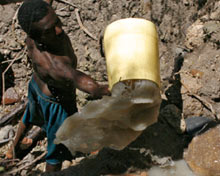 When Chala Ahmed won the U.S. visa lottery in the town of Haramaya in eastern Ethiopia, his first thought was to earn enough money in America to build his mother a home. The new house would be painted pink and sit behind a high white gate, and it would be built on the shores of Lake Haramaya, a nine-mile stretch of placid water that gave his hometown its name.
It took Ahmed, 26, almost eight years of long-haul trucking across the United States before his family's house was finished. He sent money home regularly, and relatives reported back on the progress.
Although Ahmed had been warned by friends and family that the lake was drying up, it was only last January that he traveled back to Ethiopia to see for himself how dramatically the landscape had changed.
RELATED ISSUES