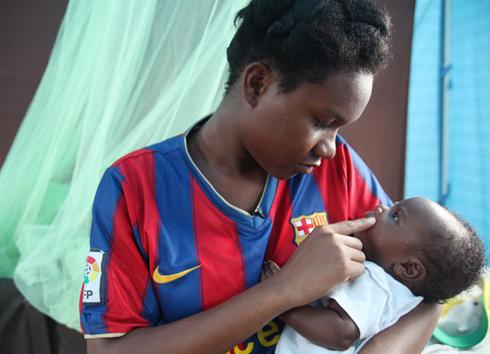 PORT-AU-PRINCE, Haiti — Living in a small blue tent at a sprawling camp for earthquake survivors, Venia Ellian says she sometimes looks down at her infant — his generous cheeks, tiny lips and small, dark eyes — and cries.
"The first time I looked into his eyes, it hurt," says Ellian, 22. "When I look at Richard, I remember the rape." Ellian was attacked two days after the Jan. 12 earthquake that left hundreds of thousands of Haitians homeless and living in camps to await the reconstruction of the shattered homes. She was dragged into an abandoned building where four men she did not know tied her up, beat her and raped her.

Afterward, Ellian staggered naked to a police station where she says an officer asked her why she hadn't screamed more during the attack, implying she hadn't done enough to stop the rape.

No one has been arrested in the case, and Ellian was forced to live in the camps after her father threw her out of the house when he saw that she was pregnant.

Rape was already a serious problem in Haiti even before the earthquake. The United Nations reported in 2008 that almost half of the girls and young women living in slums like Cité Soleil and Martissant had been raped.

Since the earthquake the situation for women has gotten even worse, rights groups say. Rapes have gone up threefold in Port-au-Prince, according to Refugees International, a Washington-based group. A report issued by the group this fall, "Haiti: Still Trapped in the Emergency Phase," detailed that the camps had become dangerous places for women. It alleged that the camps are guarded poorly if at all.

"Living in squalid, overcrowded camps for a prolonged period has led to aggravated levels of violence and appalling standards of living," the report states. "Despite these alarming conditions, the U.N. coordination system in Haiti is not prioritizing activities to protect people's rights."

Refugees International spokespersons say many of the camps had no police presence. The group said reports of gang rape were common. In some camps, security committees created to help camp residents watch over the camps were being run by members of a local gang.

Women and advocates say that the police typically ignore or shame women when they report attacks, so many rape victims choose not to. As a result, rapists typically go unpunished. Rape was not a crime in Haiti until 2005. Before then, it was characterized as a crime against a woman's honor to be resolved with financial compensation.

Amnesty International reported that prior to the earthquake the Haitian National Police had 12 investigators devoted to rape of minors — for a country of 10 million.

"The police will say that if it is a girl, she was raped because she was promiscuous and curious about sex; if it is a woman, it's because she was out late or dressed provocatively," says human rights attorney Jayne Fleming, who is also pro bono counsel in the San Francisco office of the law firm Reed Smith.

Patrick Clervoix, principal inspector for the Commissariat of Police of Port-au-Prince, works at the station opposite Champs de Mars, where Ellian went to report her rape. He says he and his officers treat every report of rape seriously and follow a particular procedure.

"In the case where women can identify someone, we can go on the ground and arrest that person. In the case where they cannot identify the rapist, we prepare a report and send the women to the hospital," Clervoix says. "The objective is for the hospital to collect evidence, and we can identify what happened, make a file and investigate."

The U.N. peacekeeping agency in Haiti, MINUSTAH, helps the Haitian National Police provide security at the camps and says things are getting better.

"MINUSTAH has provided exhaustive efforts to enhance security within Haiti by providing mobile patrols, foot patrols and static security throughout the country," U.N. Police spokesperson, Jean-François Vézina, says. "With the commitment from (the Haitian National Police), the security situation in the camps is improving."

However, Malya Villard-Appolon, co-founder of KOFAVIV, a grass-roots women's organization founded in 2004 by women who had been raped, says that MINUSTAH has not done enough and that the Haitian police are ineffective. Since January, KOFAVIV has recorded between one and six rapes every day in the capital, Villard-Appolon says.

"Reporting a rape to the police is a waste of time," she says. "Nothing will be done about it."

Going after their attackers is risky for women in Haiti, Fleming says. She says many of the few men who are arrested are released after a day or so and in some cases find their accuser and beat them. Fleming says a serious effort to prosecute rapists is the only way to end the epidemic.

"The attacker knows that if he goes to court and pays some money on the side, nothing will happen to him, and you, the victim, will find yourself in the situation where you have to flee for your life," Villard-Appolon says.

KOFAVIV searches the camps for rape victims, takes them to clinics, helps them file police reports and find lawyers. They also hand out flashlights and whistles to help keep away attackers.

But for Ellian, her biggest concern is keeping her and her son healthy and fed. On this day she is worried because Richard has a rash on his face. She cannot travel to a clinic because the roads are blocked by people protesting election results.

"To live here is to be in God's hands," Ellian says. "Every day is bad. The next day is worse."
RELATED ISSUES