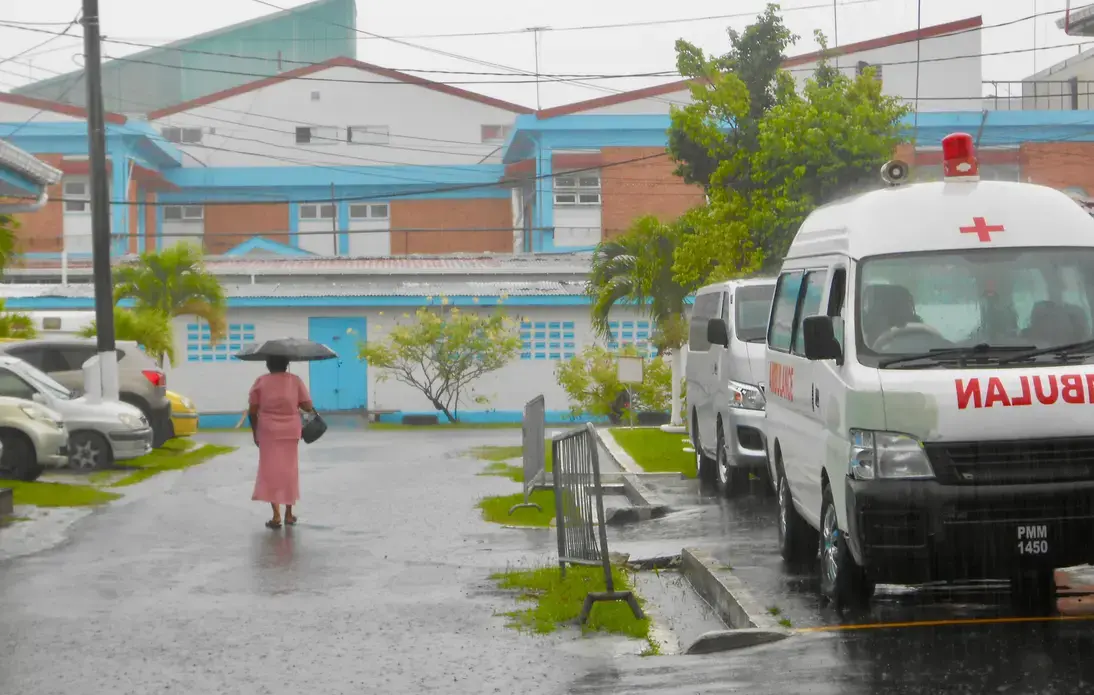 GEORGETOWN, GUYANA—At 10 a.m. on June 22, 2017, the Georgetown Public Hospital Psychiatric Ward was bustling. Inside, people waited on wooden benches lined up like church pews, fanning themselves from the heavy air and stifling violent, gurgling coughs. Every now and then, the clerical staff called out from behind their metal grates, breaching the low hum of conversation.
Outside, my colleague, Campbell Rawlins, and I joined the patients lined up tight to the wall, under a balcony that shielded us from the downpour creating an ankle-deep puddle several meters away. Like many of the others, we waited for 27-year-old Caitlin Vieira, one of 3 certified psychologists serving over 770,000 people in the small Caribbean country of Guyana.
While data regarding mental health needs in Guyana is limited, lawyer and mental health consultant Anthony Autar estimates at least a quarter of the population suffers from post-traumatic stress disorder. With one of the highest suicide rates in the world and stories of murder and domestic violence frequenting daily newspapers, he said, "They've been exposed to so many forms of alarming violent situations that just haven't been addressed in any point of their life."
For the few working to address those needs, there is a lot to do.
On that Thursday, Vieira greeted us and apologized for the wait. She explained that, despite appearances, the clinic was much quieter than usual—the rain kept people away.
But she had made it that day, and her morning was full.
She hosted sessions with 2 young men in their early 20s, both accompanied by family members concerned about their alcohol and drug use. She had the men list the benefits and the cons of their use of the substances. Neither wrote well, so she scribed for them. Under the "negatives" column, their nearly inaudible responses included vomiting blood, getting into fights, or spending too much money. The "positives" columns were much shorter. Vieira encouraged them to take home the sheets of paper and add to the lists.
During her next session, she performed a psychological evaluation on a handcuffed man in a bright yellow jumpsuit. Accused of murdering his employee, he had spent the last 24 years in prison. When Vieira asked the tattooed, gold-toothed, 53-year-old to draw a boy on one side of a piece of paper and a girl on the other, he sunk into his chair like a child who doesn't know the answer to his teacher's question. With his respectful demeanor and bashful smile, it was impossible to guess the truth about the innocence he claimed.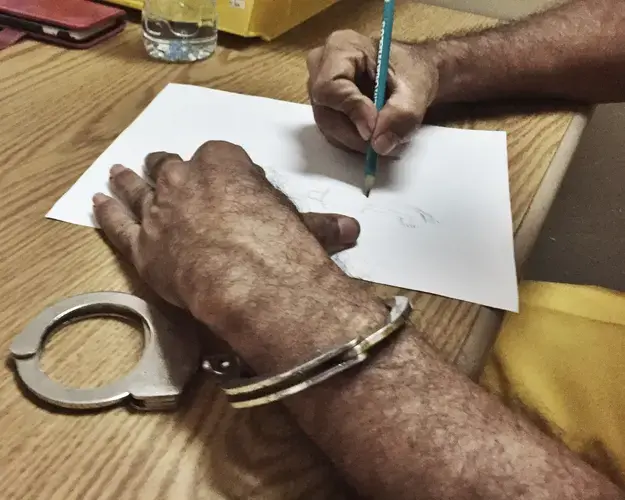 After leaving the public clinic, we stopped at Vieira's favorite curry restaurant before heading to the Woodlands Private Hospital where she hosts her private practice. Health care in Guyana is a public service, paid in large part by the government, but those who can afford insurance are able to get private care.
Later, despite the increasingly flooded roads, she drove us a half hour outside the capital to the Phoenix Recovery Project, where, according to Vieira, it's more difficult for the patients to escape and travel back to town. An inpatient rehabilitation facility, Phoenix is 1 of only 2 in the country—and the only one that allows women. Along with most of the employees or volunteers at Phoenix, director Clarence Young is recovering from drug addiction—over 25 years sober. To laughter and nods of understanding and support, Young and other leaders of the center regaled us with stories of addiction, relapse, and recovery.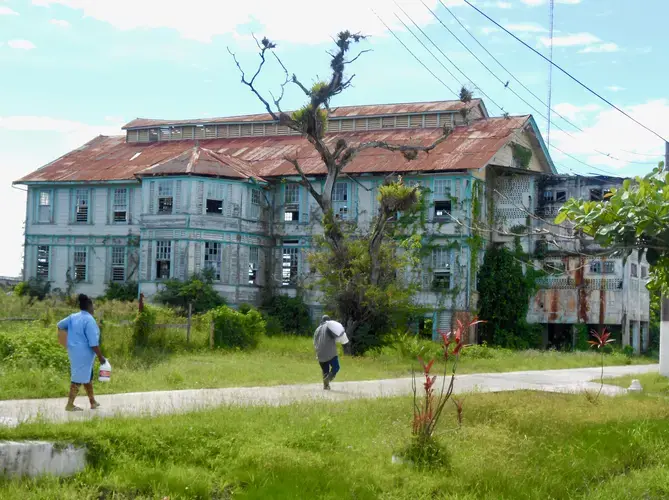 Upon leaving Phoenix, the rain had stopped, but it delayed the day's plan. Vieira apologized that she had to postpone our trip to the secret headquarters of the National Suicide Prevention Helpline, where she is a board member. Police Commissioner Seellal Persaud had started the program in 2015, and policewomen trained in social work field most of the calls. Defining the success of the program is complicated. An outdated law criminalizes suicide, and the police have full discretion over enforcement. Vieira refuted the claim to us, but ambiguity persists over the possibility that callers could be prosecuted for their own suicidality.
As one of the only clinically trained psychologists in Guyana, Vieira's skills are invaluable, as her busy schedule suggests. However, NGOs and volunteers are also working hard to improve mental health and tackle addiction in Guyana, and they have begun to offer counseling services to help fill gaps in need.
Balogun Osunbiyi, co-founder and president of the Guyana Psychological Association (GPA) and senior psychologist of the Ministry's Mental Health Unit, said these services are not enough. "While you have many NGOs, and they all mean well, they are more advocacy groups than intervention groups," he said. "They cannot perform clinical work. If we get more clinical personnel in these groups, they will have a tremendous impact."
The Ministry of Health, in collaboration with the GPA, has recently begun to emphasize the importance of psychology in Guyana. In 2015, they released a National Suicide Prevention Plan and a National Mental Health Action Plan to prioritize resources for and training of mental health professionals. In 2 years, a first wave of psychology students will graduate from the university's 4-year program.
In the meantime, Vieira and her few colleagues will continue to juggle their many roles as they work to address the countless mental health needs of their patients.
Madeline Bishop is pursuing an MPH from Boston University with certificates in Maternal & Child Health and Health Communication. She is also a writing fellow for the Public Health Post. The audio for this story was recorded as a part of Madeline's reporting for the Pulitzer Center.