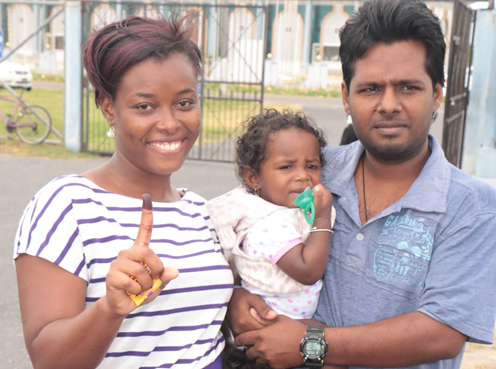 Three months ago, Guyana's new president, then the candidate of an opposition coalition hoping to unseat the country's ruling party, was saying goodbye to his host, who had arranged a sumptuous curry dinner for the politician with potential donors at a home in New York City. The middle-class professionals around the table, all of Indian origin, had warmly welcomed David Granger, a candidate with deep roots in a party long seen as representing the interests of African Guyanese.
That night in Queens, while courting the dollars and goodwill of the country's large diaspora in the United States, Granger joked more than once that Guyana was a country divided in two: between those in North America, and those in South America. The quip was a lighthearted allusion to another, deeper divide in this former outpost of the British empire, once worked by enslaved Africans then indentured Indians. Since independence half a century ago, elections in Guyana have essentially meant the triumph of one ethnic group over another, with the African-dominated People's National Congress enthroned for 26 years, followed by the Indian-dominated People's Progressive Party for 23.
Granger's host, a New York City school teacher, was urging the candidate to reach out aggressively to Indians in Guyana, so that they and the entire country might transcend a history of race-based politics that is profoundly personal. Granger deflected, gently. The campaign, he quietly told his host, was courting two potentially decisive demographic groups: indigenous and mixed-race people, each steadily rising both in number and in their share of the population.
Perhaps the most iconic image to emerge from the election last month, which unexpectedly produced a change in government, was a newspaper photograph of a radiant interracial couple outside a polling station, the beaming woman raising her purpled index finger to indicate that she had voted, her husband holding their baby daughter between them, together forming a human cul-de-sac for their other daughter to find shy shelter. The photograph was liked 2,000 times and shared more than 250 times on Facebook. A few other mixed couples posted their own pictures in the comments thread. Some online remarks were disparaging, but most hailed the family as a hopeful symbol of how persistent divisions between Indians and Africans might be healed.
The photograph provided a glimpse of how the personal might skew the political, instead of the other way around. In the run-up to the election, friendships across race had become tense and careful as the rhetoric at rallies and in television spots became overheated and as an underground whisper campaign fanned out. One rumor was that the Indian party would pay young African men to attack Indian women. Another suggested there would be a coup by the other side if the ruling party won. With the threat of violence, or at least its insinuation, in the air, the couple in the photograph suggested another option through their body language and their very existence. By providing a vivid, alternative picture of who constitutes family, they promised that race-based political appeals might soon see an end.
Ultimately, Granger's opposition coalition — with the People's National Congress at its head, but including smaller multi-racial parties led by formidable, experienced political leaders of Indian origin — won the election with a razor-thin majority but, overall, racial patterns of voting held. The People's Progressive Party again took rural regions populated mostly by Indians, and the coalition again took urban areas where Africans predominate.
Indians have constituted the largest ethnic group in the country since before independence, and the PPP's mantra has always been that, as a result, it could never lose free and fair elections. It is, more than incidentally, standing by that assertion and alleging that its loss last month was due to fraud, contradicting certifications from international observer groups including the Carter Center, which oversaw its victory in the country's first clean election in 1992. Those contests the PPP had lost in the past, it had lost because the U.S. and Britain intervened or because the other party, the PNC, had rigged. The PPP had learned the hard way that demographics was not necessarily political destiny.
In 1973, a year in which ballot boxes were stolen by the army, then-President Forbes Burnham confided to the American writer and actor Julian Mayfield that he saw migration as a means to tilt the country's ethnic balance and thus determine which party (and which ethnic group) held power. Mayfield, a government information officer, was hired to sell Guyana — at the time the only Black-led nation where Blacks were a minority — as a haven for African-Americans fleeing racism at home, partly by placing flattering articles in American publications. As Burnham nursed a Scotch-and-water and watched hired Indian hands catch tilapia at his farm one day in 1973, Mayfield scribbled handwritten notes detailing the PNC leader's thoughts on that year's elections.
"I will not leave my successor with the problem of an Indian majority," Burnham said. Then, he boasted: "Do you think a leader of my calibre does not take the question of immigration seriously?" It's unclear from the notes, held at the Schomburg Center for Research in Black Culture in Harlem, whether Burnham meant to end the Indian majority by attracting black Americans, by driving out Guyanese Indians or by a combination of the two. Even while rigging, the man who led the PNC from the 1950s until his death in 1985 was thinking strategically about how he might change the country's racial make-up.
It has changed, but in ways he perhaps did not imagine. There was indeed an exodus by Guyanese of all backgrounds, which continued after his regime ended, and the Indian population did see the steepest decline. From 1980 to 2002, Guyana's African population stayed relatively stable at 230,000 or roughly 30% of the population, while the population of the country as a whole stagnated at roughly three-quarters of a million people. In the same time period, the Indian population fell by about 70,000, from 52% to 43.5 % of the country. Meanwhile, the mixed-race population grew by 40,000 people, from 11.2% to 16.7% of the population. Most of that growth took place in the 1990s. The ethnic breakdown from the 2012 census has not yet been released.
Any discussion of demographics is about race, and it's about migration — but if not stifled by taboo, it's also about that most unpredictable of variables, for the political scientist or anyone else: love, which causes people to cross in their daily lives the fault lines that history has created and that elections here enunciate. With the May 2015 contest decided by only 4,500 votes, it may have hinged on an elusive, hard-to-map group: interracial couples and their mixed-race children.