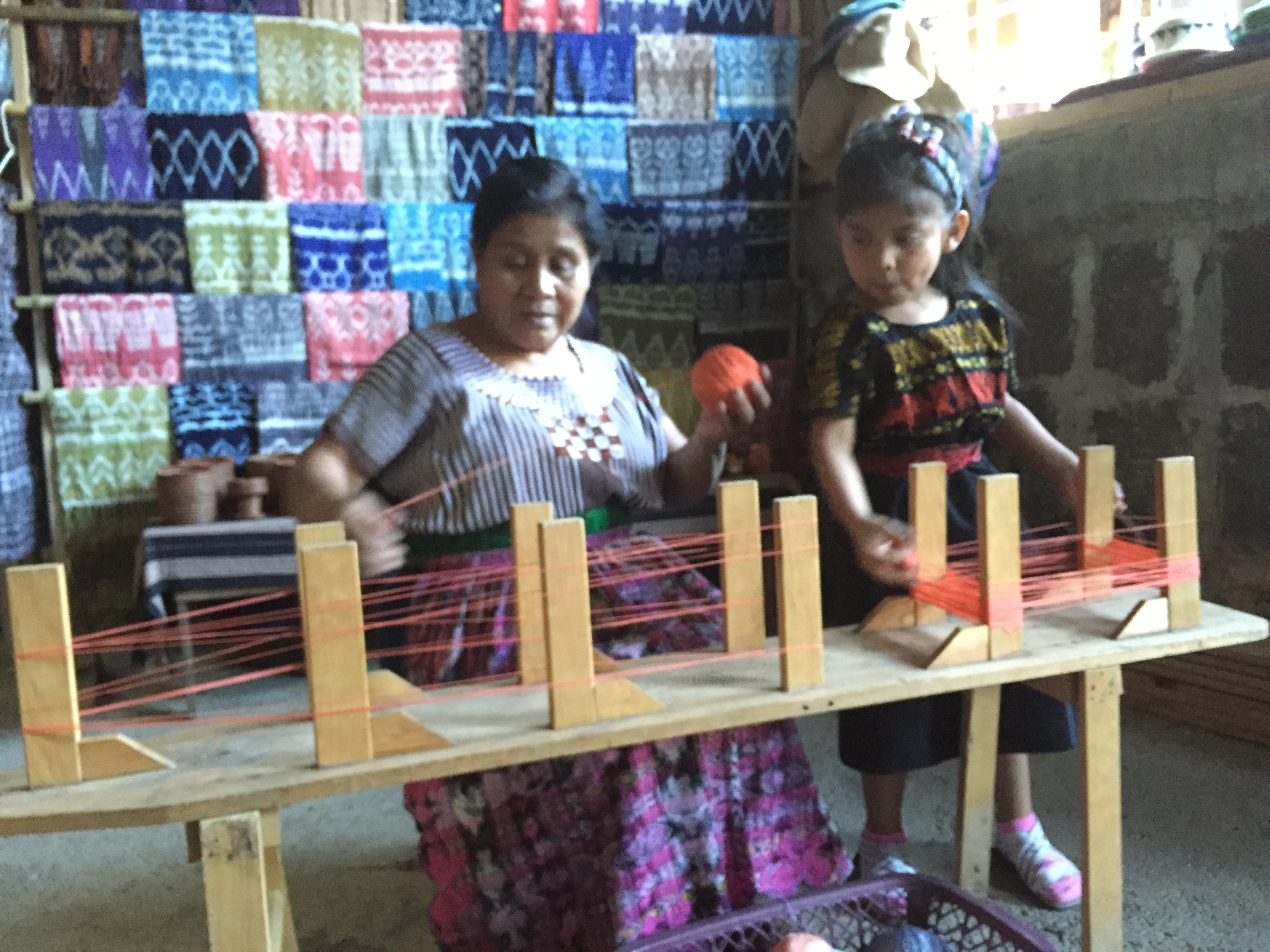 SAN JUAN LA LAGUNA, Guatemala—Almost every day of the week Elena Yojcom can be found in her shop on the main street in this lakeside town. It's filled with scarves, blankets, bags and other hand woven items of all colors.

At the front of the store sat her daughter who was weaving another scarf. Running around the store was her 6-year-old granddaughter. She has already learned some of the basics of weaving. In just two years she will be the same age Yojcom was when she learned to weave.

"My mom taught me because when one reaches 8 years old, one has to learn how to weave. This is work from our ancestry," said Yojcom who is part of an indigenous Maya family.

It's traditional for Maya women to learn the art of weaving from a very young age. It has proven even more important for Yojcom. When she was in school her parents became sick and couldn't afford to pay for her studies. But she credits her success today to her mom teaching her weaving.

"I didn't study, but thank God for the work that my mom taught me, because due to that I can sustain myself," she said.

When she was a child she would have to climb up the mountain and sell her products to people in other towns overlooking Lake Atitlan. This was the case for many weavers like Yojcom until about ten years ago.

"A few years ago, like a decade ago, San Juan la Laguna didn't have any tourism," said Olga Alvarez, an administrator at the town's tourism agency. "It was a normal town without tourism, without anything."

Then tourism began to alter some of the indigenous traditions. Tourists used to go from house to house looking for hand-woven items, Yojcom said. Now tourists look for shops and that is why she rents out her current space.

Yojcom is the owner of an organization made up of 15 other women who are also weavers. They all sell their items in Yojcom's store. When one of them or their children falls ill, the others are there for support, said Yojcom.

"This work helps us," Yojcom said. "When the tourists come and they buy our products, this really helps the women from San Juan la Laguna."

Traditional weaving is not the only industry the tourism is helping. As the number and size of fish being caught in San Juan la Laguna is decreasing, it's becoming more difficult for fishermen to make a living.

Indigenous fishermen use cayucos, traditional wooden boats shaped like canoes. The town's tourism agency has partnered with an association of fishermen to help them earn some more income. The agency pairs tourists with local indigenous fishermen, Alvarez said.

The fishermen enjoy the company of the tourists. "They always chat with them when we go fishing," said Bernadino Bizarro, president of the association.

Like Yojcom, he has been doing this type of work since a very young age. He began fishing from the shore, and when he was 15, his dad bought him a cayuco so that he could fish on the lake.

Back then in the 1970s there were a lot of fish, he said. But now things are much different.

"There haven't been many fish for a long time," said Bernadino. He is hoping for more tourists so at least he can still make money by bringing them out in the cayucos.

Alvarez has witnessed how each industry has changed. She described what the weavers used to do.

"They had to go to other communities to sell their products," she said. Now, the tourists come to look for them."

But she also noted how fishermen have been hurt.

"Tourism brings economic and educational development," said Pedro Mendoza who used to work with the tourism agency and now works for the town. "It brings a lot of positive things."

An economic value cannot be put on one of the elements Mendoza discussed. Yojcom regularly teaches tourists about the many steps that go into making her textiles from the dyeing to the hatching and finally to the weaving. Bizarro takes tourists to his cayuco before the sun rises. Then he teaches them how to fish traditionally, only with a line, hook, and bait, without a fishing rod. Alvarez mentioned how many tourists also stay in homes with indigenous families to learn how to cook and speak the native language.

All of this leads to what Mendoza called "a positive clash of culture."