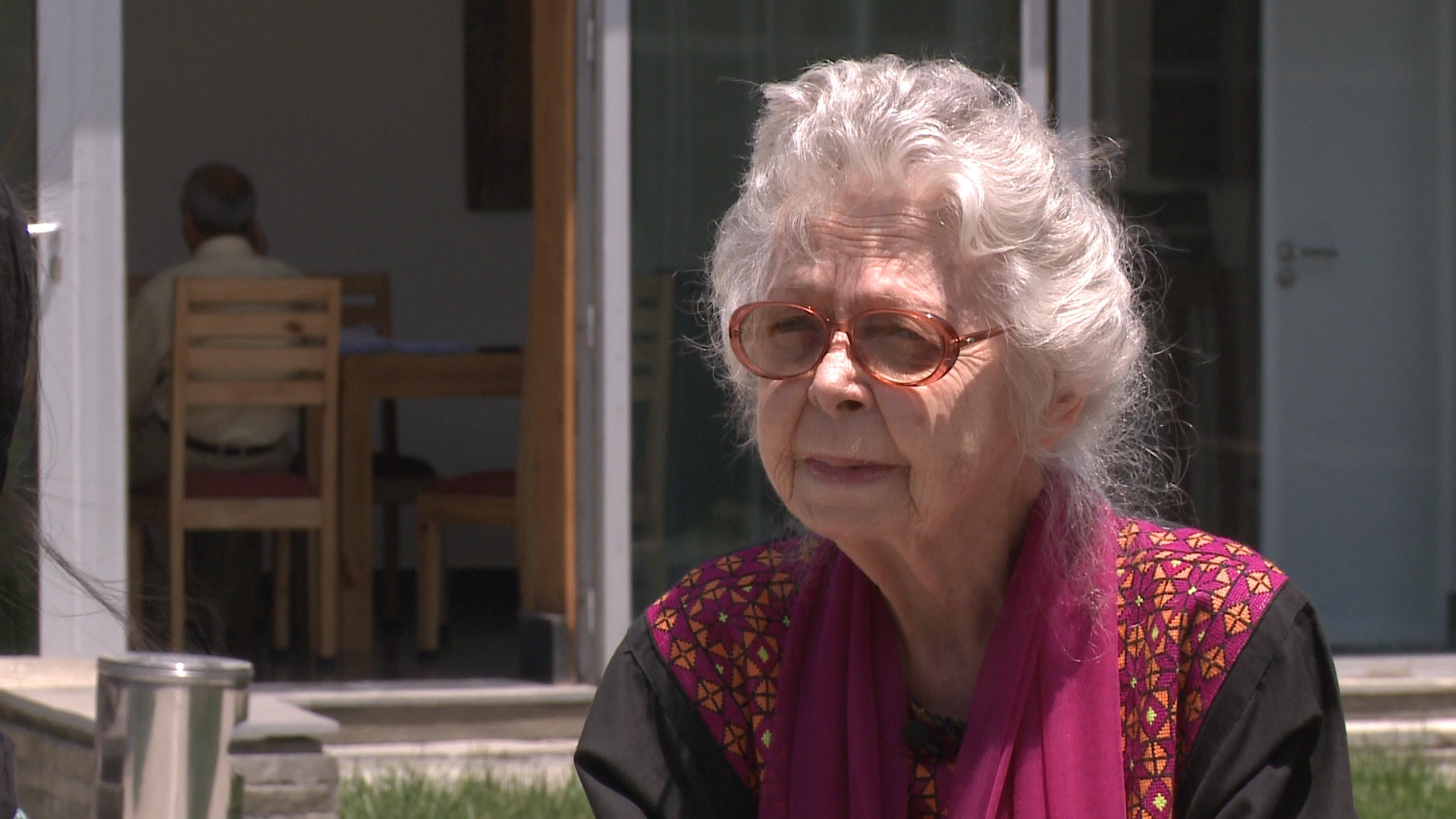 She doesn't mind being called the Grandmother of Afghanistan. Except that Nancy Hatch Dupree is neither a grandmother nor an Afghan. Rather, the term comes from the years she has spent in a country she's seen both at its best and its wartime worst.

How did a 90-year-old American end up making Kabul her home? Her answer sounds simple: "Because I fell in love here." But when you discover the details, from an era when Afghanistan was open and welcoming, you soon realize that nothing in her long life was ever simple. A love affair; marriage in an old Afghan palace; a job with the Afghan tourist board. For a while it was all wonderful and fun. "I had a very, very happy time here," she told me. "So now, the Afghans have been facing difficulties, and I feel if there's anything I can do to help, I should not abandon them. I should stay here."

She arrived in 1962 as the wife of an American diplomat. She met and fell scandalously in love with Louis Dupree, an archaeologist and ethnographer. (The scandal deepened when their spouses ended up marrying each other.) She accompanied him in his travels across Afghanistan, writing a series of guide books about her adopted country. But Nancy and Louis would be forced to leave in the 1970s, when the Soviets took control.

The couple fled to Peshawar, where they started working with the many refugees who had left Afghanistan. That is where they started collecting numerous documents — today some of the only surviving copies of various surveys and reports and newspapers by the many warring factions of the day, including the Taliban Times.

Louis died in 1989, and Nancy returned to Kabul several years later, smuggling the documents back across the Khyber Pass in big fertilizer sacks. They needed a home. Nancy convinced Kabul University and the Afghan government to help build the Afghan Centre, a bright and modern building set inside the campus; the final design was partly hers.

"This facility," she says, sitting in the sunny courtyard, "was designed by a committee of three Afghan architects and one Canadian." Her role was almost incidental, but proved to be luminous. "One of the Afghans said, 'What kind of a building do you want?' So I said, give me light. So, as you can see, we have lots of light. And that was the subject of much teasing, because at the end, I said I would like the building to have a sense of soaring towards the future, so even now, people say, that's Nancy soaring."

The new Afghan Centre houses important information from Afghan history. It is an accomplishment — and legacy — Dupree worked hard to build and is extremely proud of.

"I'm convinced if you give them access to the knowledge, they can choose what they think is useful for them. They can practice it themselves, without becoming dependent on outsiders because this is one of the things I worry about."

Now that it is complete, Dupree wonders about her own future in Afghanistan. She feels the need to stay — her attachment to the country is undeniable. But she also recognizes the limitations of her age and wonders whether it might be best to leave it to Afghans themselves to finish her work. Asked if she believes the country is ready to take over responsibility for its own future, her steely blue eyes flash with hope. "I'm not one of the doom and gloom people," she says, almost defiantly. "Let the Afghans do it their way. It may not be — the end result — may not be what you want; it may not be what I want, but it's Afghan. So let them do it."