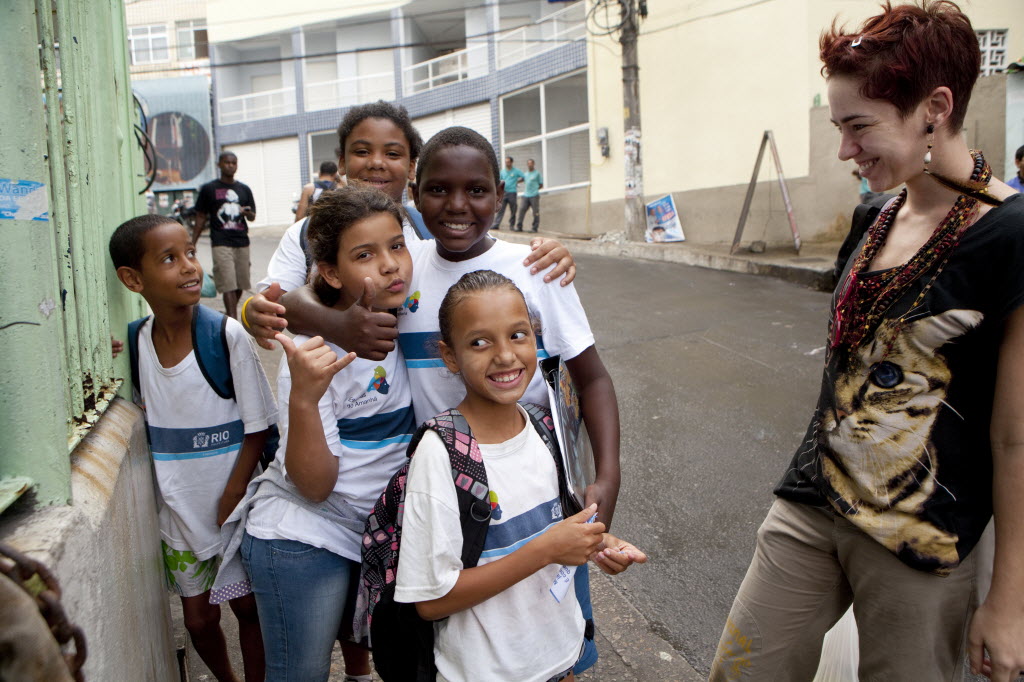 Tatiana Coelho quit her job in Porto, Portugal last year working as a producer at a concert venue. She sold all of her belongings and relocated to Rio de Janeiro to try a new life as an artist, experimenting in various media – especially photography. But it was not the beaches of Ipanema or Copacabana that she could afford. Instead she moved to the foot of a favela, the name that hillside slums are given in Rio de Janeiro.

On a recent lazy Friday, Ms. Coelho walks up the steep incline that winds through the cheerfully gentrifying collection of simple one- and two-bedroom homes now seen as real estate diamonds in the rough. Only a few years ago this was a dangerous, dirty shantytown. Today, she greets the hotdog vendor. The fruit seller hands her a banana. She hugs a small child in school uniform whom she met at the community center where she practices capoeira, a Brazilian martial art.

"There is more humanity here," she says of the community, called Vidigal. "It is less superficial. This is where, if you need money for the bus, someone will give it to you."

Coelho is not alone. She estimates that some 50 other foreigners, all European, call the favela home: French, British, Hungarian, German, and Portuguese.

As Brazil's economy remains in growth mode, albeit sluggish in the past year, and at a time when Europe is mired in crisis, the numbers of foreigners living in Brazil jumped by more than 50 percent between 2010 and April of 2012. Many of them choose to live in the more typical expat enclaves of Ipanema or pricey Leblon. But as prices rise across the city – Raquel Rolnik, the special rapporteur on adequate housing for the UN, says Rio rents have gone up by 165 percent in the past three years – favelas have become new, even hip, alternative.

Andre Koller, a graphic designer from Germany, says he got priced out of Leblon, where he lived in "a small place looking at a garage." Now he has an entire house on the hillside of Vidigal with an unobstructed Atlantic view for less than half the price of his former home.

Portuguese architect Rute Honrado first moved to Leblon and then to the cheaper Copacabana before moving to Vidigal, where she rents a room in a house with other Portuguese transplants. She and Coelho had lunch on a recent day at Coelho's home before moving to an outdoor café at the base of Vidigal. Ms. Honrado, who arrived in February from Lisbon, said there was no work at home: of the three firms she worked for previously back home, two shut down and one massively downsized. But just five days after arriving in Rio, she got a job working in interior design. Today she does freelance architecture projects as she awaits a work visa and, hopefully, a contract.

"In Portugal, everyone is in a bad mood. There is so much pessimism," she says. "Here, even in this favela where the people are so poor and have nothing, everyone is so optimistic, so happy. This is where my heart is."

So far, the original Brazilian residents of Vidigal, like Douglas Calixto, say they are happy with the artists, architects, graphic designers, and hair stylists that have moved in to a place that once, and still does in some circles, carry a heavy stigma. "The foreigners are polite and respectful," says Mr. Calixto, a dance teacher. But many worry that gentrification will price them out of their homes.

As Brazil prepares to host the World Cup in 2014 and the Olympic Games two years later – two things drawing many foreigners to Brazil in the first place – the favelas are being upgraded. Special battalions, called Pacifying Police Units, or UPPs, have been dispatched to two dozen favelas to root out drug trafficking, bringing down crime rates. At the same time, under city, state, and federal initiatives, new cable cars and libraries dot the hillsides that rise as a dramatic backdrop over the beaches.

That is making favelas more livable not only to residents but also to outsiders. Honrado says she feels safer in Vidigal than any of the tourist parts of the city.

Coelho admits that it took her three weeks after moving to Rio to admit to her mother where exactly she was living. "But all you have to do is open my window to understand," she says.