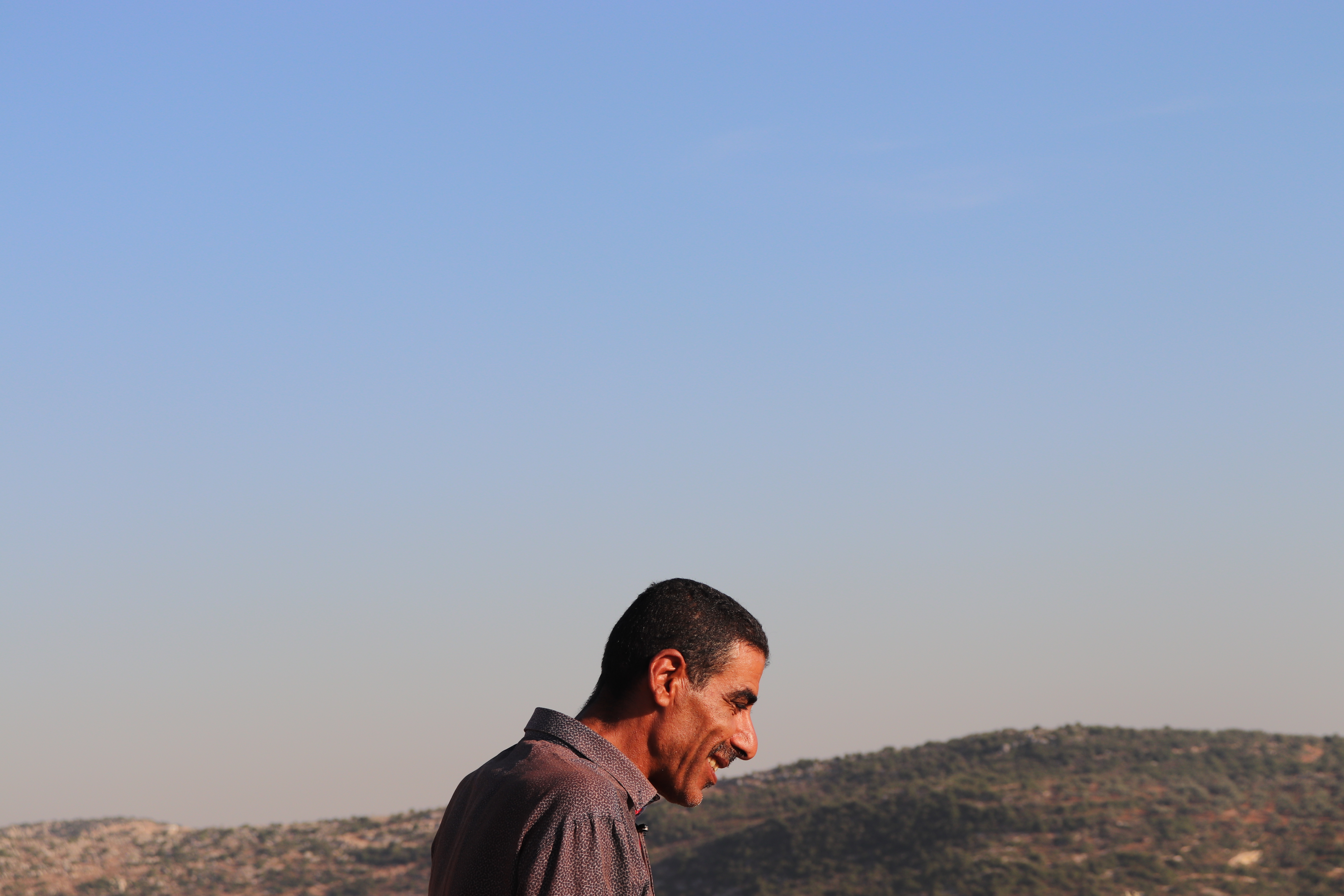 The shrill crows of roosters pierce the quiet, calm of dusk to wake Doha. She steps out of bed, and dresses in the Palestinian thobe—a traditional embroidered dress—to begin morning tasks. Feed chickens, water crops, and prepare breakfast for her husband and daughter. The 60-year-old woman has lived in this house her entire life, and she's cared for this land for nearly as long. Her hands are calloused, and her face is leathery from the sun, but she never grows tired of the work required of a farmer. In fact, it reinvigorates her, she says.
This May morning, as the sun rises over Burin, a West Bank village just east of Nablus, smoke climbs along with it. When Doha catches a glimpse of the plumes through the window, she panics. Because her house is tucked into the side of a mountain, she can't see where the fire's burning. She runs up the stairs to her roof for a vantage point of the valley. Across Route 60, the main highway through the West Bank, orange flames ravage her olive groves. Thousands of trees burning to the ground. The olive harvest every October provides the bulk of her modest income.
"I could only sit, watch and cry as all my trees burned," she recalls as she replays the cellphone video she recorded of the morning's devastation.
The fields are around 400 meters from the center of Burin, and her family has owned them since prior to the founding of Israel in 1948. Doha says she still has the papers. However, in the 1980s, the growth of Israeli settlements in the West Bank accelerated, and Yitzhar, next door to Burin, swallowed her land.
Doha, who asked that we not use her last name, can't access this property freely. Israeli military and armed settlers guard it. She's allowed to enter for two to three days annually during harvest season. Even then, she must coordinate with the Israeli Civil Administration, and she's been subject to harassment and stone throwing from settlers during those pre-approved visits.
This tragic scene is familiar to thousands of Palestinian families. In the name of security, Israel systematically removes them from the land and erases their historic rootedness to this geographic place. For Palestinians, food and agriculture are not merely a pastime; they are a way of life. Without it, they're rendered powerless economically, voiceless politically and devoid of their own cultural legacy. Yet that's exactly why a sovereign and self-supporting food system is an early target of the Israel.
The Israeli occupation has transformed the Palestinian food system, converting it from a producer society to a consumer society, according to multiple West Bank residents. A tangled web of laws makes it difficult to sell crops or products like tahini for prices high enough to function as a sustainable income, and settlements continue to encroach upon Palestinian villages, seizing arable land and restricting access to crucial natural resources like water. Food is the first frontier of this conflict, and the Palestinian right to produce, sell and eat local food is a barometer for the future viability of the resistance movement.
Fertile Crescent Origins
Overwhelmingly, the history of the Palestinian people is an agricultural one. The land between the Mediterranean Sea and the Jordan River—where modern day Israel and Palestine sit—comprised a significant swath of the Fertile Crescent. It's where historians believe the first farming societies started, supported by the mild climate and productive soil close to water. People innovated with crop variety and farming techniques to feed themselves and the world.
This relationship to and respect for the land remains stalwart in the Palestinian identity. "The land is something very sacred to us. It's our soul and our heritage," says Mohammed Fokha, a farmer in Tubas, about 14 miles north of Nablus. The village once covered a sprawling 2,000 acres, used predominantly for a diverse array of crops like spinach, watermelon, and peppers. But the sprawl of the nearby Israeli settlement has impinged on much of that acreage, eating up valuable resources along with it. Many Tubas residents have ultimately abandoned property because they can no longer live off their land, Fokha says.
The fate of Tubas is emblematic of the broader war waged on the legitimacy of the Palestinian people's claim to this land and their ability to sustain themselves through its bounty. Families like Doha's have lived in the same towns, often on the same plots, for generations. "My olive trees are older than anyone who is alive today," she says. Once more self-sufficient, Palestine currently depends on Israel and other countries to function. It imported approximately $840 million worth of goods in 2017, exporting only $95 million worth, according to findings from the Massachusetts Institute of Technology. It received $2.1 billion in official development assistance, the World Bank found. (The Trump Administration has significantly cut aid to the West Bank and Gaza). This subsidiary status stems directly from the agreements alleged at creating peace—the Oslo Accords and the Paris Protocol.
The Impact of International Agreements
Prior to Oslo I Accords in 1993, Palestinians and Israelis could move fairly freely across borders between Israel and Gaza and the West Bank, respectively. With that freedom of movement came access to one another's markets and the exchange of goods and labor. The Oslo Accords introduced strict division between the two, though it stopped short at declaring Palestinian statehood, and it divided the West Bank into three zones—Areas A, B and C—with different governance of each. Areas A and B were handed to the Palestinian Authority while Area C, about 60 percent of the West Bank, was left subject to Israeli military and civil authority. This was supposed to last for the following five years while the peace process continued, but talks ended with the Second Intifada. Palestinians from the West Bank and Gaza could no longer enter Israel to work or sell their goods without receiving special permission, a process that has continued to get harder. A World Bank report from 2016 estimates that allowing Palestinians equal access to Area C would increase GDP by one third.
The next year, the two governments signed the Paris Protocol to regulate economic interaction. The agreement hamstrung any hopes at Palestinian economic development, all but guaranteeing it would become dependent on Israel. It gave Israel full control of borders and put the sole customs clearinghouse under its jurisdiction. Goods entering and exiting Palestine remain subjected to Israeli taxes. Palestinian exports are heavily taxed while Israeli goods enter Palestine freely. Israeli goods, especially produce and food-related products like tahini and olive oil, flood the market with alternatives cheaper than local options.
What's transpired as a result is the dramatic transformation of Palestine, says Raya Ziada, who founded an acroecology nonprofit based in Ramallah. "We depend on other people, whether that's Israel or international aid, and we have to follow other people's direction on producing food."
Raya and others argue this is a deliberate act by the Israelis to handicap opposition to the occupation.
"Food Is One of the Easiest Ways to Control a Nation"
For centuries, food has been the basis of Palestinian subsistence. The reversal threatens their very livelihood. "Food is one of the easiest ways to control a nation," Ziada says. "The freedom to produce our own food, the food that's natural and endemic to our lands, is not a privilege in our case. It's an absolute must."
Raya started Manjala in 2016 to re-introduce city dwellers in Ramallah to endemic agriculture and food. She advocates for farmers, organizes workshops on traditional practices or native plants and restores green space around Ramallah. As a progressive, non-religious millennial woman, she stands out even in the West Bank's most liberal city. She keeps her hair in a pixie cut, and she covers her tank tops with a patchwork denim vest. Her often-bare arms display a lineup of tattoos.
The freedom to grow the same food that's been cultivated in Palestine for thousands of years isn't just part of how Ziada views the conflict. It's central to it. "I feel this is the most concrete solution to the occupation," she says. She uses the example of olive trees and za'tar—two icons of Palestinian national identity—to illustrate its significance. Both are under siege by Israel. B'tselem, an Israeli human rights organization, estimates settlers burn thousands of trees on Palestinian properties every year, and an Israeli law forbids harvesting wild za'tar.
"Taking away access to [these plants] doesn't just debilitate our economy and compromise what we eat. It's symbolic," she says.
But achieving food sovereignty—feeding the whole of Palestine on items produced locally and indigenous crops—is more than aspirational. It's a direct extension of the broader Israeli-Palestinian conflict.
The Slow Dissolution of Palestinian Farms
Doha's house in Burin is unassuming, but surrounded by majestic views of the neighboring valley. Most of this belonged to her family before 1948, she says. Palestinians call this year the nakba, the catastrophe, to commemorate when 700,000 people fled their homes for fear of Israeli persecution.
She stands on a porch adjacent to the living room and points toward a hilltop, roughly a half-mile away. She says it's filled with fields of sage and wild za'tar that she would harvest and use to season her taboun bread—a flatbread cooked in a wood-fired oven over rocks to create divots to catch spices—until the passage of the Israeli law in 1977. There's also a fresh water spring. But the settlement over the hill relegates her to the outskirts of her property, unable to gather herbs or collect water. "Sometimes, I stand at the fence and talk to the land. I tell it they won't be here forever. It's like visiting a relative," she says.
At five-feet tall, Doha's diminutive, though her quick wit and easy smile command attention. Her usual buoyant and cheery tenor changes when she talks about the lost land. The light in her eyes dims slightly, and her mood turns somber, maybe even a little dark as she reflects on the intractability of the conflict. "This is our destiny, to be here," she says. "We're in a continuous struggle."
A crucial part of Israel's campaign to uproot Palestinians in the West Bank is methodical land grab. Settlements started cropping up after the Six Day War in 1967, when Israel's decisive victory pushed the original state borders further into the West Bank. These sprawling communities aren't erected on vacant property; they're built on land seized or stolen from the Palestinians, buttressed by a complex system of laws that protects the contractors and settlers alike from most retaliatory legal action. Among other ways, Israel can expropriate land if it's not officially registered to a Palestinian, a process rarely used during the Ottoman Empire and British Mandate; if it's deemed "absentee," which usually happens when people are forcibly kept from it by government or police; or if it's considered necessary for military use.
Though censured and deemed illegal by the United Nations in 2016 (the United States abstained from the vote), settlements have continued to expand, eating up water, crops, and existing homes as they go. There are over 628,000 Israeli settlers living in the West Bank, according to estimates from Human Rights Watch. In July 2019, Prime Minister Benjamin Netanyahu, in the middle of a heated re-election bid, said he wouldn't allow for the uprooting of any West Bank settlements as part of a larger peace plan.
Surrounded by Settlements
Muhab Al Alami knows intimately the impact of having settlers for neighbors. He's the co-founder and co-owner of Om Sleiman Farm, the first community supported agriculture model in Palestine. The two-acre organic farm is nestled on top of a hill in Bilin, about 45-minutes from Ramallah. Rows of fruits, vegetables and native trees, many of which have otherwise been extricated from the West Bank, line the ground, each labeled with a colorful hand-painted sign on wooden slabs.
The description evokes an idyllic scene, but the juxtaposition of the farm with its immediate backdrop shatters any suggestion of peace. Less than a football field's distance away towers the Separation Barrier, a contiguous line of concrete blocks adorned with barbed wire. Israel built it throughout Area C during the Second Intifada to protect against suicide bombers and terrorists. It did decrease violence. It also overtook 60 percent of Bilin, even prolonged protests lobbied Israel to move plans for the wall back 100-meters.
Al Alami drives past the wall every day, a fresh reminder of the occupation and the way it threatens his survival. One Friday in July, three Palestinian demonstrators gather to voice their dissent. They throw rocks, chant and start a small brush fire before three soldiers climb into the watchtower and demand they leave. This is ultimately a fight about land, Al Alami says, and how it's been changed to deliberately exclude the Palestinians. "They're artificially imposing crops that have never grown here and using techniques that change the soil forever, so we can no longer do what we've done for hundreds of years," he says.
Pricing Palestinians out of the Market
The formidable physical barrier isn't the only obstacle to Palestinians securing food sovereignty.
On a hot summer morning in East Jerusalem, the Muslim Quarter of the Old City hums with the sound of the souk. Money changes hands. Prices are bartered. Merchants cajole passerby to stop at their stall. Most vendors line the flanks of the narrow, cobblestone streets. They stand behind curated displays of boxed vegetables and fruits. While the vendors themselves are Palestinians, many are selling Israeli produce. The items are stored in boxes with Hebrew labels.
The Israeli government considers East Jerusalem part of Israel, though those born there don't receive automatic Israeli citizenship and this status hasn't been recognized internationally. Israel has free access to its market, where it pushes tariff-free Israeli goods. Meanwhile, produce brought from the West Bank, the source of the vast majority of Palestinian agriculture, is levied with high taxes and requires the arduous and rarely green-lighted process of applying for a permit to cross the border. One report from the United Nations estimated it costs twice as much for Palestinians to do business here.
"There's great tension between resistance and survival," Izzeldin Bukhari says. He's the founder of Sacred Cuisine, a Jerusalem-based company that organizes activities around food as defiance. Bukhari details the emergent brokerage system, a cottage industry borne out of how cost prohibitive it is to sell Palestinian produce. An Israeli farmer will sell in mass quantities for very low prices to a Palestinian middleman, who then takes a cut and sells to the soukvendor. Israel has better technology, access to the most fertile land and the ability to modify its crops, he says, so their options usually look brighter, bigger and prettier in the market.
The task of selling Palestinian goods often falls on those who have no other way to make a living. Under Israeli law, women over the age of 50 are allowed to enter Jerusalem from the West Bank without a permit. Older women from remote, agrarian villages travel hours by bus daily to bring eggplants, cucumbers, prickly pears and other items to the market. They usually don't have permission from Israel to vend. Rather than occupy a stall, they sit on the hard, stone floor and form a straight line down the middle of the market's main aisle. Wearing hijab, they spend eight hours a day in hot summer sun, hoping to make a handful of sales. ir offerings look small, misshapen and even a little dirty compared to the perfectly fashioned Israeli counterparts sold steps away. "It perpetuates the narrative that Palestine is inferior to Israel, and that we need them to survive," Bukhari says.
Tahini: A Palestinian Cultural Icon
There are some things, though, that are tacitly understood to be better in Palestine. In Middle Eastern countries, tahini isn't just a staple ingredient in the cuisine, it's a defining element of national identity. Palestinian tahini is salty enough to drizzle, nutty enough to eat plain and creamy enough to spread. Nothing like the bitter, gritty alternative found in the United States. Consistent high quality comes from the unwavering commitment of tahini producers to sticking to the original, labor-intensive process. "This is hard work, old work, but it's important work. We've been doing the same thing for hundreds of years," one tahini factory worker says as he roasts seeds over a flame.
Tahini starts with raw sesame seeds. They're soaked in saltwater before some are shelled, others toasted, and some left raw depending on the variety of tahini desired. Kosher tahini—a prerequisite certification from the Israeli Rabbinate to be sold in most Israeli markets—requires unshelled and untoasted. Palestinians usually shell seeds, giving their tahini a slightly darker hue. Then, they're ground to pulp in centuries old-millstone, creating remarkably smooth consistency characteristic of Palestinian batches, and funneled into containers.
Sesame farms used to populate much of the West Bank, thriving due to the arid climate. But after the establishment of the Separation Barrier and the imposition of Israeli tariffs on Palestinian goods, it became cost-prohibitive to use local seeds, and many farmers went out of business or transitioned their crop. Today, most tahini factories import sesame from Ethiopia and Nigeria. "It's cheaper and easier to have the seeds arrive at your door than it is to risk them getting confiscated at a checkpoint or taking off work to obtain them yourself," Bukhari says.
Despite its source of national pride, much of Palestine's best tahini is sold to Israel. Al-Tammam Tahini is a third-generation, family-owned factory in Nablus. The stone they use to ground the hulled seeds is 150 years old from Syria, passed down from the family's patriarch who started the enterprise. It's grown significantly since its founding, today producing around 850 kilograms of tahini daily.
Mamdouh Tammam is the grandson and the current manager of daily operations at the factory. He has a cherubic face, an eruptive belly laugh, and an obvious passion for his family delicacy. "Everyone knows Palestine has the best tahini," he says. Still, most of Al-Tammam's supply is sold in Israel. Their biggest customer is a salad dressing company based in Tamra that places orders so large, they spend most of the year just filling that demand, he says.
But the price of selling in Israel is high, and factories like Al-Tammam incur the costs. "We have to pay for the air we breathe," Tammam says. Per the terms of the Paris Protocol, Israel controls points of entry and takes commission fees. Tammam says he remembers times when the government neglected bags of seeds, letting them spill or spoil at port. Al-Tammam also has to pay for the price of kosher certification to sell its jars in Israel. It pays 15,000 shekels per month, or around $4,242, for a rabbi to inspect the facility and renew the license, Tammam says.
These obstacles prevent tahini producers like Al-Tammam from maximizing profits and operating with any autonomy. Still, since consumers in Israel value high-quality tahini, there's some semblance of security, even if through an exploitative relationship. Challenges are different for those who create something that doesn't serve the Israeli economy or tastes.
Food as Grassroots Resistance
Shadia Hamza believes she can lift up Jericho through cooking and reinvigorate the Jordan Valley's agrarian economy by paying farmers fair prices. The valley once fed most of Palestine and parts of Israel. It sits below sea level with a near-perfect environment for fruits, especially plump dates and sweet bananas. During the Second Intifada, Jericho was surrounded by Israel's military and cut off from primary roadways that linked it with farmland, rural farmers and other cities. After the violence ended, access to these areas was never restored, and a network of checkpoints and permits entered in its place. Consequently, the customer base of many farmers in the Jordan Valley shrank and profits sank.
That's where Hamza entered. She gathered women from the community to cook home-style Palestinian food using locally sourced ingredients. They sold traditional dishes like maqluba—stewed rice, vegetables and chicken—and fatayer—savory pastries stuffed with meats and cheeses—for affordable prices. It provided additional income to families who had loved ones fighting, propped up remaining agricultural resources and instilled national pride through food. "Our culture revolves around farming, but as we lose our land we risk losing that culture and customs along with it," Hamza says.
That project has today turned into the YWCA. It currently employs 16 women full-time, and it pays farmers living wage prices for their crops. It receives international funding, but the likelihood of a wholly self-supported future is slim, says its executive director. They don't make enough to do business in Israel, where they'd have to raise prices to make up for additional taxes and permit fees, she adds, but without relief, they can't fairly pay farmers.
"A Man-Made Water Shortage"
To drive through the West Bank is to pass through a nature-scape of browns, oranges and reds. It's rolling hills scattered with wild olive tree groves and crop rows, and views of sprawling cities in the distance, slightly obscured by the blur of a faint haze. That backdrop changes suddenly when confronted with an Israeli settlement. Desert shades are swapped for emerald greens, and olive trees for pine. Swaths of farmland suddenly host swimming pools and soccer fields, and dry farmland dry becomes lush greenery.
This jarring polarity is a constant reminder of the Israeli occupation, says Fokha, whose village of Tubas is encircled by such settlements. "They have all these things, and we've been stripped of our way of life," he says. "All I want is enough water to sustain my family and my land."
It's also the most effective way to permanently damage the Palestinian food system, say multiple experts.
Given the dry conditions, water access long been weaponized in the conflict. So much so, that the Oslo Accords sought to address it. It stipulated that for an interim period of five years, Israel would gain access to 80 percent of the water pumped from the West Bank and Palestinians would get the remaining 20 percent. It also limited the amount of water Palestine could drill from the shared mountain aquifer, while allowing Israel unlimited access, and required Israel sell a pre-determined amount of water to Palestinians annually. B'tselem calls what's transpired since a "largely manmade" water shortage that allows Mekorot, the state-run Israeli water company, to control the entire grid, giving preferential access to settlers while while hundreds of thousands of Palestinians live without for weeks every year.
Palestinian farmers all over the West Bank can no longer survive as a result. Fokha, who has been working the same land since he was 18 years old, only gets enough access to water to grow for one season—August to March—which halves his yield. The soil's suffered from the droughts, so it can no longer grow watermelon, potatoes, and certain types of cucumber, he says. Yosef Salmon has been a farmer in Beit Jala, an area outside of Bethlehem, for nearly 45 years. He says there used to be five water springs in the Makhrour Valley. Today, he can access only one, he says. His neighbor, Basem, who asked to keep his last name private, couldn't irrigate half his crops last year, so he lost money and couldn't live off the anticipated harvest. "Without water, we can have no progress. Without water we can't do anything. It is life," Basem says.
Life in Area C
For those living in Area C, Israeli law all but prohibits them from building additional structures on their property, including those that could connect them to water and help maintain their land. Basem spent one year building a modest house with a small water collection facility to store rainwater. It was demolished in 2014 after standing for a few months. "In less than one minute the Israelis destroyed it with their bulldozer," he remembers. But he remains resolute: "If this could get too hard, I would've stopped a long time ago."
On the morning we visited Doha's farm, her water had been turned back on after three days. This is just another day for her, a good one, in fact, because she has visitors for lunch. She prepares a decadent spread, the table filled edge-to-edge with traditional Palestinian dishes. Each plate receives a giant round of taboun bread, pulled straight from the hearth and topped with Doha's proprietary blend of za'tar. She suggests dipping it into hummus, tahini, and the aptly named farmer's salad, a mix of herbs, tomatoes and cucumbers. Each dish showcases her crops. She provides olive oil, too. She pressed and stored it herself, using olives picked from the same groves she had planned to harvest this fall until they were burned down.
Doha says she'll still salvage what's left of her trees. "They can't ever really take my land from me because it's in my blood and in the legacy of my family," she says. "I feel my greatest joy when I get to step foot on my land."
It's evident Doha's not alone in her belief that land is more than something that can be bought, sold, and stolen. Farming is a way of life, represented and understood through food. That sentiment is echoed by the masses. For Salmon, he's fighting over childhood memories; for Fokha, staying on the land is his form of resistance; and for Ziada, achieving food sovereignty is the first step towards political freedom.
As for fear? Not in the vocabulary. "Nobody will cut off my head except for the one who put it there," she says.
RELATED ISSUES

Food

Issue
Conflict and Peace Building
Conflict and Peace Building