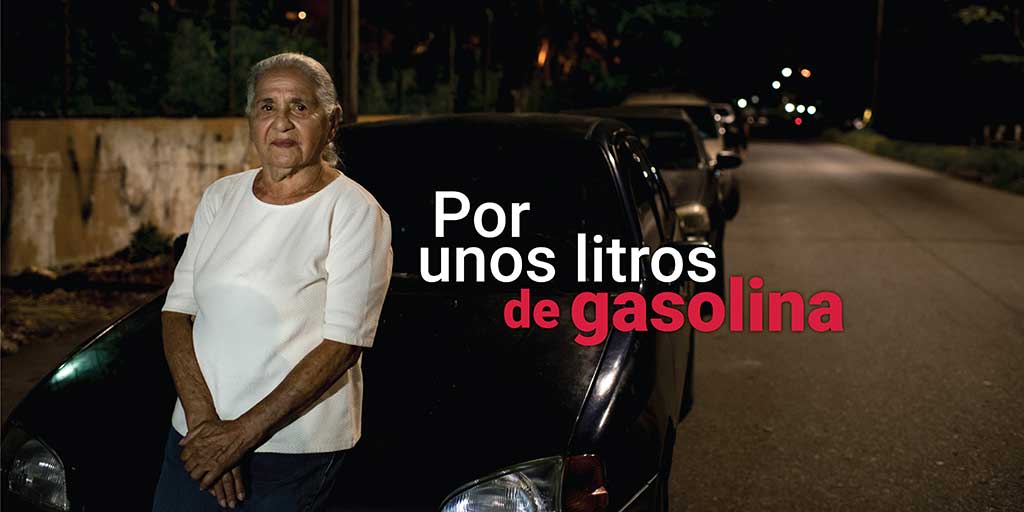 The rain has been the worst part. The rainy nights. Zoraida and her daughter Josefina stay inside the car, waiting on a fuel tanker truck. They withstand the heat since they can't open the windows too much. They don't turn on the air conditioning: There is no need to waste the little reserves of gasoline they have left, because they have to be able to get breakfast the next day. Zoraida is distressed because the truck hasn't arrived yet and she isn't sure if it will arrive the following day either. At some point during the night she'll fall asleep, usually while praying the rosary.
Zoraida is 84 years old, she drives synchronously and can only see out of one eye. It's been years since a hemorrhage damaged the retina. It's been three days that she's been spending overnight in her car, near a gas station in Macaracuay, in Caracas. Josefina, her eldest daughter, 64 years old, accompanies her in the other family car. They always go together to get gas. A long line of vehicles winds along the sidewalk. The line of cars stretches out for multiple kilometers.
"In the beginning, I was number eighty-something," said Zoraida, "but people kept leaving the line and now I'm number forty-something. I said that I wasn't going to leave until they put gas in my car."
Venezuela had the least expensive gasoline in the world until the beginning of March 2020. That month, when the first COVID-19 cases were just yet to be reported, the amount of available fuel supply dropped throughout the country. Caracas—which had only suffered a gasoline shortage a few times, unlike border states like Táchira and Zulia—filled up with long lines of cars that wrapped the neighboring streets of gas stations. The situation lasted for months. The black market, one more time, offered what was needed in Venezuela: $4 per liter. And so, Venezuela had become, de facto, the country with the most expensive gasoline prices in the world.
To continue reading in Spanish, click here.