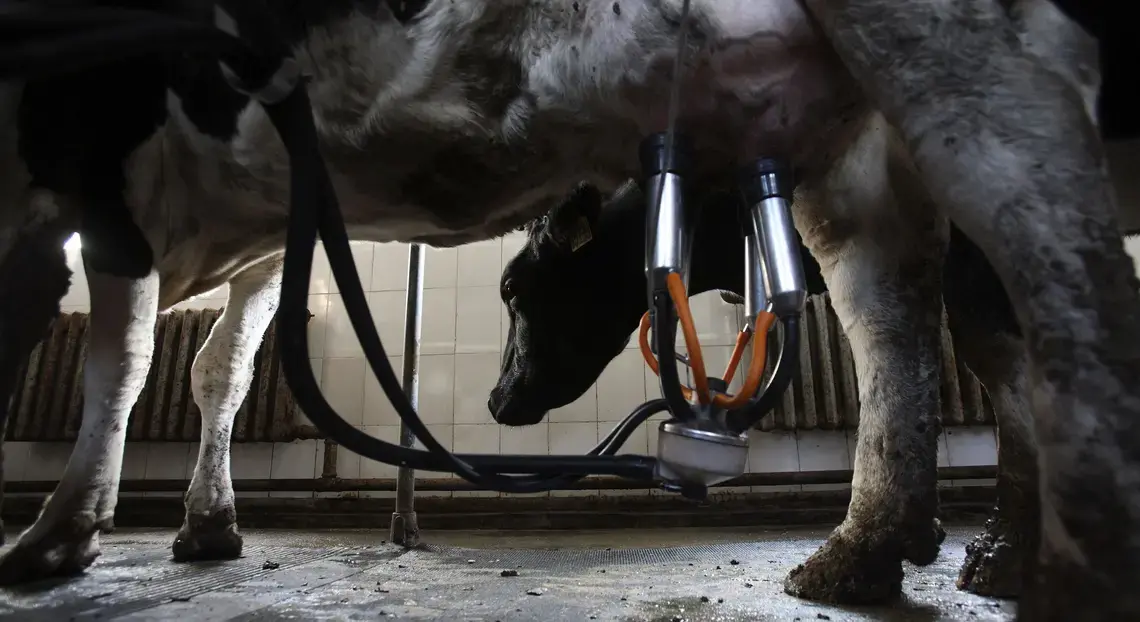 Cows at a milking station near Hohhot, northwestern China's Inner Mongolia province, are shown in a file photo taken shortly after the 2008 milk safety scare in China. Image by Ng Han Guan for The Associated Press. China, 2014.


Better feed makes happier cows equals more and safer milk.
That simple equation explains Iowa efforts to help China solve one of its biggest food safety and security issues. Nothing is easy, however, when it comes to the country's food challenges.
In the wake of scandals involving tainted milk, Chinese officials are pushing for U.S.-size dairy farms with thousands of cows. The thinking: Large dairies will exert greater control over every aspect of production to ensure quality and boost productivity.
The consolidation has major costs. It squeezes out the traditional suppliers of China's milk, farmers with fewer than 10 cows. The big operations consume more of China's scarce resources, such as land and water. They also increase dependence on imported feed, including Iowa soybeans.
The trends can benefit Iowa agribusinesses. Companies including Vermeer Corp., DuPont Pioneer, Kemin Industries and others are stepping in to help Chinese dairies improve and increase their feed supply. Consolidation is necessary as the Chinese people consume more dairy products, the companies say.
Why China's dairy production matters to Iowa
Iowa businesses see an opportunity to serve Chinese dairy farms through alfalfa balers, new seed, feed additives and other technology.
Farmers can sell more soybeans to China as its dairy industry grows.
Modernization has brought progress, said Chris Nelson, president of Kemin. His customers include Yili, which has "California-sized dairies" in northern China.
"I have seen their cows. They take fabulous care of the cows. They are very well fed," he said. As far as hygienic standards, such dairies are equal to Anderson Erickson Dairy in Des Moines, he said.
"I drink Chinese milk with no problem at all," Nelson said.
Many Chinese avoid their country's milk, however. The turning point came in 2008, in an incident that continues to shake the nation and have global ramifications.
Tainted milk episode haunts the country
Traditionally, dairy was a small part of the diet of China's majority Han ethnic group. During the 2000s, in a campaign to improve nutrition, the country's highest officials began encouraging Chinese to drink more milk.
Dairy production boomed. A few large dairy processors gained control of the industry, but most of the milk came from small farmers. In 2006, about 80 percent of China's dairy farms raised fewer than five cows, according to a report by the Institute for Agriculture and Trade Policy, a Minneapolis think tank.
Dairy prices remained low, and cost pressures rippled through the industry. Middlemen, who collected milk from farmers, watered down the milk to save costs. To mask that, they also added melamine, a toxic chemical that inflates protein levels. When the milk was tested, it appeared normal.
The melamine-tainted milk made its way into infant formula. In September 2008, the news broke that thousands of Chinese children had become sick with kidney stones and other problems. Eventually, six children died and more than 30,000 became ill because of the contaminated formula.
The tragedy, which came soon after the closing ceremonies of the Beijing Olympics, was a major embarrassment for the Chinese government. The country's largest dairies were among those whose products were tainted. Three dairy executives were sentenced to life in prison, and two managers were executed.
Imports of formula and other dairy products soared. Milk products from the U.S., New Zealand and other sources remain popular in Chinese cities.
Damien Ma, a fellow at the Paulson Institute in Chicago and co-author of "In Line Behind a Billion People," said safety of dairy and other foods remains a big concern of Chinese consumers.
"Tons of Chinese mothers make weekend trips to Hong Kong and empty baby food stores," Ma said. "They're terrified."
Push to consolidate comes with costs
The government has made several efforts to increase regulation, ensure safety and improve dairy production. Officials encouraged vertical integration in the industry, demanding that dairies own their own cows. They provided land, subsidies and other incentives for dairies to expand.
The number of dairy farms with 1,000 or more cows more than doubled from 2007 to 2010. Farms with five cows or fewer fell by 19 percent, the Institute for Agriculture and Trade Policy said.
Still, 50 percent of China's raw milk is produced on farms with fewer than 10 cows. The institute said smaller producers become contract suppliers with little bargaining power. The institute also questions the environmental impact of large dairy farms, including increased use of imported feed, antibiotics and vaccines.
"This trend is likely to increase non-point source pollution, the disease incidence of animals and food safety concerns as more and more animals are confined together," the institute said in a report this year.
The pressure to produce will only intensify: The institute estimates that China's dairy consumption will increase 38 percent by 2022.
RELATED ISSUES

Issue
Migration and Refugees
Migration and Refugees

Food