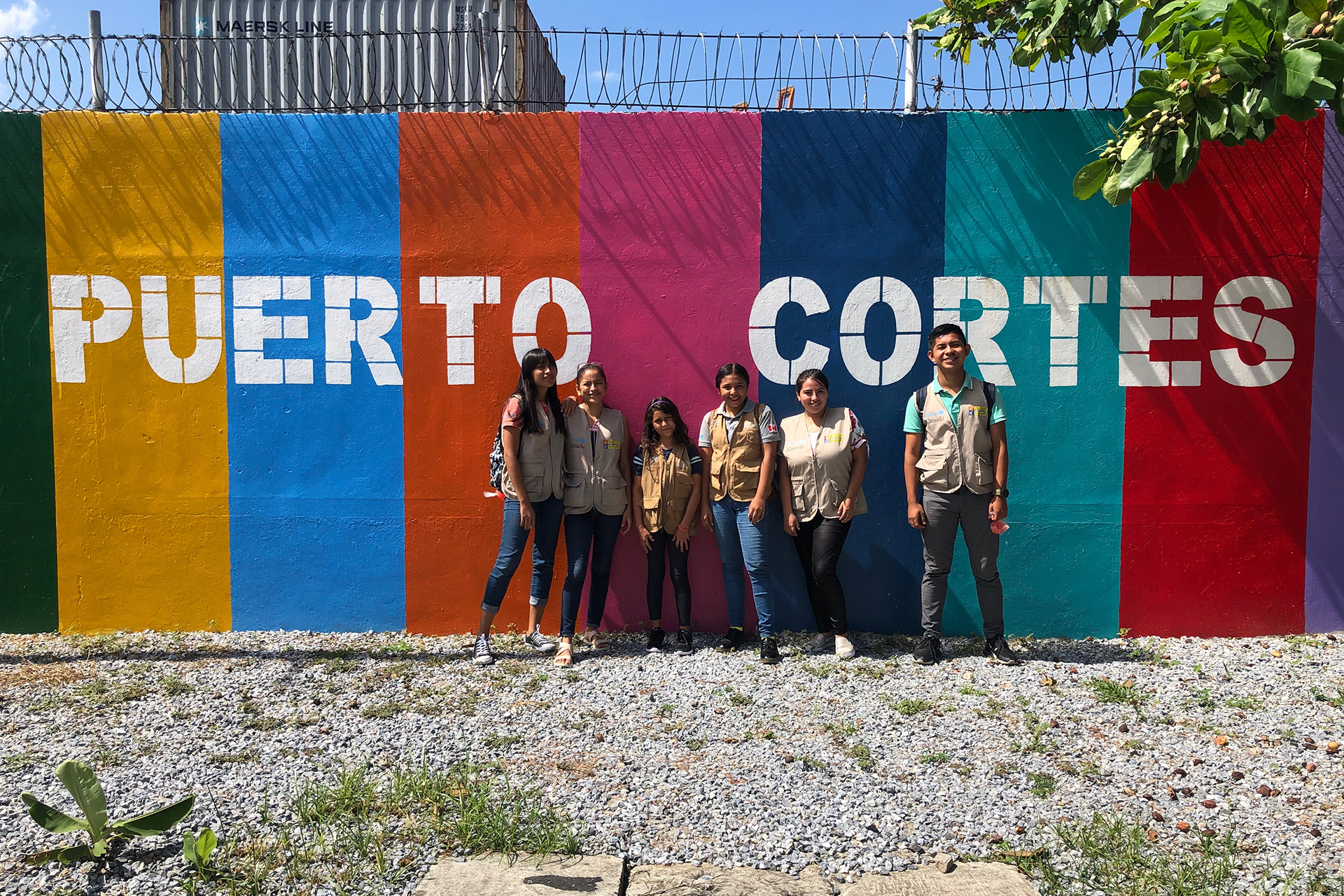 For the past year or so, the news has been filled with stories about migrants coming to the U.S. from Central America. I wanted to understand why people were leaving their home countries. So in August, I went to Honduras to learn what it's like to live there. Many of the people I met expressed pride in their country. They love their home, and they don't want to leave. But they also struggle. Jobs are hard to find, educational opportunities are limited, and gang activity is widespread. Many people feel they have no choice but to flee and try to start over in the U.S. During my visit, I asked young people to tell me about their country, their community, and what they know about migration. Here's what they had to say.
Ten-year-old Stephanie Dubón (third from left above) takes part in a young journalists program in Puerto Cortés. It's supported by the Canadian government and UNICEF, the United Nations Children's Fund. Participants' stories, which are broadcast on local TV, highlight positive activities and challenges in the community. Dubón says, "There are a lot of people who are hungry and don't have a chance to have an education."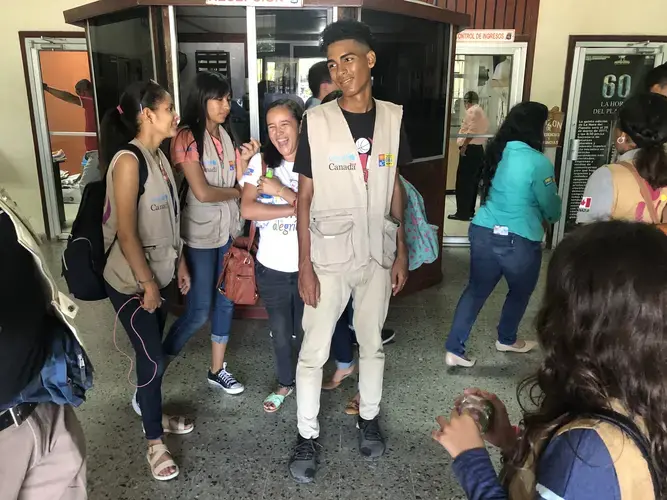 "In the past five years, I know a lot of young people who have migrated to the United States," says Evans Paz (center), 18. "Some of them have parents already in the U.S., and they want to be with them again." According to UNICEF, 43% of children in Honduras do not live with their parents because the parents have migrated to other countries in search of employment.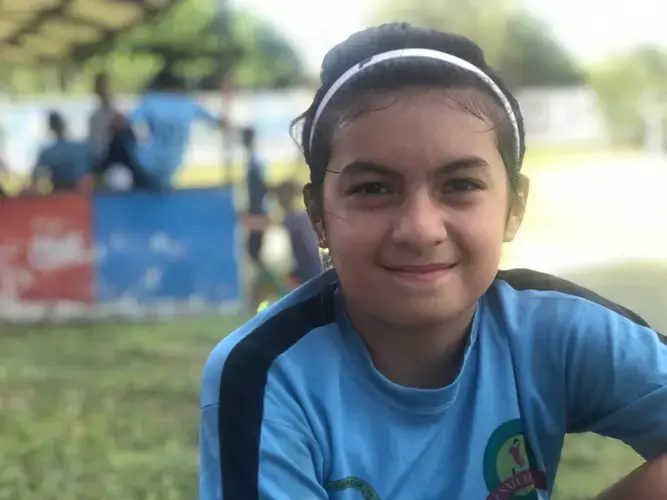 Astrid Ponse, 12, of Villanueva, loves watching the U.S. Women's National Team play soccer and listening to the British rock band Queen. After school, she participates in a UNICEF-supported soccer program. It provides a safe space where children can disconnect from the stress of daily life. "There are a lot of risks for people on the journey," Astrid says when talking about migration from Honduras to the U.S.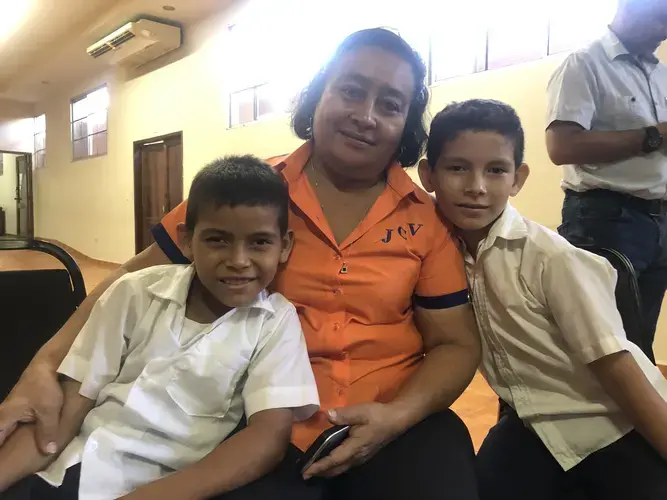 Berkling Yaiso (left) is 9. His brother Germán is 10. Here, at a community meeting in Potrerillos, they pose with one of their teachers. "At the beginning of the school year," she says, "we found out that a lot of children had migrated to the United States." Berkling and Germán left with their mom in March 2018, she says, but came back nine months later after experiencing hardship along the way.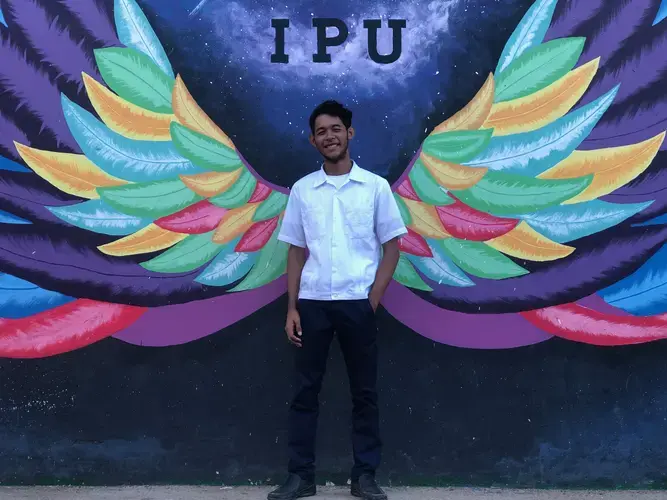 Luis Bonilla, 16, studies computers and robotics at a high school in El Progreso. His mom fears losing her job at a factory and says that if she does, she may head north in search of better opportunities. "People don't migrate to the U.S. because they want to," Luis says. "They go because they need more income." In Honduras, more than 66% of the population lives in poverty.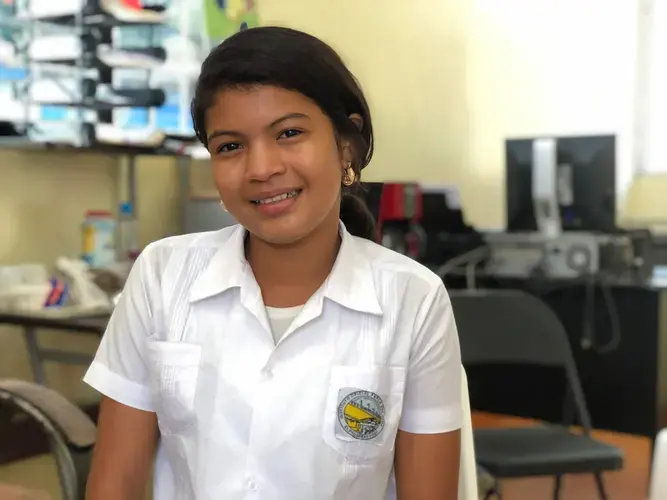 Twelve-year-old Stacyl Mendoza goes to school in El Progreso. She's in a special program for retornados, people who've tried to migrate to the U.S. but have returned to Honduras. Stacyl says she and her family were arrested in Mexico and spent nine days in jail. "It was horrible," she says. When she grows up, Stacyl wants to be a motivational speaker.
RELATED ISSUES

Issue
Migration and Refugees
Migration and Refugees

Children and Youth