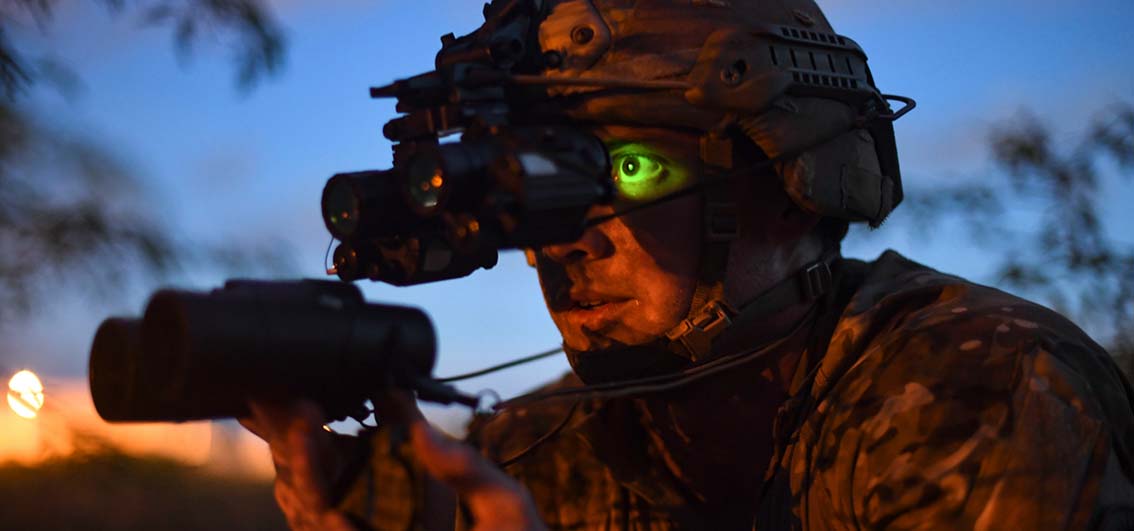 United States Special Operations forces (SOF) — including Navy SEALs, Army Green Berets and Marine Corps Raiders — are the US military's most highly trained soldiers, specialising in counterterrorism, counter-insurgency, and "direct action" combat raids, among other missions. Their operations are shrouded in secrecy.
Although US commandos operate on the African continent with the agreement of host governments, ordinary Africans are rarely told about the full extent of US activities — nor offered a say in how and why Americans operate in their countries. Even basic information, like the sweep and scope of deployments by elite US troops and clandestine combat by American commandos on the continent, is mostly unreported across Africa.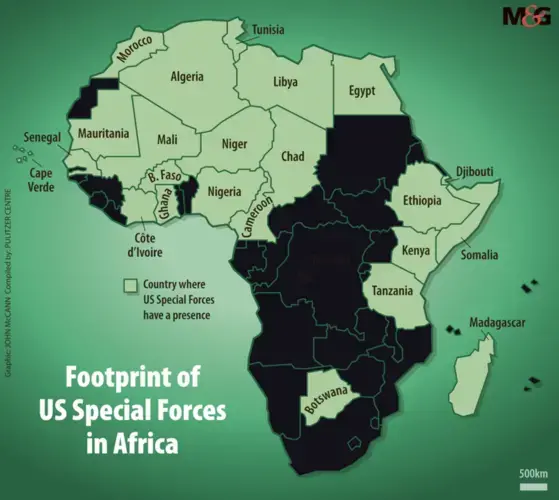 But a Mail & Guardian investigation can, for the first time, reveal where US special operators have been active on the African continent — and offer exclusive details about low-profile missions that have been largely kept under wraps.
In 2019, US Special Operations forces were deployed in 22 African countries: Algeria, Botswana, Burkina Faso, Cameroon, Cape Verde, Chad, Côte D'Ivoire, Djibouti, Egypt, Ethiopia, Ghana, Kenya, Libya, Madagascar, Mali, Mauritania, Niger, Nigeria, Senegal, Somalia, Tanzania and Tunisia.
This accounts for a significant proportion of US Special Operations forces' global activity: more than 14% of US commandos deployed overseas in 2019 were sent to Africa, the largest percentage of any region in the world except for the greater Middle East.
These figures come from information provided to the M&G by the US military's Special Operations Command and Africa Command (AFRICOM).
An interview with Donald Bolduc, a retired brigadier general and head of Special Operations Command Africa (SOCAFRICA) until 2017, shed further light on these operations. He said that as of 2017, US Special Operations forces had seen combat in 13 African nations. America's most elite troops continued to be active in 10 of those countries — Burkina Faso, Cameroon, Chad, Kenya, Libya, Mali, Mauritania, Niger, Somalia and Tunisia — last year.
Advise, Assist, Accompany
The military footprint of the United States in Africa is extensive. Previous reporting has revealed the existence of a string of military bases across the continent. Formerly secret 2019 AFRICOM planning documents show that there were 29 bases located in 15 different countries or territories, with the highest concentrations in the Sahel and the Horn of Africa.
More secretive still are the activities of US special operators. Their presence in African countries is rarely publicly acknowledged, either by the US or host nations; citizens are not told what these elite troops are doing on their land.
The US military is tight-lipped about exactly what its elite forces do in each country, but special operators have long conducted missions that range from capture-or-kill commando raids to training missions.
The M&G has spoken to a wide range of sources to fill in the blanks, including US military officers and diplomats; active and retired US special operators; African government and military sources; recipients of US military training in Africa and civilian witnesses. What emerges is a comprehensive picture of US special forces activities in Africa.
Some operations are conducted under the auspices of the so-called 127e programs, named for a budgetary authority that allows US Special Operations forces to use local military units as surrogates in counterterrorism missions. For reasons of security, Special Operations Command will not release information on 127e programs, said spokesperson Ken McGraw.
However, the M&G has confirmed that in recent years the US has conducted at least eight 127e programs in Africa, most of them in Somalia. These activities in Somalia were conducted under the code names Exile Hunter, Kodiak Hunter, Mongoose Hunter, Paladin Hunter and Ultimate Hunter, and involved US commandos training and equipping troops from Ethiopia, Kenya, Somalia and Uganda as part of the fight against the Islamist militant group al-Shabab.
Currently, the US is conducting two 127e programs in Somalia, according to an AFRICOM official.
The number of ground missions carried out by US commandos in Somalia has never previously been revealed, but US Air Force documents obtained by the M&G and corroborated by Bolduc indicate the scale of these efforts. The documents, from the 449th Air Expeditionary Group based at Camp Lemonnier in Djibouti, show that the US and partner nations conducted more than 200 ground missions against al-Shabab between June 2017 and June 2018.
This number is no anomaly. "That's about average, annually, for the time I was there, too," said Bolduc, who headed  Special Operations Command Africa from April 2015 to June 2017.
Africa Command characterises missions with partner forces as "advise, assist and accompany" or "AAA" missions, but such operations can be indistinguishable from combat. During a 2017 AAA mission, for example, Navy SEAL Kyle Milliken, a 38-year-old senior chief petty officer was killed and two other Americans were wounded in a raid on an al-Shabab camp about 65km west of Mogadishu, Somalia's capital.
AFRICOM does not disclose the number of advise, assist and accompany missions by country, but in an email to the M&G, the command acknowledged 70 such missions in East Africa in 2018, 46 in 2019 and seven in 2020 as of early June.
Among the other special ops-oriented efforts that are still active in the region ― as of February this year ― is Oblique Pillar, an operation that provides private contractor helicopter support to Navy SEALs and the units of the Somali National Army whom they advise; Octave Anchor, a low-profile psychological operation focused on Somalia; and Rainmaker, a highly classified signals intelligence effort.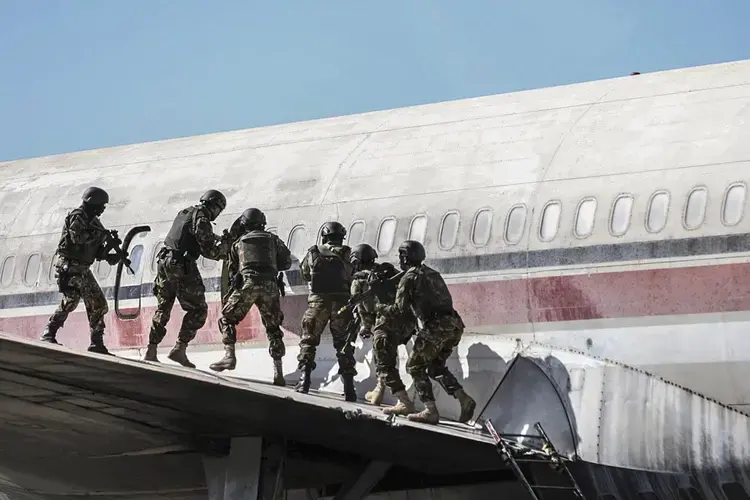 Counter-Terrorism Training
Another major theatre of US special operations is northwest Africa. Much of the world, for example, first became aware of US military operations in Africa in October 2017, after the Islamic State (IS) ambushed American troops near Tongo Tongo in Niger, killing four US soldiers — two of whom were Green Berets. Those troops belonged to Operational Detachment-Alpha Team 3212, an 11-man unit working with a Nigerien force under the umbrella of Juniper Shield.
Juniper Shield is the United States' marquee counterterrorism effort in northwest Africa, involving 11 nations: Algeria, Burkina Faso, Cameroon, Chad, Mali, Mauritania, Morocco, Niger, Nigeria, Senegal, and Tunisia. Under Juniper Shield, US Special Operations forces have long trained, advised, assisted, and accompanied local partner forces conducting missions aimed at terrorist groups, including al-Qaeda and its affiliates, Boko Haram and IS.  The effort, according to the AFRICOM documents, was ongoing as of February.
The other key activity in the region is Exercise Flintlock — an annual special operations training exercise, conducted by Special Operations Command Africa, focused on enhancing the capability of nations in West Africa to plan and conduct counterterrorism missions. Participating African nations included Benin, Burkina Faso, Cameroon, Chad, Cabo Verde, Côte d'Ivoire, Ghana, Guinea, Mali, Mauritania, Morocco, Niger, Nigeria, Senegal, and Togo.
Libya has also been a major focus. Last year, the United States withdrew its commandos from Libya as the civil war there flared. "Due to increased unrest…a contingent of US forces supporting US Africa Command temporarily relocated from the country in response to security conditions on the ground," AFRICOM announced in April 2019. Those troops have never returned, according to AFRICOM spokesman John Manley. But that has not, apparently, halted US operations focused on Libya.
According to the AFRICOM documents, Operation Junction Serpent — a surveillance effort in Libya that began as part of the 2016 campaign of airstrikes against Islamic State targets in the coastal city of Sirte — is still active. Under Junction Serpent, Joint Special Operations Command or JSOC — the secretive organisation that controls the Navy's SEAL Team 6 and other special mission units — was given special authority to develop targeting information for air strikes. A sister operation named Odyssey Resolve, involving intelligence, surveillance, and reconnaissance flights over Libya, was another component of the special operations campaign of air strikes in Sirte and was also ongoing as of February.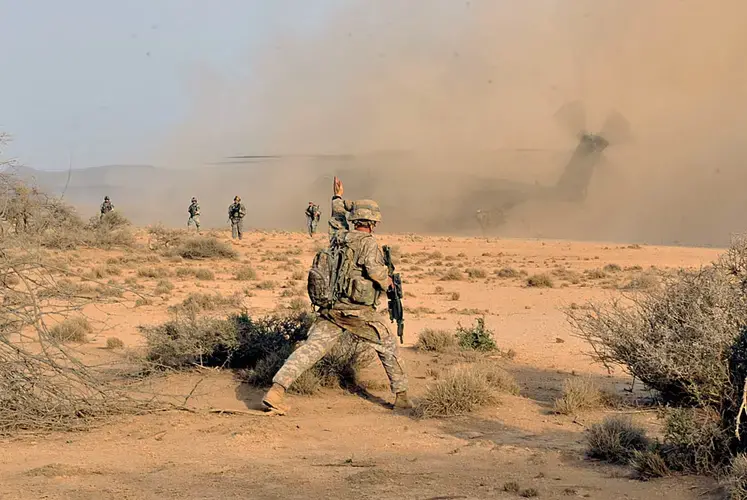 A 'Creeping Build-Up'
Not all of the places where US commandos operate in Africa are in or near war zones. Take, for example, Botswana — one of the continent's most established and peaceful democracies.
In response to questions from the M&G, the US Embassy in Botswana said that elite US troops participated in Exercise Upward Minuteman, a three-week training event held in June 2019 at the Thebephatshwa Air Base in Molepolole. The training involved 200 National Guardsmen from the North Carolina National Guard and an unspecified number of soldiers from the Botswana Defence Force (BDF). It includes everything from weapons training to air and ground assault simulations.
"The US Military enjoys a strong bilateral security co-operation relationship with the BDF since its inception. As such, we conduct a variety of military-to-military engagement that at times includes special forces. Over the recent years we have conducted SOF-specific expertise exchanges in 2017 and 2019," said the embassy's public affairs officer, Ineke Margaret Stoneham.
Botswana's armed forces enjoy a relatively clean reputation. This is not true of all the countries with which the US has partnered. Take Burkina Faso, where US special operations units have trained Burkinabe security forces in countering improvised explosive devices, and advised them ahead of counter-terrorism operations. In July, a Human Rights Watch report implicated Burkinabe soldiers in mass killings in the northern town of Djibo — and this is not the first time they have been accused of serious human rights violations.
Temi Ibirogba, a programme and research associate with the Africa Program at the Center for International Policy, warned that training, equipping, and assisting the militaries of nations accused of human rights violations empowers them and provides justifications for abuses.  "If the most powerful democratic nation in the world is supporting your military, you'll surely believe that the human rights violations you've committed are excusable," she told the M&G.
Speaking on background, a US State Department spokesperson told the M&G that, "The United States is deeply concerned by the growing number of allegations of human rights violations and abuses perpetrated by state security forces in the Sahel, including those documented by Human Rights Watch."
The spokesperson added: "We exclude from assistance and training individuals or units guilty of human rights violations. We will, therefore, be following ongoing investigations closely to determine how these allegations will affect our legal obligations under US law. To date, we have no information indicating that US-trained or -equipped individuals or units have been implicated in any of the abuses reported."
Andy Duhon, a former US Special Operations forces officer with more than a decade of experience operating in the Sahel region, questioned the effectiveness of the US military's involvement in Africa. He said that the US does not understand what African countries want and, as a result, is unsure how to best intervene.
"The US isn't doing enough. It wants to help but it needs to do a better job of understanding grassroots organisations, governments and the military, instead of just sending money towards long-term training and equipment programmes," said Duhon.
Comfort Ero, the International Crisis Group's Africa Program Director, said that the extent of US Special Operations forces in Africa illustrates the "creeping build-up" of the US military on the continent. Although, she added, it's a mixed message: "There's a build-up on the one hand, and restraint on the other. It's clear that the US does not want to be on the frontline."
Ero said that the lack of transparency ― from both US and African governments ― on the US military's presence in Africa is a cause for concern, as is their apparent willingness to work with authoritarian governments. "It does feed into that broader concern that some states are being propped up … the US is seen as legitimising and further prolonging authoritarian tendencies, or states [that] are not seen as having legitimacy."
With additional reporting in Gaborone by Joel Konopo of the INK Centre for Investigative Journalism. Editing by Simon Allison. Produced by Kiri Rupiah.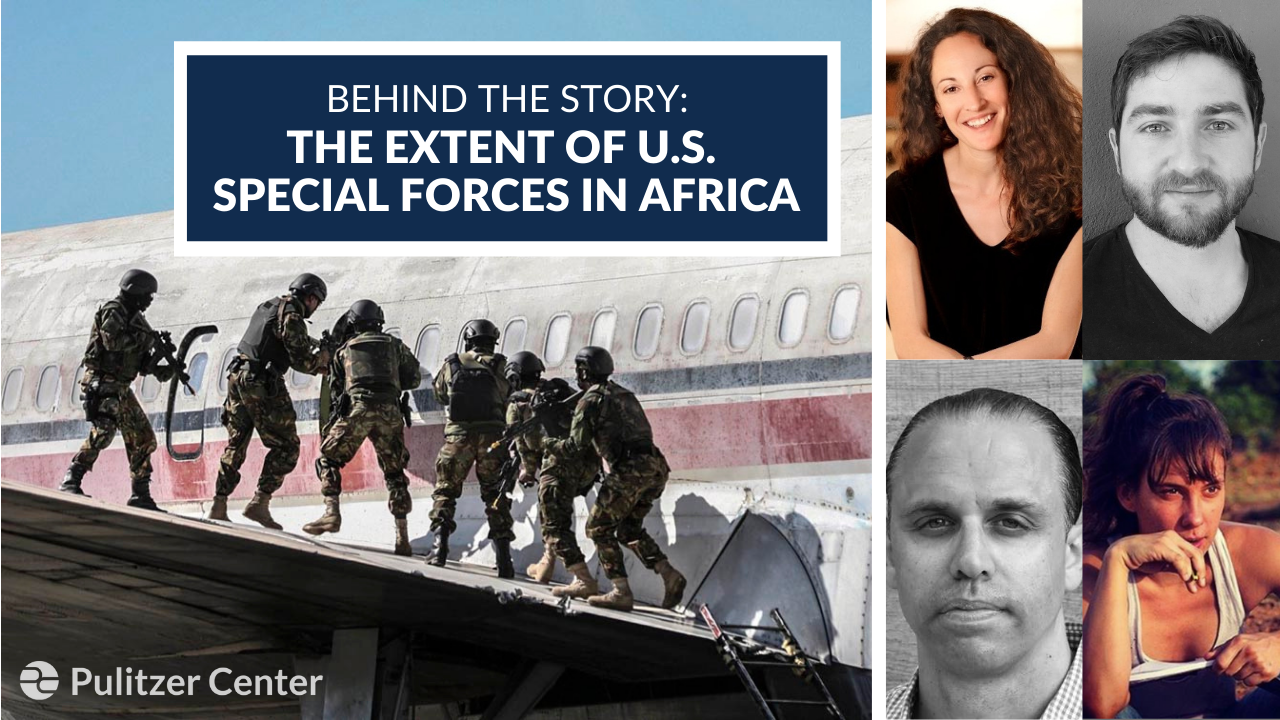 https://www.youtube.com/watch?v=7uJmXtKOlss United States Special Operations forces are the U.S...
RELATED ISSUES

Governance

Issue
Conflict and Peace Building
Conflict and Peace Building