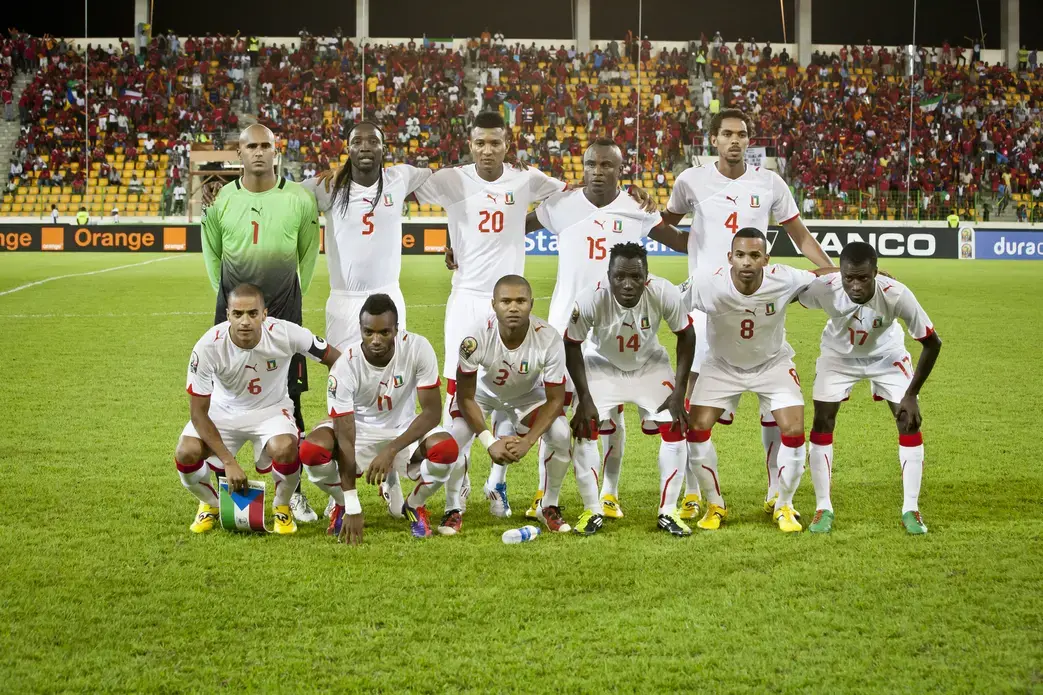 The FEGUIFUT (Federacion de Football de Guinea Equatorial) offices are located on Hassan II Avenue, just a block away from the Moroccan Embassy in Malabo, the capital of Equatorial Guinea. The national soccer federation of this oil-rich nation is housed in a humble, run-down cement structure whose interior is completely vacant and seemingly abandoned. A single unoccupied chair and desk, covered in a thick layer of dust, greets visitors in the entrance foyer. Fading photos of ex-players from the national team hang randomly on the walls. Upstairs is the FEGUIFUT director's office. Two weathered leather sofas and a bathroom without water make up the waiting area.
Meeting with FEGUIFUT's director, Bonifacio Manga Obiang, is surprisingly easy--surprising because Equatorial Guinea is in the midst of co-hosting the Cup of African Nations (CAN) 2012 soccer tournament, the continent's biggest and most glamorous sporting event.
Bonifacio is an impressively stout man whose shaven head perspires in the mid-day
equatorial heat. His desk is covered with neatly stacked folders and papers that have not been moved in weeks. The room is decorated with various plaques and banners from FIFA (Federation International de Football Associations) and CAF (Confederation of African Football), as well as multiple portraits of two durable leaders, Equatorial Guinea's President Teodoro Obiang and FIFA President Sepp Blatter.
Despite their shared last name and Fang tribal affiliation, Bonifacio is quick to point out that he is not a member of President Obiang's large extended family. He plays down the country's reputation of being one of Africa's most corrupt states where family association is of the utmost importance. Bonifacio declares that he has been pleased with the success of CAN 2012 and the management of COCAN (Organizational Committee for Cup of African Nations), the tournament's organizational body. He is proud of how the country has hosted such a large international event, despite complaints of rampant miscommunications around the visa application process, insufficient facilities for press coverage and the inability of the police to manage crowds of anxious fans looking for tickets outside the stadium. He says he does not feel responsible for the disorganization that defined most of the tournament, laying the blame for that on CAF.
Bonifacio points out that the country is more than capable of hosting a world-class tournament. The proof of this, he says, is the new stadium in Bata, the largest city on the mainland, and the stadium and multi-million dollar sports complex in Malabo. When 
asked what purpose these stadiums will serve after CAN 2012, Bonifacio replies, "The nation will use them for big international events and national league games."
Equatorial Guinea's national league has 12 teams, six on the continent and six on the island of Bioko, where Malabo is located. Due to a lack of facilities, all six teams from Bioko share the old stadium in Malabo, and the league's 2011 season was cut short in preparations for CAN 2012.
Since independence from Spain in 1968, football in the country has made little progress. While millions of dollars are spent on modern stadiums and other sports infrastructure, there is little talent development in FEIGUIFUT. The few players who do show professional promise quickly abandon the country for opportunities elsewhere.
Taking a lesson from Qatar, another oil-rich nation and host of the 2022 World Cup, Equatorial Guinea's national team, Nzalang, recruits players from abroad. Of the team's 23 players, 20 are naturalized citizens, causing some to accuse Equatorial Guinea of cheating. For Bonifacio, recruitment of non-Guineans for CAN 2012 is completely natural.
"We still don't have enough talent—we need to develop further our national program," he said.
President Obiang's eldest son, Teodorino, offered Nzalang $1 million for every game the team won during the tournament. Teodorino, known for his lavish tastes and playboy lifestyle, is currently facing multiple lawsuits in the United States and France for misuse of public funds. Bonifacio explains that after the first two games he personally oversaw ceremonies where Teodorino handed over the $2 million. Each member of the Nzalang side walked away with $58,620 and FEGUIFUT took $30,000. Teodorino gave an additional $15,000 to each goal scorer and $6,000 per game for every player who stepped on the pitch.
For Bonifacio there is no apparent problem if an "independent Equato-Guinean citizen" offers such rewards. He can't understand why some critics of the country's regime argue that these bonuses are representative of the corrupt "money-solves-everything" logic that prevails in this country.
"This is Africa and we're not afraid of foreign journalists," he tells me.
Unofficially, the CAN 2012 co-host Gabon spent almost $800 million on the event. Equatorial Guinea doesn't make public any of its national spending, and when it comes to budgets Bonifacio is tight lipped. He admits $5 million was spent on CAN's opening ceremonies and another million on a lottery used to organize tournament divisions.
While the country boasts of a high level of public interest in the games, there were no pre- or post-game events organized by either CAF or COCAN. For many of the cup matches, the new stadiums were nearly empty. In the shantytowns of Malabo the tournament was a non-event. Unlike the 2010 World Cup in South Africa, there was no official space to watch the games on a big screen and no organized youth events to stimulate participation. Local businesses and taxi drivers enjoyed little, if any, economic benefit.
Bonifacio contends that all of the CAN's failures are in the end due to poverty. This seems somewhat schizophrenic. Based on its GDP, the citizens of Equatorial Guinea should enjoy the same standard of living as the Irish, yet the majority of the population lives on less than $2 a day.
Big football championships like the CAN or the World Cup are supposed to animate the host country's population and stimulate its economy. These events should bring an increase in the local cash flow, with hotels booked, restaurants filled and taxis working overtime. In reality these types of events rarely fulfill any of these promises. CAN 2012 was no exception. It was not for the general population of Equatorial Guinea or Gabon--or Africa for that matter. CAN 2012 was a spectacle, a theatrical endeavor designed to legitimize a dictatorial regime in the eyes of the international community.