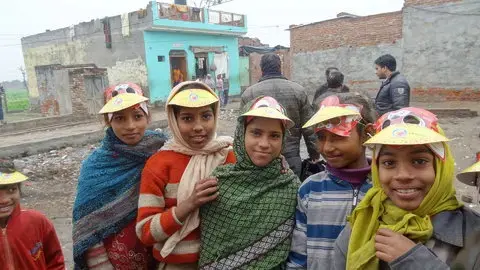 Children left the polio booth in Aligarh with toys and trinkets. Image by Esha Chhabra. India, 2014.


ALIGARH, India — On Jan. 13, 2011, a case of polio was discovered in the Indian state of West Bengal. India has been a hotbed of polio, often exporting strains to polio-free countries such as China. What's remarkable is that this case, three years ago, may be the last ever discovered in India. This year, the World Health Organization (WHO) will officially remove India from its list of polio-endemic countries, leaving just Afghanistan, Pakistan and Nigeria.

India's routine immunization rates — for measles, rubella hepatitis B, TB and the like — were last recorded in 2009 at 61 percent nationally. India accounts for a third of the world's measles deaths. Public health is dismal, and India's per-capita spending on health care is among the lowest in the world. Yet with polio, India achieved 95 percent coverage.

The success of India's polio effort has turned it into a blueprint for large-scale health campaigns. Now India is using what it did with polio to boost rates of routine vaccinations.

The Global Polio Eradication Initiative began in 1988 as a huge partnership among Unicef, the World Health Organization, the Centers for Disease Control and Prevention and Rotary International. Each organization took on a different job and this continues today as the focus broadens from just polio to all routine immunizations. Unicef handles communications, makes posters and banners, and ensures that the "word" spreads about the campaign, even if it's through old-school techniques like hauling loudspeakers on a rickshaw through the city center.

The WHO is the data machine, responsible for tracking the virus, collecting stool samples of possible cases and studying the data for any gaps. Rotary International has a Delhi-based team, the National PolioPlus Office, with regional and city-level tentacles to execute polio vaccinations four times a year during National Immunization Days (more days for high-risk areas). Globally, Rotary has been the cheerleader of the campaign, raising funds and keeping the issue in the spotlight.

One reason the campaign succeeded is that it was built to learn from its mistakes. "We've refined this machine repeatedly. That's what the polio campaign was about, learning, making changes, and retuning it," said Dr. Sunil Bahl, a technical adviser to the National Polio Surveillance Project, a collaboration between the WHO and the Indian government.

The Indian government has pitched in over $2 billion to the campaign; other polio-endemic countries have not gotten this kind of financial support. But the government went beyond money. It collaborated in building an infrastructure that collected data at the smallest possible level, powered by the input of over 2.3 million health workers nationally.

In one immunization round for polio, over 170 million children under the age of 5 are vaccinated in the country. On the first day, booths are set up throughout the communities, and families are expected to bring their children. Stationed next to a hole-in-the-wall shop, selling grains, chewing gum and biscuits is a "booth": a rickety table, with a banner strung above it in the iconic yellow — a color that's become synonymous with polio vaccination.

Health workers, usually women, stand at the booths for eight hours to ensure that every child in the neighborhood is vaccinated. The vaccinated children are marked on the nail of their pinky with black ink. The following day, the health workers search for missed children by going door-to-door, carrying the vaccine in an icebox.

At the WHO office in Aligarh — with its 3.6 million people, it passes for a small city in India — Dr. Rakesh Vishwakarma, a WHO regional supervisor, pulls out notebook after notebook of detailed notes for polio surveillance. Aligarh is in the troublesome region of Uttar Pradesh, once an epicenter of polio. The notebooks are filled with catalogs of households, numbers of visits by health workers, availability of the vaccine, validity of the cold chain — all carefully recorded in English and Hindi.

"We collect the data, identify gaps, and give it to the government to make decisions," Dr. Vishwakarma says, pointing to multicolored maps and meticulous charts taped to the wall. Every village in the district is accounted for and marked by percentage of children immunized. Red pins mark stool samplings, which are collected to track the virus, and ensure that any cases of acute flaccid paralysis, or limp limbs, are diagnosed properly. Flaccid paralysis is not necessarily polio; weakness in the muscle can be caused by other pathogens. The WHO checks each case of paralysis to be sure it's not polio.

Dr. Vishwakarma's job is tiring, illustrating the depth and breadth of the polio surveillance effort. Based in Agra, he travels daily across Western Uttar Pradesh; he monitors 12 districts of the state, which cover a distance of about 125 miles from Delhi to Agra. His days begin at 5 a.m. and he retires at 10 p.m., after endless cups of tea with local officials, shadowing health workers, combing through stacks of data and overseeing surveillance efforts at regional offices.

"I cannot miss any details," he says. "That's where the solution lies. That's why I'm constantly on the move."

That data then goes to the district task forces for immunization, consisting of the district magistrate (or local mayor), chief medical officer, Unicef and WHO regional officers. They use it to design the next steps to improve coverage.

The philosophy for the polio campaign was, Dr. Bahl says, "Who have we missed? Why have we missed them? Why did they not take the vaccine? And we constantly looked at the data to help us."

These are the questions that help the polio team identify high instances of polio in Muslim populations and migrant communities, earlier. For instance, in 2006, 676 cases of polio were reported; 548 were in Uttar Pradesh, and nearly 60 percent of those afflicted by the virus were Muslim — an anomaly given that Muslims constitute only 13 percent of India's population.

"It was because we had the data that we could pinpoint the problem," Dr. Bahl says.

All the data in the world, however, would mean little if India had not had armies of health care workers to act on it. India has over 850,000 accredited social health workers, who are part of the National Rural Health Mission, a government initiative to improve rural health care. Their primary focus is maternal care, going house to house informing pregnant women of prenatal and neonatal care — work for which they receive 75 rupees a day (roughly $1.25). In order to become an ASHA worker, they must attend training sessions, for which they're compensated 15 rupees (about 25 cents). "And they come!" says Dr. Vishwakarma. "So you know they're not doing it just for the money."

Accredited social health workers have added vaccinations to their to-do list, conducting polio vaccinations and educating moms-to-be on the importance of immunizations. The social health workers are trained and supervised by auxiliary nurse midwives. And they're often accompanied by Anganwadi workers. The Anganwadi are hired by the Department of Social Welfare, and are responsible for the overall well-being of the community, not just health. At the polio booths in Aligarh, they accompany the health workers to hand out panjiri, a dry mixture of fat, carbs and sugar, part of a government scheme to provide nutrition to children.

The health workers are more than just vaccinators, Dr. Bahl says. "They should know how to engage with families, encourage them to practice good hygiene and be able to answer any questions."

Communication — Unicef's job — is the last key pillar of the polio campaign. It goes beyond just fliers, banners and announcements. Previously, when Muslim communities refused the vaccine — on the grounds that the vaccine was designed to make their children sterile — communication became critical. "At the local level, we had to work with the ulema [Muslim clerics], to correct this message," said Dr. Bahl. By collaborating with local leaders, Unicef found a new venue to preach the message of good health: the mosque. And it was the health workers who took that message further, by carrying letters, written and signed by local Muslim clerics, urging families to have their children inoculated.

All of these pillars are now being adapted for routine immunizations as the focus shifts. While polio immunization rounds will not stop to avoid any new outbreaks of polio, they may be tapered down, occurring only twice a year nationally, says Deepak Kapur, the chairman of India's National Polio Committee.

From 2010 to 2012, India conducted its first national campaign for measles. Over 119 million children between the ages of 9 months and 10 years were inoculated. And in 2013, the government of India initiated special immunization weeks, much like the National Immunization Days for polio vaccinations. "The N.I.D.s became synonymous with polio," says Mr. Kapur. They're hoping for the same with routine immunizations.

There is one problem the polio campaign never managed to solve: the immunization card. Keeping physical records of immunizations is still a challenge in a hot, dusty and rainy climate where the paper cards are damaged easily and locals fail to see value in the document.

In Akrabad, 15 miles outside of Aligarh, there's a small village, a grouping of 30 homes. Dr. Vishwakarma walks door-to-door here with the health workers; at one house, he pauses, hearing a 2-year-old cry. His mother appears out of the kitchen to get her child. Dr. Vishwakarma turns to her and asks if he can see her son's immunization card. She pulls out a paper pamphlet, crinkled and torn at the edges. It's barely filled out, missing critical information.

"Where do you keep this?" he asks.

She points to a ledge, out in the open. He shakes his head.

"Keep this somewhere safe. Where do you keep your money? Keep it there. It's as valuable."
RELATED ISSUES