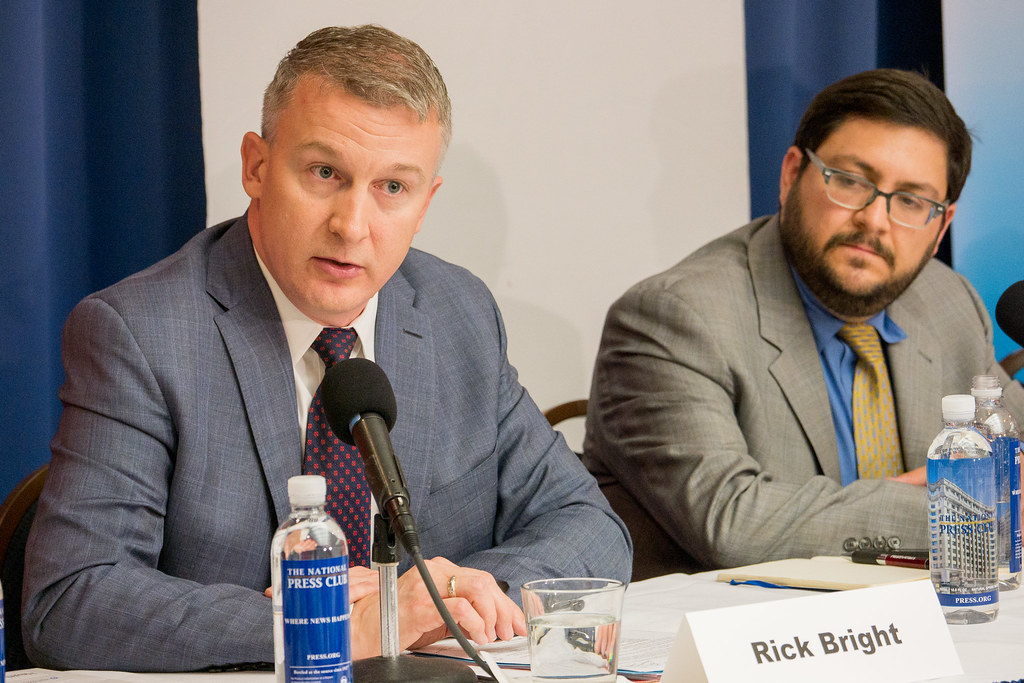 Early last month, a top contracting officer at a U.S. agency charged with accelerating the development of drugs to fight the COVID-19 pandemic got a request that made him feel uneasy. Senior Trump administration officials had asked him to rapidly approve funding that would help a small pharmaceutical firm to further develop a still-experimental drug being considered to treat COVID-19. The federal outlay could have ultimately amounted to $300 million or more. But the contracting officer pushed back, according to a 13 April email obtained by ScienceInsider. "We are uncomfortable with rushing forward" on the directive, Joffrey Benford wrote, calling it "impossible due to acquisition processes and procedures that are required for the size of this acquisition."
The episode, which has not been previously reported, is at the heart of just one of the explosive allegations laid out in a scorching whistleblower complaint filed by immunologist Rick Bright, who was removed on 20 April as head of the Biomedical Advanced Research and Development Authority (BARDA). The central theme of Bright's complaint, made public last week, is that federal officials including his boss—Robert Kadlec, assistant secretary for preparedness and response (ASPR) at BARDA's parent agency, the Department of Health and Human Services—illegally retaliated against him for objecting to what he saw as improper and unscientific efforts to steer taxpayer dollars to certain firms run by "cronies" or "for political purposes." In one accusation, for example, Bright says $20 million of BARDA money was given without his authorization to a combined COVID-19 trial of a heartburn remedy and an antimalaria drug.
The Bright allegation addressed by Benford's email centers on a so far unsuccessful effort by Florida-based Ridgeback Biotherapeutics to win new federal funding to develop EIDD-2801, a version of a 4-decade-old antiviral drug, into a treatment for COVID-19. Although the drug has shown potential against the coronavirus that causes the disease, Bright had opposed providing an immediate large funding boost. He argued the drug had already received substantial government support, and some earlier studies suggested EIDD-2801 could cause harmful genetic mutations. In his complaint, Bright suggests Kadlec attempted to help Ridgeback sidestep a government contracting process that is supposed to be guided by science. In one email to BARDA, a Ridgeback executive wrote that Kadlec was "personally" pushing the company "to move fast, but we can't without this authorization" for funding.
Bright's criticisms are expected to get extensive attention when he testifies on Thursday, 14 May, before a House of Representatives panel examining the U.S. government's response to the pandemic. Many of his accusations have not been independently confirmed, and Kadlec has not responded to a request for comment. A senior HHS official, speaking on his behalf, tells ScienceInsider the agency "strongly disagrees with the allegations and characterizations in the complaint from Dr. Bright."
But on 8 May, Bright's lawyers said that the Office of Special Counsel, an independent federal agency that adjudicates whistleblower complaints, informed them it had determined there were "reasonable grounds" to conclude that his reassignment from directing BARDA to managing COVID-19 testing at the National Institutes of Health (NIH) was "retaliatory."
Luciana Borio, a former acting chief scientist at the U.S. Food and Drug Administration (FDA) who directed medical and biodefense preparedness for the National Security Council from 2017 to 2019, calls Bright's overall complaint "disheartening." Borio says: "The allegations both regarding how procurement decisions were handled and the early pandemic response by individuals entrusted with critical public health responsibilities are extremely serious and must be carefully investigated."
A Viral Remedy or Dangerous Drug?
Since 2016, Bright has directed BARDA, which buys and develops medical countermeasures—such as diagnostics, drugs, and vaccines—to protect the U.S. public from both bioterror attacks and pandemics. BARDA has a $1.6 billion budget for this fiscal year, recently augmented by $3.5 billion for COVID-19 response.
Bright's EIDD-2801 concerns date to November 2019, more than 1 month before China made the COVID-19 outbreak in Wuhan public. Researchers have intensively studied its active element and found in test tube and animal experiments that it inhibits the replication of a range of RNA viruses, including influenza. EIDD-2801 acts as a defective RNA building block when a virus uses an enzyme known as a polymerase to copy its genome. Remdesivir, the only COVID-19 treatment that so far has worked—albeit modestly—in a careful study, similarly inhibits the viral polymerase.
It would not be unusual for BARDA to consider a drug like EIDD-2801. But Bright notes in his complaint that "similar experimental drugs in this class had been shown to cause reproductive toxicity in animals, and offspring from treated animals had been born without teeth and without parts of their skulls."
In November 2019, the whistleblower complaint says, Bright met with Emory University chemist George Painter, who is the CEO of Drug Innovation Ventures at Emory (DRIVE), a nonprofit owned by the university that is developing EIDD-2801. Painter brought a consultant with him, John Clerici, a lawyer. Clerici formerly worked as a registered lobbyist for Chimerix, a company previously led by Painter that received $72 million from BARDA to develop a smallpox drug. A biography posted by Clerici's current law firm says he specializes in biodefense and "has assisted more than three dozen companies in obtaining over four billion dollars in funding for the research, development, and procurement of public health countermeasures." Bright's complaint describes Painter as a "longtime friend of" Kadlec's and says Clerici had "a long-standing connection to" him.
According to the complaint, Painter and Clerici presented EIDD-2801 (EIDD stands for Emory Institute for Drug Development) as a viral "cure-all" and "miracle cure." Bright, concerned that evaluation of its safety in people had not yet been done, says he pushed back against pressure from Painter, Clerici, and Kadlec to fund EIDD's development for an unspecified amount. He says he was also reluctant because Emory had already received a total of $26 million from NIH and the Department of Defense to advance the drug. Bright's complaint says he believed BARDA should wait to see some results from a human safety trial "to make an informed decision based on scientific data."
According to Bright's account, when he told the group his reservations, Painter "insisted that EIDD-2801 could be a great asset to American national security and warned that if BARDA did not fund its manufacturing immediately, Emory would take the drug to another country to manufacture it." Despite Bright's concerns, according to the complaint, late last year Kadlec "made it clear that he intended to push the funding through for this contract."
Painter says the November meeting with BARDA was arranged through "normal channels" and was for "just a little bit of money" to help develop a protocol to submit to regulators to conduct human studies. He also says he never referred to EIDD-2801 as a cure-all or miracle cure and he is "rather taken aback" by Bright's complaint. "I just feel like collateral damage in a battle," says Painter, who adds that he has known Kadlec for years but doesn't consider him a friend. Clerici calls Bright's complaints "politically motivated allegations," adding "I unequivocally deny the reckless insinuations in Dr. Bright's complaint."
In late 2019, according to the complaint, Kadlec called a meeting to discuss the request for EIDD-2801 funding, and Bright reiterated his reservations. "Dr. Kadlec let it be known he was very unhappy with Dr. Bright's position on this issue," it stated.
Two months later, Painter and Clerici contacted the head of ASPR Next—which the complaint describes as an "opaque funding program" separate from BARDA—for EIDD-2801 funding. They now billed the broad-spectrum antiviral as a possible COVID-19 treatment. Bright by then had set up a task force to speed BARDA funding requests for the rapidly spreading disease. "Dr. Painter and Mr. Clerici were deliberately circumventing the [task force] submissions process," the complaint asserts.
Painter categorically denies this allegation. "I don't know what [Bright's] referring to," he says. "I don't have a dog in this fight. I just wish that things were better controlled under the circumstances where there are a lot of people dying."
In March, a study published on the preprint server bioRxiv showed that EIDD-2801 could cripple SARS-CoV-2, the RNA virus that causes COVID-19, in human cells. "It was profoundly active against the virus," says Mark Denison, a virologist at Vanderbilt University Medical Center who co-authored the study. (It was published on 29 April in Science Translational Medicine.)
Also in March, DRIVE found a new partner in Ridgeback, a small, privately held company founded by husband and wife Wayne Holman and Wendy Commins Holman, that is best known to infectious disease scientists for licensing an experimental monoclonal antibody that worked well against the Ebola virus in a clinical trial. (That treatment was developed by the National Institute of Allergy and Infectious Diseases.) Ridgeback purchased an exclusive license to EIDD-2801 from DRIVE for an undisclosed amount.
Raymond Schinazi, an Emory University chemist who has extensively studied the active ingredient in EIDD-2801 but has no connection to DRIVE, notes that his former pharmaceutical company, Pharmasset, abandoned it in 2003 after discovering its mutagenic properties. Schinazi says the small chemical tweaks made to increase the ingredient's bioavailability and transform it into EIDD-2801 are unlikely to change its mutagenicity. "Thank goodness someone is raising the red flag," about EIDD-2801, Schinazi says. "You don't develop a drug that's mutagenic. Period."
Toxicity studies with EIDD-2801 have taken place in mice, rats, dogs, and nonhuman primates, Painter says, and the results have been shared with FDA and drug regulators in Europe. "We haven't seen robust evidence for any sort of mutagenicity as had been seen in the past [by Schinazi and others]," Painter says, noting that regulators gave them approval to conduct phase I studies of the drug in healthy humans. DRIVE and Ridgeback, which is sponsoring the clinical trials, plan to do "more rigorous analyses," including reproductive studies in animals, Painter says. "We've been very, very, very thorough."
Denison, who is also a clinician, notes that some mutagenic drugs have come to market—and that weighing their risks versus their benefits depends on dose, frequency of use, and the severity of the disease. Ribavirin, for example, has been used to treat hepatitis C, Lassa fever, and other viral diseases despite mutagenic properties severe enough that regulators advise women who are pregnant or considering pregnancy, or men whose partners are considering a baby, to not take it. For EIDD-2801 as a treatment of COVID-19, Denison says, "We're talking about a short-term use to potentially treat or prevent disease." Schinazi counters that reproductive harm could still happen with short-term treatment, and using the drug to prevent disease—a hoped-for use of other experimental COVID-19 drugs—might lead to far more exposure.
Begging a Favor
Bright's complaint recounts one final episode involving EIDD-2801 before he was reassigned to NIH late last month, the incident that sparked the concern of Benford, BARDA's top contracting officer. On 3 April, according to the complaint and emails ScienceInsider has obtained, Wendy Commins Holman contacted ASPR Next to request preaward costs to launch a clinical trial of EIDD-2801 that was slated to start in 8 days.
On 7 April, she emailed Benford, to further press EIDD-2801's case. She was approaching him on the advice of Kadlec's chief of staff, she wrote, to "beg a favor" and request that the preaward be approved. "As I mentioned, Dr. Kadlec personally called us late last night and asked us to accelerate as fast as possible," she wrote. "Lives are literally depending on it and Dr. Kadlec is pushing us to move fast, but we can't without this authorization."
Bright suggests in his complaint that Commins Holman's communications, ostensibly directed by Kadlec, with ASPR Next and BARDA officials amounted to an improper circumvention of what should have been a rigorous funding review process. So far, no BARDA or ASPR Next funds have flowed to DRIVE or Ridgeback, but the company "submitted a detailed and thoughtful 254-page funding proposal" for future development of EIDD-2801, Wayne Holman says. (When ScienceInsider requested comment from both Holmans, Wayne Holman said he would speak for the couple. "I would not assume Wendy would agree with anything" that Bright wrote about her email exchanges, he says.)
Ridgeback has begun to address Bright's key stumbling block—a human safety trial in healthy volunteers. Much remains hazy about the trial, which has not yet been listed on the European or NIH clinical trial registries. It's being conducted by the U.K. contract research firm Covance, and is fully funded by Ridgeback, according to Wayne Holman. Painter says he does not know who serves as principal investigator. Holman did not respond to questions about whether a Ridgeback scientist, or one from Covance, leads the trial, but he did note that the "safety profile" and other early data from the study "look very promising."
Meanwhile, Ridgeback is racing ahead, Holman says, with applications into U.S. and U.K. drug regulators to conduct phase II trials of EIDD-2801's safety and efficacy in COVID-19 patients. "The U.S. trials will hopefully begin this month. U.K. should be end of month/early June," Wayne Holman says. Ridgeback is anticipating global demand, he says. "We have tens of thousands of treatment courses of [the drug] on the shelf. … We have a robust scale up plan which will get us to millions of treatment courses by the fall."
Bright did not respond to Science's requests for comment. He has so far refused to take his new position at NIH.
Charles Piller's reporting was supported by the Science Fund for Investigative Journalism.
*Correction, 14 May, noon: This story has deleted the suggestion that a study showed EIDD-2801 crippled SARS-CoV-2 in mice. The study reported it crippled other coronaviruses in mice, but only human cells data was reported for SARS-CoV-2.
---
COVID-19 Update: The connection between local and global issues–the Pulitzer Center's long standing mantra–has, sadly, never been more evident. We are uniquely positioned to serve the journalists, news media organizations, schools and universities we partner with by continuing to advance our core mission: enabling great journalism and education about underreported and systemic issues that resonate now–and continue to have relevance in times ahead. We believe that this is a moment for decisive action. Learn more about the steps we are taking.